Top 7 = HSV with the #SweetGirl, innovation on the LifeLift project...
Apr 11, 2022
This week's Top 7 includes a (work) trip to HSV with the #SweetGirl in the photo above, along with the observation that everything really is negotiable, and some massive progress we made on the LifeLift project…
Here's the Top 7, with at least one observation from each of the 7 key areas of life.
🚌🚌🚌🚌🚌🚌🚌

Fitness = a few dietary shifts
I noticed— again— this week. Your health— the way you look at feel, anyway— is about 80% what you eat and 20% the exercise you do.
Over the past 10 days I made a few changes. Dropped creamer and sugar (tuns out, most of what I like about coffee isn't the coffee— it's the half-n-half and the honey I put in it!). Nixed the snacks. Monitored the calories I drink (yes, you can chug a bunch of your calories, which doesn't seem like it should be right at all!).
Oh…
And in the garage clean-out a few weeks ago I found about 50 of the ORIGINAL Finding Keto books. I plan to share them in my online store at a big discount later in the month, along with the audiobook and some of the videos I shot…
🚌🚌🚌🚌🚌🚌🚌

Finance = finally figuring out all of the moving parts
Michael (pictured below) and Janice, Beth's parents, drove up this Sunday. Janice runs an accounting biz (Beth has worked with her and has wrapped her arms around all our stuff, set it up for great success, etc.) and came up to help us set up the final details on QuickBooks, get tax stuff ready to turn in, and more.
Michael wanted some pants. Savane. The brand you can only get at Belk, which doesn't exist in his neighborhood (they live in Fairhope).
So, while the gals worked, we shot up to the Summit.
He plowed through the shelves and found a SINGLE PAIR in his size. Would have bought a few, but they didn't have them.
Then it was time to pay.
"$75," the clerk said.
"Is that the best you can do?" Michael asked.
"I can probably give you a friends and family discount."
The man knocked $30 off in one swoop.
"I've gotten 'em cheaper when the other guy rang me up before," Michael reported.
"What about a discount for…" and the clerk began talking about Michael's military service, the fact that the former owners of Parisian— which is what Belk was several renditions ago— would want a loyal customer to have a a discount… "that brings us to $36."
Not bad. From $75 to $36.
"Sold."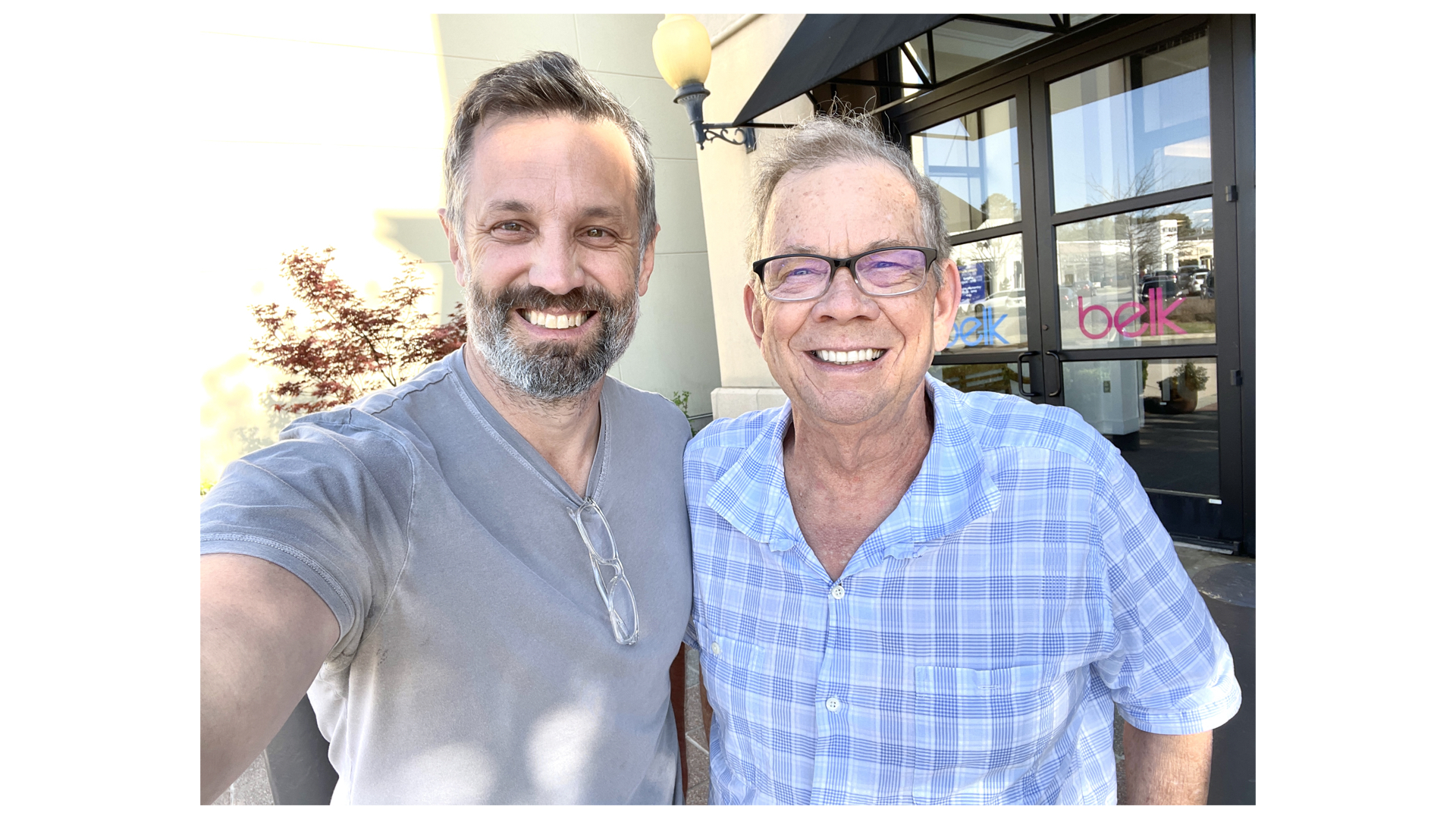 I guess that everything is (truly) negotiable.
🚌🚌🚌🚌🚌🚌🚌
Family = Last Sunday… was one of those perfect days
Last Sunday was one of those perfect days. The kind that, though nothing major happens, it just feels right and good— like everything is all right in every facet of your world.
(One of the first days Beth and I spent together, BTW, was a lazy Sunday afternoon… when the same thing happened, with different details.)
Sunday morning we went to church. I'll be honest, it wasn't a great service. In fact, it was rather flat.
But then we decided— at the last minute as we were driving down the road— to pull into Ruby Sunshine (in the former IHOP location). We'd been wanting to try it for a while— and now was the time.
We waited 45 minutes, bumped into a nephew and his girlfriend (marry her already, brother!).
Then we meandered around the Summit, bounced a bit…
… with no agenda.
With life being so busy, those unhurried moments are the best.
💙
The following pic has NOTHING to do with that Sunday— I snapped it with Mini on Thursday to send to my friend JC Worley, who leads Go Church in Atlanta. Their women's ministry uses the phrase "You Go Girl."
JC dropped a bunch of swag on me at the Courageous Pastors Gathering back in February. Mini quickly snagged what she wanted…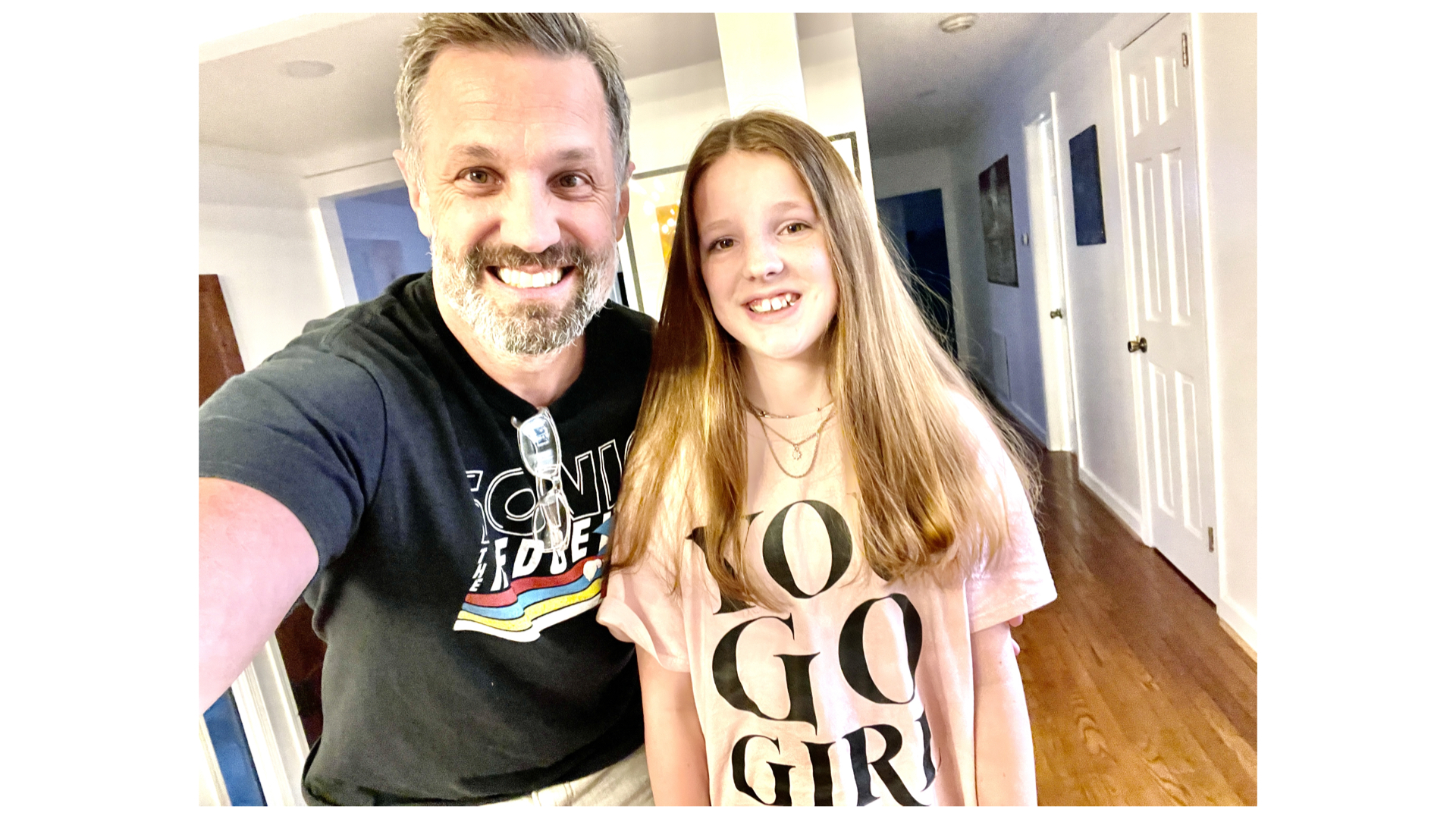 The strange expression?
"I wasn't sure if I was supposed to smile for the pic or what," she said.
🤔😂🤩
🚌🚌🚌🚌🚌🚌🚌
Field = LifeLift w/ Baptists + pastor-friends
Tuesday I rode to the Montgomery / Prattville area to meet with the Baptists about the LifeLift project. If you've been following along, you may remember that my Dad originally wrote the first version of the material +/- 25 years ago for us in his church…
… then he led the Office of Leadership and Church Growth for the Alabama Baptists for about a decade and taught the same material.
With the reboot, I made the trip to meet with some of the leaders who used the first run of the material to show them the improvements.
Since I was in town, I reached out to my friend Mike. He leads— he planted— Journey Church. He's done an incredible work there and has built an outstanding team.
I'd been to the old facility— Mike and I served on the board of a church planting organization together several years ago and we hosted a round table meeting at his former facility. But I hadn't seen the new one.
So, we set the meeting for just before my time with the Baptists.
Here's Mike— looking amazing, down about 50 pounds since the Fall.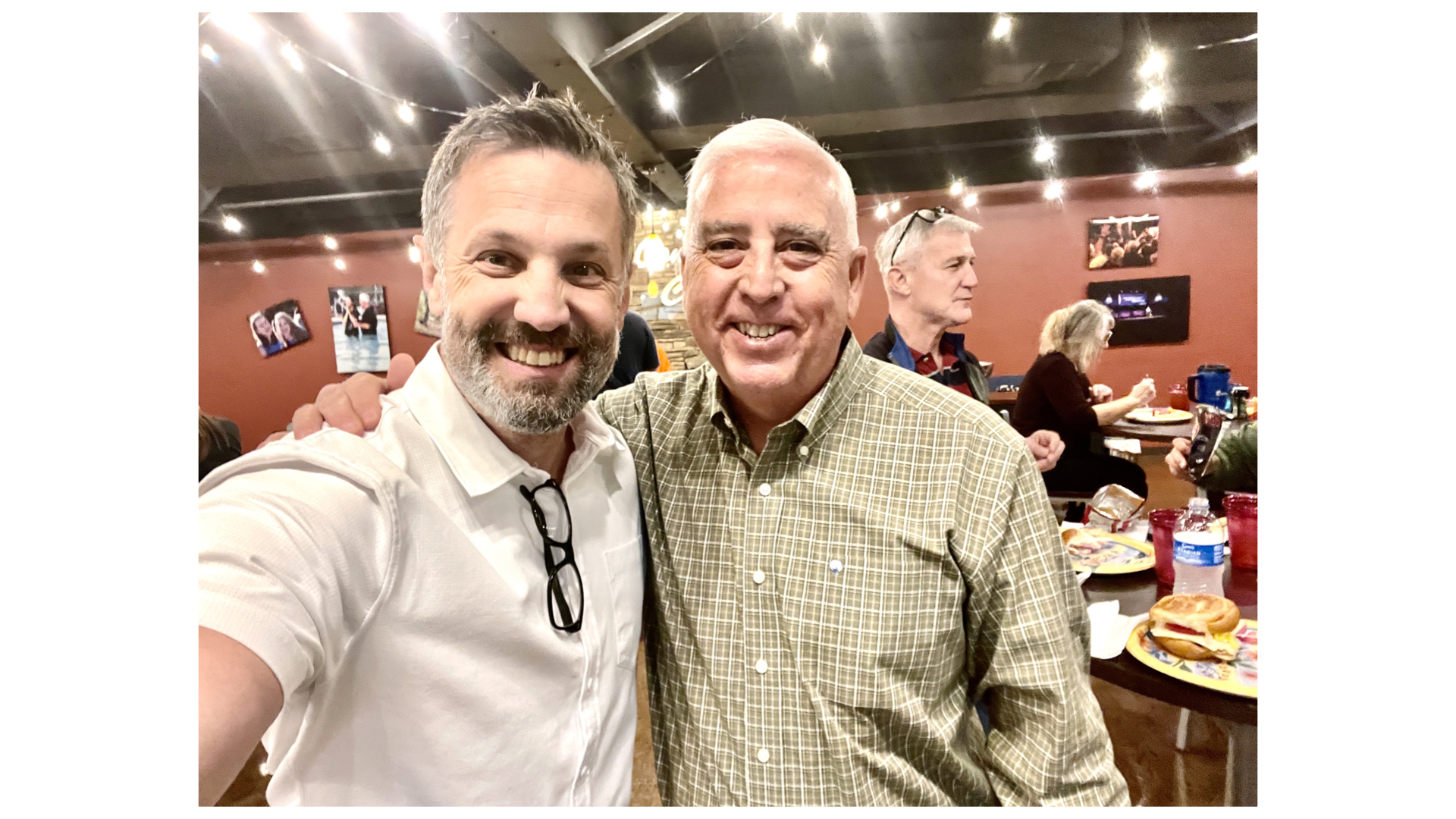 Mike stepped out of staff meeting to catch up— and then we walked through the cafe area as he toured me around. His team was already eating, evidenced by the fact that I stumbled on my fav- Red Velvet Cake.
Homemade, by this gal, we snagged a pic.. and I tried a (small) piece. My general rule of thumb is that if one of my favorite deserts is on the table, I'm trying it.
But I only take two bites.
I've learned that the entire piece grants no more satisfaction than two bites. Plus, I don't feel bloated (or guilty-ish, regret-ish) afterwards.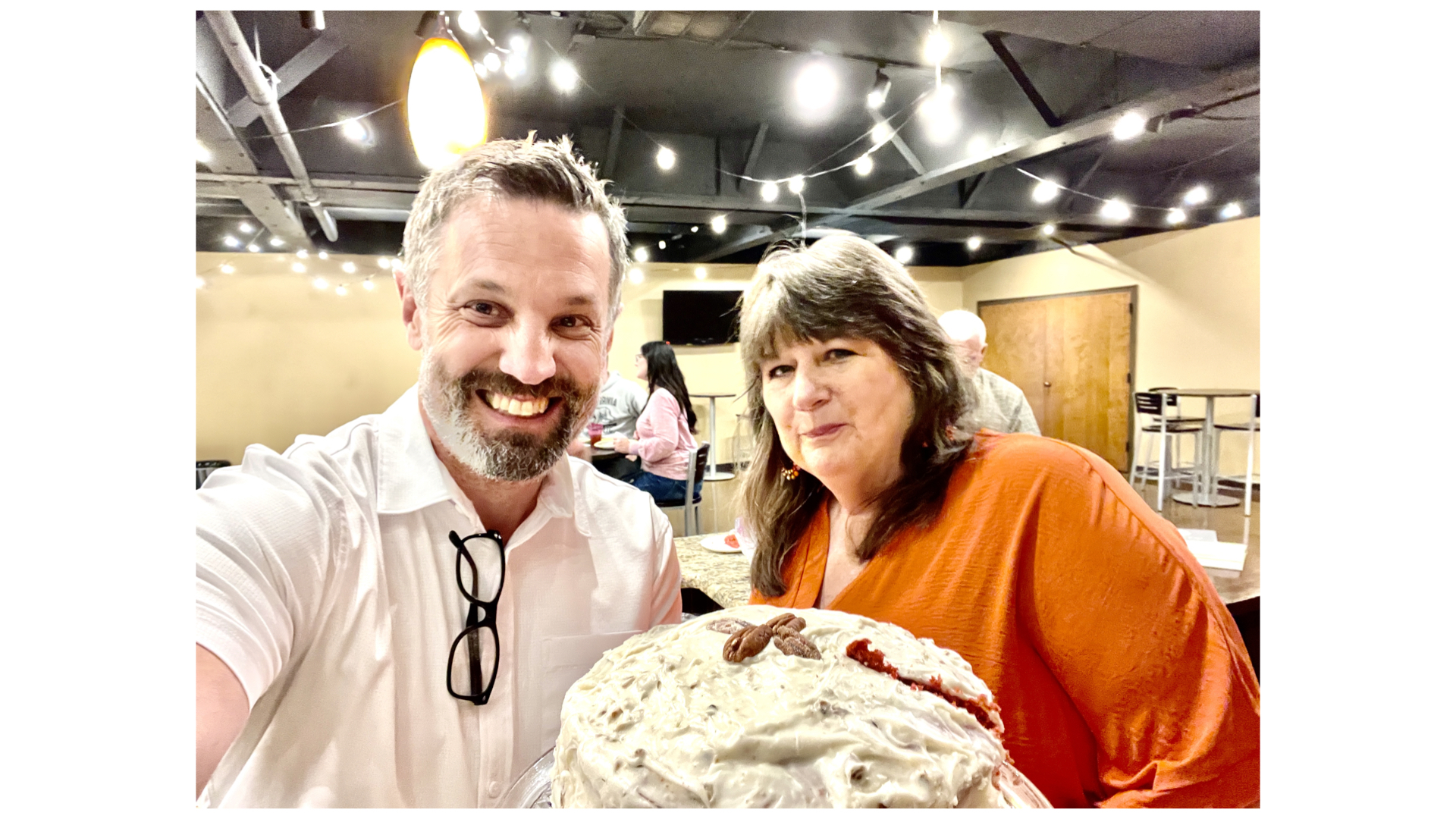 After my meeting at the Baptist building, I rolled to Starbucks to meet another leader in the discipleship space, Pastor Steve Layton (not pictured here, because I totally forgot to snap a shot).
In walked Robert Mullins, pastor of Crossroads in the Millbrook area.
I met him about 20+ years ago when he was in Decatur, working at First Baptist with then Senior-Pastor Buddy Champion. One day, while I was a summer intern (during seminary days), Dad and I travelled from Montgomery to Decatur to meet with Buddy and his team.
After meeting all morning, it was time for lunch.
We began scrambling to various cars when Buddy offered, "I'll drive."
He turned, walked back in the building, then emerged with keys to the small "turtle" bus.
Two memories stand out from that day:
First, Buddy creates great teams wherever he goes. And, the staff members genuinely love him and each other.
I told my Dad that day, after we drove away, "That team really loves each other. They get along so well… like they're really good friends."
Robert concurred, as we reminisced in Starbucks.
"He's one of a kind," he said. "That was a great season for me…" Then— "He STILL mentors me, even today…"
The second memory is this…
Buddy is an incredible leader, but maybe not a great driver (or, perhaps he did the antics on purpose!). I remember— vividly— Buddy taking the Turtle on two wheels around a curve in the parking lot.
And no one was shocked.
No one was alarmed.
It was as if this stuff happens every day.
Here's Robert, BTW.
🚌🚌🚌🚌🚌🚌🚌
Faith = 40+ webpages in HSV, to help people find + fulfill their purpose
A few weeks ago, Beth mentioned, "Let's go out of town. Get out of the house, and give you and me some time to just hang out AND get some focused time to finish some of these projects."
The projects in question were all LifeLift-related.
Assessments.
Questionnaires.
Personality-profiles.
Five assessments are included in the book / workbook (which, by the way, you can get FREE right here—>>> www.Jenkins.tv/free ).
But, we'd planned to EVENTUALLY get them all online as well.
Fast forward to a few speaking opportunities, with several people asking, "Hey, are these going to be online?" … and I knew…
… well, more accurately, BETH KNEW…
"Let's go ahead and do it. While we're in the headspace and working on it. Let's go ahead and get the online versions ready."
She could tell— especially after interacting with several pastors AND my friend Barry, in particular— that it was important.
After I spoke at the weekly Ministers Conferences at the BMBA, a pastor reached out. He had taken advantage of the free book offer and inquired, "Will these assessments be online, as well?"
That solidified it.
So, Beth began outlining— and building— the online assessments. And I began building webpages.
Here I am during a snack-supper at the Westin in HSV (see "Fun" below). This was about halfway through cranking out 40+ webpages.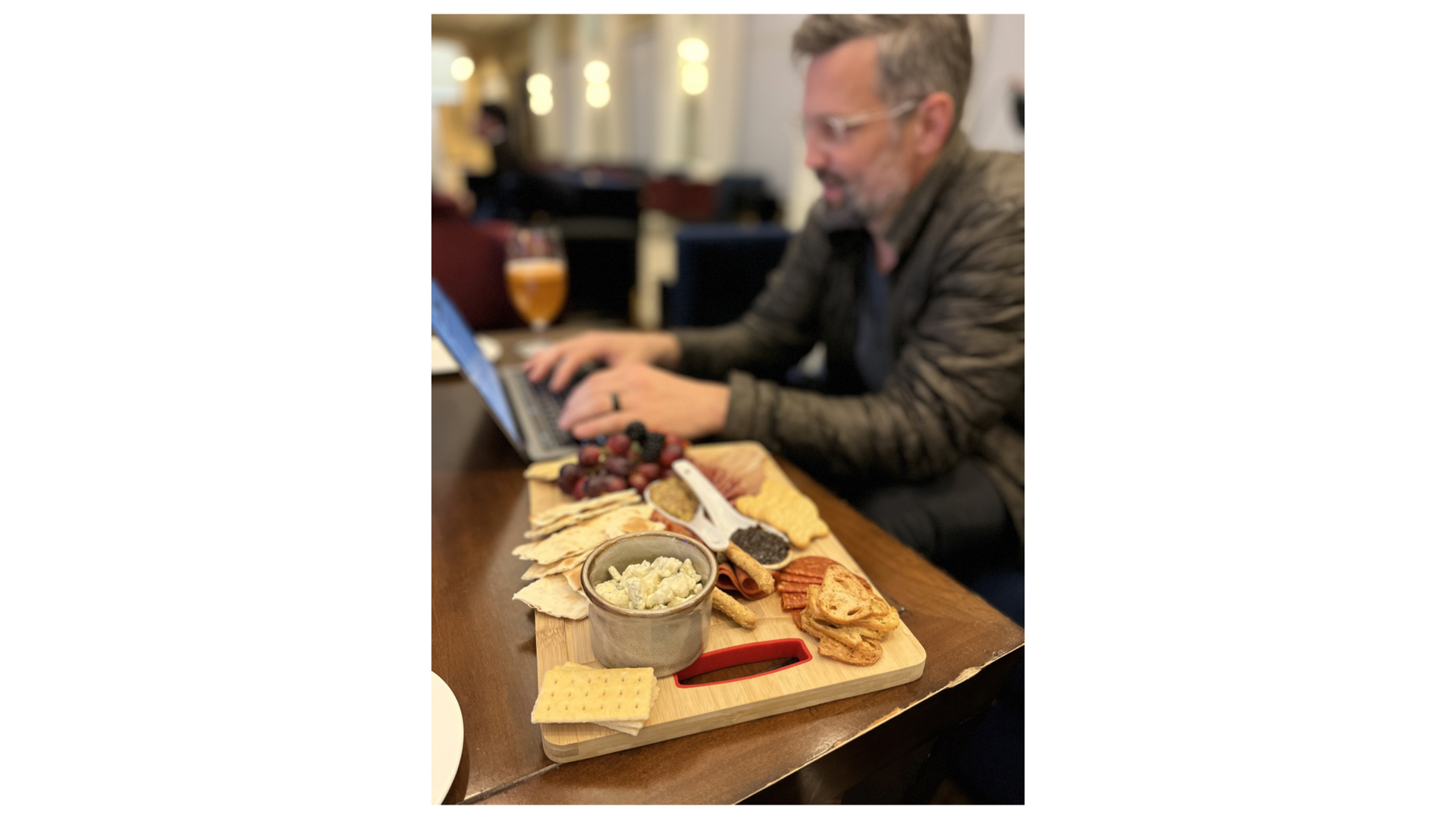 What are the pages for?
That's the best part.
After someone takes the assessments (read: personality profile, created design, personal preferences, spiritual gift Q&A, etc.), they'll IMMEDIATELY be sent personalized coaching / content based on what they answered about themselves…
👉 about their personality
👉 about their created design (how God made them)
👉 about their preferences and skills, things they've developed over a lifetime
👉 about their spiritual gifts
The questionnaires / assessments will, upon completion, outline— in webpage and video form (mobile responsive, as well— in fact, optimized for mobile) direct them to short teaching segments (read: 2-3 minutes each) which affirm how they're wired. And highlight where we see similar personality and gift-mixes operating (in history and in Scripture) and then send them forward to learn more…
When you discover HOW God designed you, you determine what you're here to do— the unique mark you make on this world…
Again, we haven't made a big announcement about it— that's coming— but you can grab the LifeLift workbook free at www.Jenkins.tv/free
🚌🚌🚌🚌🚌🚌🚌
Friends = Podcast on Wednesday morn
A few months ago I met Adam Hicks, the campus pastor for Desperation Church, Jasper. In fact, I mentioned my visit to their church (where my friend Andy Heis pastors) in several Top 7s.
(They made the Top 7 for the week of 2021-11-07 and 2022-01-30.)
Adam has a similar story to mine.
Heart-breaking divorce, even after hoping and praying that things would mend
Wrote a book through the healing process, as he journaled his story (neither mine nor his ramblings were intended for publication at first)
Bounced back into his calling
We met in the "Green Room" at the dedication night / worship service for Desperation back in the Fall. And, as it happened, we just connected.
I knew that, at some point, I wanted to record parts of Adam's story + his reflections on walking through emotional pain AND THEN rebuilding well. So, a few weeks ago we blocked a few hours to record in the #TinyHouse this past Wednesday.
Here's what you'll learn in a few weeks on the podcast:
Where God is in the midst of the pain / problem

What happens when He doesn't "fix it" like you thought He should
What true restoration looks like on the other side
We scooted to Ruby Sunshine for lunch with another friend afterwards.
The episodes with Adam will air in 5-6 more weeks.
🚌🚌🚌🚌🚌🚌🚌
Fun = to HSV with Beth, Friday thru Sunday
(Yes, I know this trip was under ANOTHER heading too!)
Beth and I took a short work trip to Huntsville this Friday afternoon. The Westin at Bridge Street is our fav place, because you can walk right out the door, go eat at one of about a dozen restaurants, and simply leave the car.
Sunday morning, I woke up and took a leisurely 7-mile run, around a loop I know well…
… my parents live about 2.5 miles from that place.
We've been to the Westin… well… countless times. Great memories and high moments mark each time.
On the docket this weekend was the LifeLift web pages / assessments I mentioned above. But, we made time to get out.
Here's Friday evening…
🚌🚌🚌🚌🚌🚌🚌
That's my highlight reel for the week
Each week— on Sunday— I take a look back at my planner, on the journaling pages, and review the three things I'm grateful for each day.
I love this practice, because—
There are so many massive things that, otherwise, I would simply forget
There are so many small moments, too, the day-to-day experiences with friends— snapshots at restaurants and shopping malls and other happenings that NEVER would make a "big list" of high moments. Yet, in retrospect, these are often the greatest times of each week.
Download the Advance planner free at www.Jenkins.tv/FreePlannerPDF
*
Never miss a new post + podcast!
Join our mailing list to receive the latest news and updates
We hate SPAM. We will never sell your information, for any reason.