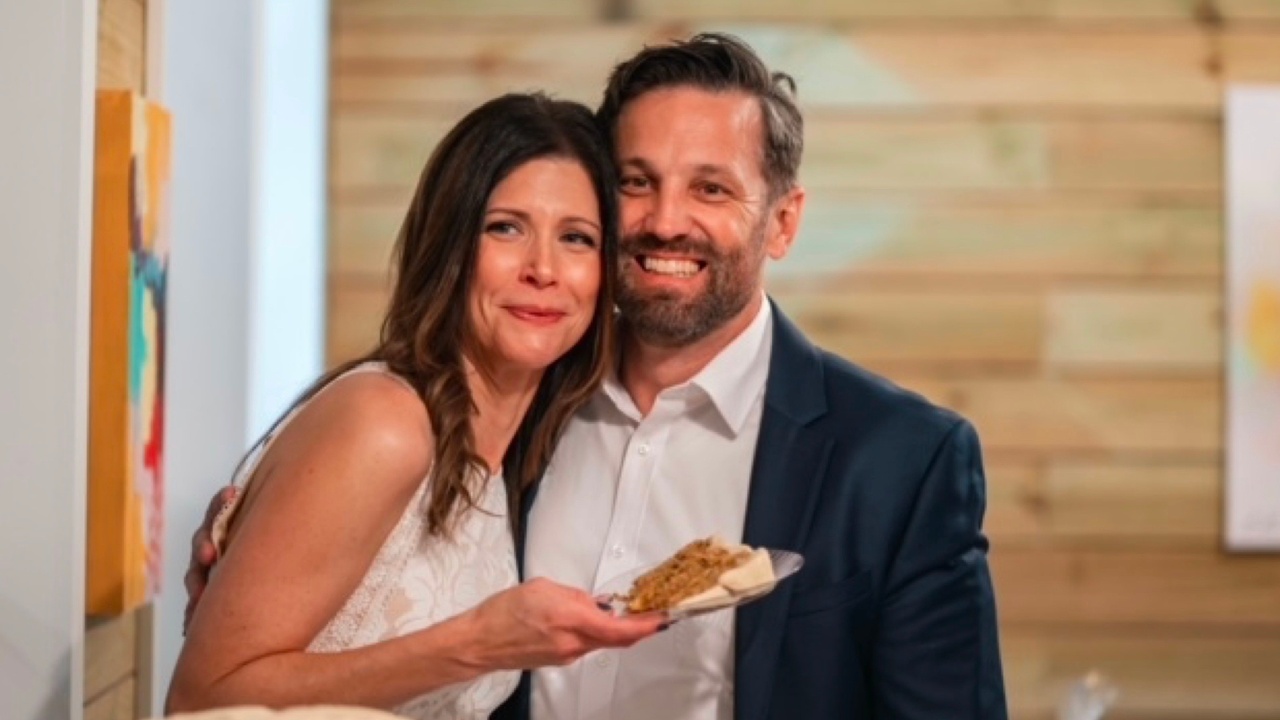 Blog: Top 7 = next fitness routine, helped launch a new podcast, #Oola bus in my garage
Nov 08, 2021
This week I (finally) clarified the next fitness routine (for me), helped launch a new podcast, and received tracking info for the #OolaBus.
Oh….
… and, bigger than that, Beth and I checked-off one year since we got #Hitched at the Hilltop last November…
Here's the top 7 for the week— in 7 different areas of life.
🚌🚌🚌🚌🚌

Fitness = implemented a new routine.
Over the past year, I decided I do "fitness" best when I have a goal in front of me— when there's a weight loss goal, a more "extreme" routine like #75Hard, or even a long run / race / cycling ride lingering in the future…
Since finishing the #75HardChallenge in early September, I haven't had such a goal…
I mean, I've set a benchmark of doing a certain number of pull-ups in succession, but I've felt like I needed something "more."
So, I mapped out a routine I'll stick to through the end of the year (November, December— basically, about 60 days):
60 minutes of exercise a day, one day off per week
Drink a gallon of water a day
Coffee = OK, but no sugar or creamer
No snacks (if it's not a "sit down" meal and worthy of that kind of time and attention, then evaluate if you're really hungry— and, most likely, just skip it)
No / low carbs (i.e., no bread, dough, crackers, croutons, or other crap that just makes you feel bloated)
Low fruit (fruit actually has a high sugar content— and is more akin to a dessert than a vegetable)
Extreme moderation in alcohol (i.e., only special occasions— as in an anniversary, birthday, unique dinner with friends… no casual consumption)
There's no name like "Simple 60" or anything like that. Just a new groove to step into…
🚌

Finance = the Green Gap.
We started a new program via the Oola #DesignMyLife Blueprint…
The Green Gap.
It's a look at financial health from a stand point of freedom / grace, that's a bit more relaxed (and less legalistic) than the Dave Ramsey plan (which works, by the way).
The Green Gap works like this—
#1 = Each month you evaluate your income and expenses (each month, because those factors change each month).
#2 = You maximize income each month (i.e., garage sell, extra projects, whatever) and decrease expenses every month. Again, there are unique ways you can do this as "one offs" in each category.
#3 = You then apportion the "green gap" (the gain between income and expenses, which you've just maximized).
The allocation works on a 45 / 45 / 10 outline…
👉 45% pays debt you created from the PAST
👉 45% goes towards FUTURE savings / investments / etc.
👉 10% is for the PRESENT, for fun and enjoyment
The plan acknowledges that if we don't enjoy the present (i.e., as opposed to most approaches of "eat dirt until you climb out of debt"), the gain might not be worth it. And, it enables you to serve your future, as well.
We're talking about the program beginning this week in our Facebook group— a few times a week. Lots of other content in there, as well.
⭐️ Join the free online group at www.Facebook.com/groups/AndrewEJenkins
🚌

Family = a few things made the list this week…
✅ #1 = Date night.
We generally do this, like clockwork, on Wednesdays. But, with family coming in town, we pushed up…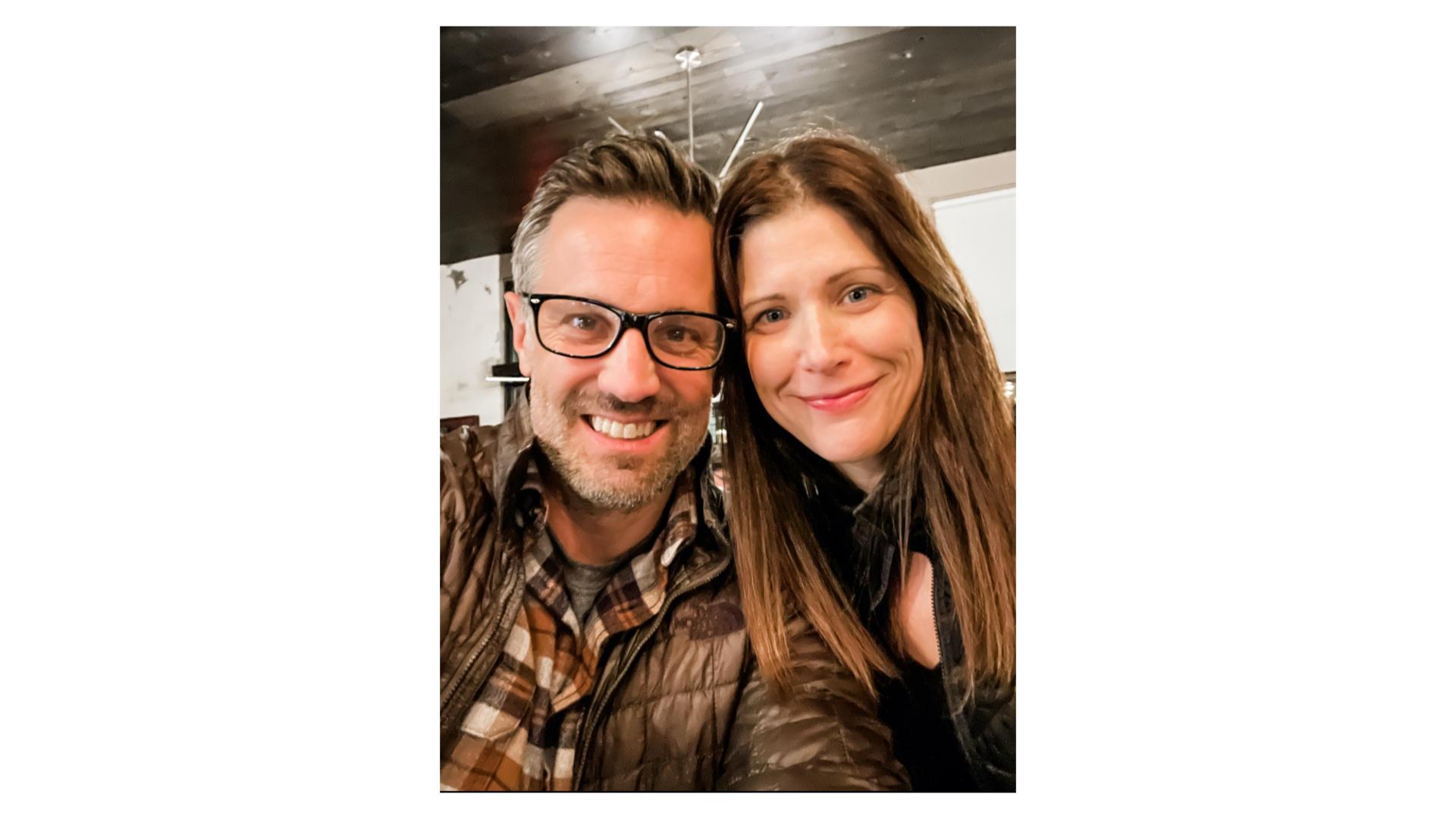 ✅ #2 = Beth's parents came to town.
Every few weeks they roll up for medical appointments, etc., and stay at the #hilltop. We cooked-in with the rest of the fam on Wednesday, then went to North Italia (one of our favs) on Wednesday.
✅ #3 = the cousins crashed the house.
Friday and Saturday, Mimi and Jack stayed over. Beth's sister had a few photo-shoots to do, so their entire family came up. Her two oldest spent the night all weekend…
… then we had the birthday part for the twins Saturday afternoon.
Before that, I took the girls on a trip to the world best gas station, where we also met the mascot face-to-face. The pic is completely unflattering, but we've got it nonetheless.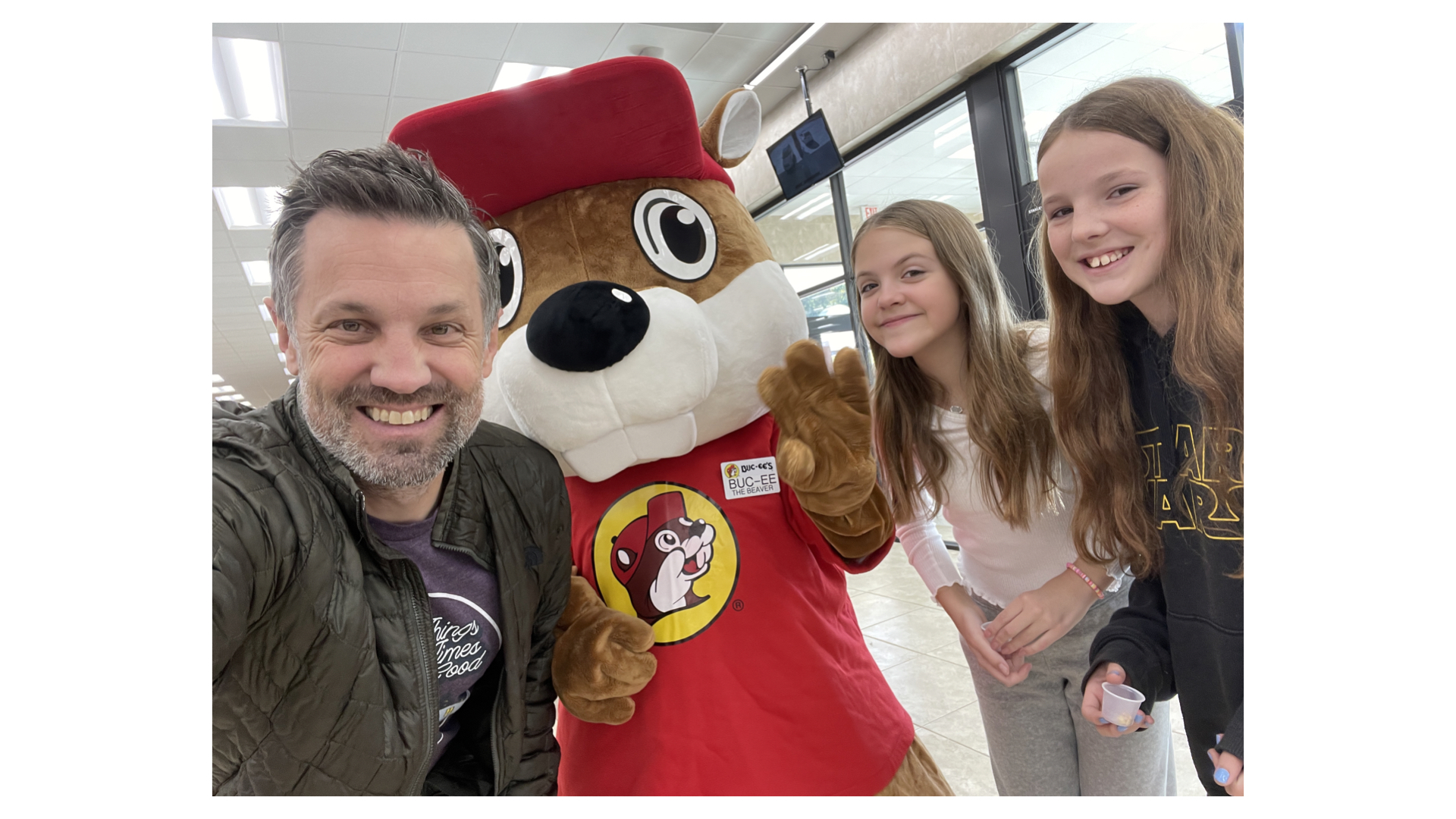 🚌

Field = The Courageous Pastors Podcast launched this week.
Shawn Lovejoy created CourageToLead a few years ago— where he trains marketplace and ministry leaders. I'll write more about his Gears of Growth framework in a future post.
For the past month, I've worked with him, primarily helping in the digital space. That included getting the new podcast, which aired this week, off the ground.
Here are the links to subscribe to the show—
+++++
BTW, I also ordered SWAG for the new LifeLift project… t-shirts, hats… they'll make the list when they actually arrive. But, they're on the way.
To test drive the app, then review it, and receive the latest audiobook free, go to www.Jenkins.tv/LL
🚌
Faith = a long road to the one year anniversary— and it was worth it.
This week, Saturday, Beth and I celebrated one year of marriage. For both of us, it's been a long journey to this point.
But God's grace is good— grandeur than imaginable…
For the wedding guests, last year, I designed a t-shirt. It has a drawing of our house (which is where we got married— and, in fact, we built the add-on, the #TinyHouse, for the kids).
The shirt reads: "All Things, All Times, All For Good."
It's a nod to Romans 8:28, as well as a smattering of other verses throughout the Bible that remind us that although He doesn't cause calamity, God can always use it to bring us full-circle to something radically better than we've dreamed possible.
🚌
Friends = quick drive to Desperation Church.
Two decades ago I was a youth intern at Gardendale's First Baptist Church. When the youth minister moved to Georgia to help start a new church, it left me and another 20yo intern overseeing 300-ish students.
One of the GREATEST volunteers we had was Andy Heis, a guy who led a growing Sunday School class for high school boys, served on every trip or event we took, and eventually (it was handled honorably and extremely right) married a gal that grew up in that same youth group.
A decade later, Andy started a new church— Desperation Church— in Cullman. Since that time, the congregation has grown to three more campuses, each taught "live" (i.e., no video-streaming), and reaches several THOUSAND people in small cities scattered in North Central Alabama.
This week, they opened their new building, a renovation / retro fit of the old Cullman Civic Center.
Shawn and I drove up Thursday to see them, got the grand tour by Andy— and the designer (Josh, pictured with me below)— before others began arriving…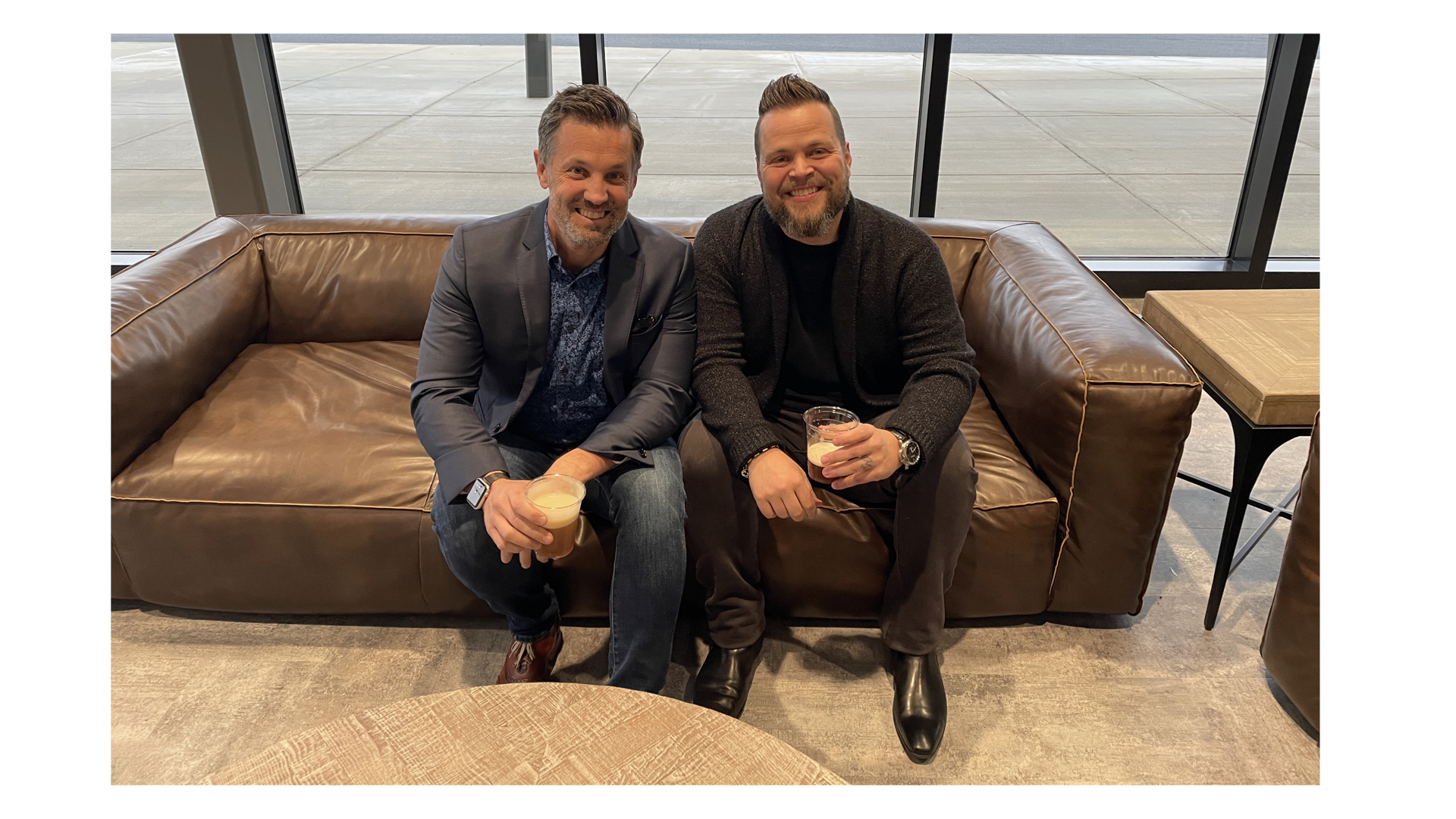 🚌

Fun = the Oola bus just got shipped to my garage.
Straight up. I received an email from Dr. Troy this Friday with the tracking info.
Here's why I have it—
The guys are back to "live events" (I got to speak at one in September, in Vegas!). Next up = the Oolapoolaza "personal development" event they do via their coaching platform.
And it's headed to Nashville.
They needed a place to send the bus, someone to receive it (and park it indoors), until that time…
… so, here we are.
They fly in to BHM November 30th, and will host a small event somewhere TBA nearby that Tuesday night…
Then, off to Nashville for the first weekend of December.
🚌
That's the highlight reel for the week.
As always, there are more highs and more lows and more in-between. But, each night I sit down and, in my planner (download yours free at www.Jenkins.tv/FreePlannerPDF) I answer a few of the journaling prompts and write three things I'm thankful for that day (as well as areas I could improve, spaces where I added I unique value that day, etc.).
Never miss a new post + podcast!
Join our mailing list to receive the latest news and updates
We hate SPAM. We will never sell your information, for any reason.