Top 7 = Time with the fam + flood update + I'm a "well-preserved" 68
Sep 05, 2022
This week's Top 7 includes a lot of time with the fam, an update on the Hilltop flood, and a short work bump to enjoy the moment I was gifted. Oh, and I apparently look a bit older than I am...
🚌🚌🚌🚌🚌🚌🚌
Fitness = Sleep / Rest
The biggest takeaway from this week was that I actually jumped in bed EARLY on multiple evenings. I wasn't sick— it was just an honest thought of, "Hey, I think I need to rest… no sense in staying up and flipping through the TV."
A few years ago, I realized… we were made to live in rhythm. That's a "cadence" to creation, and we function best when stay in it.
(I shot a video about this and included it in one of my video courses about emotional health— watch here: https://www.jenkins.tv/rhythm ).
🚌🚌🚌🚌🚌🚌🚌
Finance = The "flood" and what it means…
Following up on last week's post…
ServePro and our insurance adjuster (who've been super-nice) reviewed the site of our "flood" at my insistence. Logically, if the wall on one side of the downstairs shower is drenched AND the wall on the other side of the shower is equally drenched, the wall BEHIND the shower is probably equally drenched.
They held off any work until I posed the question, "So if I decide to pull that old shower out in 6 months— which was part of my plan anyway— and if I find water damage and developing mold behind it, who's responsible…?"
"What do you mean you pull it out?"
I explained our Tiny House project and explained that I'd done the reno on the house myself.
"Oh, you know about construction?"
"Enough to do most of this myself," I said.
Amazingly, their approach changed...
"Let's go check the water meter again."
They checked— and concluded there indeed IS water behind the shower. So, this week, it comes out too.
❌ The downside = we just added another two weeks or so to the project.
✅ The upside = we've already hit the deductible, so now the entire bathroom will be covered (and, anything that isn't will be a weekend project for me).
🚌🚌🚌🚌🚌🚌🚌
Family = Lots of great connections with the family this week
Monday, I bumped into Matthew at Isaac's game. His daughter cheers for Chelsea Middle School, who was the opponent.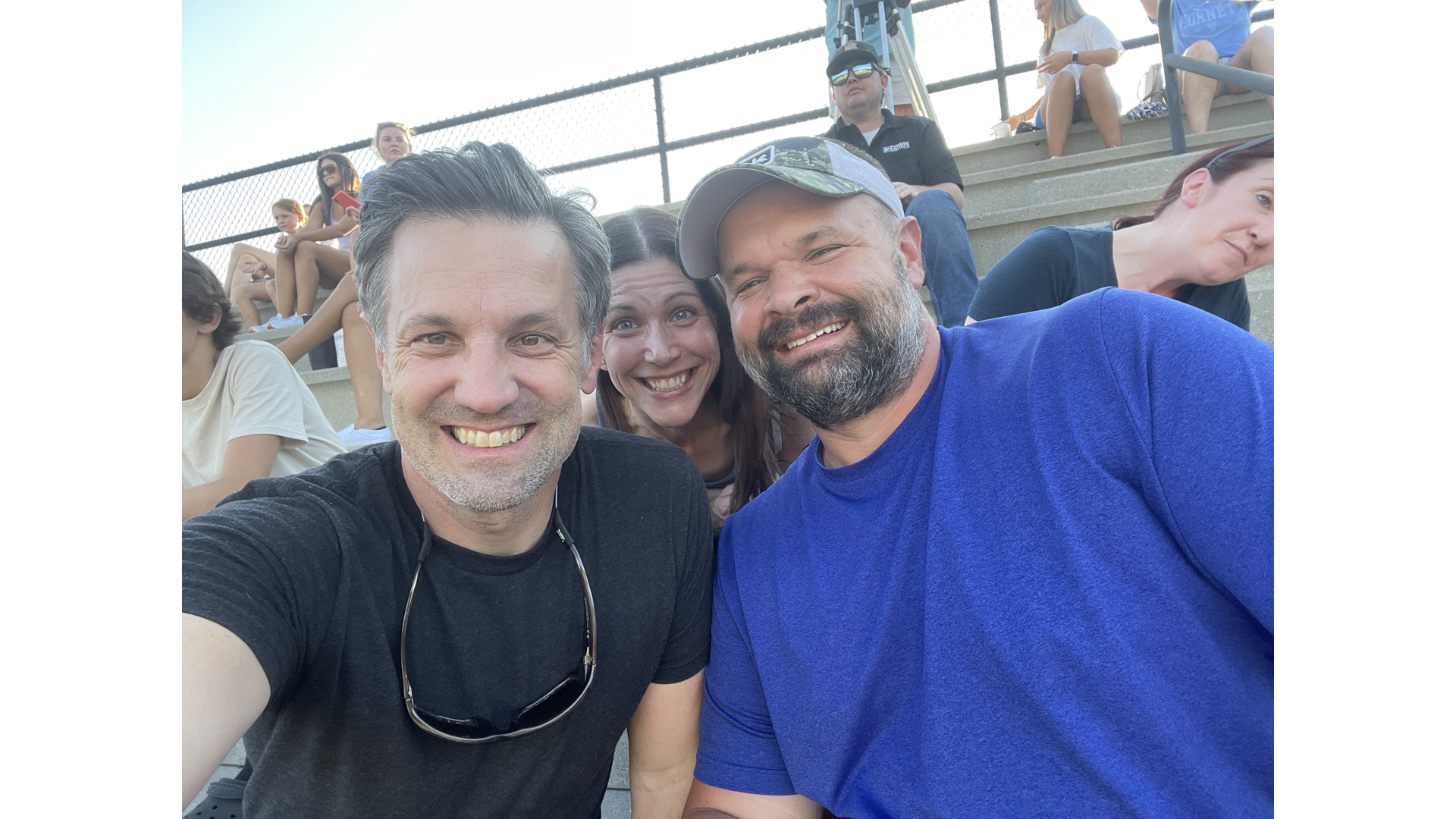 💙
Wednesday, I hustled back from Oxford— where I've been teaching the updated 12 step workbook— and met Ivey and Noah at the Cheesecake Factory.
Beth was out of town visiting Anna and seeing her new apartment, checking out the new job, etc… so I had jumped on the JCrew2 chat thread earlier in the week: "I'm free Wednesday if anyone wants to meet at the Summit for dinner around 8:30pm."
Ivey was the first to respond.
Noah chimed in shortly thereafter.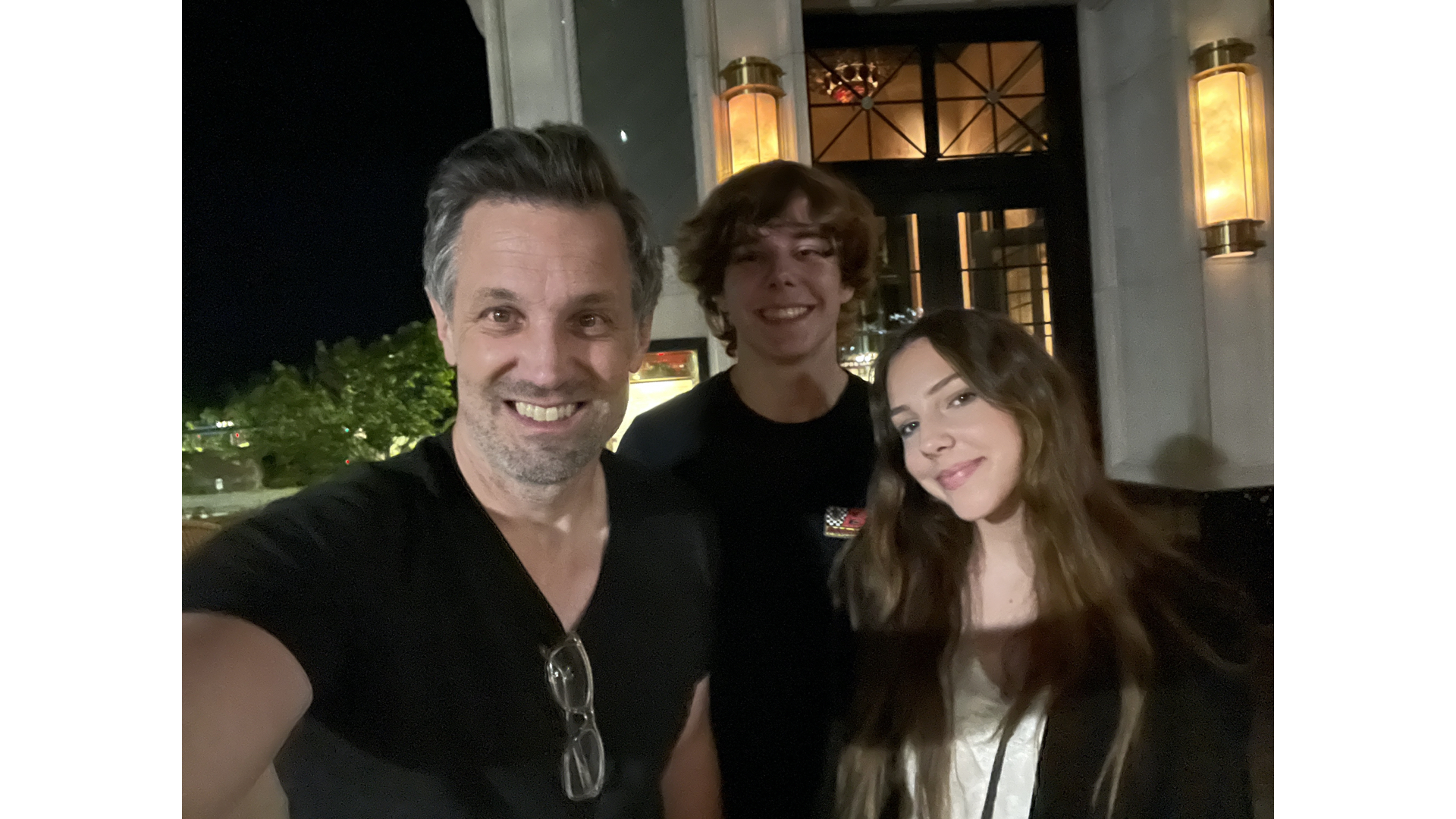 💙
Thursday, Levi who recently acquired his license, helped me return the rental car. Due to Emma's Hyundai being at the shop on a recall, we've been letting her borrow ours…
(Thanks to a very inefficient process, you can't get a rental that THEY COVER until they complete all their diagnostics. Moreover, they don't seem to be in a hurry. So, we let her borrow ours, meaning Beth needed a vehicle to bounce down to Auburn.)
I picked up Levi from work (Culver's, a new job), and we made the run to the rental center. I enjoyed chatting with him on the journey, marveled at how well he drives, and enjoyed hearing his plans to earn a bit, build up his savings, and purchase a car of his own in the next 12-14 months.
💙
Then there were these two…
Saturday, after Alabama routed Utah, I took these fellas to Waffle House. Judah wanted to go—Isaac only went because Judah went.
(Yes, Christmas Guy made an appearance— and will be coming back for Christmas 2022🎅🎅🎅.)
An older waitress, looking very threadbare from a 2-pack-a-day cigarette habit + long evenings at the Waffle House for the past two decades approached our table.
I was wearing a rainbow-flavored tie-dye from a coffee shop in Bryson City (see the 08-21 post).
"You don't look old enough to be a hippie she said. Woodstock and all that was before your time."
As I tried to explain I bought the shirt at a coffee shop in North Carolina, she continued, "Yeah, you're what— about 56 or so— that would be a few years before you."
I thought, "56! You've added almost a decade to my age. I look that old?"
Of course, I was just thinking this…
"I'm just going by all the grey," she continued, serious as could be.
The boys are laughing because— in their mind— I look 97. Whereas I think I'm superfit for my late 40s (and can out-run, out-lift, out-whatever most 20 year olds— and even out-run, out pull-up those boys), I've already stepped one foot into the grave.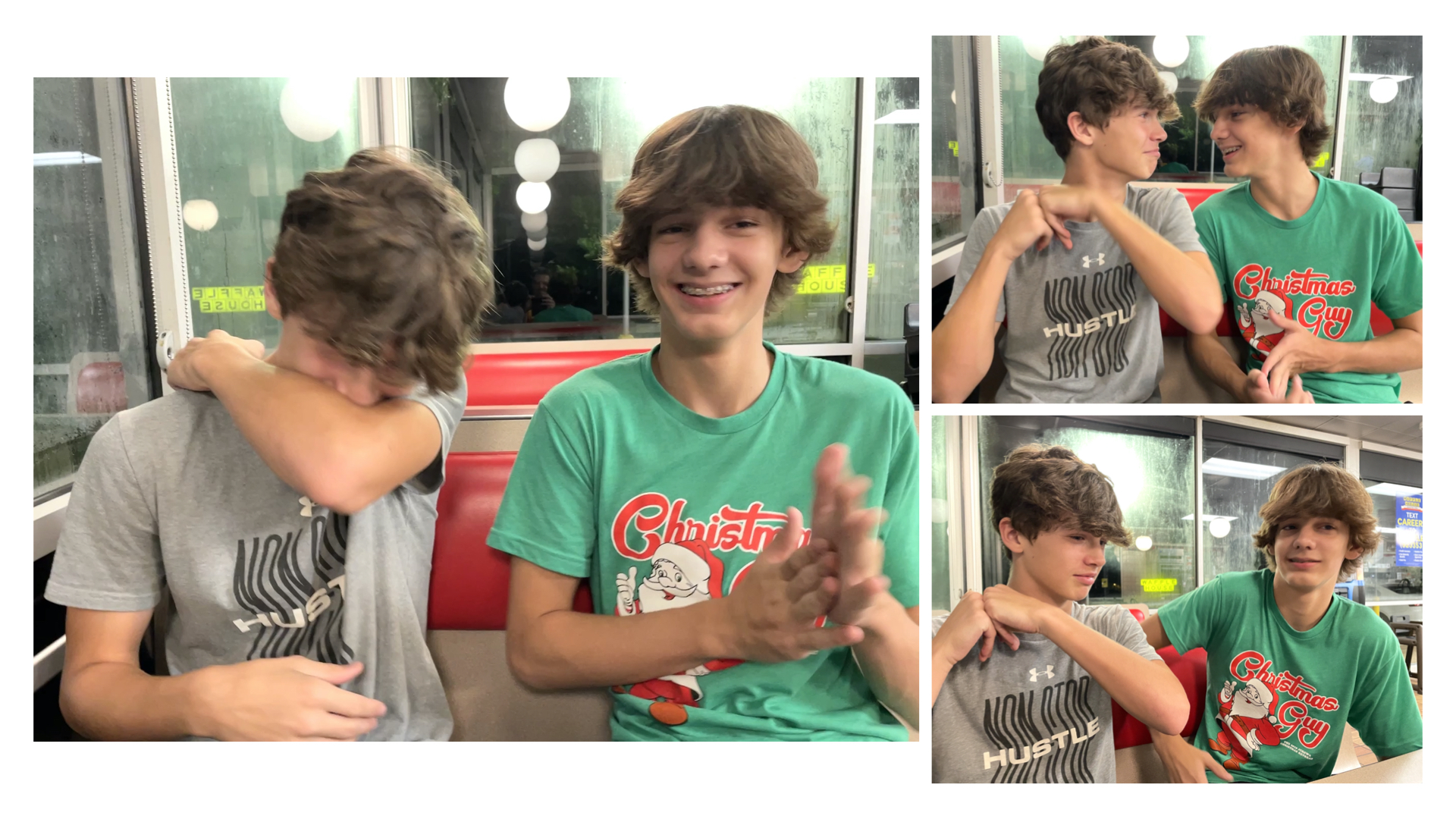 😂
"I'm not 56," I told the waitress.
"No?"
"I'm 68… just wear it well, I suppose…"
She walked off, served us (did a great job, BTW, other than pegging my age wrong, then adding unsolicited commentary to the fiasco).
💰
Later, I left the boys at the table and walked to the cash register to pay.
Again, I'm fit. I think.
"My," she observed, "you're really well-preserved for 68."
She. Was. Dead. Serious.
😂
Must have been a long day at the Waffle House. Or perhaps they've added ingredients to the syrup we don't know about…
🚌🚌🚌🚌🚌🚌🚌
Field = the 12 step reboot is almost live
Friday afternoon, a client cancelled a meeting, so I reclaimed the time and finished a few edits on the 12 step book. Saturday, it was time to start laying tracks for the audiobook.
Side note: this is a reboot of a project I completed overs 5 years ago. Recently, a recovery center reached out about using the material. I agreed, as long as I could take another look at it— and make a few adjustments.
🚌🚌🚌🚌🚌🚌🚌
Faith = Received a great text while on the morning run
This morning, as I bounded at the neighborhood for a long, easy run (one of my favorite things to do on the weekends), I received a great text from a friend.
📱
GM Andy, the Lord put you on my heart today for prayer and reminded me of His promise in Ps.91:11-16. I feel like He said to remind you of it too! Have a great day!
📱
I was reminded that— again— the Gospel doesn't just connect us to God, it connects us to each other. And most of the beauty we experience in life has so much to do with the relationships we have.
🚌🚌🚌🚌🚌🚌🚌
Friends = Sunday and Friday
Last weekend, a few of the guys from my small group came over. We lit the fire pit, then sat and talked— with no agenda— for a few hours.
I met a two of the guys again this Friday— at Perry's. We slid in late enough for it to be after work, yet early enough to catch the Happy Hour / Early Bird pork chop special.
🚌🚌🚌🚌🚌🚌🚌
Fun = North Italia
Friday, Janice and Michael (mother-in-law / father-in-law, Beth's parents). Janice and Beth had some accounting to do, specifically connecting online courses and payments to QuickBooks. In short order, they took over my office— where I was doing some book editing.
Michael decided he was hungry.
"You want to go eat? I'll buy," he asked. "Maybe at Baja Burger."
I told him I'd rather eat a blue jean jacket than go to Baja, but that I'd ride with him. Plus, it was about 2:00, and I was meeting guys at Perry's around 4:30. I wouldn't be eating.
We decided to go to North Italia— where they have his fav (Shrimp Scampi) and great coffee.
That decision made, I bumped the work…
… and embraced the fun.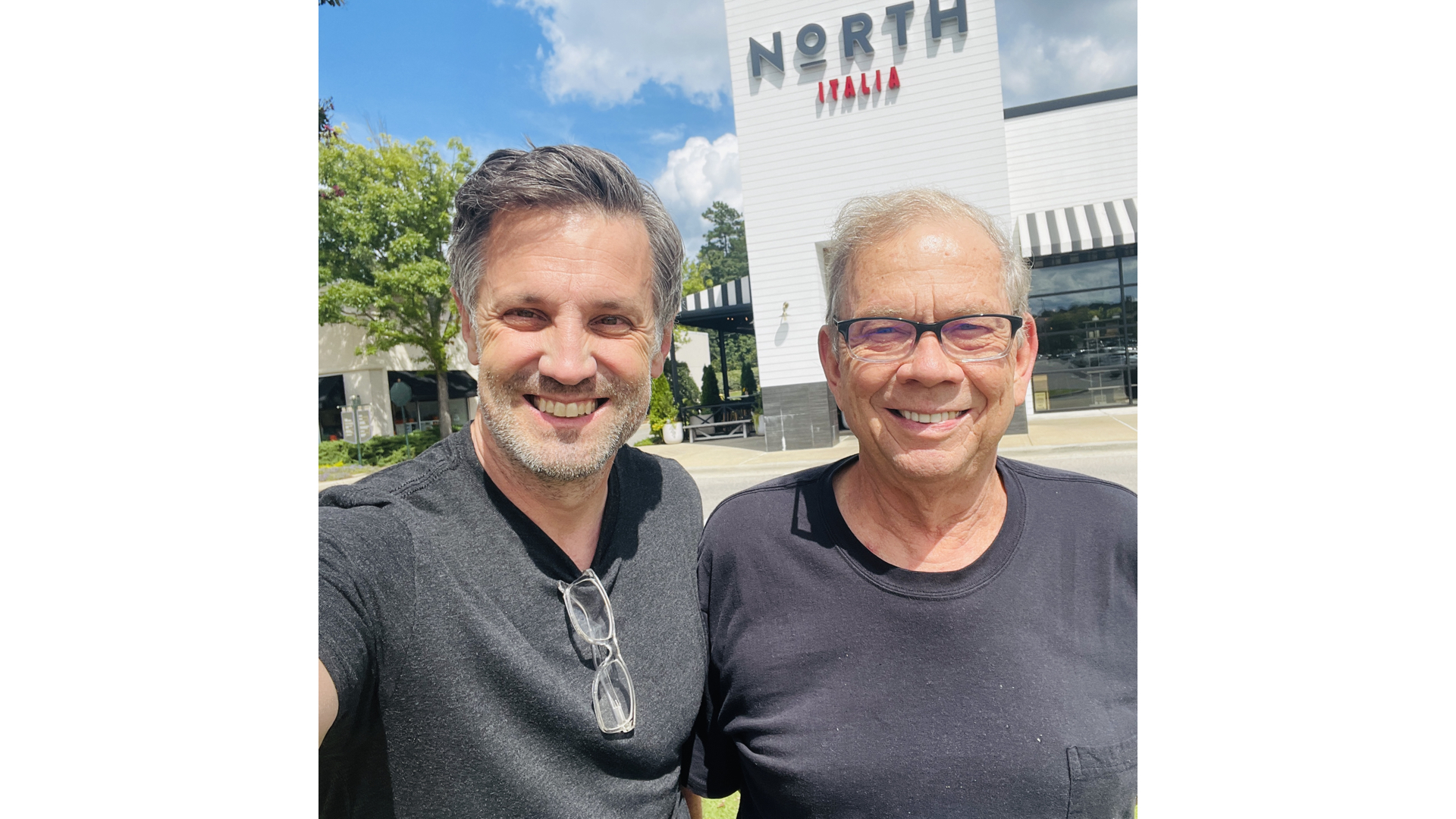 That's a wrap
That's the highlight reel for the week. As you know by now— if you've been here before— I try to crank these out once a week.
I sit down at some point each weekend, ideally on a Sunday afternoon, while planning the week ahead and doing my weekly review of the week behind, and make a few notes. The planner I use— which I designed for the Advance workshops I led for a season— contains journaling prompts for each day where I, generally, jot down 3 things I'm grateful for (as well as some things I could have done better, etc.).
You can download the planner free at www.Jenkins.tv/FreePlannerPDF.
Or, purchase it in our online store at https://www.thehilltop.shop/product-page/advance-planner
Never miss a new post + podcast!
Join our mailing list to receive the latest news and updates
We hate SPAM. We will never sell your information, for any reason.