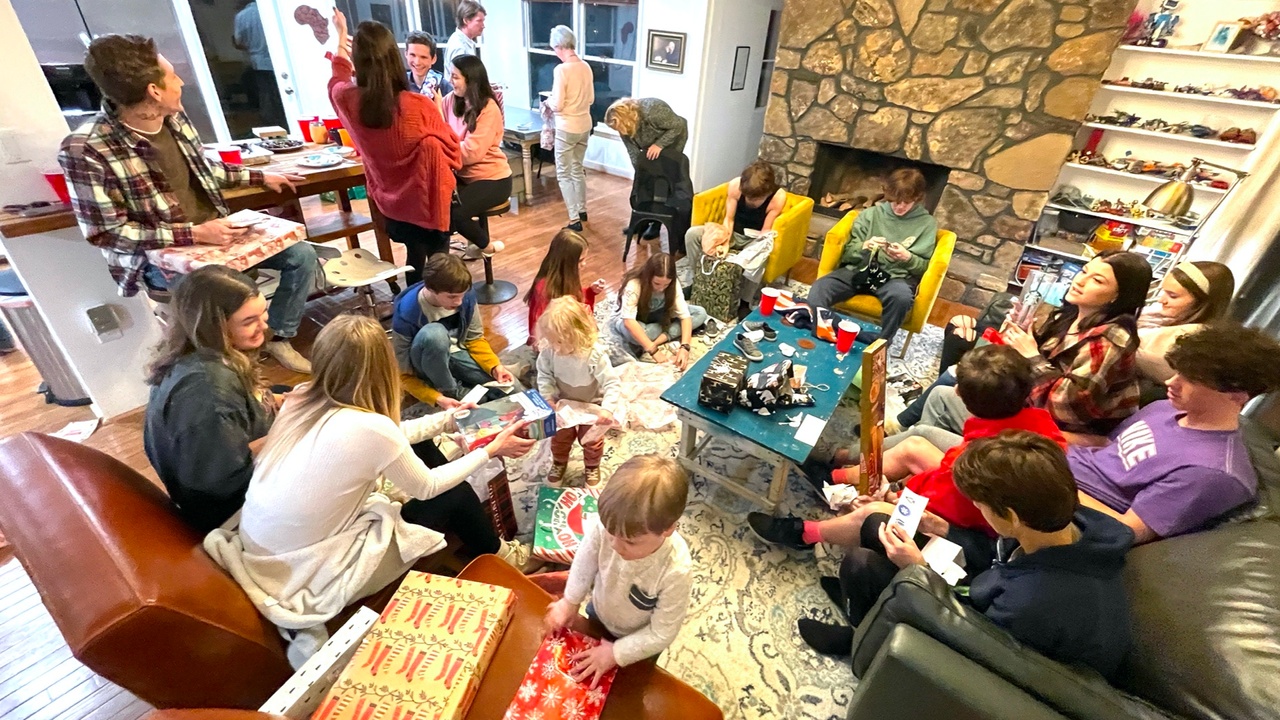 Blog: Top 7 = Christmas way early, celebrating a kid "quit" her job, etc.
Dec 20, 2021
Christmas way early, celebrating a kid "quit" her job, and more make this week's top 7...
🚌🚌🚌🚌🚌
Fitness = Sunday run, and then… company arrives early!
Last Sunday morning, we slept in… for a bit.
(When you have older teens, you can sleep until 3pm in the afternoon if you want. When you have little kids— like our 8yo— you can sleep until about… 8. I suppose the age of the kid dictates how far into the day you can sleep. So, we woke up about 8am, which is a full 2 hours later than usual.)
We had a LOT to do around the house, since we had family coming over for an early Christmas…
Side note: we decided to start doing family Christmas around the first weekend of December. Missed it this year because we were on a work trip, so we opted for the second week. This, I think, will work out well— no one clamors for the first week of December. Everyone adamantly wants Christmas to be celebrated on Christmas DAY or Christmas EVE… but, the other times… they're all up for grabs.
It's odd, b/c when you study ancient history and Biblical theology, you discover that Jesus was probably born closer to the Fall (2022 will be October 9-16, for example), back when the Jews celebrated the "Feast of Tabernacles," made tents on their porches and backyards to celebrate the time God provided in the wilderness, and then celebrated the "Word become flesh and living among them," which literally translates as "God pitched His tent with us" (see John 1:14).
(So, baby Jesus likely didn't stay in a barn, but in a temporary shelter-- like a tent, reminiscent of this-- as people celebrated this moment.)
Anyway, everyone was coming over— at 5:45pm (not sure how we created that for our gathering time). So, I went for a run— a long one— around 1pm…
Returned 2 hours later…
… to a full driveway.
Still. Long Sunday runs are the best. I prefer the morning. But, geez… anytime when there's very little traffic, when the weather is great (it's OK if the weather isn't, too) seems like a fantastic time to get outdoors…
🚌🚌🚌🚌🚌🚌🚌
Finance = Out to eat for Anna's last day of work
Wednesday we went out (me + 2 of the girls)— it was Anna's last day of work. Beth had a presentation to do that evening via Zoom, one of the boys had basketball practice (which has punted date night to Tuesdays for a few months instead of our customary Wednesdays), so me + these two went to celebrate.
Tried the "new" version of Little Donkey in Homewood, where they've been renovated the old strip— adding a new hotel, Edgar's, and a few other places
Anna's transitioning to some other, more entrepreneurial opportunities I'll post about around the first of the year.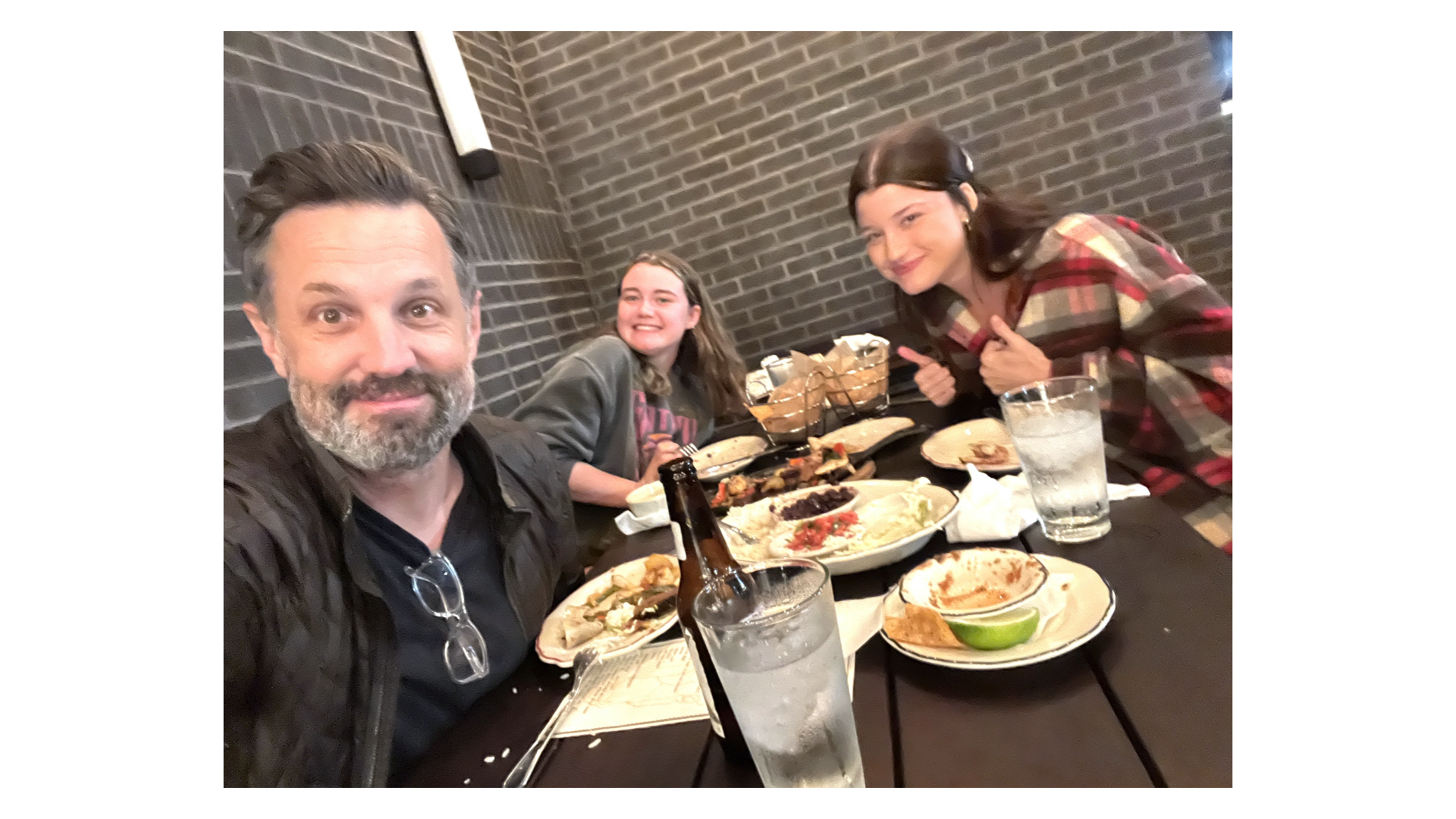 🚌🚌🚌🚌🚌🚌🚌
Family = And there's Christmas…
When I renovated the house (bought a perfectly move-in ready home about two years ago and then began knocking out walls), I knew we wanted it to be a place where we had wide-open spaces so people could gather…
We were intentional about the space— and knocked most all of the walls out in the main home's upper level (now, the only two "rooms" are the Master bedroom and the office— everything else is open).
We placed the boys downstairs— where they have three bedrooms and a (ultra-small) living room), and we moved the girls to the top floor of the "tiny house" (our name for the add-on), where they have 3 bedrooms— as well as a bigger living room downstairs.
The result is lots of open space for things like this—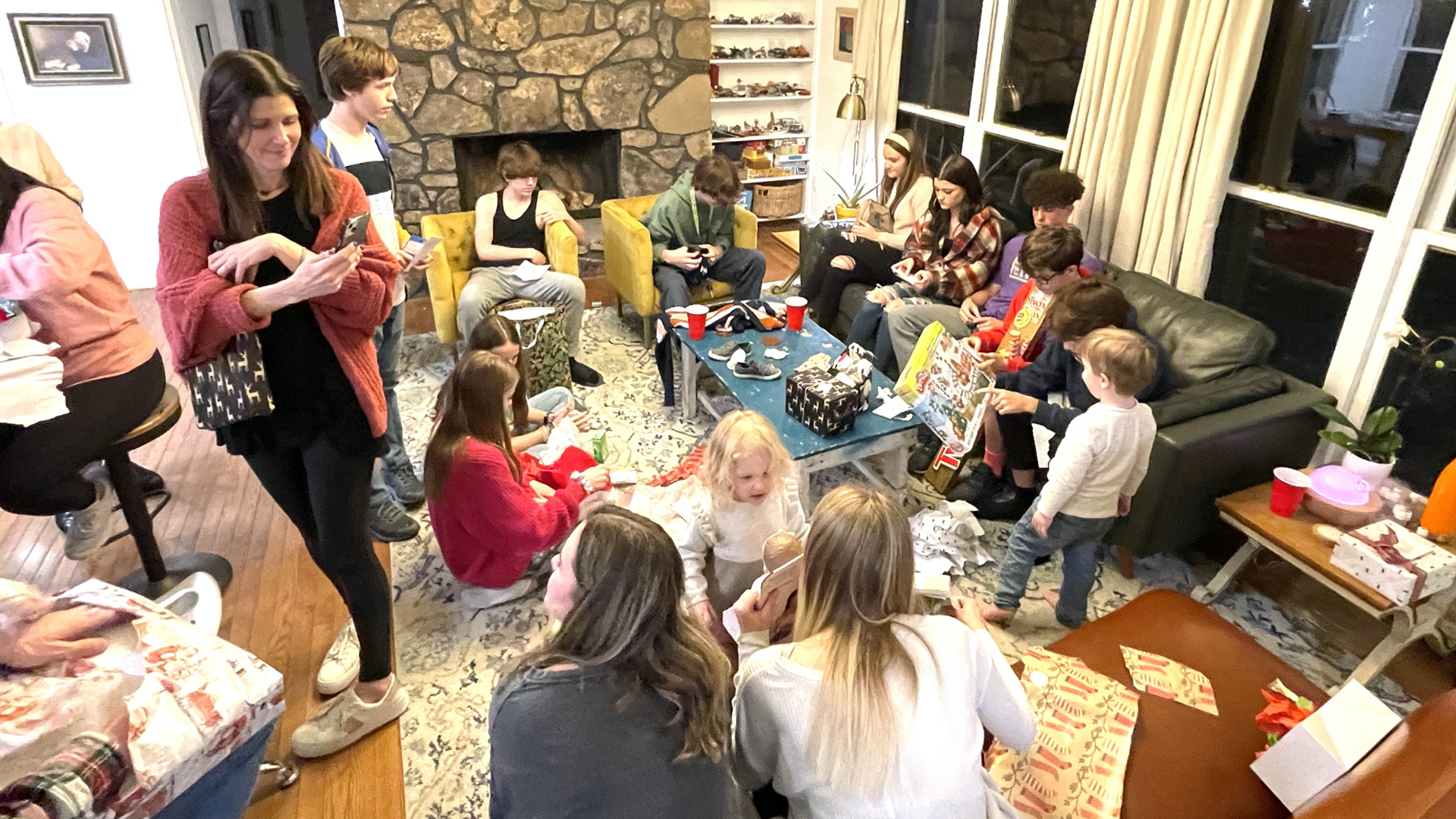 And this—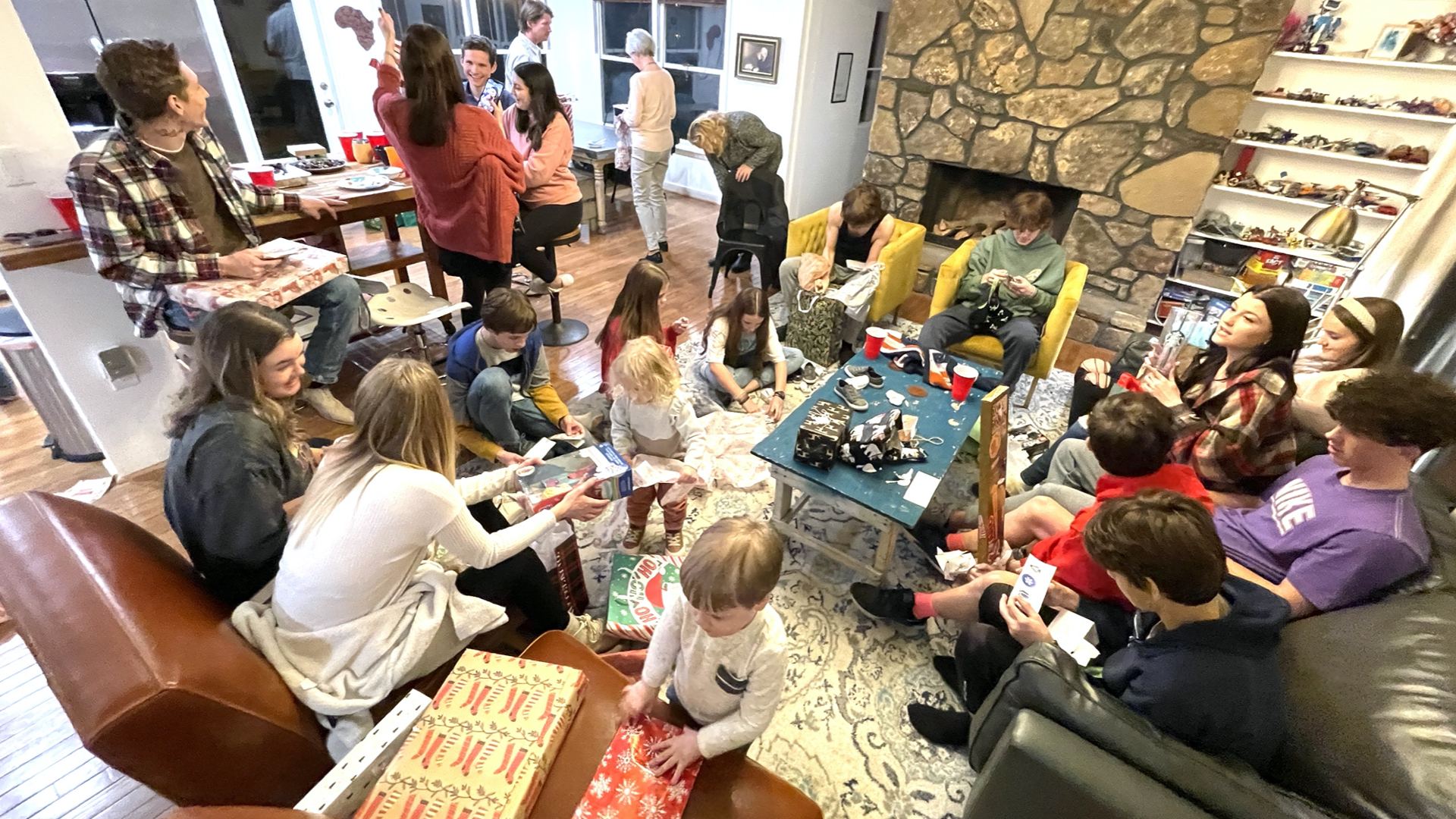 Then, I opted to use one side of the garage for a "workspace" (it would be to the left here, out of the frame). I have the bikes hanging on the wall, all of my tools stored for easy access, and the motorbikes…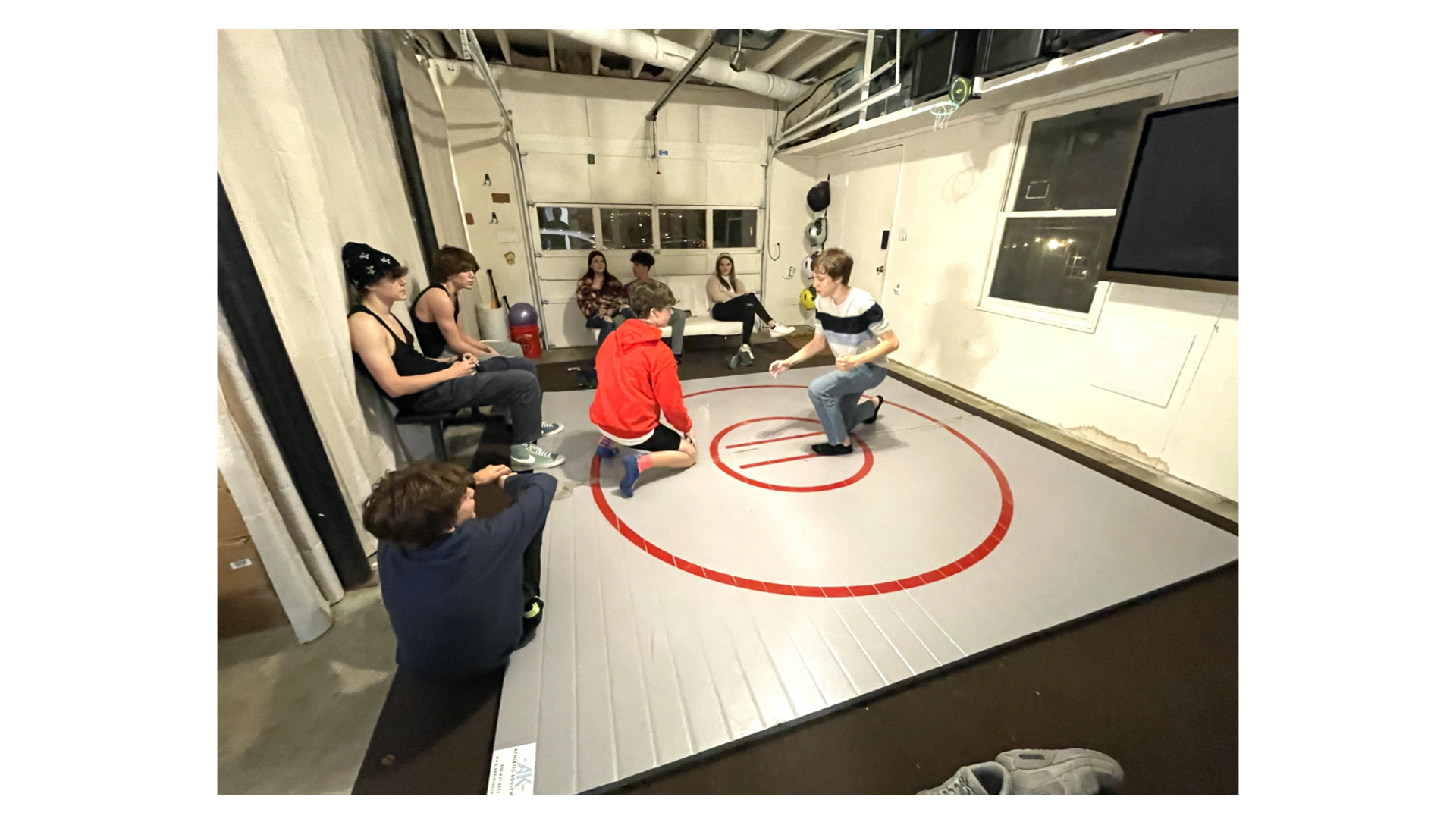 I used to park on the right side…
But, over time, I realized I would rather park outside and have the place for exercise.
Yes, that's a wrestling mat the boys rolled out. Once one of the boys jumped into the sport, and it was obvious he was going to keep doing it, I bought a mat from a recent graduate who lives down the street.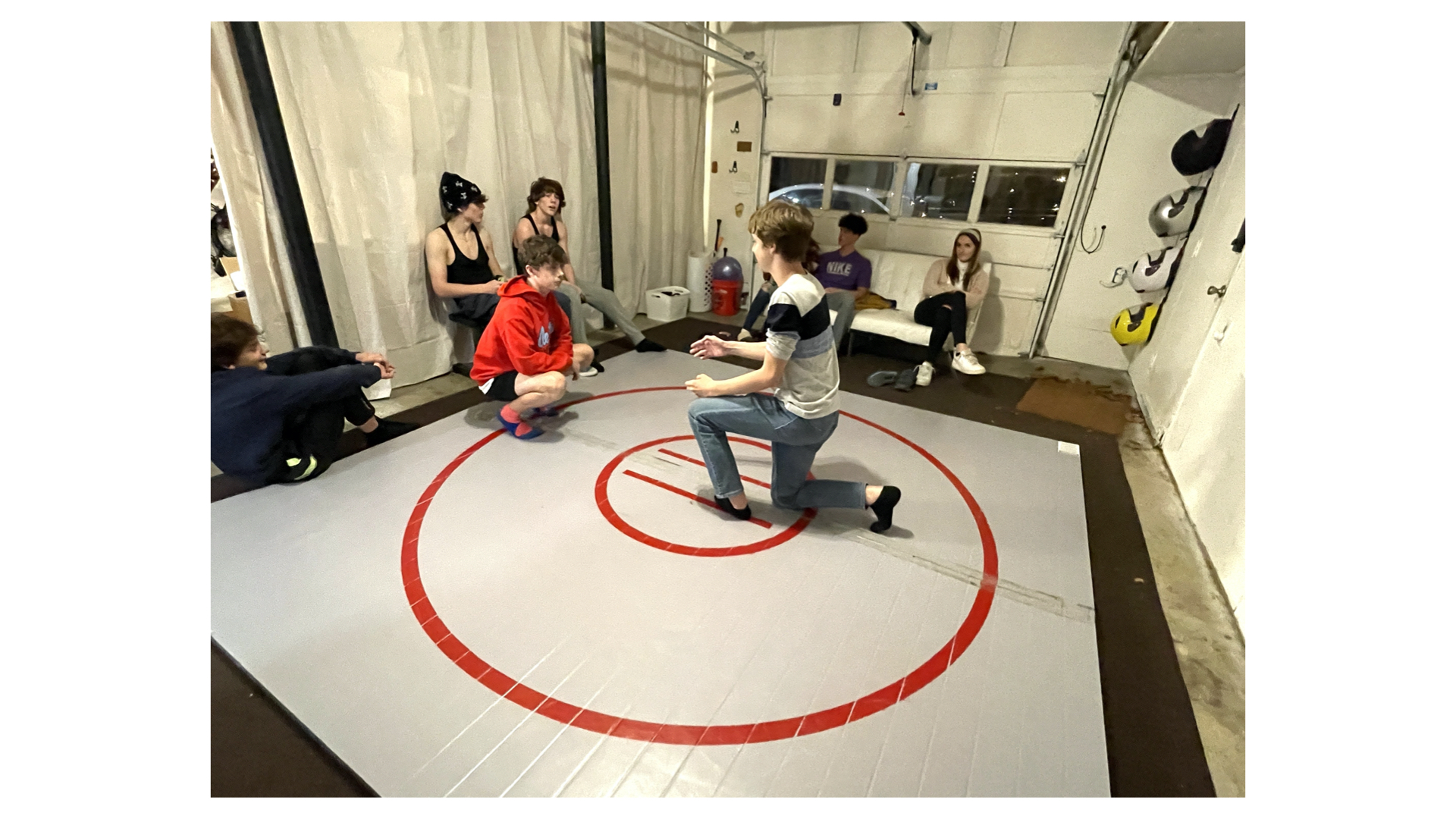 🚌🚌🚌🚌🚌🚌🚌

Field = Courage to Lead, two websites ready—
I have written about it, but about three months ago I began doing some work for Courage to Lead, a coaching organization my friend Shawn Lovejoy founded several years ago. Shawn has been a real estate developer (quite successful at it), a megachurch pastor (he started a church in his living room, then grew it to 3K+ attenders), and a consultant…
Coaching is his sweet spot, though. And of course, all of that experience funnels right into it.
Courage to Lead has been diverging "two brands." They coach ministry leaders (i.e., pastors), as well as marketplace leaders (business executives). Though some of the principles are the same, there's a radical difference in running a volunteer organization (i.e., the church) and an employee-fueled business.
Shawn reached a few months ago via text—
"I'm looking for someone to handle some digital communications— web, social media, email funnels, etc."
He thought I might know someone who would be interested. But the more I thought about it (that same morning!), the more I thought—
I've got this skill set
The timing right now seems great, where this seems to fit
I would love to learn firsthand from Shawn, to see what he's been doing (i.e., get coached for free by the boss
He has incredible content that we would be re-crafting, packaging, and posting (i.e., get paid to learn, so long as I'm sharing what I'm learning)
So, a convo or two later, and I began…
We spent the first 30-45 days "running the play" that was already in place, as well as learning the "Framework" he created (i.e, "The Gears of Growth.").
This week, the first website goes live…
Next week, the second…
(There are already sites up, so the new ones will replace them.)
🚌🚌🚌🚌🚌🚌🚌

Faith = The Chosen, "The Messengers"
This Tuesday, Beth and I drove to the AMC to watch "The Messengers," a Christmas special by Dallas Jenkins, who directed The Chosen.
Here's the fabulous approach The Chosen takes—
Everything in the Scripture is packaged— and then presented— as real people doing real life, and then encountering God amidst it.
The Chosen removes the "ivory tower" facade we often place on The Message. It takes away the gloss and presents it amidst the grind of real people…
Side note:
We usually do date night on Wednesdays. But, with one of the kid's basketball practices being held on Wednesday evenings, we opted to Tuesdays.
My friend Randy texted me this week— probably an accountability-type of reach out: "Hey, what happened to Wednesday night date night?"
His message made sense. Usually we snap a pic and post it online. But, we hadn't in a few weeks. And, he saw I had been out with the girls one Wednesday, doing something different another Wednesday, Beth hosting a presentation one Wednesday…
🚌🚌🚌🚌🚌🚌🚌
Friends = breakfast with Adam
A few weeks ago another pal, Andy Heis, opened his new church facility (Desperation Church, Cullman) and held the dedication. I rode up with Shawn, where I met Adam Hicks.
Adam leads the Jasper campus of the church— where he preaches most weeks and oversees the ministries (each campus features live preaching— no video-stuff there!).
Adam and I connected in the "green room" on a personal level, having been through some of the same rough chapters, learning some of the same lessons you can only acquire in the trenches.
So, we stayed in touch.
This past week… breakfast at Another Broken Egg.
Here's one thing I'm learning: when you find a connection with people you learn from, lean into it a bit. Intentionally take the pause. Listen. Learn. Share. Grow.
🚌🚌🚌🚌🚌🚌🚌

Fun = Nada
This week was a grind. Lots of hours working on a few projects (two websites, still working in the background on the LifeLift workbook, uploaded the FOUR paperbacks, etc.). So, I didn't schedule any intentional fun.
Sure, I'm enjoying this season of life. And, you could argue that the run was fun, that Christmas was fun, that hanging out with friends and family is fun…
… and it is….
But, part of staying in rhythm over the long haul includes intentional times of pause. It doesn't happen every week. But it's the goal.
That said...
Since I didn't do anything "fun," I'll share this post of my haircut. Got that this week. The gal on the left is Allie, who works at Studio 21 and does a fab job with men's hair.
(And, notice all the grey coming in on mine!)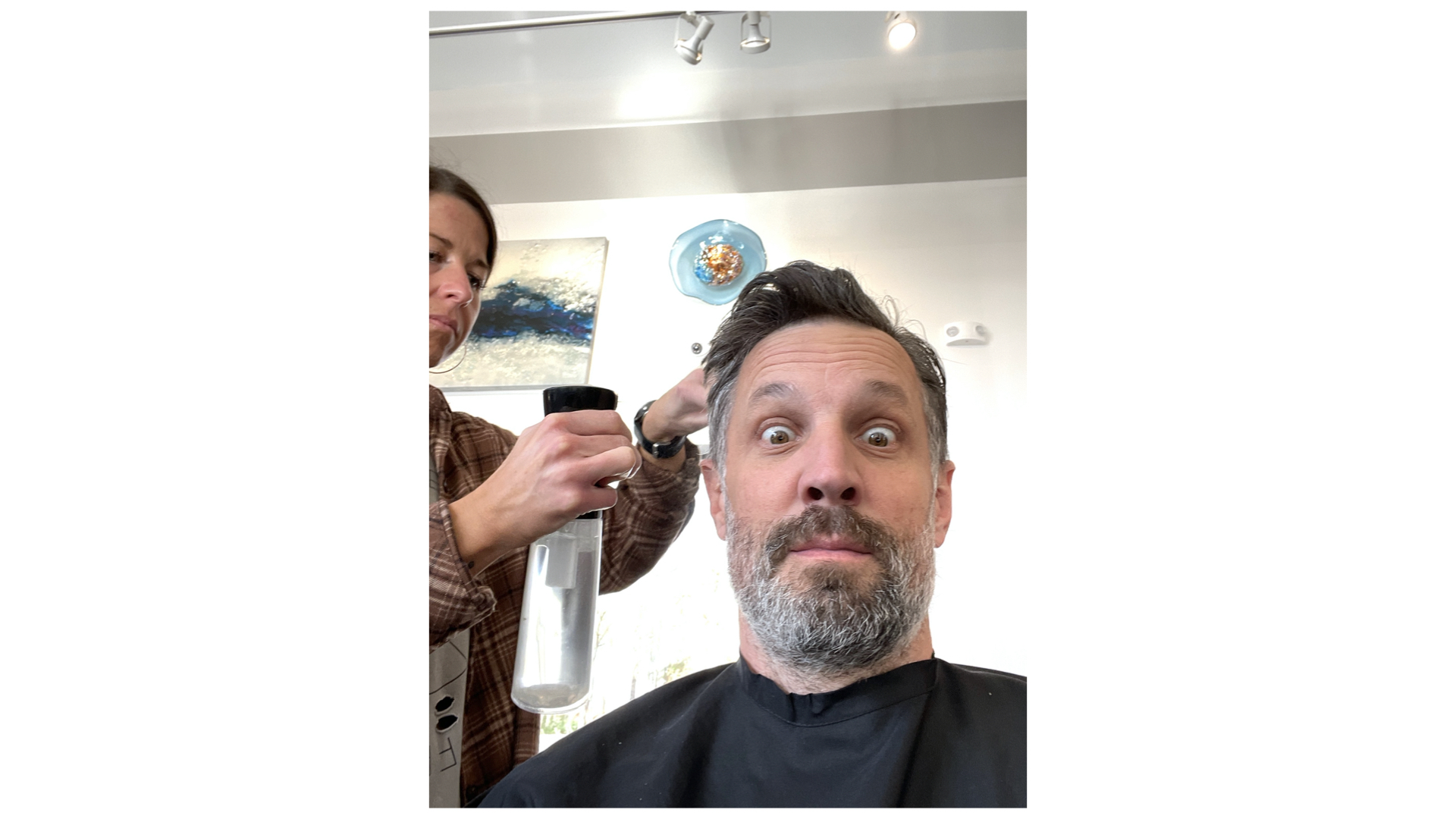 🚌🚌🚌🚌🚌🚌🚌
This is the Top 7 for last week. Every Sunday afternoon I sit down for 45 minutes or so, map out the upcoming week, and look back at the previous. As I do, I make a few notes in my "weekly review" about the highlights from the previous 7 days…
I record them here— just the highlight reel— from the "three things I'm thankful for today" that I complete every evening…
BTW, you can download the UPDATED version of the planner at www.Jenkins.tv/FreePlannerPDF
Never miss a new post + podcast!
Join our mailing list to receive the latest news and updates
We hate SPAM. We will never sell your information, for any reason.