Blog: Top 7 = Thanksgiving week reflections
Nov 29, 2021
This week's top 7 includes a look back at the week of Thanksgiving— a holiday I believe has become my favorite of all…
Here's a look at the best stuff from last week in 7 different areas of life…
🚌🚌🚌🚌🚌
Fitness = run with Levi
We had a few wrestling opportunities this week, including a match on Tuesday. So, in order to make certain he made weight, Levi opted for a Monday afternoon run…
I wasn't worried about my weight, but was grateful for the opportunity to do two loops through the neighborhood…
Running in the middle of the afternoon— on a holiday week— was nice, too. There was a slower cadence to the traffic, the weather was perfect…
… and there was nowhere else we needed to be.
🚌 🚌 🚌
Finance = Mini's pants and t-Mobile
We saved some money this week AND spent some cash…
Beth did some quick-calculating and figured we could cut our cell phone bill to about 2/3, even while adding a line for one of the kids…
Done.
She did all the heavy-lifting, made all the calls, etc…
Also, Mini decided she needed some pants. So, I took her shopping…
Target = a wasteland. No pants.
Belk = a no go.
We rolled over to Urban Outfitters where we spent too much on pants. But, they look good, she loves them, and they'll last…
🚌 🚌 🚌
Family = Thanksgiving Day
Our entire family was together this year. With blended families that doesn't always happen. This was the year the stars aligned…
Here's my Dad leading a family discussion about Thankfulness with Levi (who opted to wear his PJs to the event).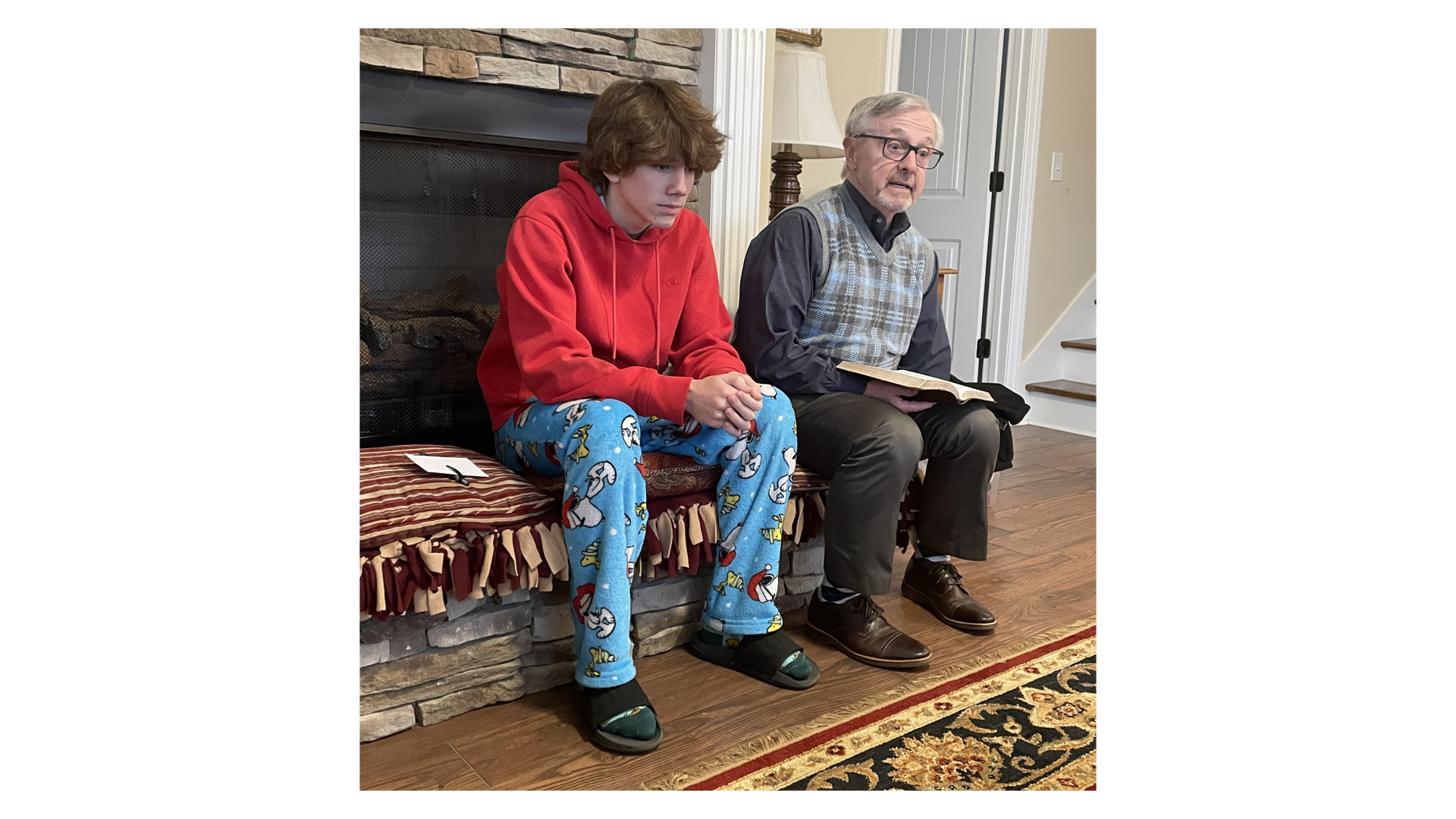 Mandy is on the left, second to the right… next to Carly (Matthew's youngest). Noah (17), Anna (18), and Levi (15), all opted to spend the night with Mandy…
… as did Salter (8) and Mini (11), who stayed in HSV for two extra nights to hang out with Lincoln and Amara (Frank and Mandy's oldest kids).
🚌 🚌 🚌
Field = 10-2 at John Hand… continuing the Courage to Lead convos
Wednesday, before heading to Hunstville, Shawn and I rallied back together at the John Hand Club (20th floor of the old Shipt building downtown).
We invested four hours plotting some future (near-future!) opportunities for Courage to Lead and Courageous Pastors.
Look for some new stuff soon!
🚌 🚌 🚌

Faith = Thanksgiving (yes, another mention)
As I journaled my thoughts this week, I came to this conclusion: This is the holiday that marks so much for me— as of the past few years...
✅ It was the first holiday an ex-wife refused to attend a family gathering, confirming in my mind that she had opted-out of the marriage
✅ It is the same season in which I closed on a new home a few years later (and then joyfully spent weeks renovating it!)
✅ It is the same season, as well, that I publicly moved into a new relationship.
In so many ways, Thanksgiving punctuates a time for me that marks God's faithfulness, a moment when we truly see that He works all things (even the hardest of all circumstances) together for our good.
🚌 🚌 🚌
Friends = we didn't spent a lot of time this week with friends, because of the family time…
But, that's coming this week. We have the Oola bus in our garage. We're headed to Nashville this coming week for Oolapalooza (life-coaching workshop). And, the guys are coming Tuesday evening, to spend some time with a group of friends in the Homewood area.
🚌🚌🚌
Fun = 3 Movie Nights
Beth and I took Mini to see King Richard on Saturday (a movie about Venus and Serena Williams), we took Salter to watch Clifford on Sunday (yes, it was quite a cinematic change from the movie the night before), and Judah and I began the Mission Impossible series at the house…
Here's a pic of Salter on night, after his movie, when we grilled chicken. He opted for "a side of cereal" with his, along with chocolate milk.
🚌🚌🚌🚌

This was long (the awesome kind of long), fantastic week.
We shared some work (i.e., Levi and I chopped five more trees in the backyard, including one ADDITIONAL power-outage), we watched a few shows (Elf!, anyone!), we traveled (wrestling match just north of Montgomery, as well as family in Hunstville), and I was able to push some work projects forward during the un-rush of it all (as odd as that sounds).
🚌🚌🚌🚌

Anyway, I love looking back at the beginning of each new week, because there are so many things I would have forgotten, moments I treasured…
Here's how I remember it all…
Every night (again, except the nights I fall asleep watching TV!), I take a few minutes and flip through my planner. It has two pages per day for planning, followed by two pages per day for reflecting and journaling.
The journaling pages include a few prompts (i.e., "Three things you're thankful for today…", "Something you could have done better…", "An area where you added value to your family, your business, or some one else…").
I use this tool to keep me focused— and (as much as possible) push everything in the same direction.
You've got a lot going on, too. The planner will help you achieve more while focusing on the things which matter the most.
Take a free test drive by downloading the ENTIRE planner at www.Jenkins.tv/FreePlannerPDF or purchase the hardback at www.Jenkins.tv/AP
Never miss a new post + podcast!
Join our mailing list to receive the latest news and updates
We hate SPAM. We will never sell your information, for any reason.