Top 7 = reserved seating, free book, Judah's (new) work ethic, and...
Oct 10, 2022
This week's Top 7 includes reserved seating, a free book for the Barista, Judah's (new) work ethic, and some other stuff…
Each week I post something of a "win" or "gratitude" from each of the seven key areas of life…
💙 Fitness
💰Finance
🚌 Family
👷‍♂️ Field
🙏 Faith
👯‍♂️ Friends
🎉 Fun
Here's last week's rundown…
🚌🚌🚌🚌🚌🚌🚌
Fitness = sleep
Last week I changed-up my routine a bit. Rather than listening to an audiobook (or podcast or something else) if I couldn't immediately fall to sleep, I just laid there…
My hunch (and my wife's) was that listening to stuff was altering my rest.
Turns out, it was. A lot. A whole lot.
Sometimes, I feel asleep only to wake up and find that my dream was aligned with whatever I was listening to…
… and other times I just never got into the deep sleep, the restful space where the body rejuvenates.
So…
I did a hard reset on it, found a better rhythm, and it immediately affected everything.
🚌🚌🚌🚌🚌🚌🚌
Finance = Judah worked like a little beast
Last Sunday, Judah wanted a haircut, so we rolled through the neighborhood and landed at Great Clips or some other chain-barber-shop-thing. I needed to drop a few donations to the thrift store, anyway, so I was already getting out.
"Can we get some Crocs?" he then asked. "I need some more Crocs."
In reality, he does NOT need more Crocs. He has a black pair (thoroughly worn out), a white pair (about halfway worn out), and a stack of other shoes.
"But why not get them, anyway…" I thought.
"You've got to pay half."
"I don't have any money," he replied.
"Not a problem. You can work it off as soon as we get back home. I want to get the side yard where we just cleared all the stumps and small trees and everything else knocked down with the weed-eater. You can do that."
"Sure."
We ran around to a few stores— and tried on a few.
No, I didn't buy any— just Judah.)
Here he is, working— as he said— "like a Hebrew slave."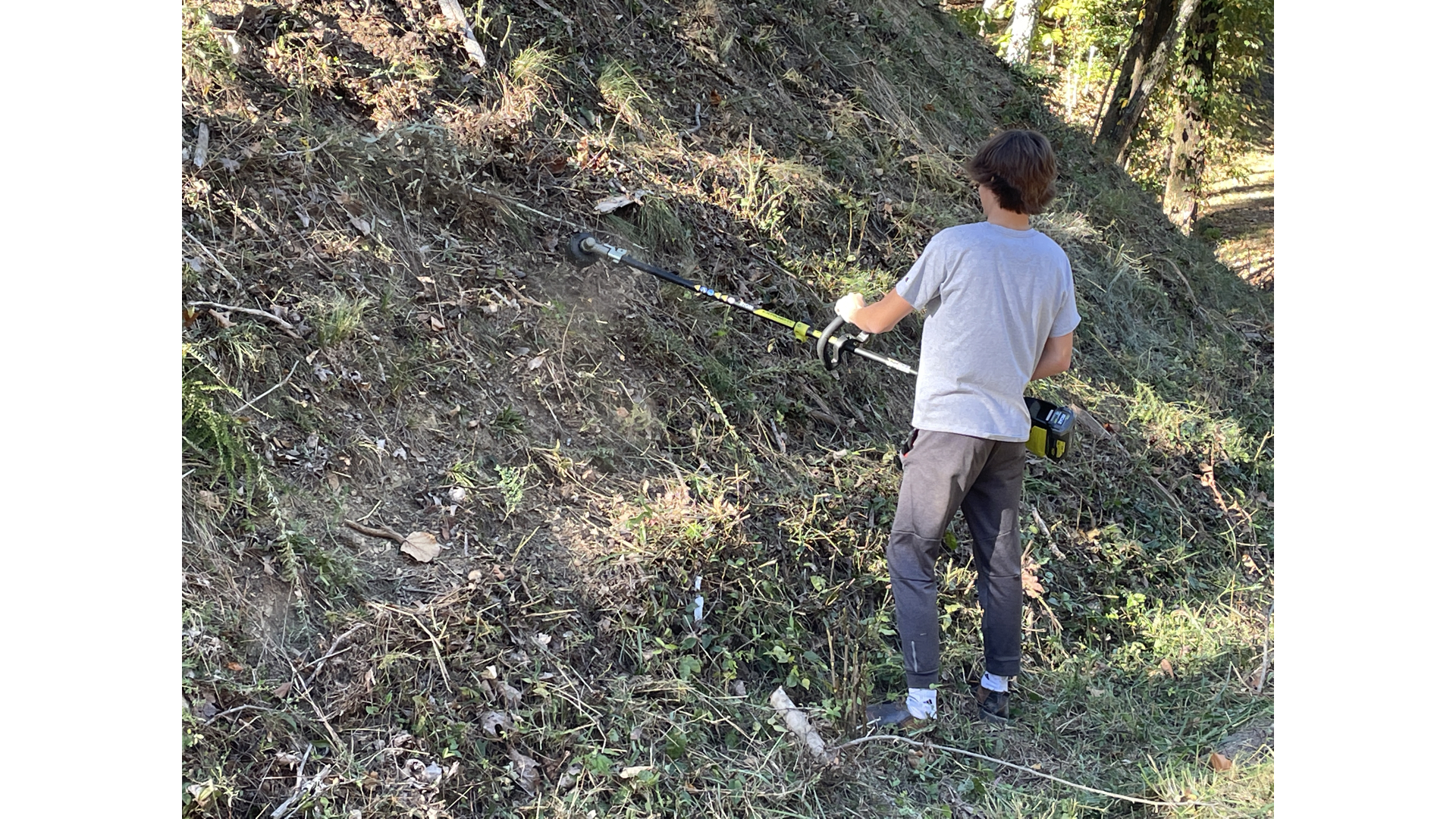 And—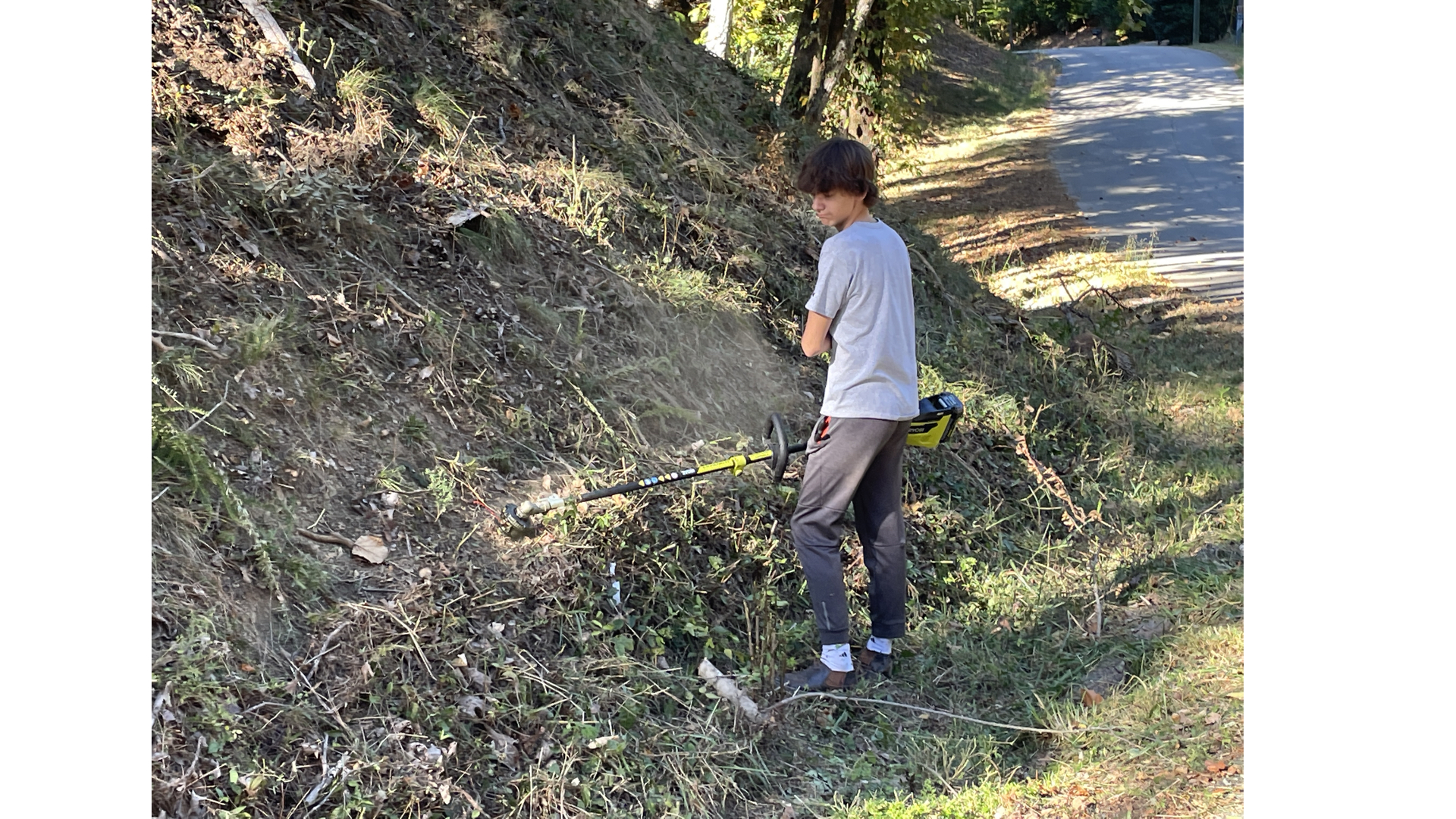 He. Has. No. Idea.
🤦‍♂️
But he does know this…
Money doesn't grow on trees. And even if we CAN buy the Crocs or whatever at any point doesn't mean that we always WILL.
Plus, he knows there's always a cost to the money— it came from somewhere (namely, usually… our work).
💰
I thought the lesson we good— and learned— and done.
But this week he asked me (around Tuesday) if he could go out with a few guys from school to eat and see a "haunted house."
I consented…
Friday, about an hour before "go time," he walked into my office: "I need some money."
"What? You already made these plans and have no ability to pay for this…?"
"How do I?" he asked.
When he first inquired about hanging with the boys, he gave me no costs and mentioned nothing about money at all.
"Not sure," I told him. "How CAN you make that kind of money…?"
"I'm not sure."
"I would go think about it and make a quick plan, because we're not going without a plan."
(Yes, there are a LOT of things we just cover for the kids. Then there are some things— like un-needed Crocs and trips to haunted houses that, frankly, they get to do on their own.)
🤪
After a few moments he walked back into the office: "Do you have any work I can do?"
"Sure thing," I told him. "Sometime this weekend I'm replacing the hardwoods in the kitchen where we had the leak… You can work with me on those. It will take about 2-3 hours, and I'll pay you $40 now."
(Learn about the water leak that caused the need for the hardwood repair in this post.)
So, Saturday— just before the Alabama-A&M fiasco— we laid the new floors.
During the game, Salter decided I matched his "Tofu" plush—
💰
We'll see how the finance lessons continue to go.
🚌🚌🚌🚌🚌🚌🚌
Family = everyone over, all weekend….
We've got 10 kids. 5 live in their own apartments— and are in the work/school mode of early adulting.
This weekend, Emma and Anna rolled back over— Anna's birthday. And, it aligned with our monthly cookout / family get together.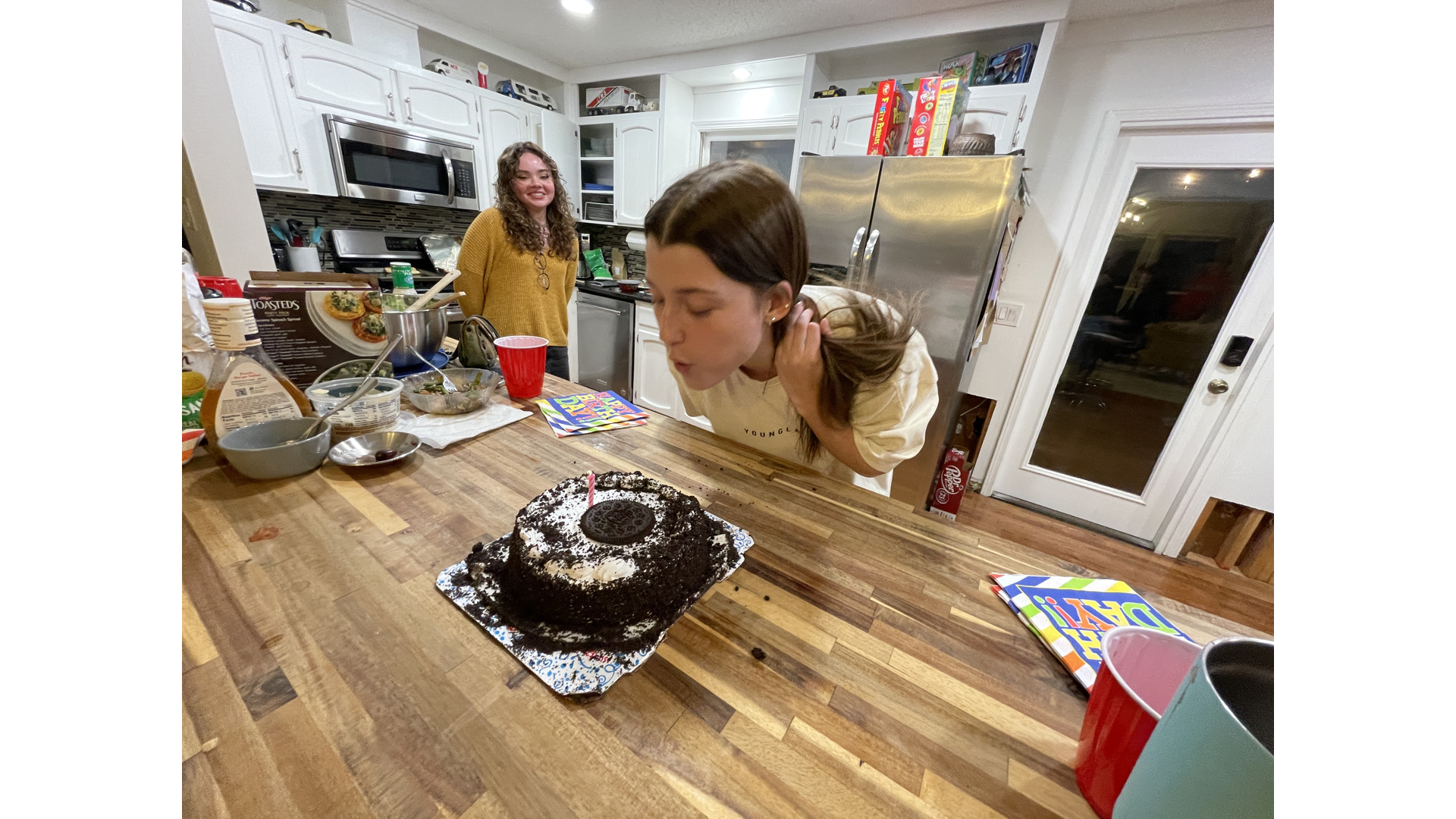 We lit the fire pit…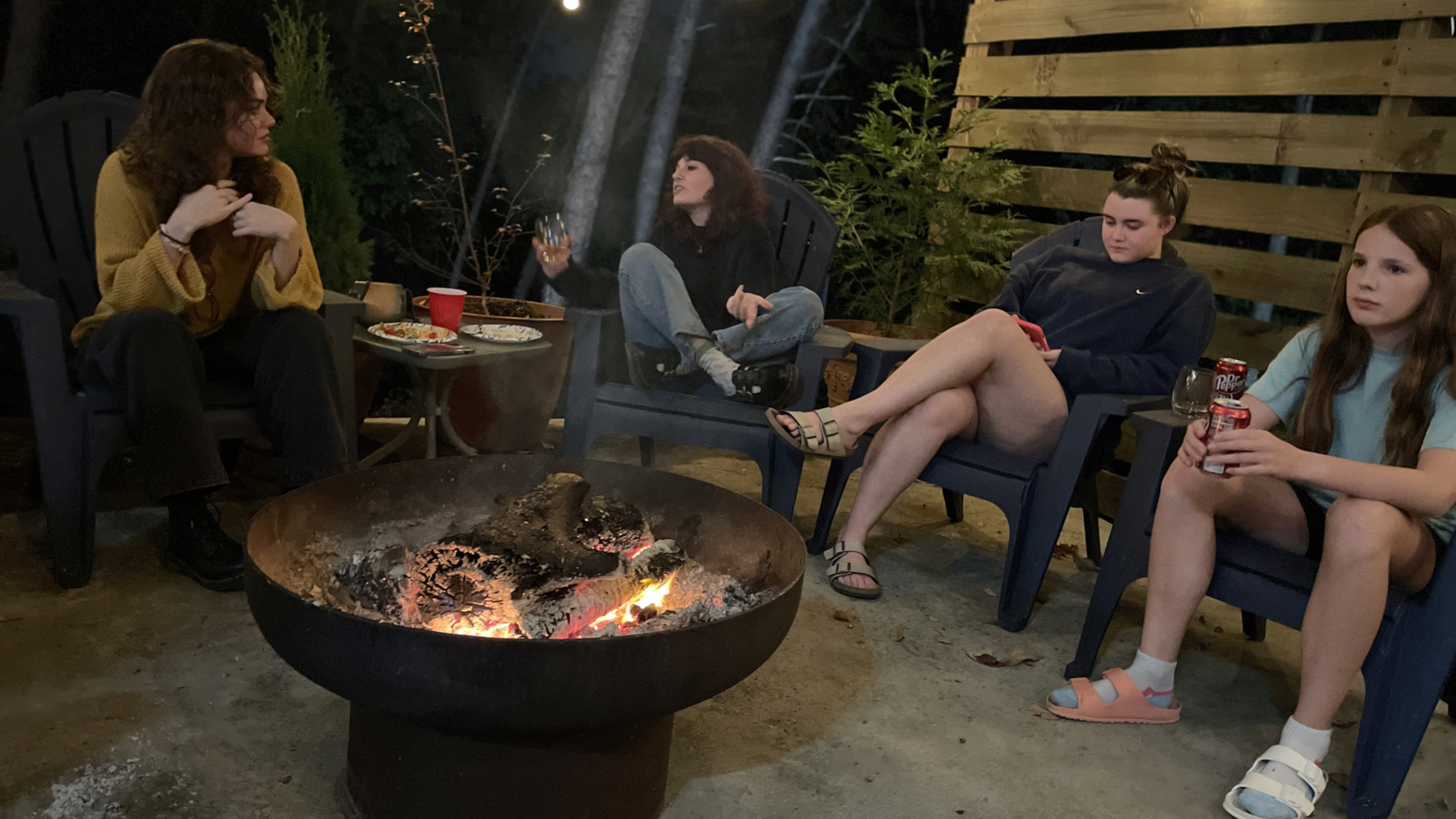 As well as….
And—
🚌🚌🚌🚌🚌🚌🚌
Field = Almost through the first run of Freedom Recovery + got this
Wednesday I taught Step 9 at Freedom Recovery— in Oxford (learn about the Freedom Recovery materials here— where you can stream the audiobook totally free).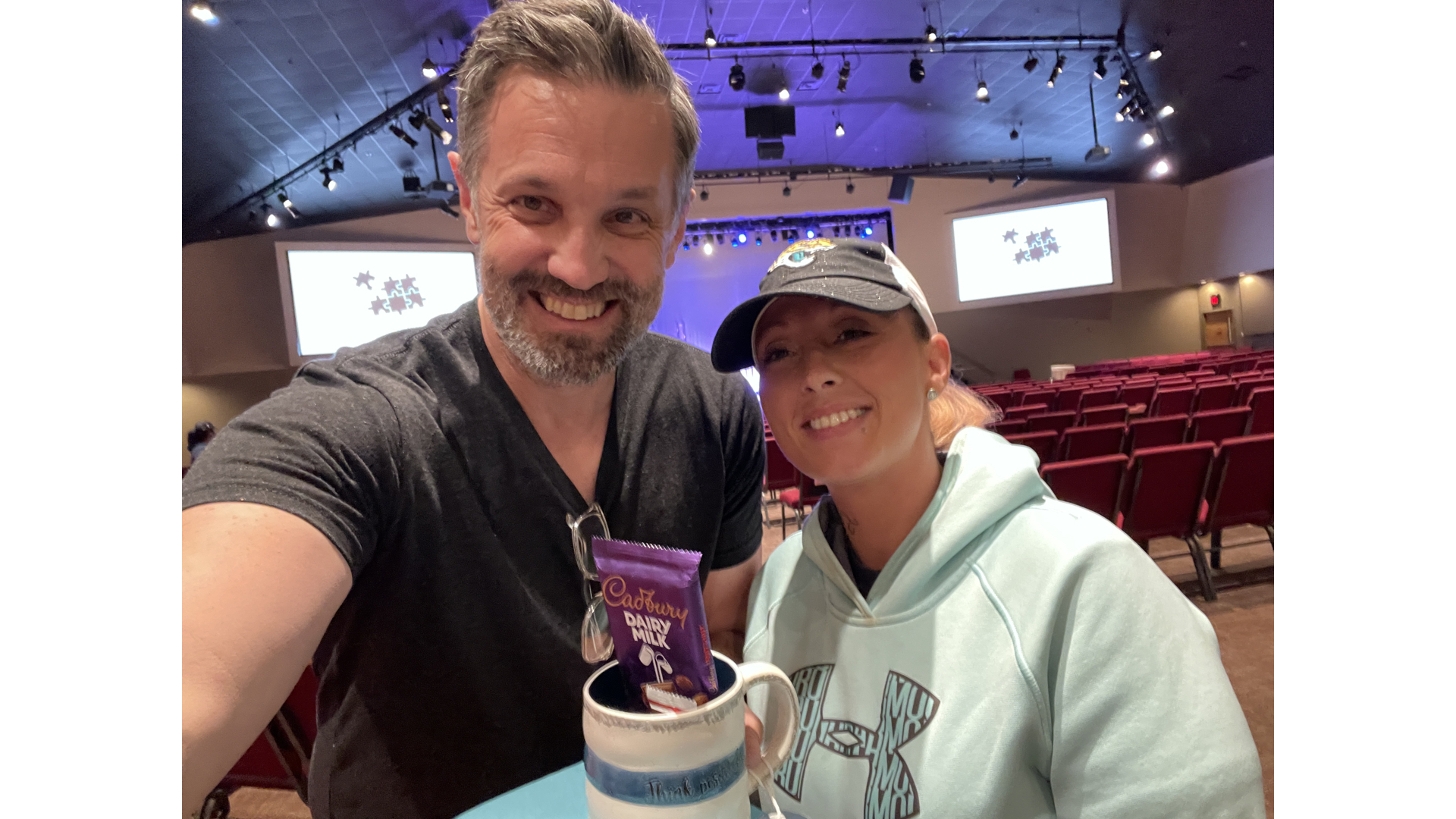 Before the class, Patricia— who's made GREAT progress— approached me with a gift. A coffee mug. Some chocolate. An awesome letter.
"… for you and your wife…"
🚌🚌🚌🚌🚌🚌🚌
Faith = Warrior Hope / Bible Study
For the past 9-10 months, Bob Waldrep and I have been pushing through words and concepts and Scripture to pull together a Bible study for warriors, specifically dealing with PTSD and Moral Injury as it relates to military-specific trauma.
This has been a great season of learning and taking a fresh look at Bible verses I THOUGHT I knew really well…
… re-reading them through a new lenses, from the perspective of the military.
Here's one of the slides— one of the key verses we build from—
A few weeks into our work, Bob made the observation that "military service requires you— like Paul says here— to disentangle from everyday life and entangle into your work as a soldier."
He continued, "But then you have to disentangle from that and entangle back into civilian life…"
One of the keys is to deal with all of it in a healthy way, so that you don't import trauma from one experience into the next chapter. Or, so that as you do, you're aware of it and deal with it.
This week, we began teaching the material at Crossbridge Church in Helena, to a group of warriors who volunteered to be the beta/test group of the material. We received some great recommendations from them in the process that I believe will make the material more robust and clearer.
This is Cody, one of the participants. He's an Air Force veteran and the pastor of the host church.
In his "free time," Cody also roasts coffee. He brewed some for our meeting. It was excellent, so I bought some…
🚌🚌🚌🚌🚌🚌🚌
Friends = Rob, Ben, bump into, while out with Beth, Thursday…
Thursday, Beth and I hit the streets.
"Let's go eat, just take it easy," we decided.
We rolled to the Lakeview district, randomly choose a restaurant / bar / local dive, ordered inside, and then sat OUTSIDE to enjoy the weather. We even took the fish taco recommendation from one of the regulars suggested.
After a few hours, we walked back towards the car. Looked across the street. The lights at Exit Realty, where a few of my friends Rob (and his wife, Shannon) and Ben work.
Turned out to be a great stop— got to catch up with them, and invite them to the beta group of the warrior Bible study (both guys are veterans and looking at some innovative ways to use their unique skill set to bless other veterans in tangible ways), but also got to snap this photo with Ben (a "photo wall" / backdrop I need for ANOTHER project).
🚌🚌🚌🚌🚌🚌🚌
Fun = All In
Saturday was a "work morning," of sorts. But not really.
For the past season we've been working on a few projects for the team at Word Alive Church— Beth has been rebranding several of their books, getting them prepped to re-release.
We made the 45-minute drive for an event they hosted Saturday morning, for leaders across the state, all united to bring about Transformation across all spheres.
We even had reserved seats on the front row.
At the event, they gave away 750+ of these books, which we were honored to help develop. The book is available free right now, for another week or so, on their website: www.LifeOfFreedom.site/free
🚌🚌🚌🚌🚌🚌🚌
BONUS = Dropped a free book with the barista + get yours, too
I regularly drop by the new-ish Starbucks on Valleydale / Caldwell Mill Road. As such, I've gotten to know several of the baristas.
"What do you do?" I'm regularly asked.
That's the proverbial million dollar question…
In one of those convos I mentioned that "I write some things."
"Like what?"
I began explaining the Purpose book, the latest project I was finishing on my own. "It's a book that helps people really define why they're here on this planet, how God uniquely created them… and how they're gifted to do something extraordinary in a way that others can't quite do. Everyone is like that, intentionally, in their own way. When we discover what that is, we really see our purpose…"
"Can I get a book?"
"I'll give it to you next time I'm here…"
So, making good on the promise, here I am with Bre— and the book.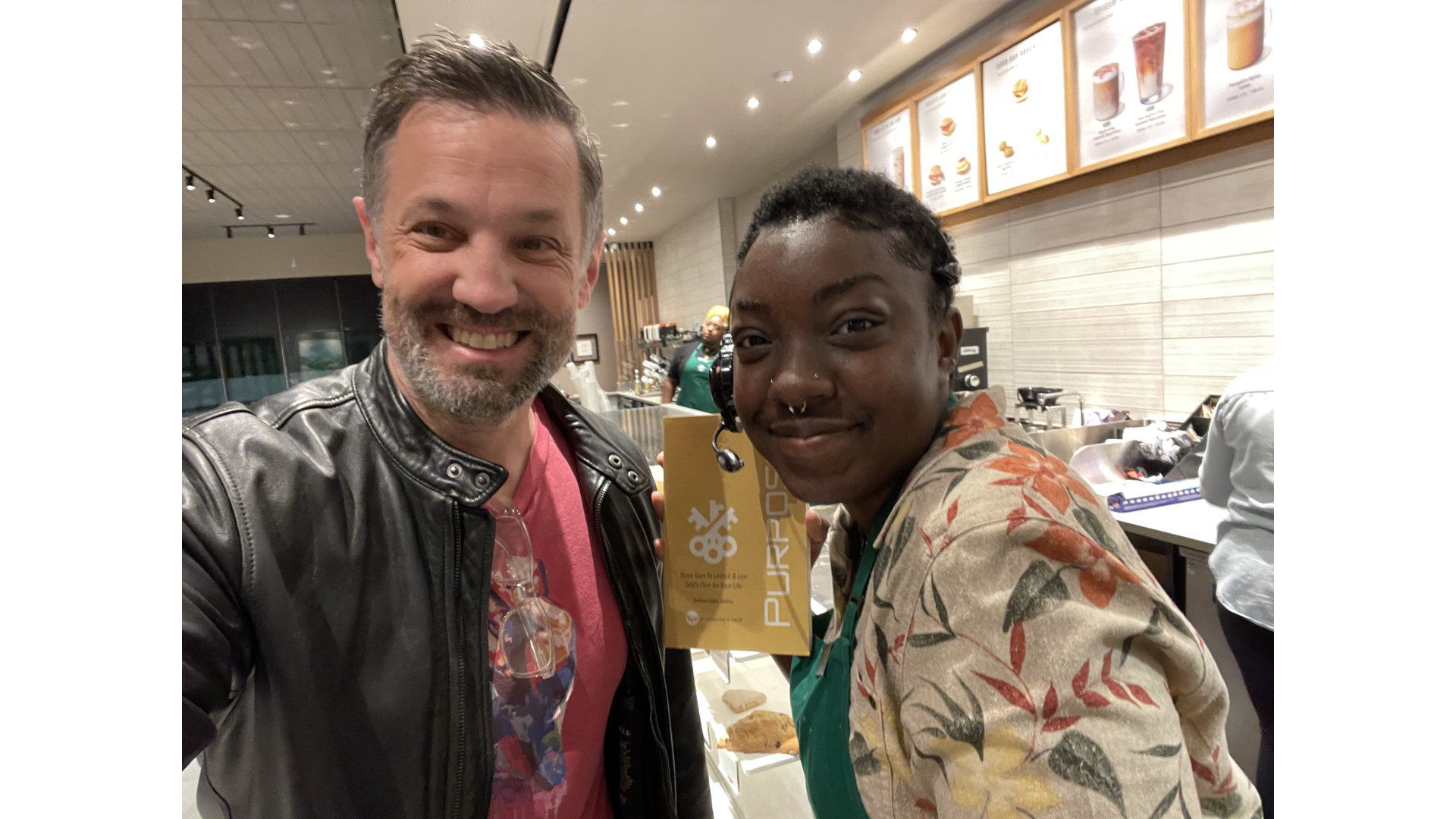 Want one of your own? Grab it free at www.Jenkins.tv/purpose — just pay the shipping and handling and I'll send it.
📒
That's the highlight reel for the week. Each week I take a look back at my journal (and planner, they're one-in-the-same), noting the "top 3" things I'm grateful for from every day that week.
I pull the highlights together— and then write a little bit as a I reflect back…
This is a great exercise for me that helps me:
✅ Look back, and not forget the big and small blessings
✅ Live forward, keeping the priorities aligned as much as possible.
Download the planner free at www.Jenkins.tv/FreePlannerPDF
Never miss a new post + podcast!
Join our mailing list to receive the latest news and updates
We hate SPAM. We will never sell your information, for any reason.