Top 7 = the bacon shirt with the rabbi + kids (still) eat free
Sep 26, 2022
That's a real rabbi in the pic above. I sent this snap to a group of friends in a small group with me— we meet each Wednesday morning at Panera Bread. One of the men in the group knows him and said to say hello…
Can't tell you how many side convos launched from the rabbi with the bacon shirt…
And, of course, it made the week's Top 7.
🥓🥓🥓
New here and wondering what the Top 7 is…?
It's my weekly review of the previous week, highlighting some of the best stuff that happened— big and small— as I look back, counting the blessings (and often highlighting some of the things I could have done better).
The Top 7 includes a "win" from each of the 7 key areas of life.
Here's last week's rundown…
🚌🚌🚌🚌🚌🚌🚌
Fitness = Sunday afternoon run
Sunday afternoon, Mini asked the customary, "Can we go to the jump park?"
I tell you— we're gotten more mileage from the jump park membership than just about any other repeating purchase we've made. Including Netflix or Hulu.
So, we grabbed the "Tiny Girl" (my name for a friend who lives down the street) and headed towards Defy, our trampoline park of choice…
I walked across the parking lot to the nearby Starbucks, ordered a Blond Americano, and pounded on the computer for a few hours. Checked a few things off the list. In my mind, there's something freeing about actually doing some of the work I love in hours when no one else is working— or calling me for work. I can kinda step in, find my way into a groove, and just get things done.
About 1h45m into my flow, I decided, "I didn't run this morning. Took it easy. But I feel better now. So when I get back to the house, I'm going for a long, easy, slow afternoon run…"
Crushed it.
And enjoyed the free, open space where my mind can roam, where thoughts come together, and where I just enjoy the space…
That run tops the Top 7 from last week.
🚌🚌🚌🚌🚌🚌🚌
Finance = Kids (still) eat free
Tuesday, I attended the Building a Killer Team Live event all day, where our team at CourageToLead has been rolling out a few projects over the past 7 months, all related to teams and unity and working together.
(Go to www.KillerTeam.live for more info on the tour.)
As we were packing to leave, one of the gals made the observation: "We still have about 30 boxed lunches. And a few pizzas."
The pizzas weren't part of the lunch, but were an illustration Shawn used in the afternoon sessions.
"Anyone want to take them?"
I messaged two of my gals, who live right down the street.
"Want some of these lunches?"
After receiving verification, I took them 8 ham + cheese croissants— and all the things that go with them.
All of that, of course, gave me a great excuse to crash in on EmJ's apartment (Ivey lives down the street from her).
The following night I asked her, "Did you eat the sandwiches?"
"Oh," she replied. "I'm a poor college student. I don't even have money for groceries. So I ate one for supper that night. Then one for breakfast… then, I've timed them out…"
😂
Back in the day, I LOVED it when I saw specific signs that noted "kids eat free." If they did, that's where I went. And I always prided myself on the notion I could feed 8 or more people for less than $20– at a legit restaurant. Sometimes, I even got it under $10.
Turns out, kids still do…
… eat free.
Whenever they can, that is…
🚌🚌🚌🚌🚌🚌🚌
Family = Wednesday at North Italia
The "kids eat free" observation leads me to this…
Ivey had a few questions about school— and a few needs.
"Can we meet up tomorrow?" she asked.
That was Tuesday, after the event. The next available time I had was Wednesday, after rolling in from the 12-step group I've been speaking at over in Oxford.
"Sure. I can meet you for dinner around 8."
We punted the usual Cheesecake Factory and opted for North Italia.
I texted her on the way in...
"I've got a seat," she replied.
As I rounded the corner, I noticed EmJ— again. She's welcome, of course, but unexpected…
She'd just gotten off work— and connected with Ivey.
"What are you doing for dinner? Eating another of those sandwiches from the event?"
"Not tonight," she replied. "Meeting Dad at a fancy-shmancy restaurant."
"Can I join?"
"Sure…"
So, it was a 2-for-1.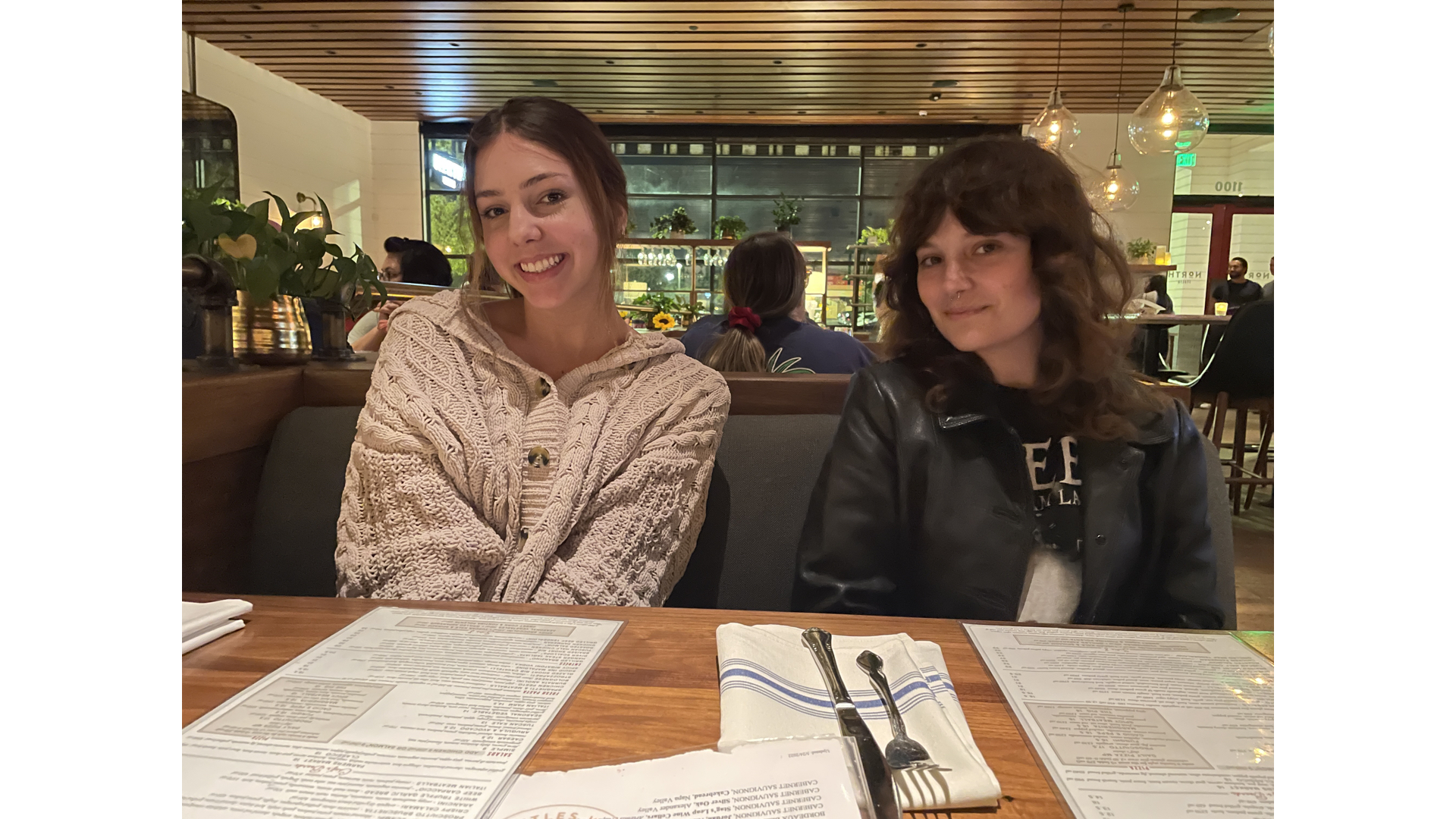 We talked about school. And some nonsense. And some plans for the future. And more stuff that doesn't matter in the grand scheme of things. And, then, of course, about some important things.
It was all fun— and good— because we got to share time together.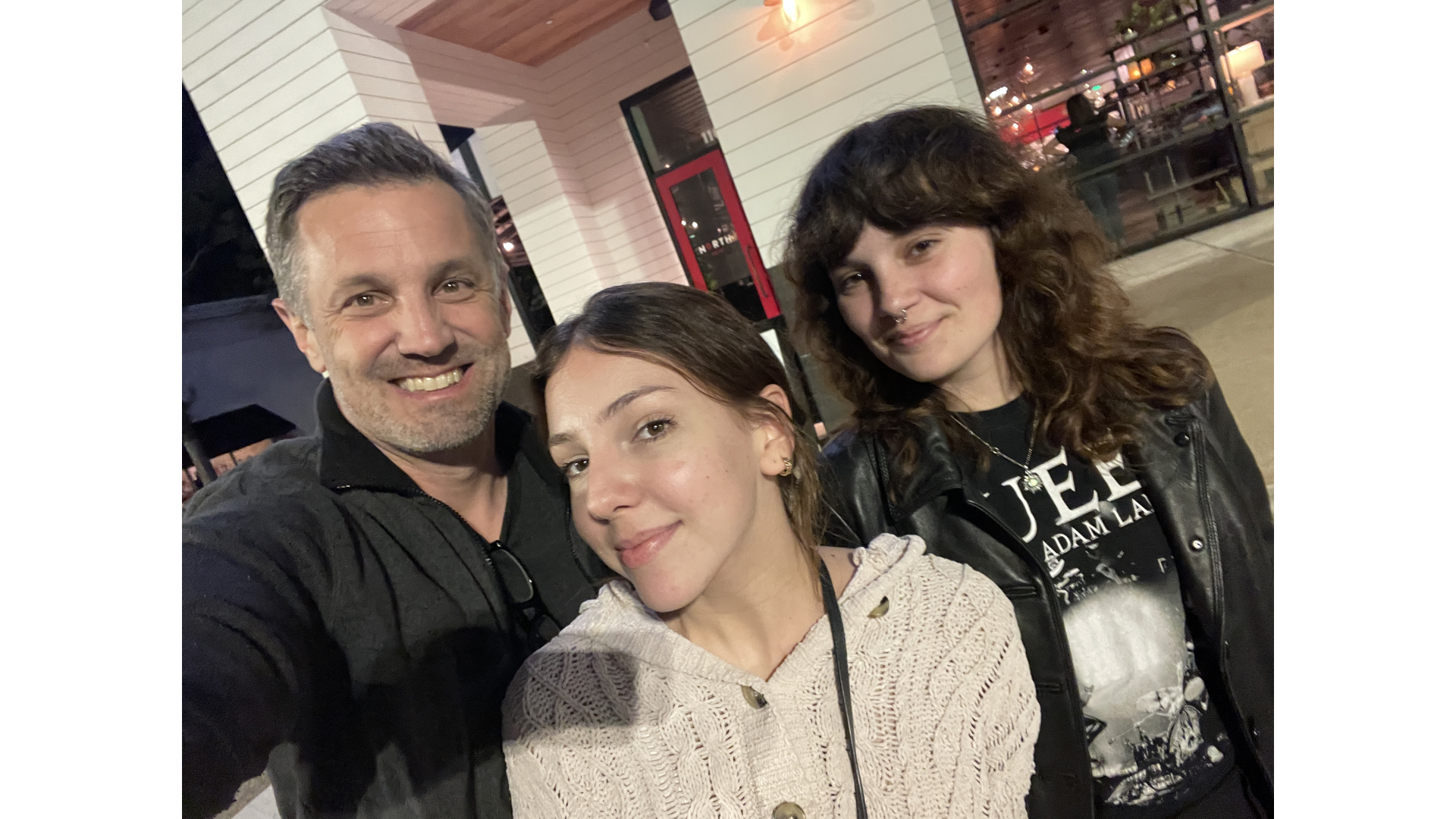 🚌🚌🚌🚌🚌🚌🚌
Field = The rabbi and the bacon shirt
That's my friend Jeff Friedlander on the left. He's a legit rabbi— of the Messianic version. We connected a few weeks ago, when I needed to ask him a few questions about a DIFFERENT project I was gathering info for…
… which led to him wanting to discuss a project HE was plotting for the future.
Beth and Jeff and I grabbed coffee at the nearby Edgar's, where I also bumped into my friend Blake— who owns O'Henry's.
I'll post more about Jeff's project in the next few weeks.
🚌🚌🚌🚌🚌🚌🚌
Faith = Podcasts back rolling
Friday, I laid the tracks for three podcasts— they'll begin airing this Friday. I've learned that, for me, the best work flow is to "batch produce" things. That is, instead of doing ONE podcast or ONE blog post or ONE whatever at at time… whenever possible, I drop into the workflow and do a few…
Last week, I shared that I had NOT posted a few podcast in several weeks, as I'd been working on the Freedom Recovery resources (listen to the audiobook at www.FreedomRecovery.online).
This week, I'm back at it…
… and sharing a few things that were real + personal + timely to me and my own personal development.
The podcast feed-- on my site-- is here: https://www.jenkins.tv/podcasts/lifelift
There, you can also follow links to Apple Podcasts, Google Play, Spotify, etc...
🚌🚌🚌🚌🚌🚌🚌
Friends = You're not out of balance
Last week, I wrote, "I haven't spent much time with friends lately… seem to be out of whack on this one."
I wrote it a bit more eloquently than that, I think. However, Beth sent me a reply—
⭐️
great post.
we aren't out of balance on the friend part tho... I had some amazing 1:1 time with Barbara & going to the movie last Sunday with Nina and two new friends... it was soooo rich and good friends are the people you may not see as often as you would like, but when you do, it's amazing!
and it's thanks to you that made that time a reality! so thank you!
love you and your weekly blog posts.
beth
⭐️
I think she's right.
And a lot of this comes down to perspective.
Sure, I do the weekly review every Sunday, when I pull this info all together. But, life is NOT lived in week-to-week sprints. It's bigger. And broader.
🚌🚌🚌🚌🚌🚌🚌
Fun = Friday night nothing…
Friday night, Beth and I dropped a kid at the Oak Mountain football game, then rolled towards 280.
"Walk Ons looks good," I said.
We were looking for something— anywhere— where we could just sit down, eat a bit, unhurried, and then head back to grab the kid…
The slow, easy pace of sitting outside on a picnic table in the cool fall air, under the landscaping lights, was perfect…
… and provided us with a great time to just pause, catch our breathe from the week, and spend an hour or so dreaming about the next steps of the life we're building.
Sometimes, "nothing" really is something. In fact, many times the "nothing" is the best.
🚌🚌🚌🚌🚌🚌🚌
That's the highlight reel for the week. As you know by now— if you've been here before— I try to crank these out once a week.
I sit down at some point each weekend, ideally on a Sunday afternoon, while planning the week ahead and doing my weekly review of the week behind, and make a few notes. The planner I use— which I designed for the Advance workshops I led for a season— contains journaling prompts for each day where I, generally, jot down 3 things I'm grateful for (as well as some things I could have done better, etc.).
You can download the planner free at www.Jenkins.tv/FreePlannerPDF.
Or, purchase it in our online store at https://www.thehilltop.shop/product-page/advance-planner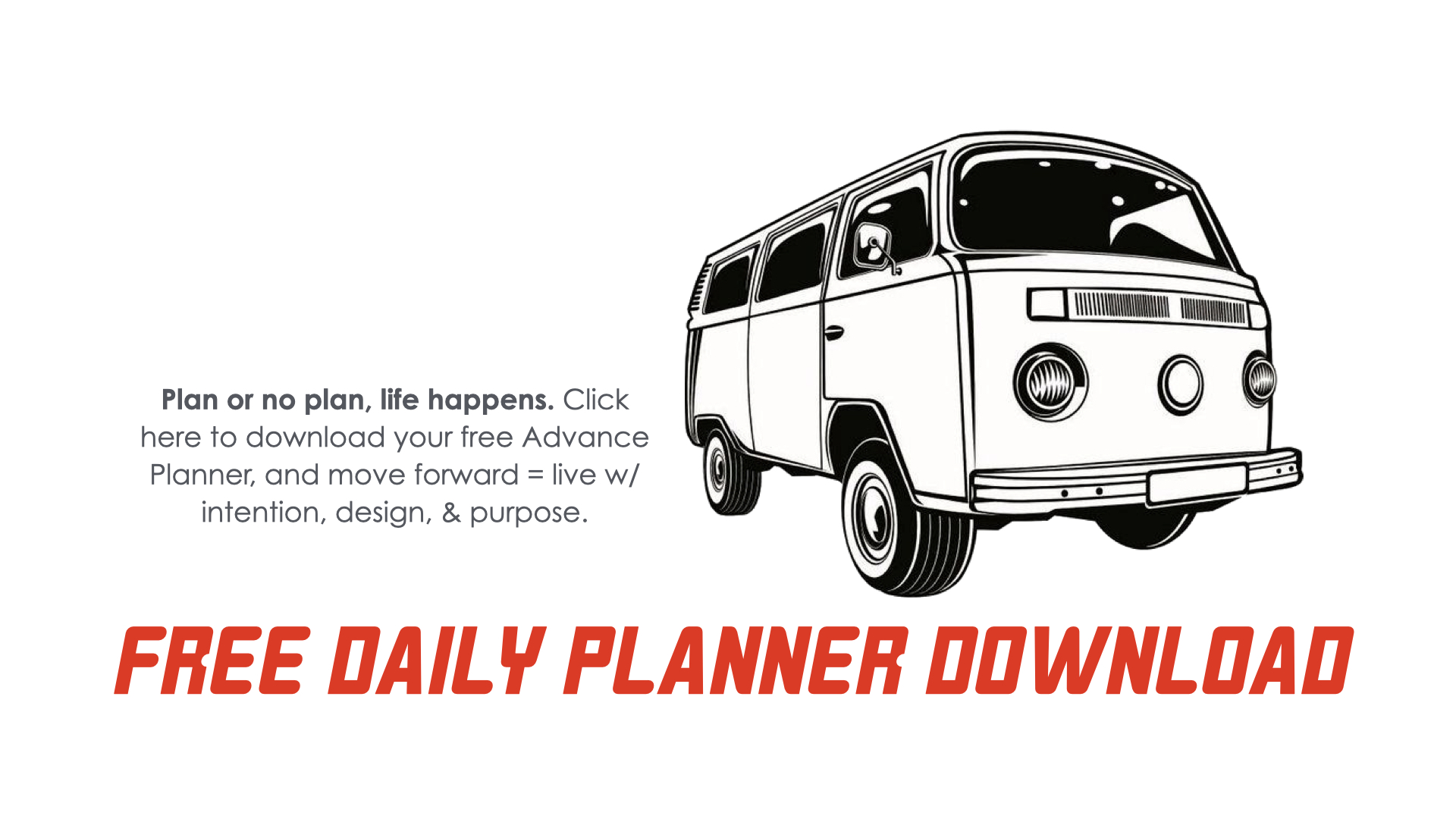 Never miss a new post + podcast!
Join our mailing list to receive the latest news and updates
We hate SPAM. We will never sell your information, for any reason.