Top 7 = Beth's birthday, back to Chili's, fixing the "tiny leak"
Sep 12, 2022
The Top 7 is my highlight reel for the week.
As you know by now— if you've been here before— I try to crank these out once a week.
I sit down at some point each weekend, ideally on a Sunday afternoon, while planning the week ahead and doing my weekly review of the week behind, and make a few notes.
The planner I use— which I designed for the Advance workshops I led for a season— contains journaling prompts for each day where I, generally, jot down 3 things I'm grateful for (as well as some things I could have done better, etc.).
This has been a great exercise for me—
⭐️ There are so many small things— that I really enjoy throughout the week— I would just forget about, if I didn't look back and review them.
⭐️ The weekly review offers me the opportunity to take a second look at everything, evaluate what tweaks I need to make, and then move forward accordingly.
(You can download the planner free at www.Jenkins.tv/FreePlannerPDF
That said, here's this week's Top 7…
🚌🚌🚌🚌🚌🚌🚌
Fitness = solid week of doing the stuff
I was dragging a bit last week. I decided to cut out all sugar and just exercise every day. Turns out, sometimes a plan is all the motivation that you need. That is, it's almost as if making a pre-determined decision (I'm getting up and doing ___________, regardless of what I feel like) almost guarantees success in the thing…
🚌🚌🚌🚌🚌🚌🚌
Finance = the insurance claim from the "tiny flood" + window break
This week ServePro finished removing the water and the damaged parts of the house (I would NOT recommend ServePro, BTW). Chris, our insurance adjuster came out, and was fabulous. We've already received payment to repair the kitchen floor and replace the shower downstairs that got flooded.
In the end, there wasn't that much damage to the house. Recall, it all came from a small leak in the ice-maker line to the fridge— a small drip that dropped so slow it never created a muddle but just meandered through the ceiling and into the bedroom / bathroom below…
We wanted to replace that shower at some point in the future, anyway. Now, it gets done earlier— and gets paid for.
👍
Here's a pic of the "bridge" that connect the main house to the "Tiny House." This week, our yard guy's mower slung a rock and dinged the window.
(Yard guy is handling it, BTW.)
I'm placing it here, b/c if you need someone to do your yard, James and his sons are fabulous.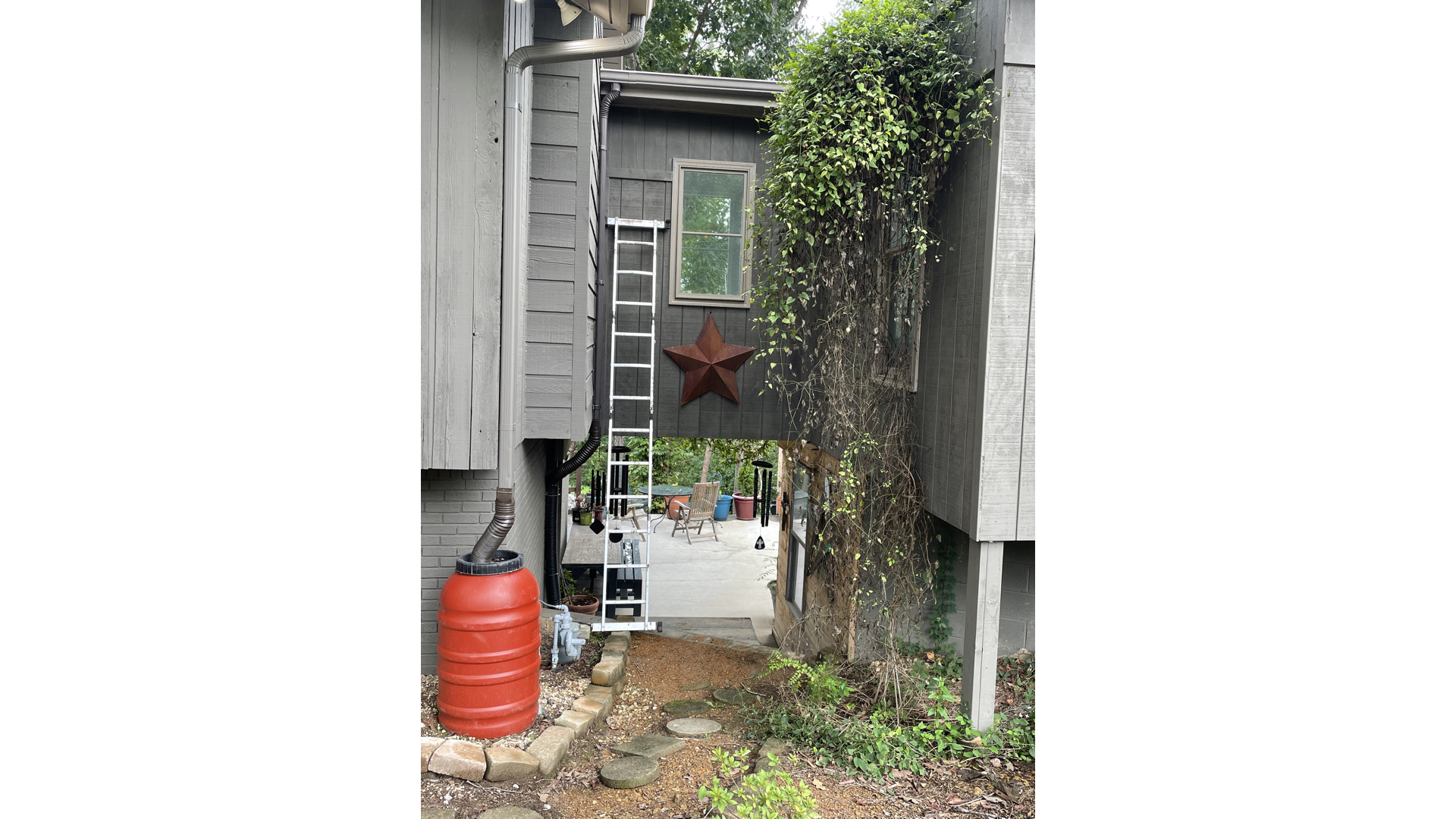 🚌🚌🚌🚌🚌🚌🚌
Family = back to Chili's + Beth's birthday
Last weekend— Sunday— this gal completed another lap around the sun ☀️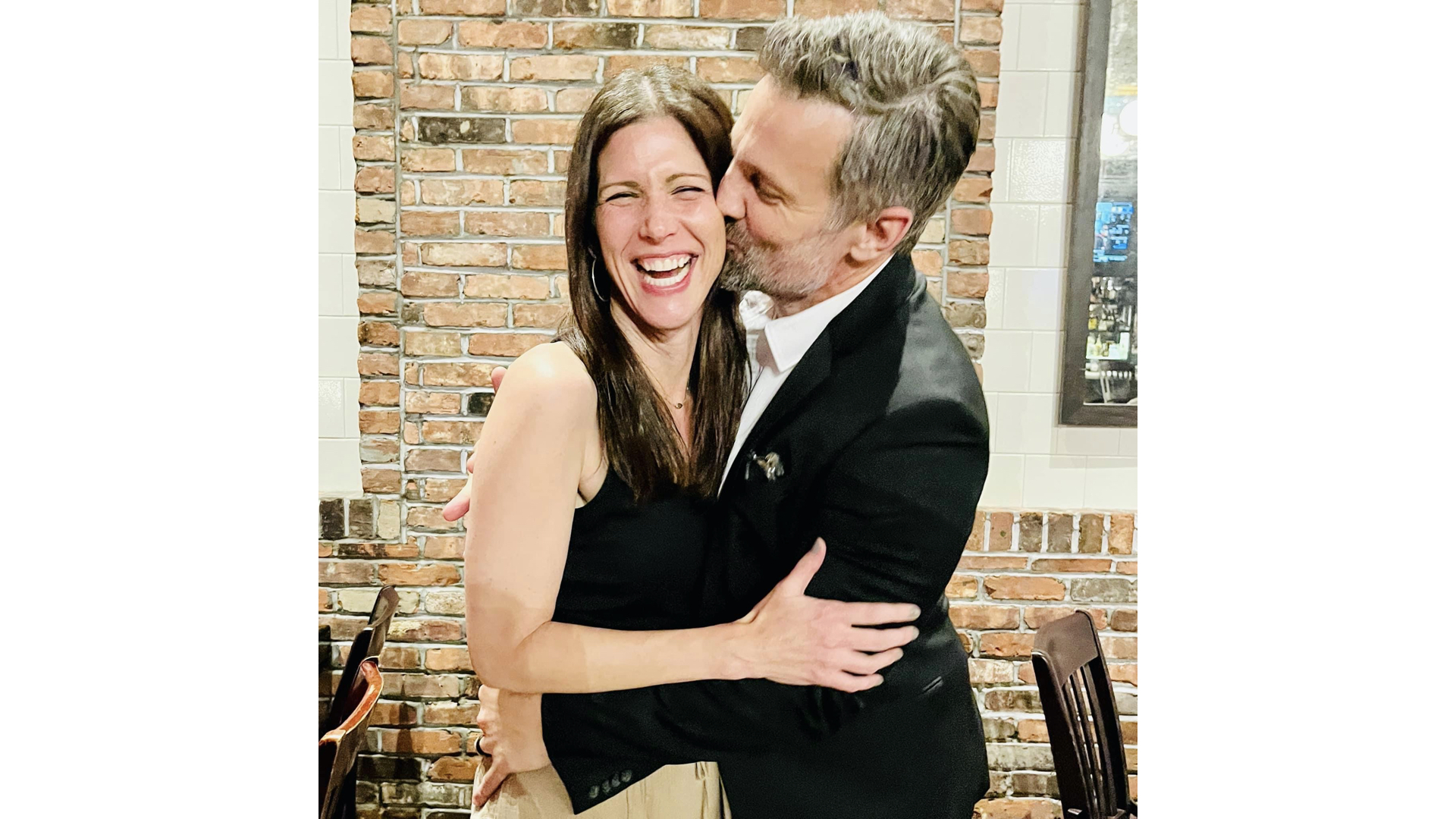 I didn't know her even half a decade ago. We'd been in the same circles… some…
But it was after those moments when I was in a new chapter, a season of rebuilding life, and wasn't look for anything more, when God brought so much more— and literally set her right in front of me.
💙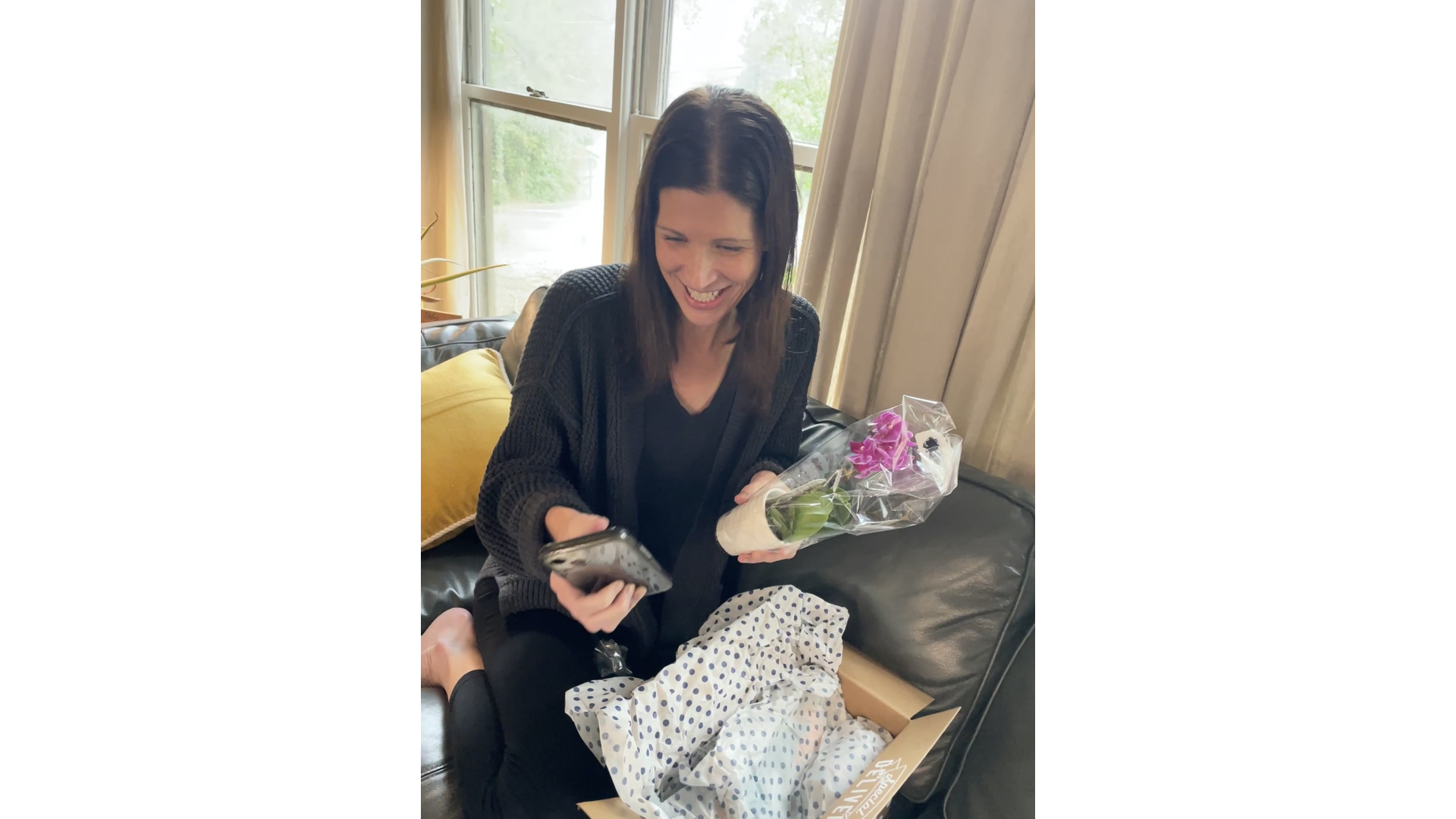 That smile…
She's grabbing her phone btw, b/c I was so shocked that I got excited when I gave her the "mystery box"— something she created for the fam. She decided to whip out the phone and try to record MY reaction to HER present…
😂
I understand— you don't need another person to "complete you."
At the same time, I tell you this…
I look around at the life we're building together and realize that—
✅ it's better, b/c I'm doing it with her…
✅ those in my "inner circle" and the entire JCrew2 are thriving, in large part, b/c of her influence…
✅ and I'm actually better, b/c I'm doing it all with her…
She was— is— the secret sauce. Or, moreover, her belief in me and all the things…
💙
Wednesday, Em (left) and Ivey (right) met me at Chili's…
… which was the "go to" place for father-daughter-daughter dates nights (once a month) for about three years…
… until, one evening, Chili's was out of their infamous (or famous) chocolate lava cake.
"We can grab dessert at the Cheesecake Factory," I suggested.
After that, their eyes were opened to a whole new world, and it's as if Chili's never existed.
This week, we rebounded and went back to where the madness all began.
To be fair, Em was certain that they had some margarita-thing on sale, because some pop / hip-hop artist farced their hand (not sure why that would be a draw for us, anyway), to which Chlili's had no such thing.
But they did have the lava cake.
And the gals.
And it was a win for a Wednesday.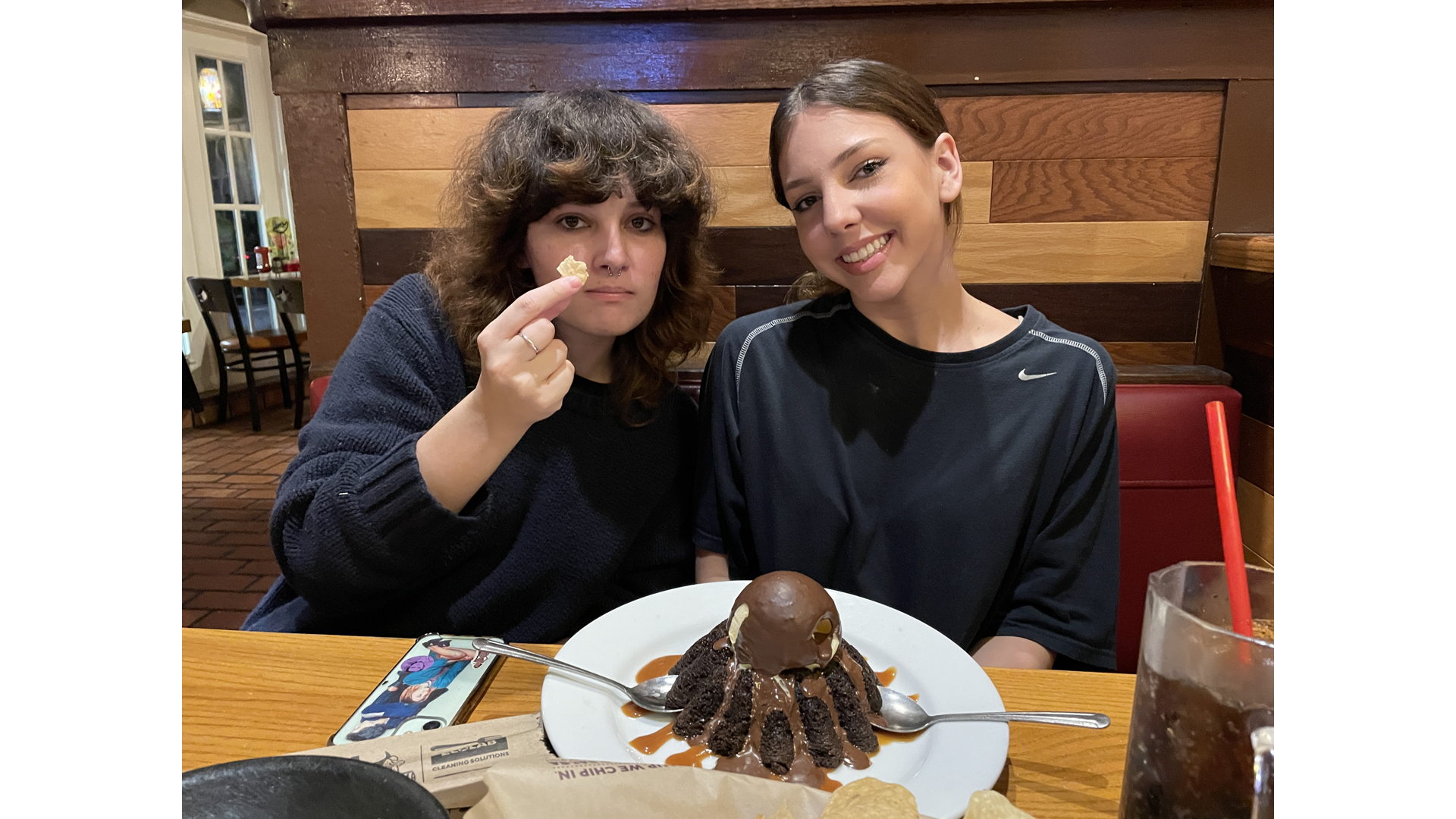 BTW, I have no idea what Em is holding up for us in the pic.
🚌🚌🚌🚌🚌🚌🚌
Field = 12 step workbook uploaded, almost ready
The 12 step manual I've mentioned for the past few weeks is up— and on it's website. This week, I'll teach step 6, pass a few copies to the group leaders, and then get the final edits from them rolling in…
Last week, I cranked out the audiobook. You can listen at www.FreedomRecovery.online, where more resources will roll out soon.
🚌🚌🚌🚌🚌🚌🚌
Faith = Watching it come together
Just over a year ago I was running a website / education + membership site in the natural health space.
That came to a grinding halt when one of the leaders there:
⭐️ bootlegged my video series (literally screen-grabbing my slides, then re-shooting what I taught word-for-word and replacing the shoddy screen-grabs atop their videos)
⭐️ asked me to do some heavy-lifting and traveling in the last month of my time there (which I didn't know was coming to an abrupt end)
⭐️ stopped paying me, even while owing me some serious 💰💰💰💰💰
💔
Moving on…
Through the process of launching that program I acquired some skills AND merged a bunch that I already had together…
… and was able to work them in new ways.
I thought those skills were done. Over. From a previous chapter.
💔
But…
Over the past few months, several ministry leaders have reached out, wanting help with the exact same things I did THERE…
… and, of course, I have the capacity to do it.
… and, os well, I've always thought I was MORE called to help people with faith— and see THAT part of them come alive— than help with fitness (which is also important, for sure).
♥️
Learn more about this project at www.AmplifyOnline.info
🚌🚌🚌🚌🚌🚌🚌
Friends = nada
This is one of the weeks where "friends" got pushed out because everything else was so busy…
But, the great part of doing this review each week is that I can look back, assess how things are going, and see the imbalances and balances…
🚌🚌🚌🚌🚌🚌🚌
Fun = Saturday sneak out, sans kids
Saturday, I did some work on the couch while watching the Alabama-Texas game. Then Beth and I decided, "Let's go somewhere…"
We rolled through the Summit, made a few swaps.
Then went to a new place at Pepper Place (Lumbar).
Then to the Carrigan's Beer Garden.
And just talked and dreamed and hung out…
… and it was all so easy and fun and energizing and relaxing all in one.
💙
Usually, the kids get the sneak outs. And the spontaneous moments.
But, more and more, it seems that we're switching chapters. The kids are getting older (half of them have places of their own now), and they're now more involved in school activities and sports and friends and so many other things.
🚌🚌🚌🚌🚌🚌🚌
That's the highlight reel for the week. Download your free planner at www.Jenkins.tv/FreePlannerPDF or purchase the hardback in the online store.