Top 7 = Levi's 16th, new fam tradition, up to North Carolina
Aug 15, 2022
This week's top 7 includes getting Anna's money back from Express Oil, rolling back to North Carolina as an official bookend to the summer, and a new "first Sunday of the month" tradition.
And...
🥁🥁🥁🥁
Levi's 16th!
💙
Oh, I also explain the slow-roll on my emails and why I haven't posted as much lately…
🚌🚌🚌🚌🚌🚌🚌
Fitness = Running
The weather (finally) shifted, so I spent more time outside this week than in the garage. Generally, I workout 5 days a week. I like to do more, but by the time the schedule kicks in, I stay up late one night doing whatever… it drops to about 5.
We've got a great setup in our garage (a few free weights, a bench, pull up and dip bar), including an old big screen TV that I use to stream BeachBody workouts like t-25, Insanity, and anything else…
I like the BeachBody stuff because—
The time is predictable (press play and keep moving for the duration of 25, 30, 55, or however minute minutes the workout I smelted is),

It gets predictable results

It's weather-proof
But I still like going outdoors, snaking through the trails, and enjoying nature.
As you know, it's been a bit hot lately— even early in the morning the humidity is outrageously wet and sticky.
That changed this week, so I took it outdoors…
🚌🚌🚌🚌🚌🚌🚌
Finance = Anna (finally) got her refund from Express Oil, but not until…
A few months ago Anna got her car looked at by the Valleydale / Caldwell Mill location. Not only did they diagnose the problem wrong (thankfully, we got a second opinion when it seemed a bit janky), but they— without telling her— charged her $70 for a diagnostic.
She paid it to get her car back, then told me.
I, in turn, made a trip to the location to ask about it.
After pushing AGAINST me for charging us for something that wasn't disclosed or requested— and after I told them they misdiagnosed the issue by about a $500 repair— they conceded, "We owe her that money. We should not have charged her…"
"No problem," I said. "Mistakes happen. Just refund her debit card."
"We can't do refunds here," the man said.
"Why not?"
"It all comes through corporate?"
"What? You can TAKE the money but you can't give it back— even if it's your mistake?"
He assured me he couldn't, but that the faceless "corporate" would send a check in the mail within 3-4 weeks.
Second gasp. Then— "Three to four weeks?!"
He promised he would handle it right then, so I wrote it down in my planner— for a month out— and then forgot about it.
🗓
I forgot about it until my next trip to the Express Oil, that is. That trip happened to be Thursday.
"Hey, THREE MONTHS ago, you said a refund would be on the way in 3-4 weeks. It's not mine— it's for our teenage girl. Can you check it?"
"Oh, it was handled," he said. "These things just take time."
"I understood that the first run around," I replied, "even though the timeline didn't make sense. Can you follow up on it?"
"I'm busy."
😡
I asked for a different manager, who came over and looked it up.
"Looks like it hasn't been processed," I told him.
I learned the "corporate" office is in Birmingham when he made a call to a local number and was told— again— it would be 3-4 weeks.
I pushed: "Not this time. We've already waited. Maybe you need to get the petty cash or something like that— and just handle it."
He wasn't authorized, so I got the corporate number and called. A few hours later, I spoke with someone (Mr. Prince), who— after some discussion as to why I didn't want to wait for a check again— suggested they could, as we originally suggested, refund her from petty cash…
🧐
I called Anna: "Go get your money. They have your $58.10 in cash. You just need to sign something that says you got it…"
💰
It was a good lesson in customer service. You see, some of the best lessons come in what NOT to do— because when things work right it's sometimes more difficult to figure out what was "right" that made it work.
But not in those case.
Express Oil made a 17yo girl wait 3-4 weeks…
… then an ex-military ("I'm a soldier," he told me, "and I just take orders…") responded to my request for more info— after it took 3 months TO THE DAY— as if we were "outside the wire" in Falusia rather than sitting in suburban BHM at an oil and tire shop…
… and then the fact I had to follow-up with corporate…
👎
It definitely makes the Top 7, though
🚌🚌🚌🚌🚌🚌🚌
Family = Levi's super sixteen
Levi turned 16 Monday, 8/8.
Another driver. Another kid hits a milestone.
Levi is the one who never meets a stranger— and always has friends crashing at the house. If there are extra people at the Hilltop, there's a 99% chance they're with him…
🎂
This year— this month— we started something new. It's a "test drive" that I hope works (and think will).
Here's why—
There are ten kids that call this place "home" in some form.
Some of them have their own place and are here by relationship only
Others are here 80% of the time
Others are here 40-50% of the time (and wish it was 100%)
Some live out of state, or across the city
In other words, we've got people going in MANY directions.
We decided that rather than competing for specific DATES and DAYS, we'll just tag the "first Sunday night of the month" as the day.
Everyone just knows that the first Sunday of the month, 6pm, we'll feed you. And any friends you want to bring.
Whenever a birthday is close that that first Sunday, we'll celebrate it. Holidays, too. So, Thanksgiving gets the first Sunday of December… along with Christmas… and New Year's and a few birthdays from late December get the first Sunday of January… and Emma J's birthday (January 31) gets the first Sunday of February…
Everyone competes for "the day." And kids get tugged and need to go to various places.
But no one gives a 💩 about the first Sunday.
It's a no-brainer.
🤷‍♂️
An no one has to remember "what day and time are we doing it?" either.
It's ALWAYS THE SAME.
⭐️
When Beth and I scanned the calendar to see what's coming, I saw that we— basically— have a PERSON (at least one) to celebrate every month. In some months we have other things, as well…
📸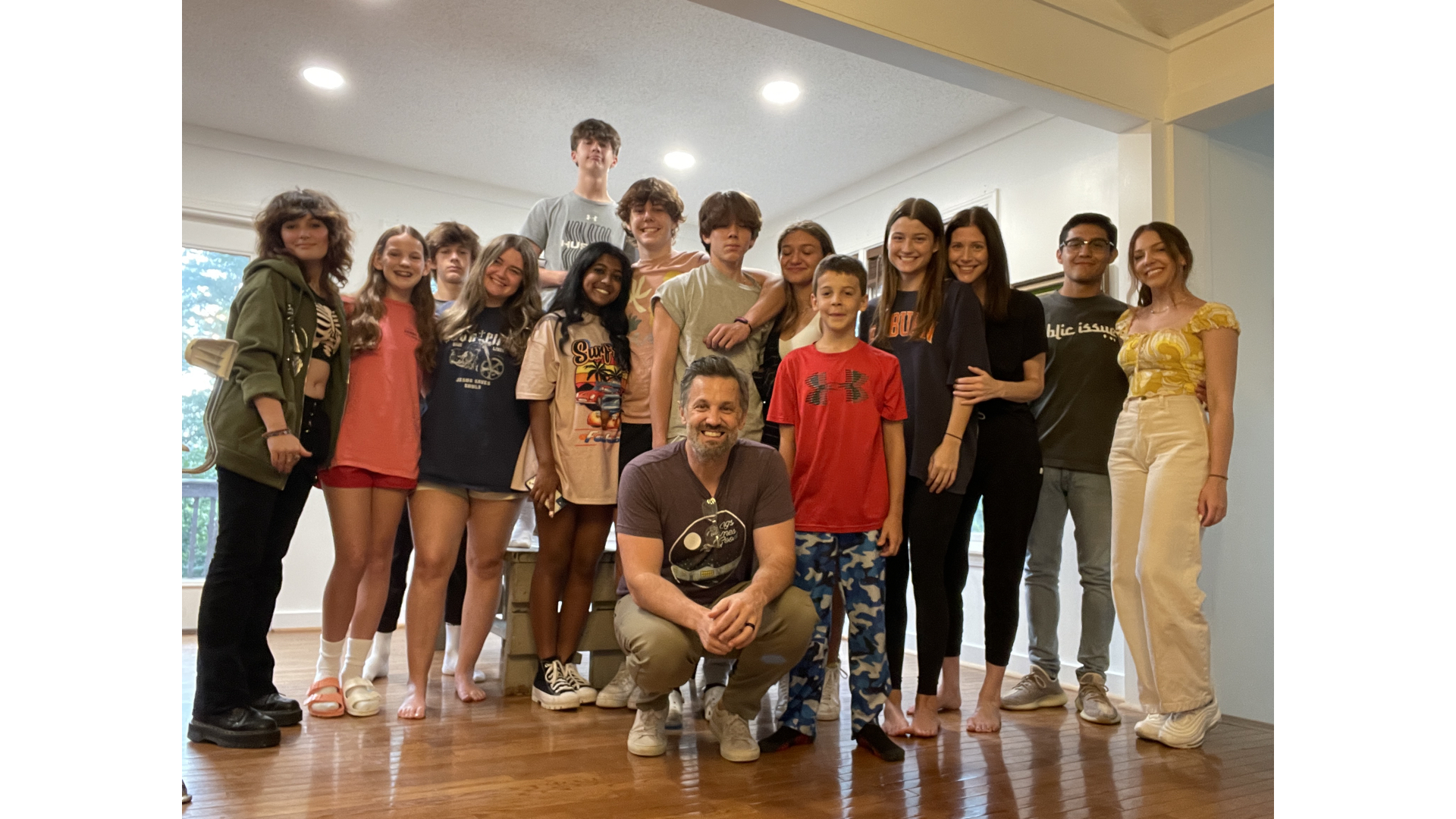 The pic above is from the first Sunday of August. All ten kids. Plus several (awesome) add-ones.
I snapped a few others while people weren't looking—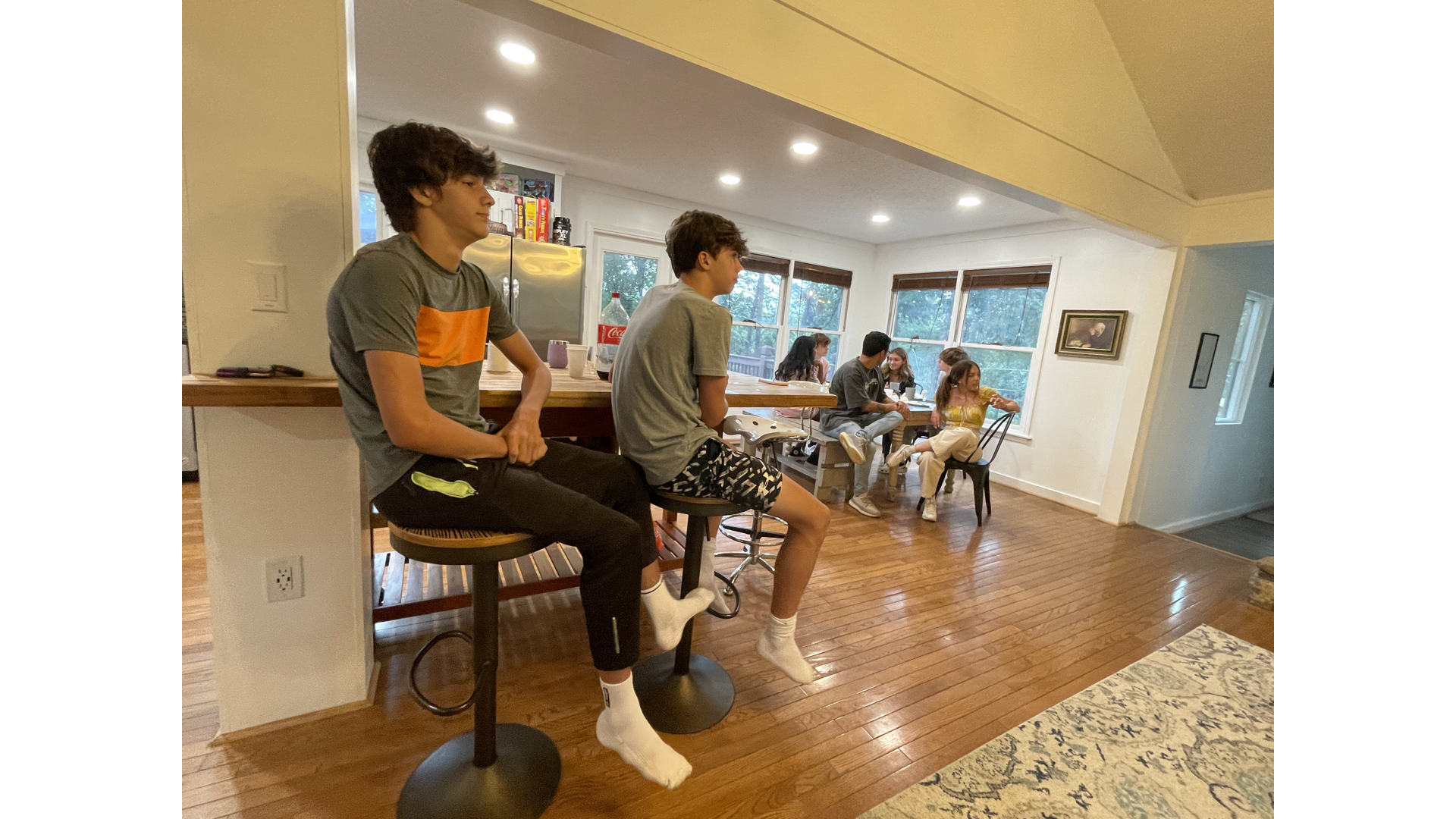 — and enjoyed the candid moments of people who've been brought together in "odd" ways simply enjoying the time and each other…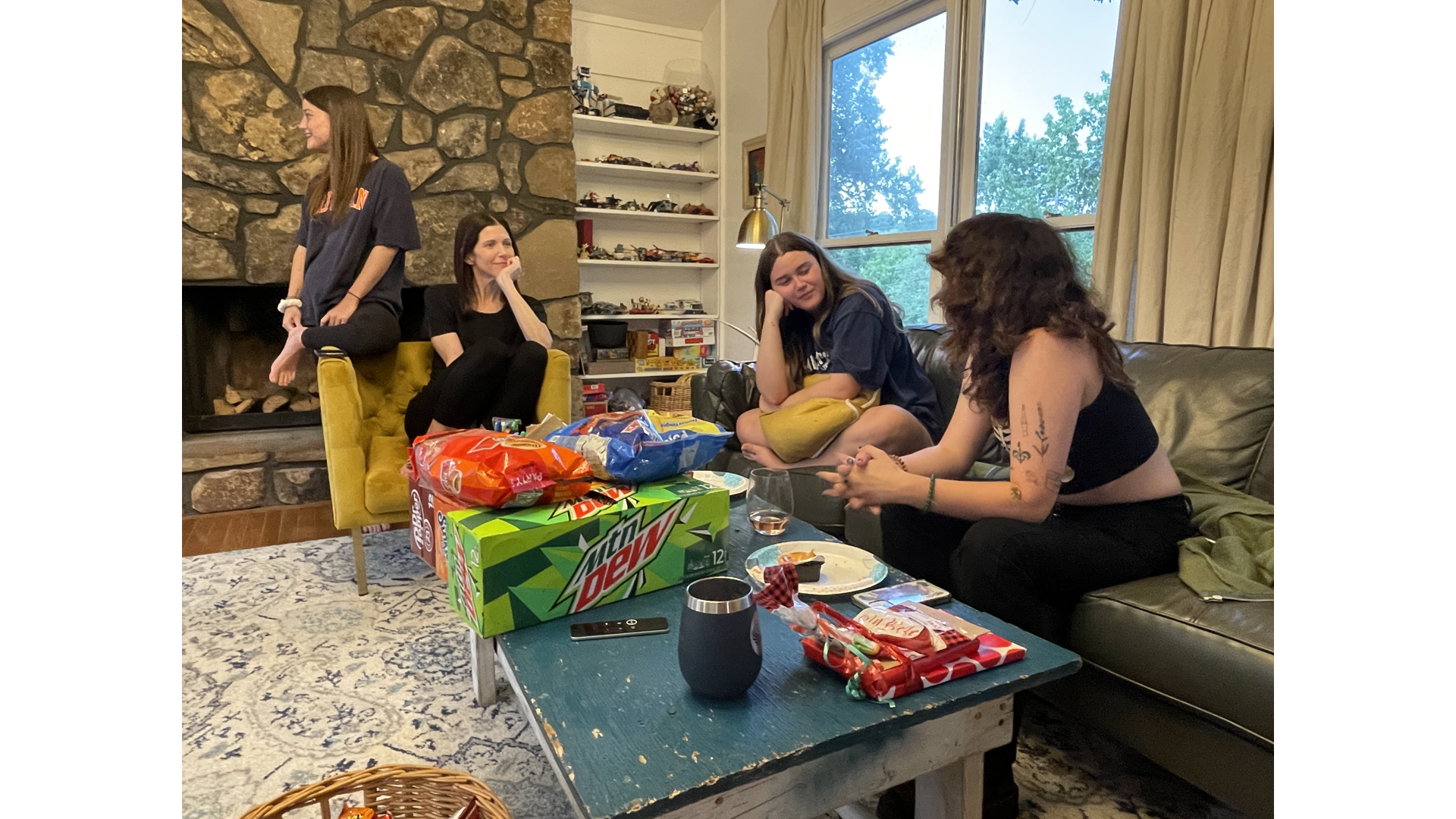 Of course, some did notice the camera and smiled—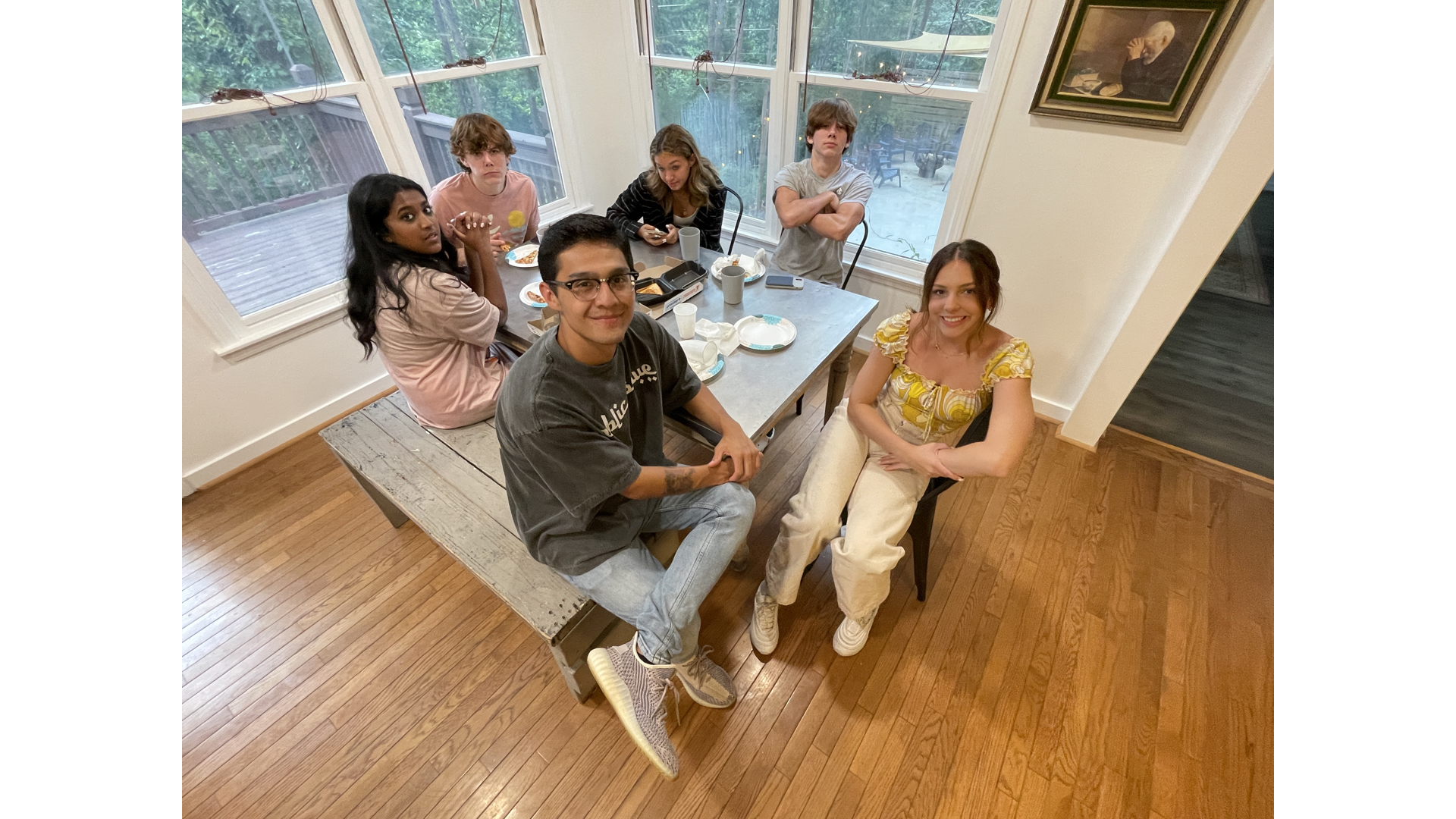 One of the best shots of the week was this one…
Because it's two girls— that are older— down the hall on the boys' wing— in the youngest boy's room, just hanging out with him.
There's something super-sweet about seeing the oldest and the youngest— and some in between— all together.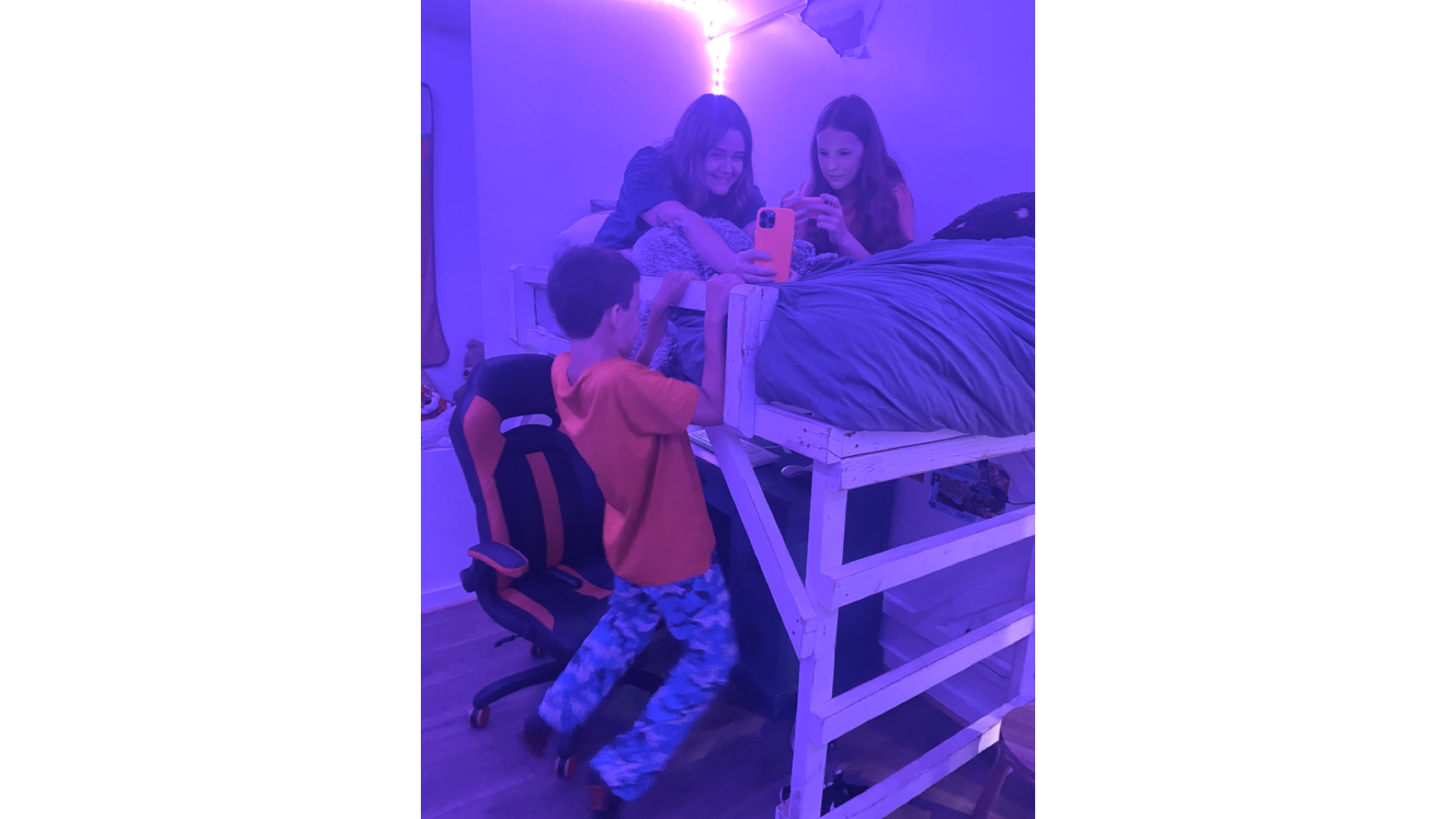 🚌🚌🚌🚌🚌🚌🚌
Field = Back on the blog and the podcast
For the past few months, I've taken a break from the podcast AND posting a weekly video (I usually do this on Fridays).
Here's why:
Back in the Spring, a gentlemen who's on my email list reached out to me— to talk about one of the PTSD podcasts. He helps people with all sorts of inner healing / emotional healing / soul wholeness needs. That led to a lunch, and a few more conversations, and then a "Hey, do you think you could help me figure out how to ________________" [he listed a few things I've done my web page, books, etc., that he wants to do]. After some lengthy conversations, Beth and I jumped in.
While that was happening, I reconnected with another friend (a pastor) to show him the LifeLift materials. He told me about a discipleship program he was putting together, but he'd gotten stuck at the writing and the graphics and the putting in online so people can take assessments, etc., part. That led to a writing project, as well as some website work, as well as some background funnels and other marketing strategies.

In the process of THAT, a different (but connected) ministry was taking a look at their policies and procedures for a recovery program— just like I used to lead. They wanted to begin with creating a robust 12-step program (like I had written before), as well as a few other things. That led to MORE writing, as well as some teaching and training and networking…
In other words, over the summer, the workload doubled. And all in a good way.
We created a short webpage to outline some of the things we can do— which, really, are the outflow of processes we implement for our own projects.
https://wwww.AmplifyOnline.info
🚌🚌🚌🚌🚌🚌🚌
Faith = men's Bible study didn't open the Bible this week
Wednesday, I joined the guys from A2 again, at Panera Bread for the weekly small group.
This week, Chris (who leads the group) never cracked open the Bible… and it was great.
Don't get me wrong. I love reading the text together, then discussing it— as we work through the book of Acts each week.
This week, though, as I listened to a new father talk about babies transitioning into toddlerhood, a seasoned dad share pics of his recent trip to Aspen with his wife and daughter and son-in-law… and as we laughed and reflected on some many other things… I was reminded the the very POINT of that Bible is to help us see our Heavenly Father differently AND to help us connect and reconnect with each other, doing life differently.
Mission accomplished.
🚌🚌🚌🚌🚌🚌🚌
Friends = Fish Fry in Bryson City, NC
This weekend was a fitting end to the summer, just as the kids went back to their "first day" of the new year (Thursday) and the college kids drove off to their apartments / dorms (Friday).
You see, back when this summer began, we drove to Bryson City, North Carolina (and stayed in Gatlinburg) where I spoke at a church about PTSD + Moral Injury.
(I wrote about that trip in the Top 7 for May 29, 2022 at www.Jenkins.tv/blog/05-29 .)
A few weeks later, we were invited back for the church's annual "homecoming." We checked dates, worked it out, and then got the details rolling.
Hard to believe it's already here, that the summer is officially "over" and the chapter has closed.
But what better way to celebrate than with a fish fry?
🤷‍♂️
While I was there, I snapped a few pics of the guys. Here are some…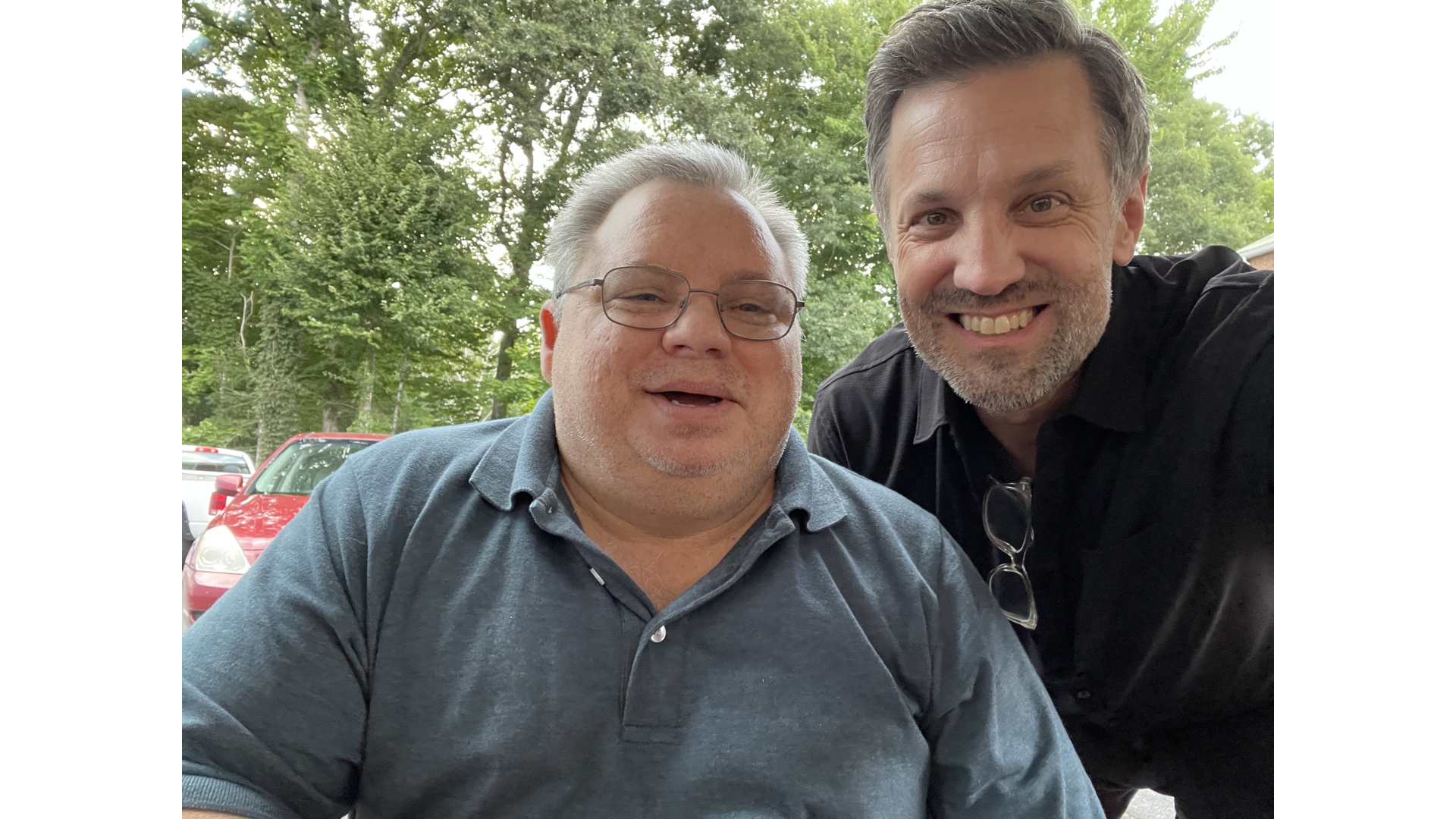 And—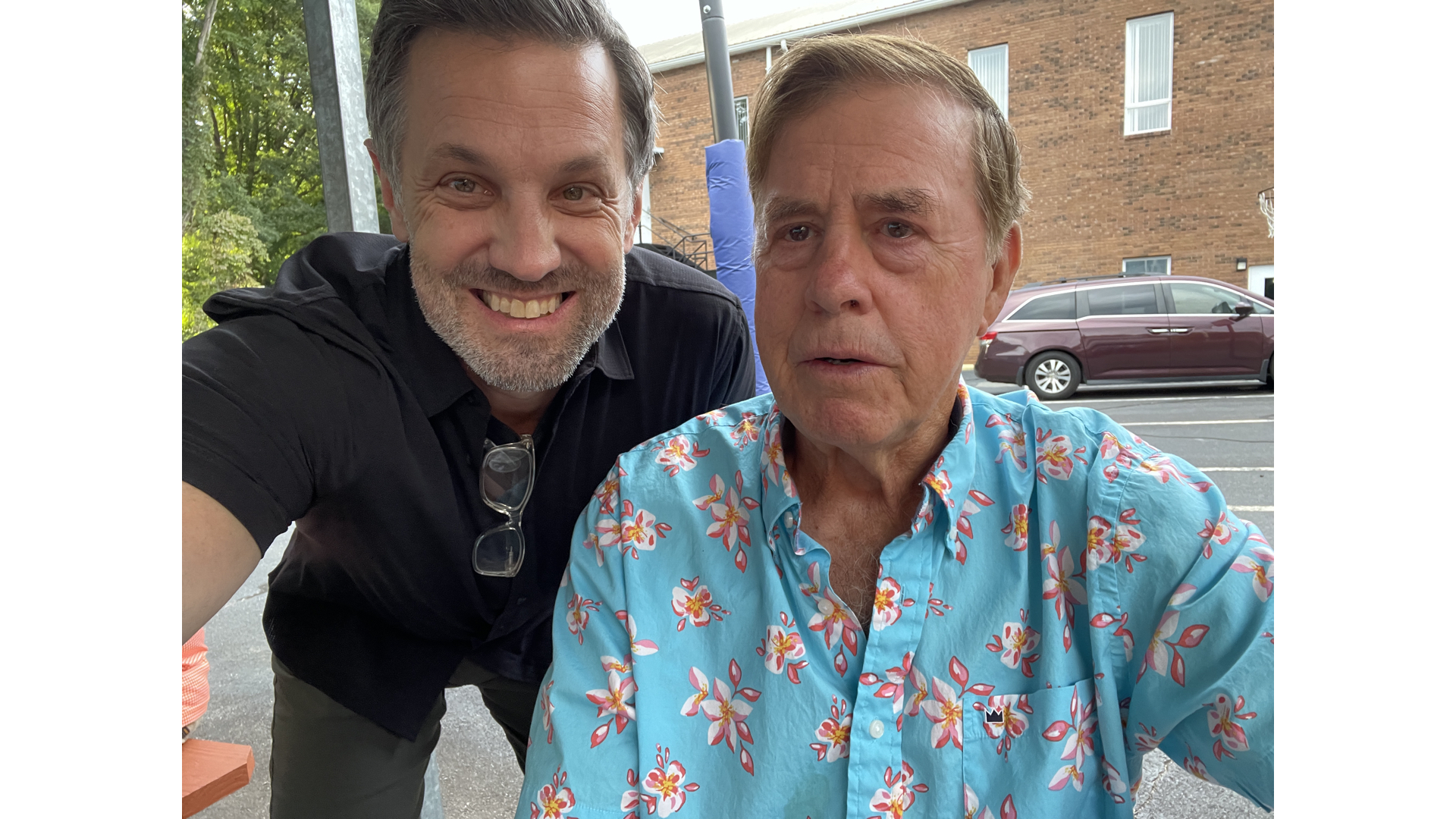 As well as—
Each of these men are GREAT people. And, they've each endured hard chapters-- the loss of a spouse (through death), or the loss of a family (spouse walks out). They've learned-- and are learning-- to process the pain, then use it as a platform for God to help make others whole...
I'm reminded as I speak to men like these-- gentle giants of faith-- that YOU are unique, but you're story isn't...
(I say that in the most gracious way possible.)
We all think we're the only one-- that we're alone in the struggle. But, when we look up, we realize there are so many others-- just like us-- who've walked a hard chapter.
Think of Elijah. The prophet.
He assumed he was all alone-- yet God reminded him that He had 7,000 more faithful men-- just like him. He just needed to look around.
As I write the Top 7 (from an incredible cabin in the NC woods, nonetheless, where the church hosted us), I'm looking over the weekend schedule.
Beth spoke to a group of woman at noon on Saturday (women's bunch)

I talked to the men on Saturday evening (fish fry— because men don't do brunch of petit fours, unless their women drag them)
I preached Sunday, followed by some sort of party / lunch-fest here in the country on the church grounds
Beth will talk to the women on Monday, while I speak to the men
I'll speak to the entire church on Tuesday
Before fish fry, Beth and I drove around the area. We stopped and ate in Cherokee, a local Indian Reservation.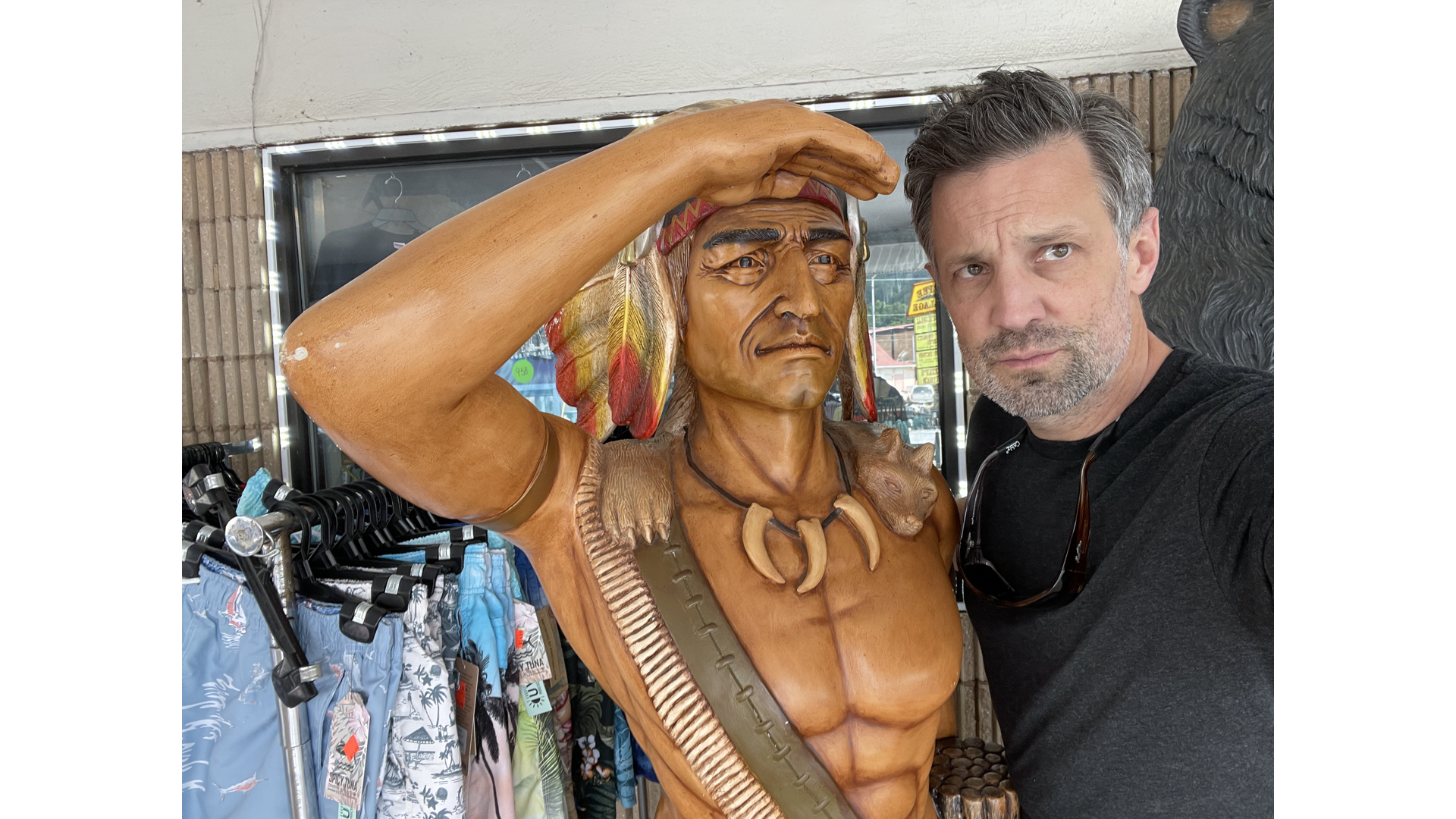 🚌🚌🚌🚌🚌🚌🚌
Fun = Movies with Judah
Judah is fourteen. A high-schooler this year.
And he loves movies. Always like to watch ENTIRE series— like the Mission Impossibles, the James Bonds, etc.— or "oddly wonderful" movies like Inception and Interstellar and the Martian.
So, even though I've seen them before, I make time…
I couldn't figure out why he likes THESE movies… but, best I can figure, when he was younger (5-9) I was watching all of these with his older brothers and sister… and he was always the odd man out. So, I guess he's now catching up on what he missed?
This week, we watched Inception.
🚌🚌🚌🚌🚌🚌🚌
That's the highlight reel for the week.
As always, I look back over the weekend as I'm planning the week AHEAD and do a weekly review. I take a peak at the "3 things I'm thankful for" section of the planner, then pull them into the "weekly review" where I recap the highlights.
It's a good exercise.
There are so many awesome things— especially the small ones— I would have forgotten about (completely) without the memory jogger.
There are always lessons learned, too.
Download your free planner at www.Jenkins.tv/FreePlannerPDF or purchase the hardback in the online store.
Never miss a new post + podcast!
Join our mailing list to receive the latest news and updates
We hate SPAM. We will never sell your information, for any reason.