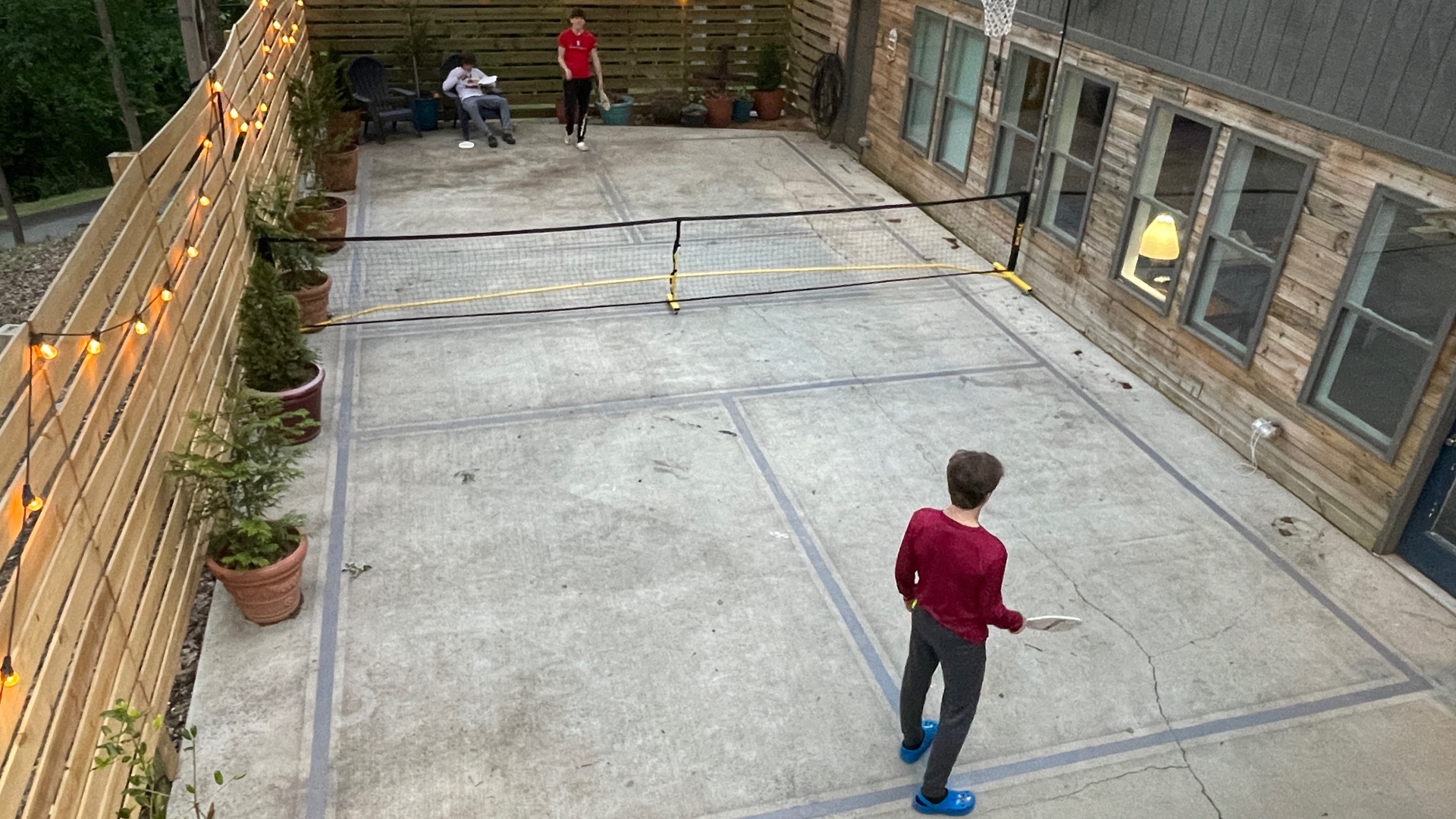 Top 7 = Yes, we have a Pickleball court in our courtyard
May 08, 2023
Yes, we now have a Pickleball court in our courtyard, now.
In full disclosure, the net is portable. The pics in this post show the yellow metal frame, but I eliminated it after realizing I could create a few mounts— one to the #TinyHouse on one side of the court and another on the fence. No more "laborious" set up and tear down…
I explain WHY we made the court in the "family" section below.
🚌🚌🚌🚌🚌🚌🚌
Fitness = Sleep
In an ongoing effort to experiment with my health + fitness (I'll have this dialed-in by the time I hit 50, I'm sure… and then I'll have to reconfigure based around a totally different set of issues 😂), I made a decision this week:
👉 no more headphones or audio to "drift to sleep" or even in the middle of the night if I wake up and can't go back to sleep.
I'm going to just lay there OR GET UP.
I think the pro-longed "half-sleep" really delays the inevitable… and keeps me functioning at, like, 70%… whereas if I just got on up, got fully tired… well, I would totally crash and then fully sleep.
💤
Side note: I have been trying Oola's REST gummies and they TOTALLY do the trick.
🚌🚌🚌🚌🚌🚌🚌
Finance = Insurance worked wonders
Months ago we had a leak in the kitchen that spread down to the "basement" bedroom AND bathroom…
… such that both needed MAJOR work.
❌ the downside was that the downstairs bed and bath were out of commission for a few weeks
✅ the upside was that the bathroom got TOTALLY redone
I called the insurance guy a few weeks ago— who's been fantastic throughout the process, BTW.
"These costs are coming in higher than you estimated…"
"You have receipts?" he asked.
We did / do— I confirmed. Beth is meticulous and runs the 💰 like a fine-tuned, precision machine.
I asked if we could get together in the next week or so to walk through my spreadsheet and his— as there were a few more items to complete.
"Send me over what you've got," he said.
I shot my spreadsheet over, along with all of the scanned receipts, etc…
"Is 💰💰💰💰💰 the number I'm looking for?" he replied— via email.
I affirmed that it was AND it was NOT— there was still one more issue to resolve, the floors.
I pin-pointed that number.
"I'll work on it," he responded.
Moments later— and I mean MOMENTS— due to Beth's record keeping, with no meeting and no discussion, I received confirmation of a direct deposit.
🚌🚌🚌🚌🚌🚌🚌
Family
= "I can't believe I'm double digits."

Those are Salter's words. Whereas most kids relish being a certain number, he views it as a milestone. "Two numbers at once."

Tuesday, his official birthday, we celebrated him for a few hours.

Beth built him the customary "mystery box," his full of candy and Roblox. With that, he would have thought he won the lottery…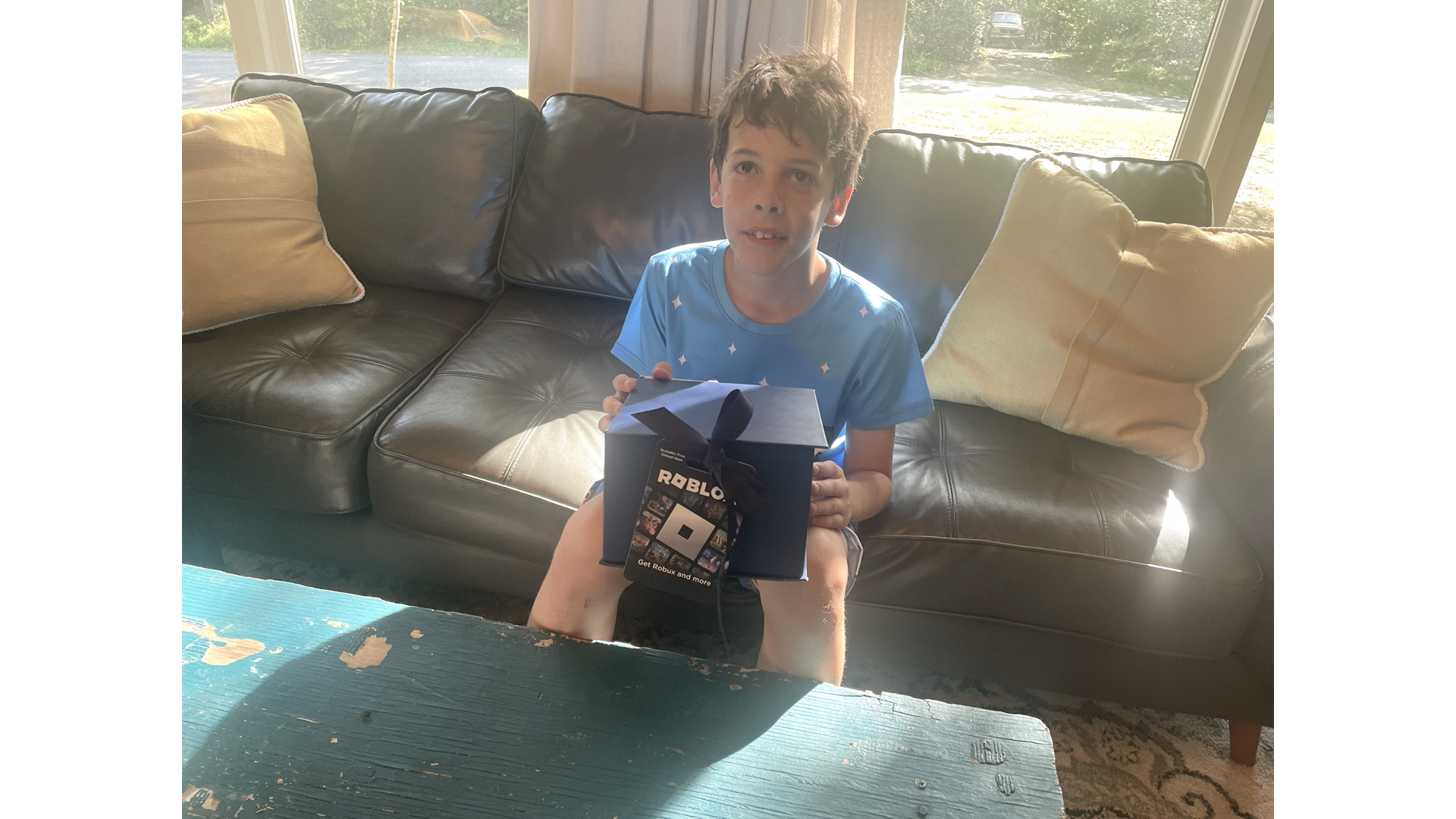 I held the final present until the weekend, when all the kids were around and school was out…
(Plus, I needed a few days to paint some lines.)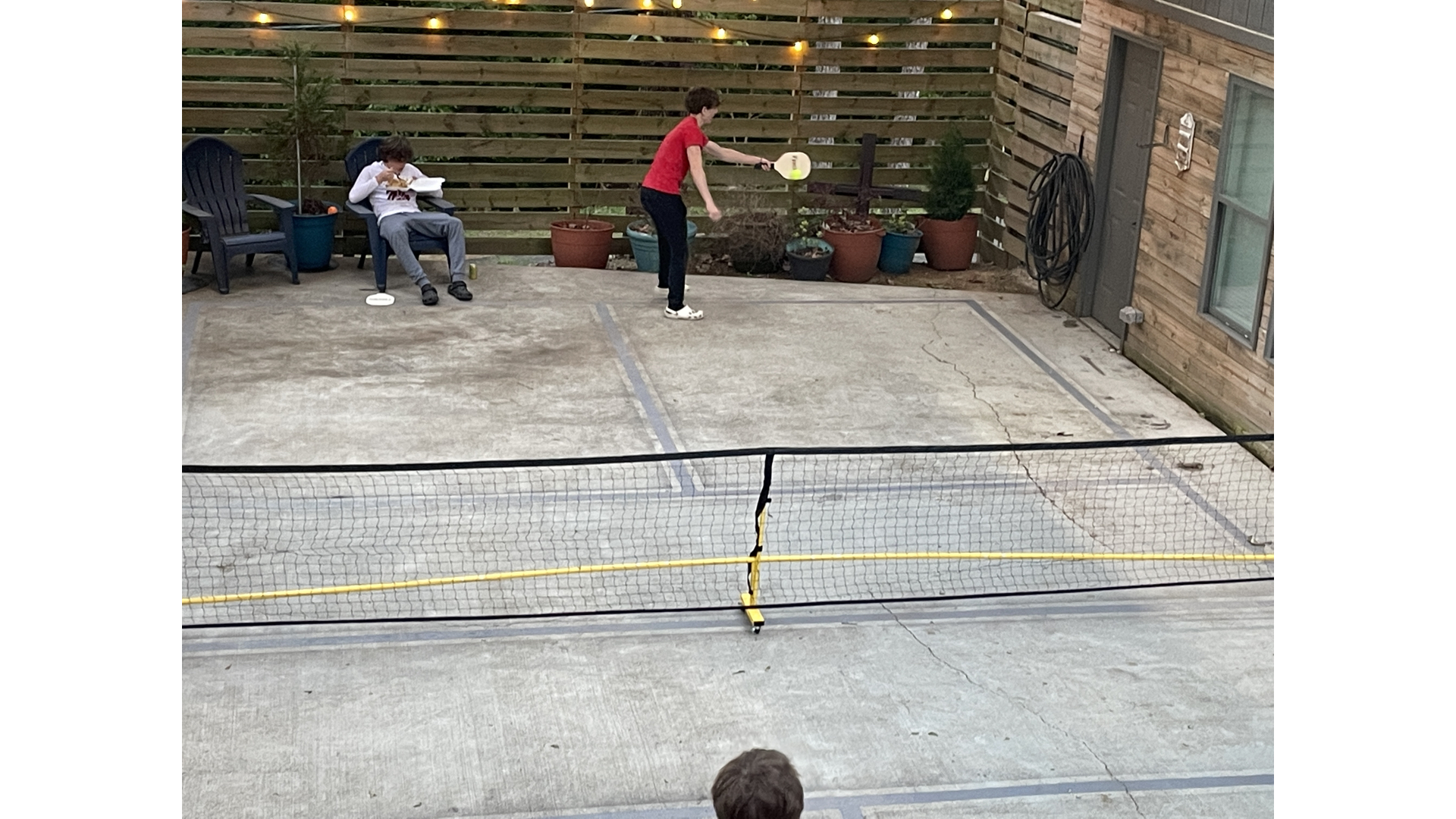 'I've got mixed feelings on birthday presents…
I LOVE getting the kids things— as Beth does with the "mystery boxes"— that lets them know we thought of them, that we see what's important and matters to them.
But I ALSO hate wasting money on crap that will sit on the shelves, get played with once, and then get tossed in a closet, set in a bag to go off as a donation just a few months later (after never being touched, post-birthday), or forgotten about.
I opted to try something different for this birthday…
Salter LOVES playing outside— and even inventing new games (especially ones he can win). I measured the courtyard and concluded I could place a Pickleball court on it…
… and, that if I painted the lines light grey, they wouldn't stand out too much.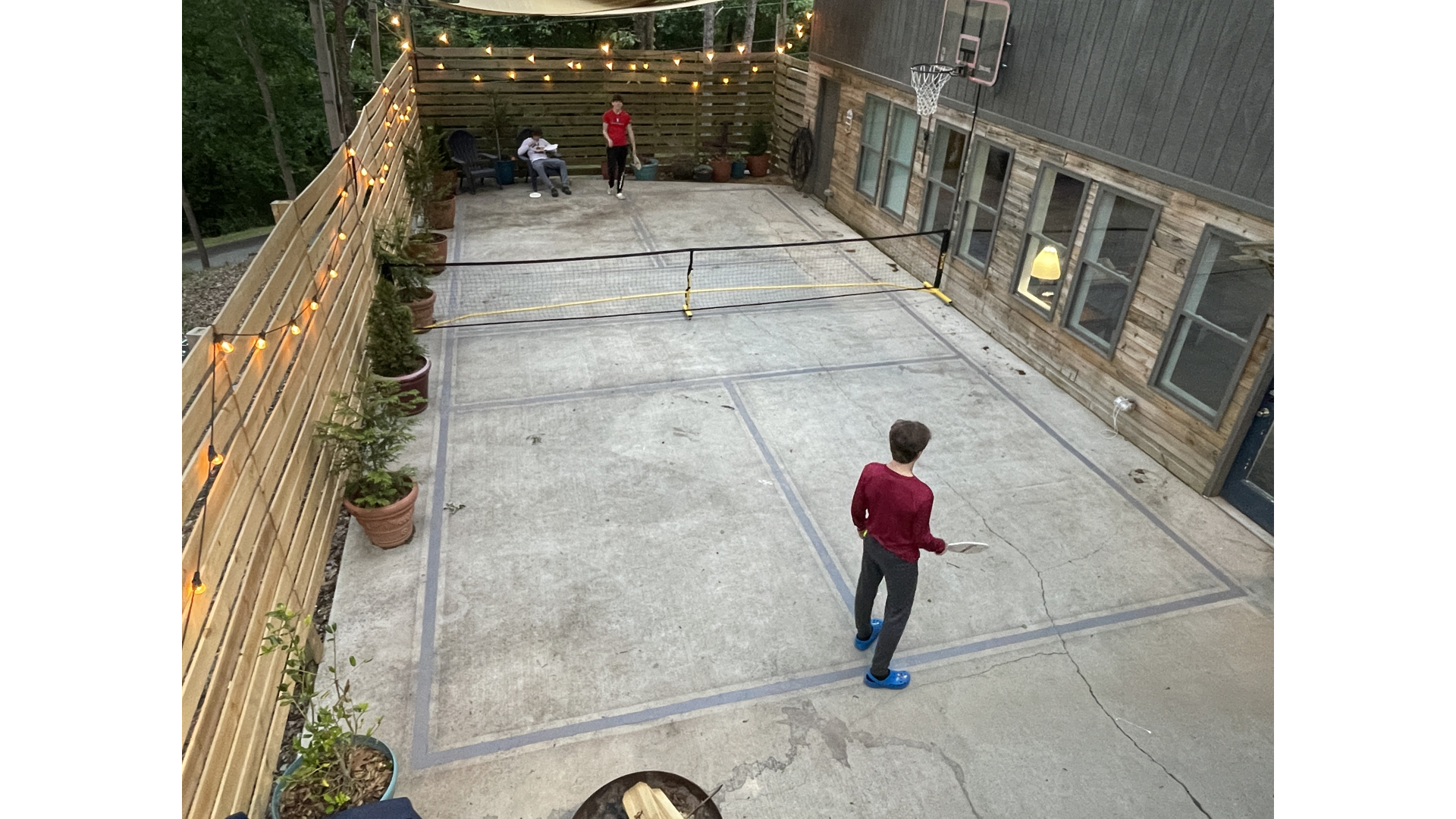 So that's what we did…
And, a I mention below, my friend David rolled through town in time to help.
🚌🚌🚌🚌🚌🚌🚌
Field = Amplify powering up…
This week I finished uploading AN ENTIRE YEAR of coaching modules into the monthly program…
… and concluded a great coaching call with my friend Chris.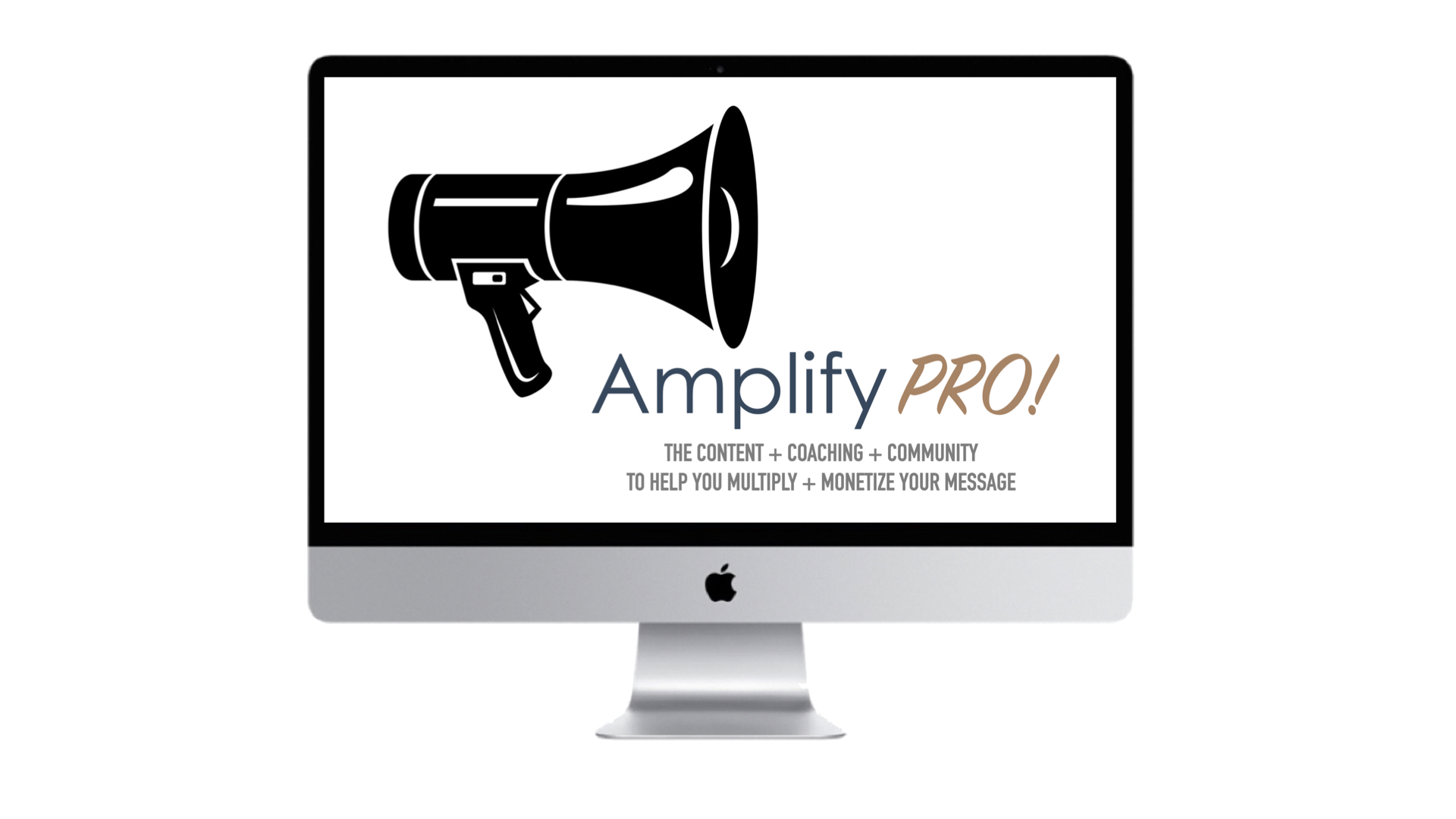 A few people have asked something like, "What are you teaching in there…?"
Or, "What tools and worksheets and downloads are you creating?"
Quite simply…
👉 I'm creating the tools I need.
For instance,
📣 I recorded a training on how to run a live event— as well as the timeline you need leading up to the event, MONTHS in advance, as well as what to do at each week along the way… This is based on how I ran events in the past, as well as what I'll use to do in the "near future."
📣 I created a worksheet on book launches… and how to manage the timeline leading up to it, along with when to create the sales page, when to get others involved on a launch team, etc…
📣 I built a few templates for webpages, sales pages, etc… resources I used in the last week to create a few LifeLift resources (and begin selling them).
📣 I designed a bigger overview of how to "build your own content ecosystem," so you can always have a next best step— and know what it is— for your audience…
That's just the tip of the proverbial iceberg.
To learn more about the project, go to www.AmplifyOnline.info/pro
🥁
BTW, this new resource— a 130-ish page book will come out in the next two weeks…
… it's based on the content I created over the Christmas holidays, and is extracted from the online course.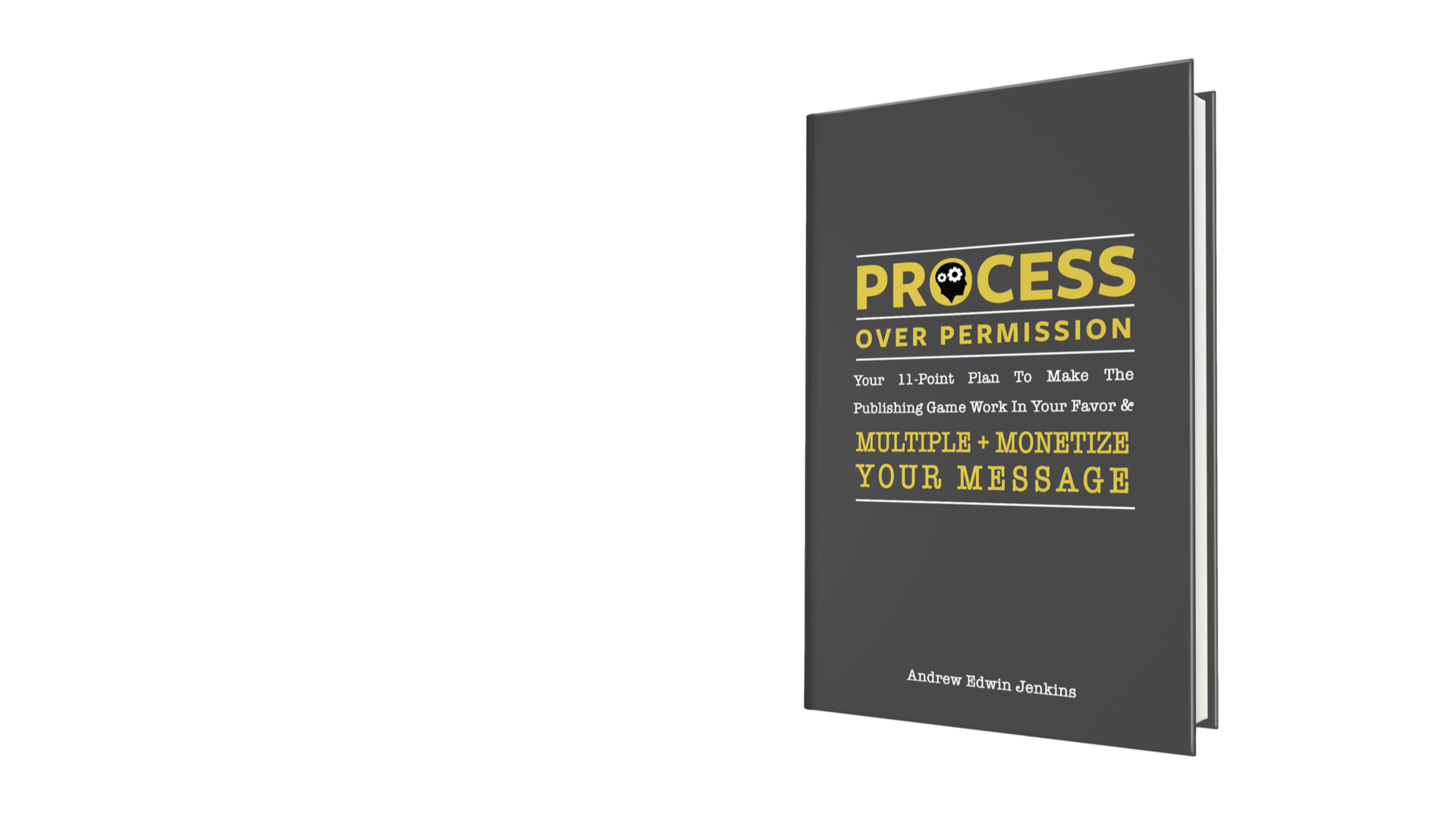 🚌🚌🚌🚌🚌🚌🚌
Faith = This week…
This week, two years ago, marked the time when a group of trusted confidants actually bootlegged my online course, Soul Wholeness…
It's still a tender spot on many levels (which is rarely good to write about publicly), but as it's National PTSD Awareness month in a few weeks AND since the course is about mental health + emotional wholeness, it kinda fits…
Here's what happened:
💜 I created an online course— to share part live and part pre-recorded at a live online event
💜 One of the guys thought my affiliation with Oola was a conflict of interest, even though I had— at that point— been associated with Oola for well over a year AND that fact hadn't been hidden (I had / have an online group of almost 1,000 people where I taught the principles in the framework)
💜 Rather than having a convo with me, they watched my videos… took a SCREEN GRAB of my slides… and then recorded themselves (in a dimly lit room of all places) taking their best shot at regurgitating my talks and then passed those as the "real deal."
SMH
Here's the real course: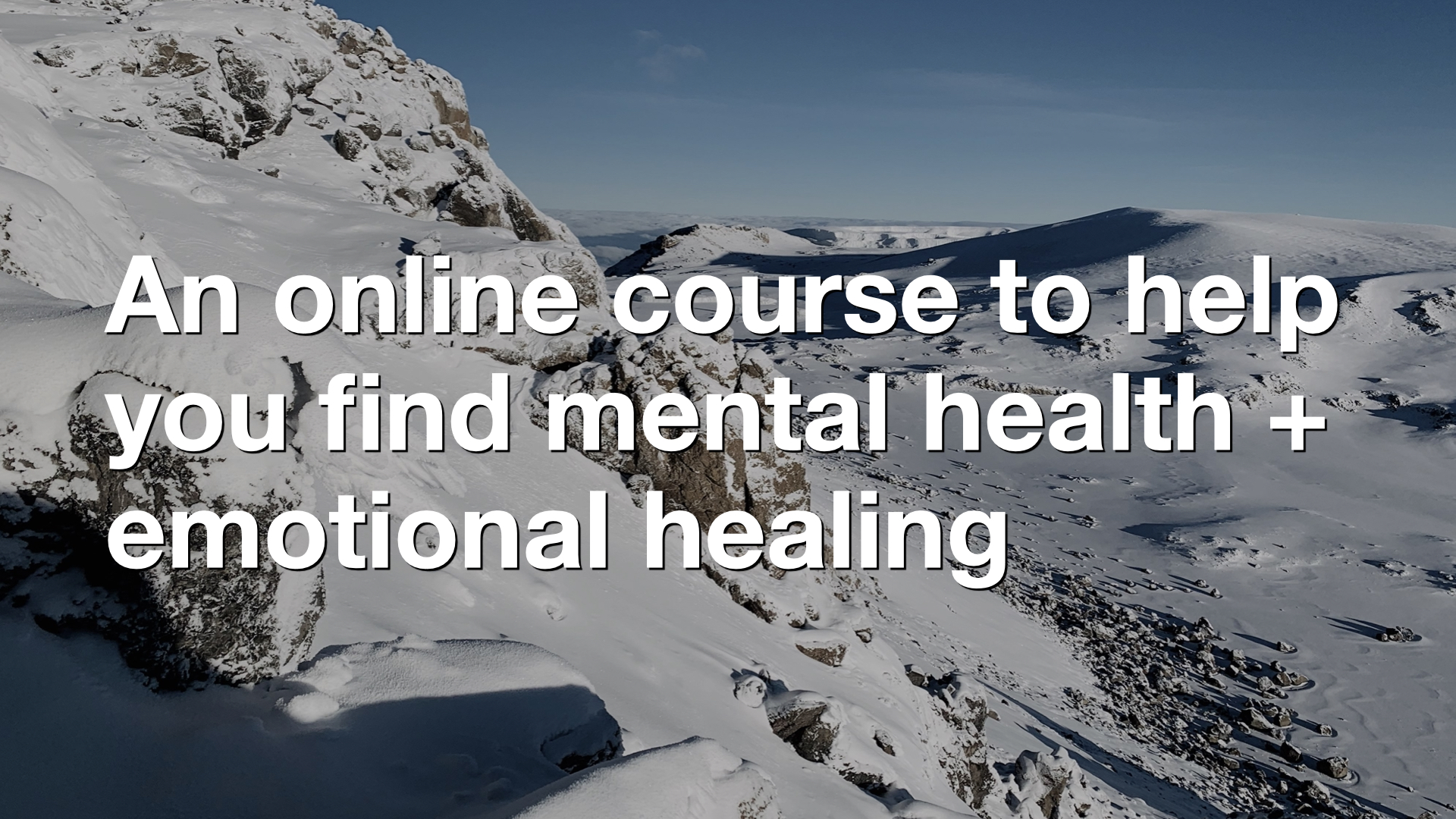 And here's some of the graphics about it…
Why does it fall under faith?
I think it's simply this:
So often you can't see what's happening when you're in the middle of it. But, in hindsight, you're able to look back and see how God truly brings all things together for the good (Romans 8:28f.), how He makes it all beautiful in its time (Ecclesiastes 3:11).
No, the verse doesn't declare that all things ARE good…
… nor does it say they're all beautiful.
But, somehow, in the brokenness beauty emerges.
And, I think, for me, that's part of what's happened here…
… a broken situation in which, oddly enough, the enemy tried to keep a message about freedom and wholeness tucked away…
🚌🚌🚌🚌🚌🚌🚌
Friends = David comes through, gets drafted to create the Pickleball court
David, a friend who used to work with me at the re-entry / recovery program (he was the program director and ran things FANTASTICALLY) rolled through town this week.
We ran around, visited a few local places, and then hit the fire pit in the back yard— which did NOT at that point have a Pickleball court.
"Anytime you're coming through, you're welcome to stay downstairs," I offered. "After the insurance thing settled, we now call it the Dream Suite."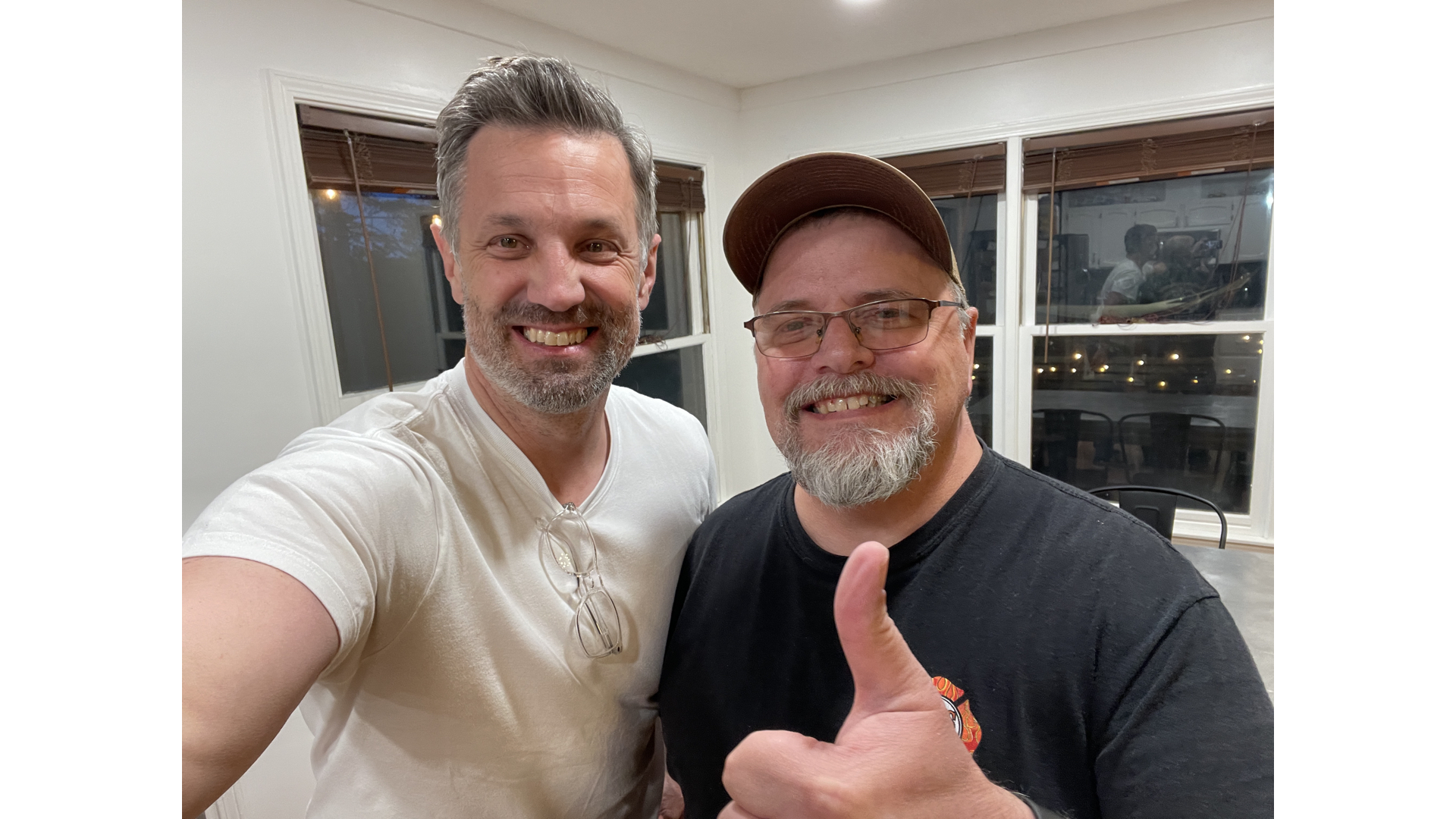 Two days later he texted: "I'm headed back from Mobile to Arkansas. Crash in the Dream Suite?"
"For sure. Just one thing…"
I mentioned I had to get the court painted…
"Ahh, I'll help. I'll be slave labor or whatever…"
🏓
A few hours later, David and I were on the way to Walmart to grab painter's tape and spray paint.
We stopped to eat at On-Tap (which was over-crowded, because— unbeknownst to us— it was trivia night, focused on Star Wars for May the 4th), then headed to the house…
I tell you this, there's NO WAY I would have gotten that done on my own in anything short of 8 eight hours. It would have been too much back and forth, too much setting blocks or some sort of weight down to hold the tape…
We were super-efficient.
(The downside of the effort is now I see that the court needs to be pressure-washed 😳.)
🏓
BTW, I met David years ago when a previous Program Director moved on…
I REALLY needed some help— and prayed.
"I'm sending you someone," the Lord told me in prayer.
That day, a trusted friend— Randy, who's been serving in prison ministry for years— reached out.
"I've got someone I want you to meet," he said. Then— "This guy may be able to help you out."
A few hours later, he walked David through the front doors of my office…
🚌🚌🚌🚌🚌🚌🚌
Fun = Friends & movies and all the things
This weekend I asked Beth, "How many boys are over here…?"
Mini was out of town for a choir trip— to Dollywood. Even with HER and the college kids out…
"Ten," Beth replied. "I think there are ten…"
We ran the math…
💤 Judah was asleep
🚲 Isaac + two friends were riding the bikes on our nearby trails
🏓 Salter + his friend were outside inventing new ways of playing Pickleball that included bouncing the ball off the basketball goal
⭐️ Levi was downstairs with four friends… prepping the firepit for later that day and loading up their fridge, running the #TinyHouse as if it's their own private frat house…
"Eleven… there are eleven here…"
😳
We love it.
We TOTALLY enjoy the quiet weekends— like last weekend and this weekend when the house is empty…
… and we love the opposite extreme, when it's a ZOO.
🤪
Oh…
… Judah and I went to see Guardians of the Galaxy 3, which featured a trailer for Mission Impossible whatever-number-they're-on, which led to his observation, "We should watch all of those the week before it comes out and then go see it…"
So there's that, too.
🎬
🚌🚌🚌🚌🚌🚌🚌
That's the highlight reel for the week.
Each week I look back at the week behind + preview the week ahead— so I don't miss anything— and look and highlight at least one thing for which I'm grateful in each of the 7 key areas of life…
💙 Fitness
💰Finance
🏠 Family
🛠 Field (work, career)
🙏 Faith
👊 Friends
🎉 Fun
💥 💥 💥 💥 💥 💥 💥 💥 💥
Note: grab your Advance planner for just $8, using the link below, and get empowered to move forward in each area of life…
All the details are at www.Jenkins.tv/8
Never miss a new post + podcast!
Join our mailing list to receive the latest news and updates
We hate SPAM. We will never sell your information, for any reason.