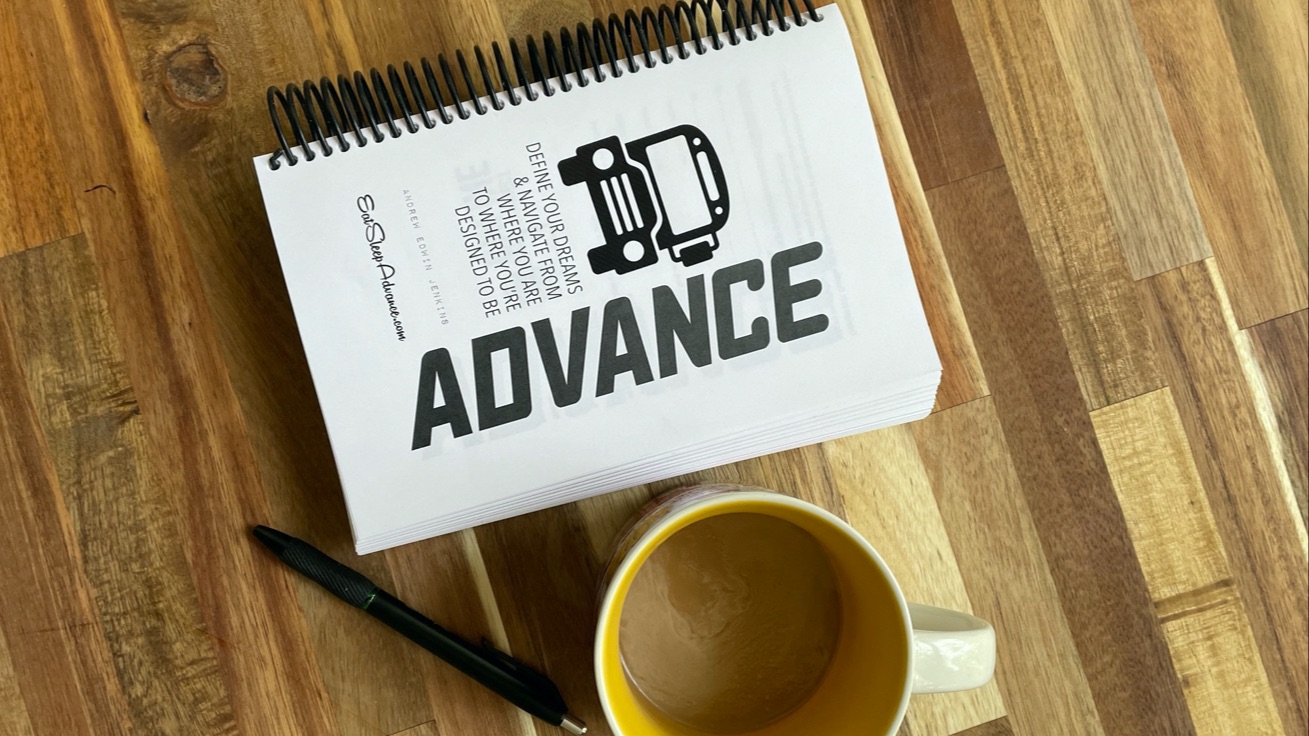 Top 7 = Advance re-load + Amplify is live + ...
Apr 03, 2023
Ahhhh… White Bison coffee.
Though I'm not a fan of restaurants that are IN gas stations (and, certainly not coffee shops) this was is the exception.
I grabbed this on the way to HSV last Sunday to see my parents…
… and then I stopped back on the way OUT to grab another cup to presumably help me stay alert during the drive.
(I think I can stay awake just fine— full disclosure: I just like the coffee there.)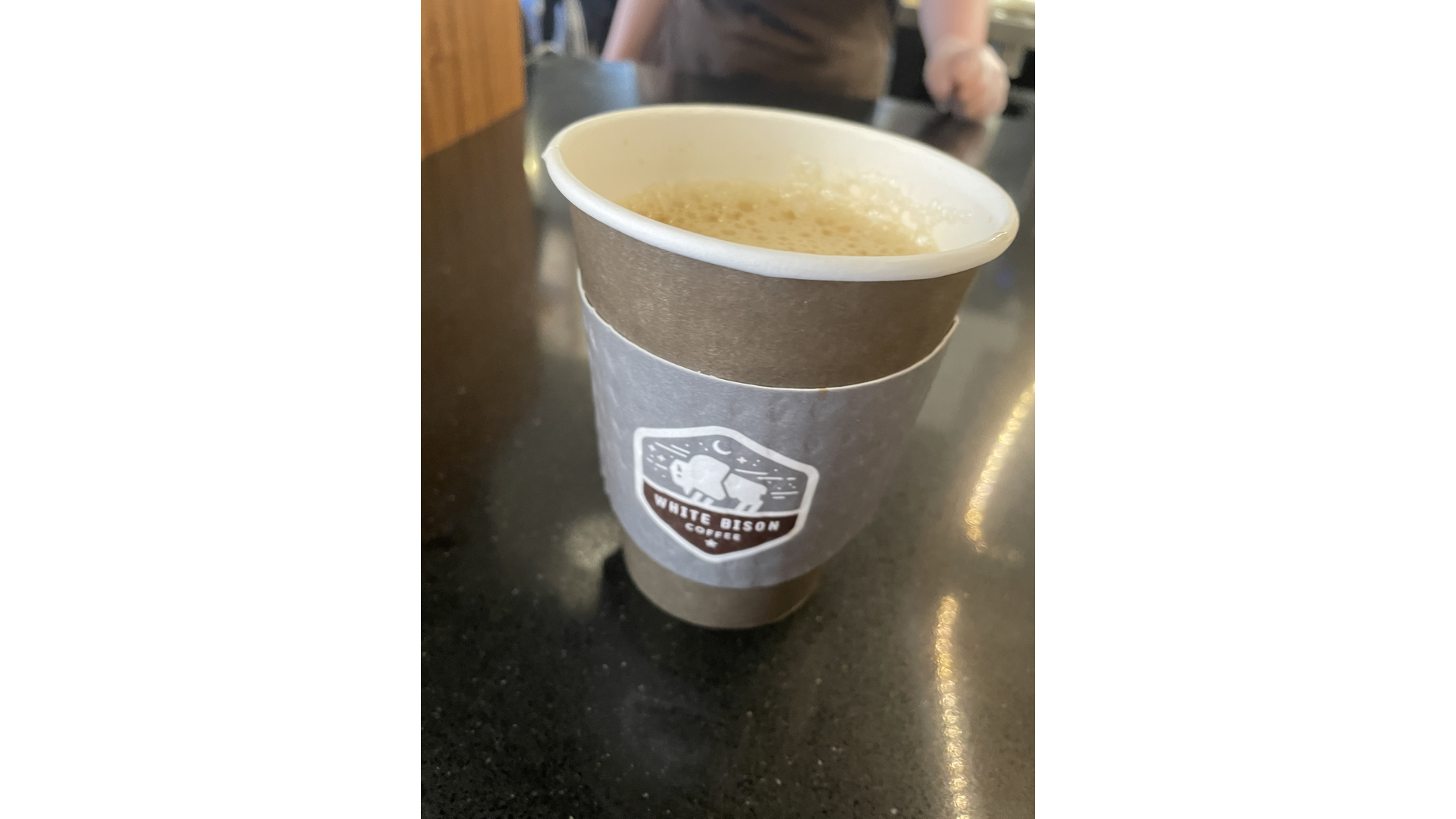 Anyway, the trip to HSV and a few more things made the Top 7 for the week ending 04-01…
🚌🚌🚌🚌🚌🚌🚌

Fitness = The Challenge, Beth vs. Andy
Beth and I are doing a challenge…
She wants to strengthen up; I want to slim down— a bit. Neither one of us have MAJOR shifts to make, but we decided that we could just jump in and compete with each other.
Not sure how we measure it when we're moving in opposite directions, or what the "trophy" even is. But, here we are.

🚌🚌🚌🚌🚌🚌🚌

Finance = Amplify goes live
This past week I received ALL the video files, edited, from Jaron (he's the guy who ran the filming for the Amplify recoding we did back in late February). He promised t have the videos back in a month— and delivered…
All 25 modules….
… which are comprised of 62 TOTAL videos…
📣

What does Amplify do?
Well, if you've got something to say— a message you want to craft into book, a podcast, a course, a coaching program, or something more….
… and you're not sure how to pull it together and package it in a way that people will actually pay attention to it, so they can apply what you've learned that you want to share…
… and you want to find a way to monetize it WHILE you multiply it…
… the Amplify will show you how to do it.
The course will walk you through—
🧠 The mind shifts you need to make = understand how the publishing game has changed and now CAN work in your favor, even if you've never shared your message with the world before
📚 💻 📧 📱 🎙 The media you can use to share that message— and how it can be packaged and repurposed through each form (and the benefits and opportunities they each present)
⚙️ The methods we use to get the work done, that is, the habits and shortcuts you can implement in order to do it faster, with more success and less stress.
📣📣📣📣📣
BTW, the Amplify Pro! coaching group begins this week, as well!— go to www.AmplifyOnline.info/pro for more info and to see if it might help you multiply & monetize your message.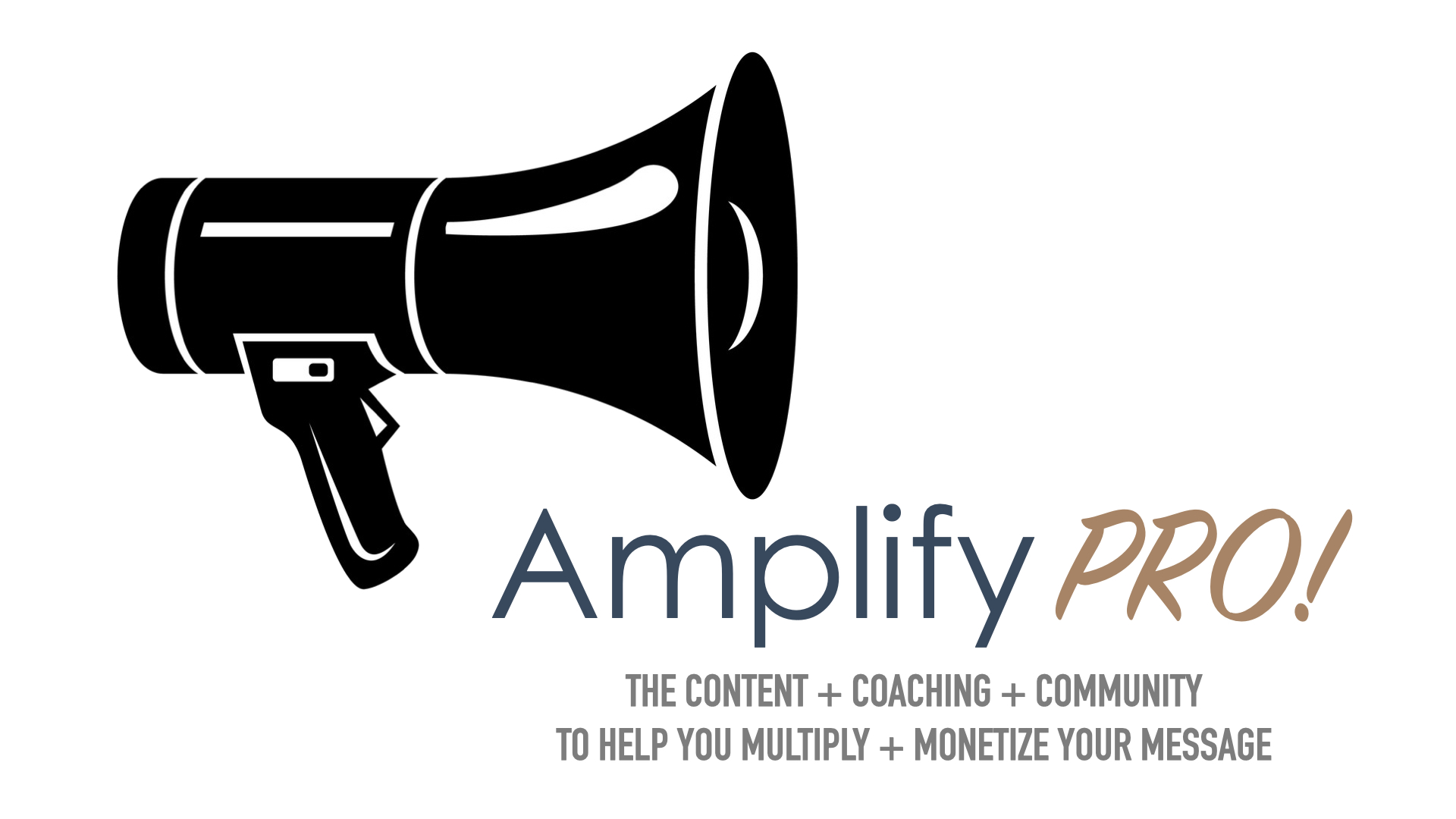 🚌🚌🚌🚌🚌🚌🚌

Family = Parents' reception, hanging with Matthew
Last Sunday I drove BACK to Huntsville. Dad announced his retirement two weeks ago— and Beth & I rode up to visit / see it / support my parents. The reception was scheduled for this past Sunday evening, so I made the drive back.
Matthew (my younger brother) was there, as well, so the added bonus of seeing my parents was that he and I got to catch up over the course of 90 minutes or so while Mom & Dad greeted everyone in line.
As the well-wishers moved through the line, many of them inevitably found their way to the two of us…
💙
I met dozens of great people— like this man, Glen.
A Vietnam vet, he was a Command Sergeant Major tasked not only with fighting but also notifying the next of kin when there was a casualty.
At some point during his serve, his boss was Colin Powell.
We talked about the Crosswinds documentaries on PTSD & Moral Injury. He was familiar with the comment that sparked the first film— that time when Don Malin (a military chaplain) told Bob (the founder of Crosswinds) that "it took me a few years to figure out that when it was thundering outside I wasn't under mortar fire. It was just a storm."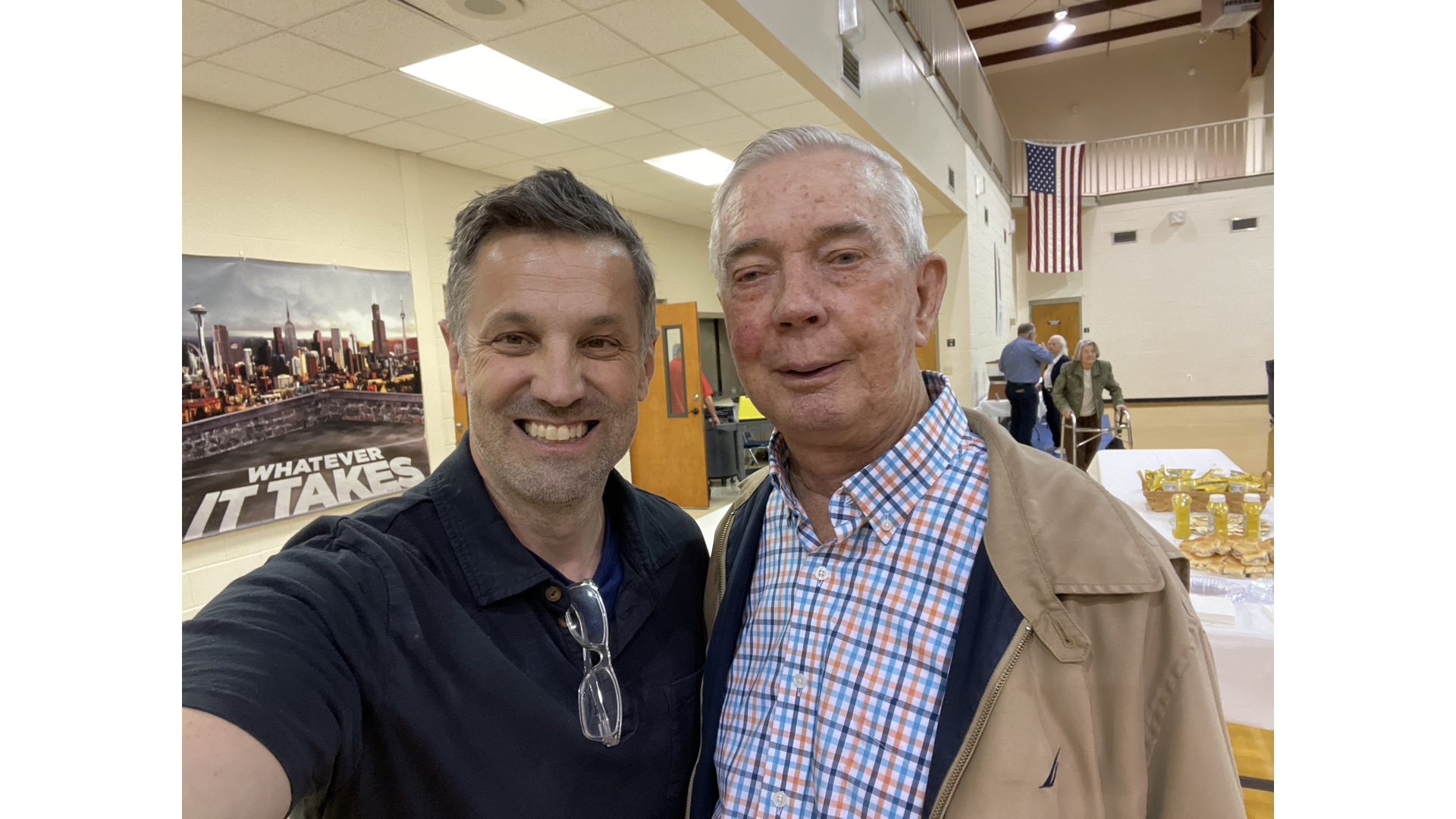 💙
A side note…
The Vietnam War Veterans Recognition Act, signed into law in 2017, marks March 29 as National Vietnam War Veterans Day, which coincided with this past week…
Many locales refers to this as "Welcome Home Vietnam Veterans Day," as the Vietnam vets were the first group of military warriors to not only NOT be widely accepted on their return home but to ALSO be vilified for their service in many cases— even though MANY warriors were drafted right out of high school to go and serve…
🚌🚌🚌🚌🚌🚌🚌

Field = Progress
Two projects to update here…
✅

The Warrior Hope Podcast…
Wednesday I sat down and began mapping Season 3 of the Warrior Hope podcast. I finished adding a few more details this Friday, and I plan to record midweek of this week.
✅

Advance re-load
For about 4 years I co-led a men's movement known as Advance. The group was birthed out of men's Facebook group and some connections a few guys established in a home-based business…
… and then, at some point, the movement continued growing.
I stepped away from it about 4 years ago, due to some transitions in life that I need to pause and tend to. Yet, I always thought the movement would resurface. In fact, a BIG part of me didn't even want to step away.
For the past few years I've worked and re-worked the material we taught, developing (and refining) the framework we taught, the book that explained it, and the daily planners that empower people to manage what they learn.
🚀
The movement is returning, better than ever…
The new website is going live sometime this week. Here's a pic from the "about" page.
(Website will be live at www.EatSleepAdvance.com)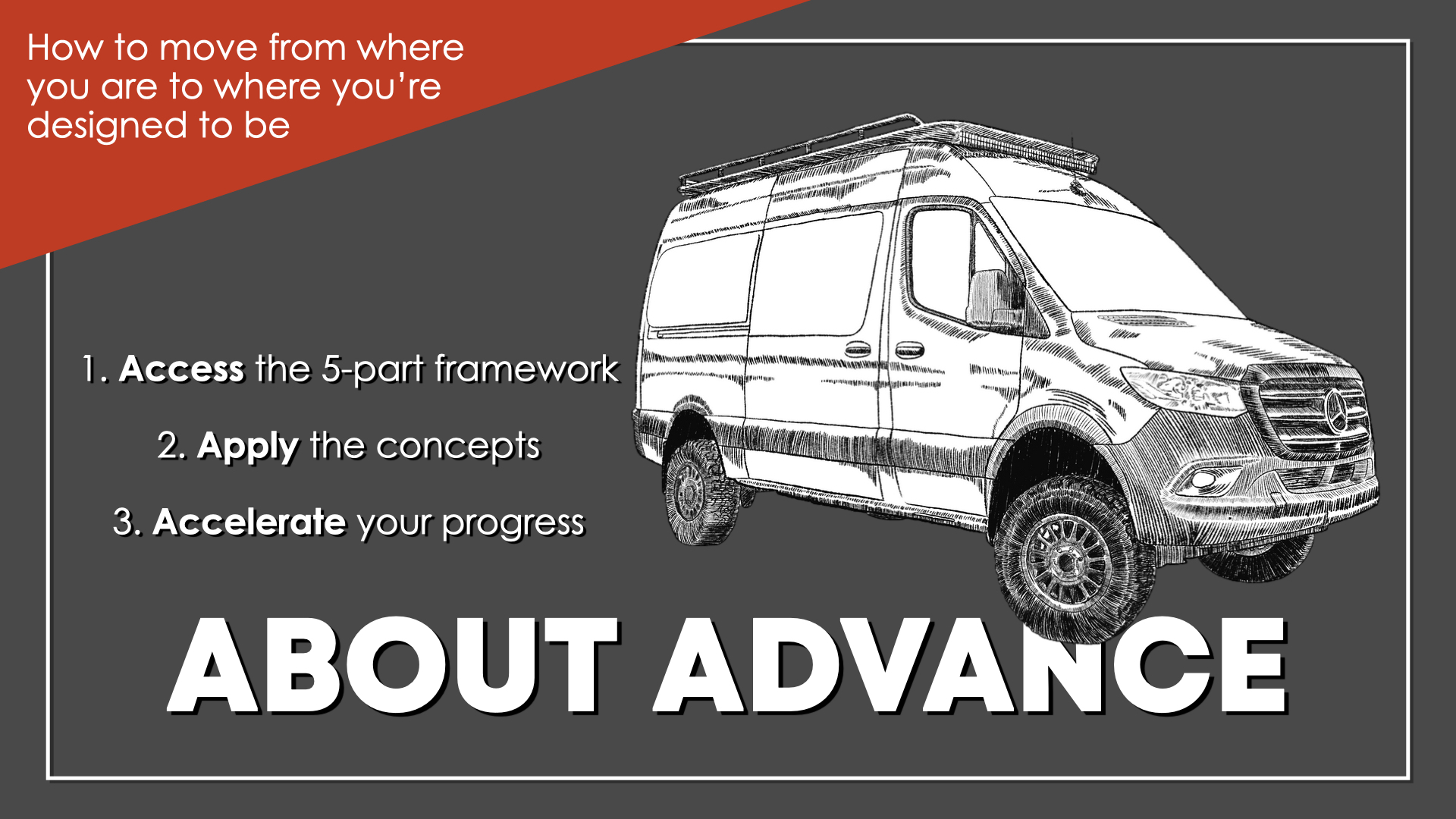 The premise of the project is simple. We'll help you…
⭐️ Define your dreams and move from where you are to where you're designed to be ⭐️
The Advance resources empower you to move forward, so you can live a life by design instead of accepting a life of default. Plan or no plan, the time passes. Advance equips you to live a life that matters.
🔥

Why does it matter?
Because you've got one shot at life. No need to live by default…
❌ The days seem long, yet the weeks seem short.
❌ Every day feels like Groundhog Day-- you're in the same place this year as you were last year, and the year before that, before that...
❌ You have a nagging sense of What if I actually tried? What if I bet on myself this time?
❌ You feel like you're in a rut-- and wonder if there's "more" to life.
❌ You wonder why things seem "to work" for others but not you.
❌ You want to leave a legacy for others and live a life that matters but you wonder if it's too late to begin
… you can live by design.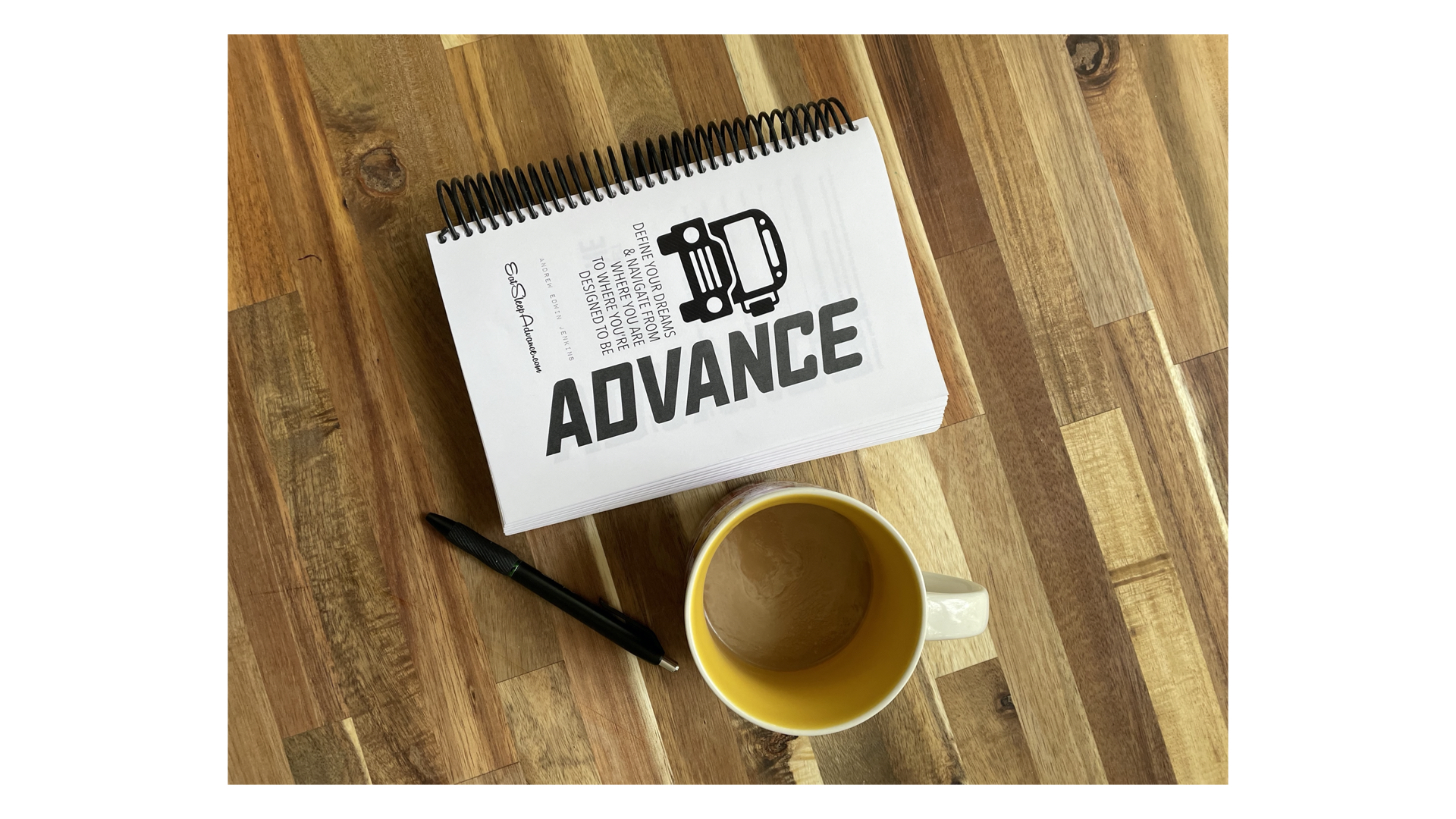 The website will have a few audio-driven courses and eBooks— all for $10.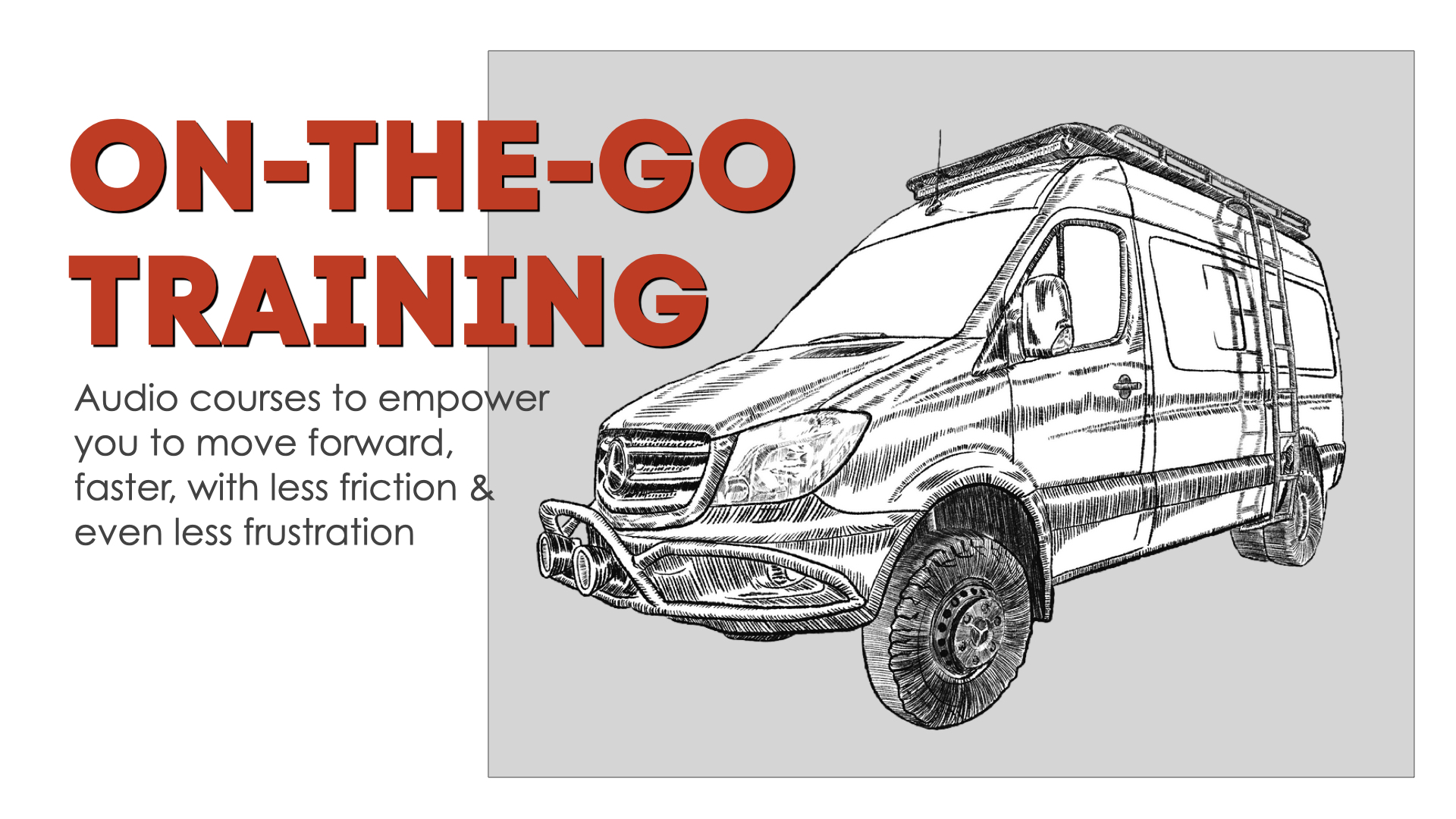 And, right now, you can join the Advance text-bot, whereby you'll receive daily hope-filled messages that empower you to move from where you are to where you're designed to be.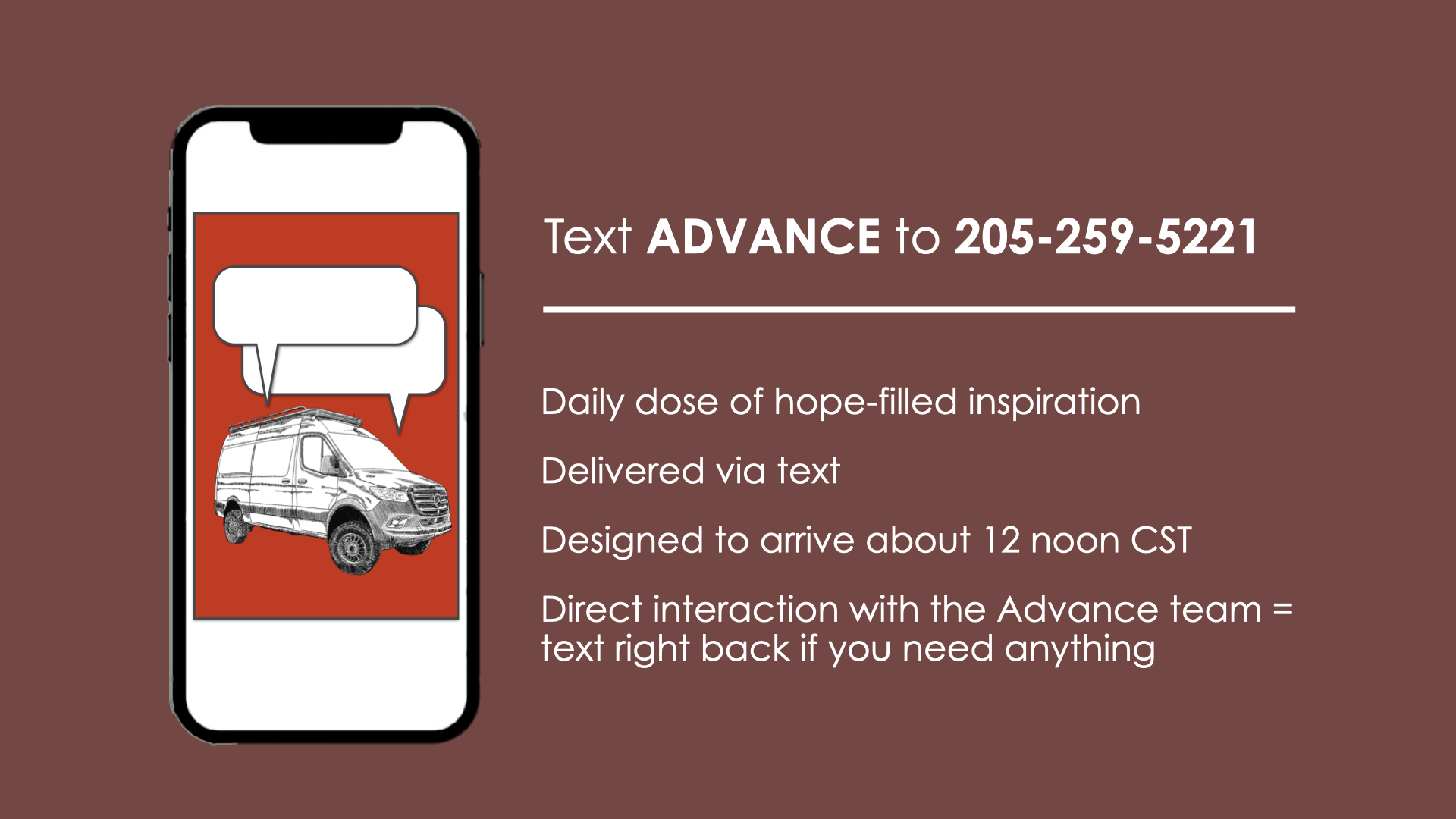 (Website will be live at www.EatSleepAdvance.com)
🚌🚌🚌🚌🚌🚌🚌

Faith = Disentangled Leader Guide is on the way…
See the comments above about Glen, the Vietnam vet.
Then, add this:
Tuesday & Thursday Bob and I sat down (our customary table at Panera Bread, which has become the "go to") and pounded through a few more pages of the the Disentangled Bible Study.
Well, more accurately, we pushed our way through the Leader Guide, which will help facilitators build their groups and, more importantly, take the participants on a journey of healing.
The study discussed PTSD and Moral Injury, evaluating each of them— and how to overcome— through the Scripture.
🚌🚌🚌🚌🚌🚌🚌

Friends = "Breakfast for two" | Ran into a friend at Pablo's, while out with Beth
Beth and I had a kid-free few days, so— after a LONG day (great, by the way, not long in a bad way but lengthy in the best way) of work— we rode over to Pablo's, a Mexican restaurant not too far from the house.
It was the perfect place. You don't have to get dressed up. You just roll in… "as is."
🌮🌮🌮

It was Wednesday, so they had a musician playing. I didn't think much of it until, on the way out, I recognized him.
It was Jason…
… a friend from my CHILDHOOD who, when we were in junior high, infamously looked like Kirk Cameron's doppleganger. No kidding.
Whereas the girls swooned over Jason, my interaction with him was more akin to things like—
💩 spending the night at his house and sleeping in the backyard, on the swimming pool lounge chairs rather than sleeping in the house
💩 riding bikes EVERYWHERE
💩 sneaking away at night, sack of dog-poo in hand… to dump on someone front porch, with a cracked egg placed atop it, and a beautiful sign we made that read "breakfast for two." Then, ringing the doorbell and running away— just far enough to look back and see the reaction.
As stupid as it is, I still laugh about it right now, even while typing…
😂😂😂😂
🚌🚌🚌🚌🚌🚌🚌

Fun = Cookout
Randy & Tammy came to the house Saturday evening, just as Beth and I ended another LONG (but good) day of work…
Cooking out, just taking it easy...
Great way to punctuate a week of work.
🚌🚌🚌🚌🚌🚌🚌

That's the highlight reel for the week.
If you're just now dropping in, each week I look back at the week behind + preview the week ahead— so I don't miss anything— and look and highlight at least one thing for which I'm grateful in each of the 7 key areas of life…
💙 Fitness
💰Finance
🏠 Family
🛠 Field (work, career)
🙏 Faith
👊 Friends
🎉 Fun
💥 💥 💥 💥 💥 💥 💥 💥 💥
Test drive the Advance planner...
.... for just $8, using the link below. All the details are at www.Jenkins.tv/8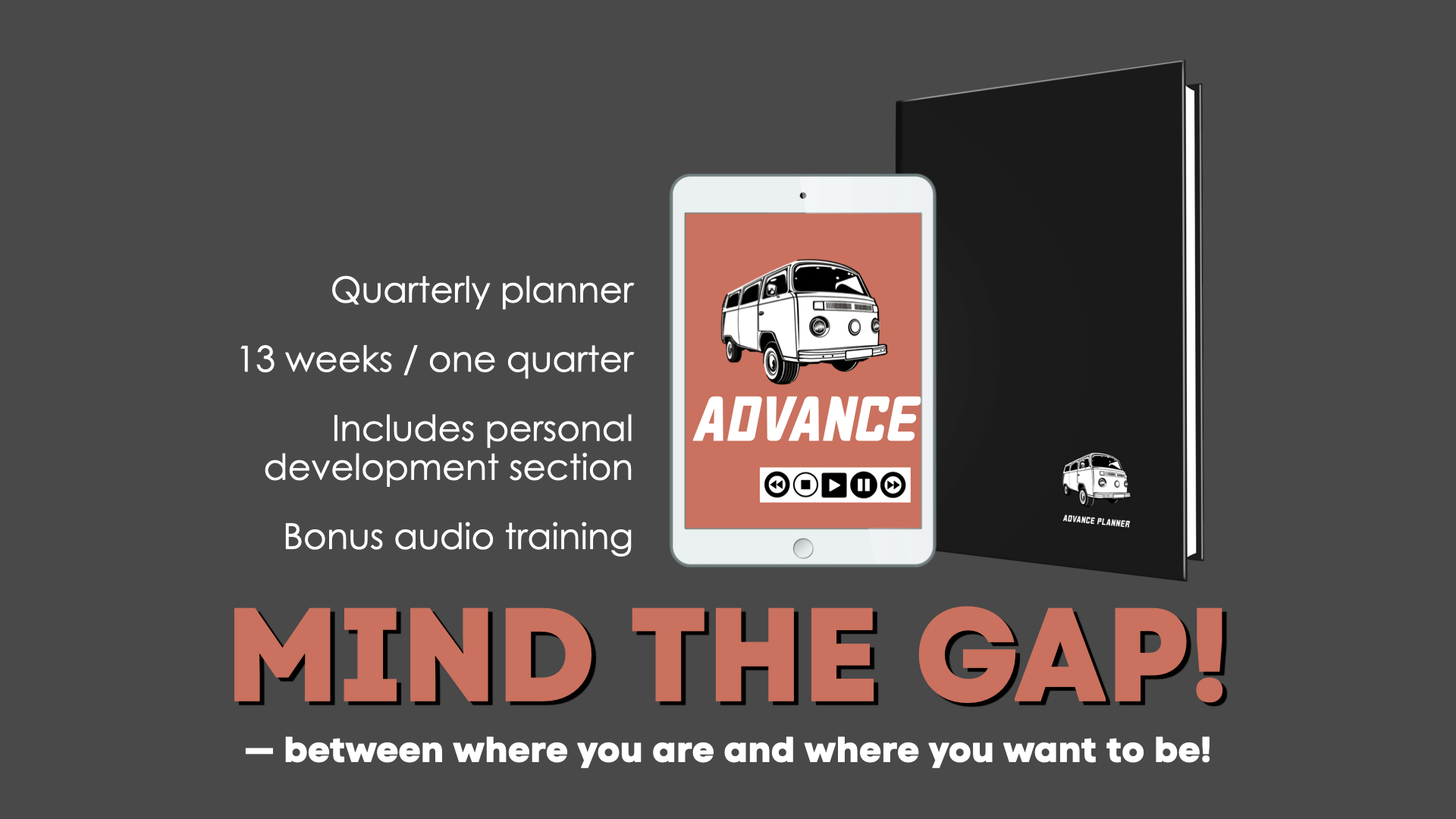 Never miss a new post + podcast!
Join our mailing list to receive the latest news and updates
We hate SPAM. We will never sell your information, for any reason.