Top 7 = Do you know the dreams of the people closest to you?
Mar 06, 2023
Each week I look back at the week behind + preview the week ahead— so I don't miss anything— and look and highlight at least one thing for which I'm grateful in each of the 7 key areas of life…
💙 Fitness
💰Finance
🏠 Family
🛠 Field (work, career)
🙏 Faith
👊 Friends
🎉 Fun
Here's the run-down for last week...
🚌🚌🚌🚌🚌🚌🚌
Fitness = Off, time…
Sunday and Monday I was exhausted— in the best way possible.
The weekend before— Friday & Saturday— we recorded the Amplify video course— all 16-ish hours for 3 complete modules.
I've been a bit "off" this week, to say the least. Moreover, I don't think it goes back to just this past weekend, I think it rolls back a few months— to a busy season of completing several projects (including this one), to focus far MORE on LESS…
Once again, I was reminded that we must live in "rhythm," that we can be "always on." Rather, we need season of on and moments of OFF.
(I taught about it in my Soul Wholeness video course— see the relevant module at https://www.jenkins.tv/rhythm.)
🚌🚌🚌🚌🚌🚌🚌
Finance = Amplify podcast
Beth and I sat at the kitchen table this Friday and laid the tracks for 8 episodes of the Amplify podcast— a new framework which teaches you how to multiply & monetize your message….
If you've got a heart message you want to share with the world but aren't sure how to get it out, we can help. The book is in the hands of a publisher, the course is being edited, and Beth is about to crank up a new coaching project.
During one of the first talks, Beth said something like: "Yeah, I wanted to make sure you wrote all of this down for a few reasons… one of the biggest is that I've got all of these notes in my journals and I want to write a book."
She said it far more eloquently than that, but it hit me as she spoke…
This is a dream of hers that I've—
💙 not heard too much about (maybe nothing at all— but I don't want to presume that's never said anything about it)
💙 not nurtured
💙 clearly got the skillset to help her with
Makes me wonder…
How many times do we NOT know the dreams of the people closest to us— and, all the while, we've got the capacity to help them actually bring those visions to life?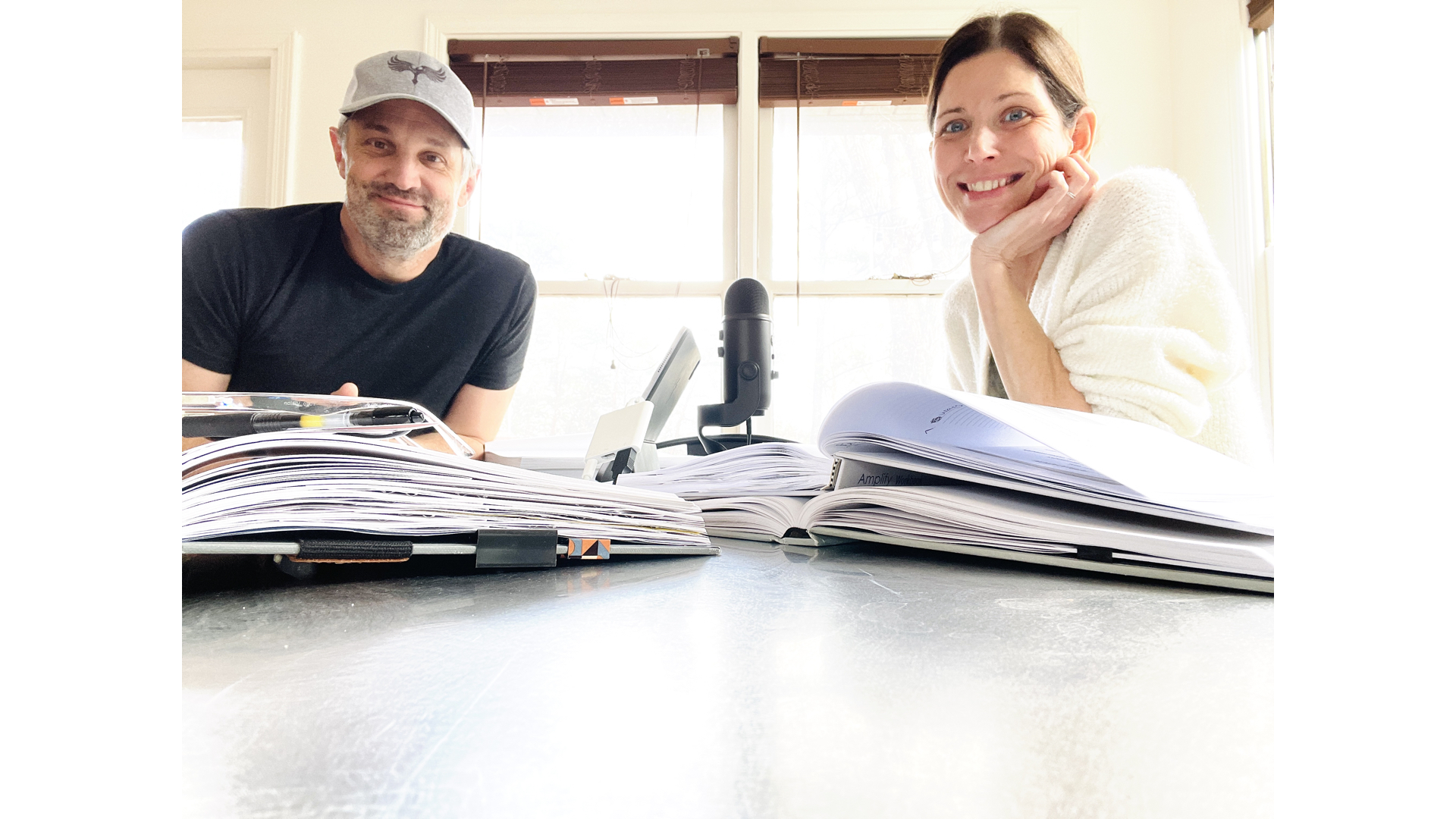 Anyway...
One of the "tips" most people don't know about podcasting is that you've got to set up the RSS feed first (this is where you host the podcast). Then, you must make all the connections to the relevant locations you want to send the podcast (i.e., Apple Podcasts, Google Play, etc.).
All of that requires creating a few test episodes, then making the connections. (Once you do it, the podcast goes to each place you direct it, each time you publish.)
That's the gear we're using, by the way. A Yeti Blue mic (about $100) and the iPad (Voice Memos app). You don't need fancy tech to make it happen— you just need to get started.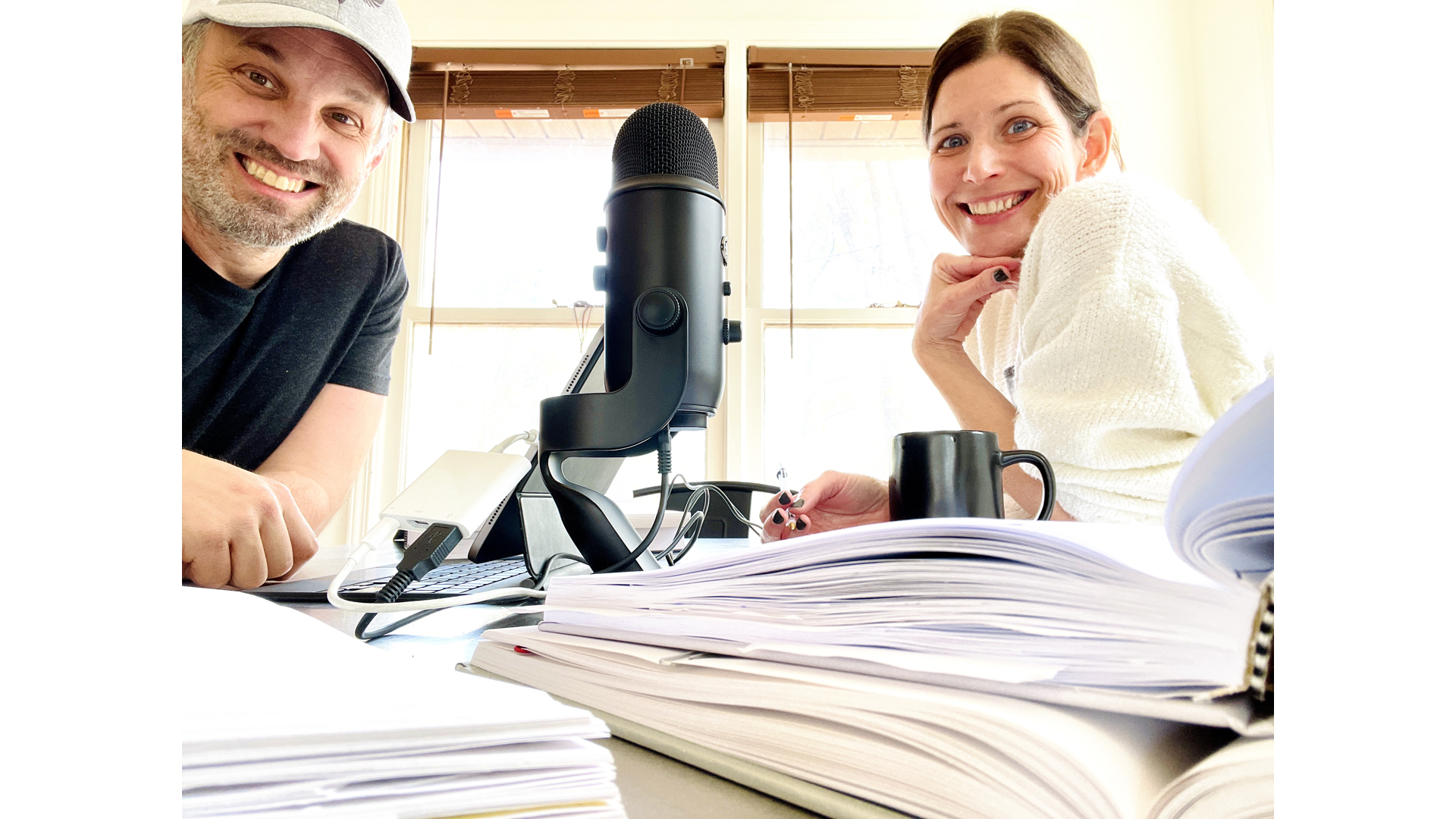 Access the podcast here:
🎙️On our website: https://www.amplifyonline.info/podcasts/amplify
🎙️On Apple Podcasts: https://podcasts.apple.com/us/podcast/amplify/id1672699411
🎙️ On Google Play: https://podcasts.google.com/feed/aHR0cHM6Ly9hcHAua2FqYWJpLmNvbS9wb2RjYXN0cy8yMTQ3NTEwODM3L2ZlZWQ
🎙️ On Spotify: https://open.spotify.com/show/0WWuDzW9Haa3gP2jxlRm98
🚌🚌🚌🚌🚌🚌🚌
Family
= Birthday, then girls…

This week Mini turned 13– on Monday.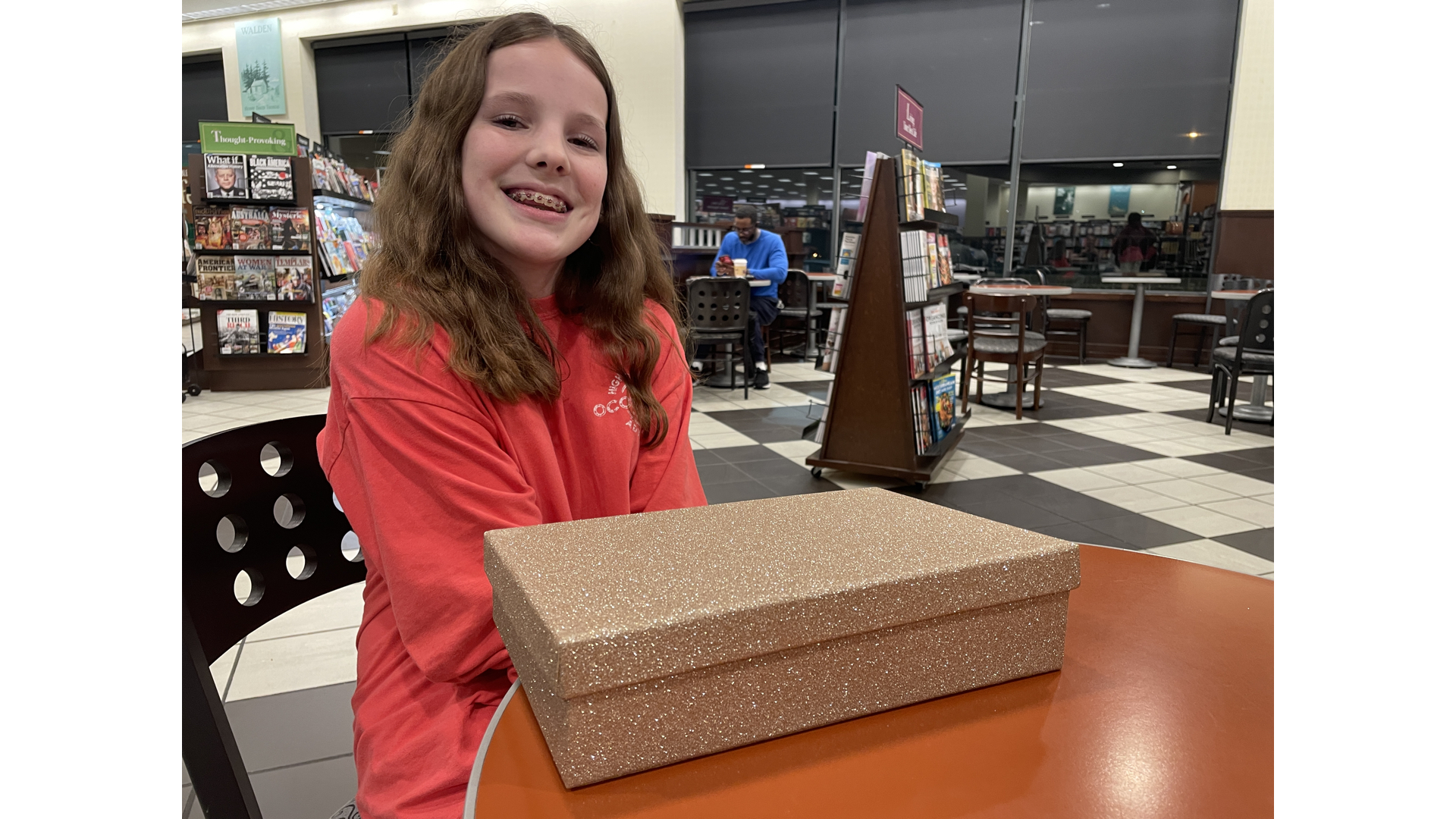 The running tradition— for the past three years— is that we take the neighbor, Jack Boyd, with us. He's been an awesome friend to Mini since we moved to the Oak Mountain area from downtown almost 3.5 years ago.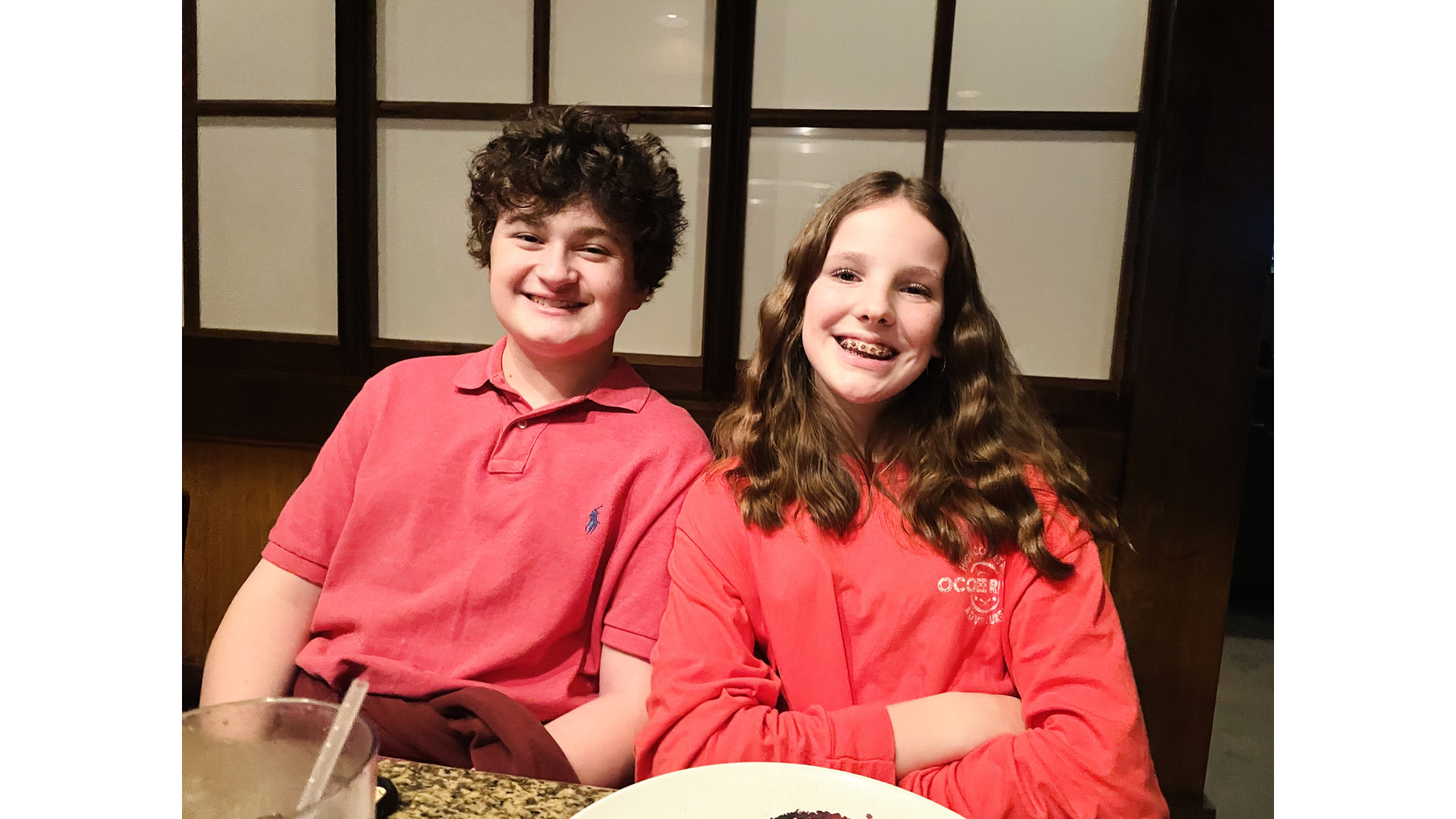 We walked across the parking lot to Barnes & Noble after dinner (oddly enough, another random tradition). We stumbled on this guy— an urban raccoon. He was in a small pack of 2 or 3 but got left behind.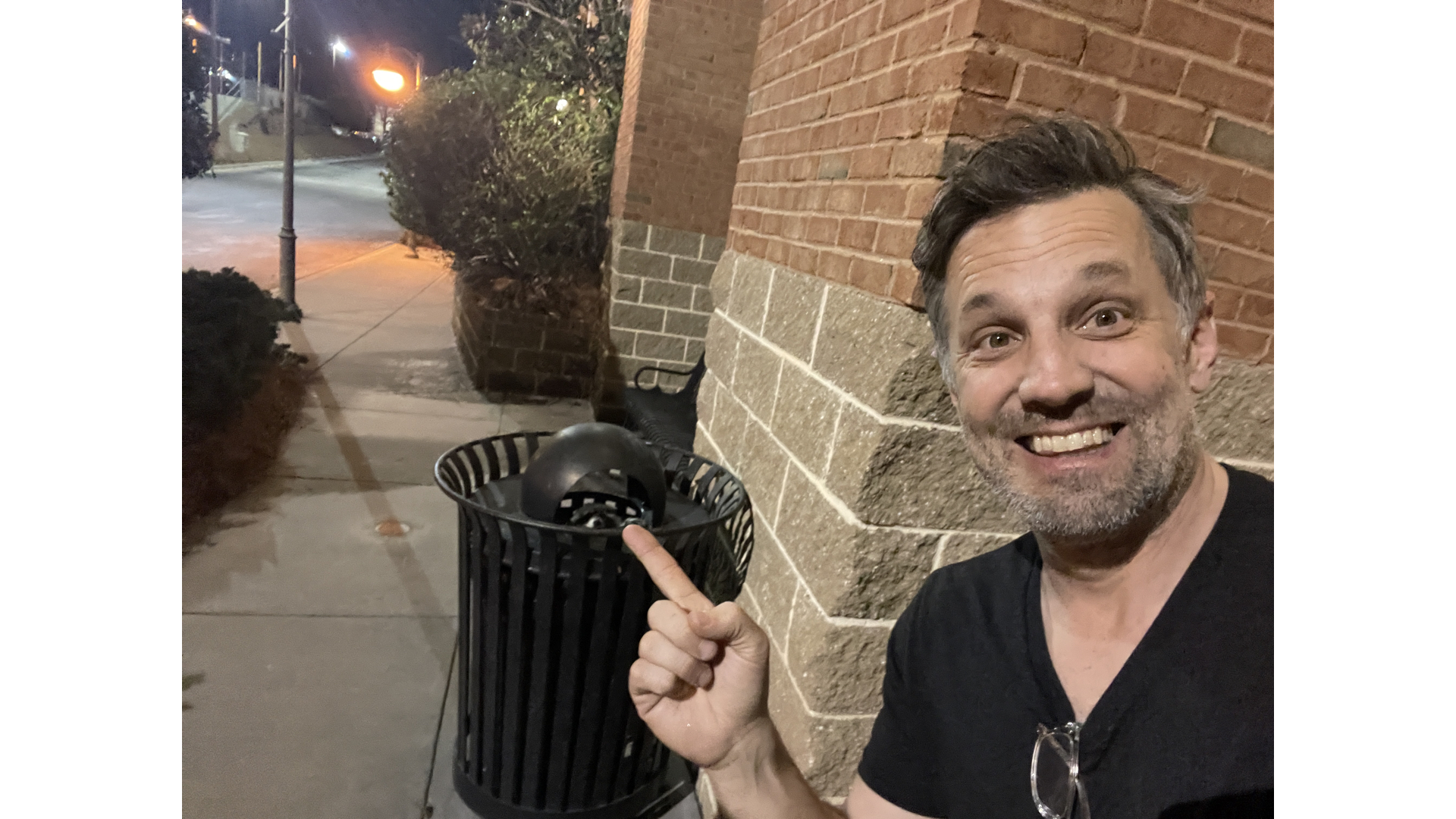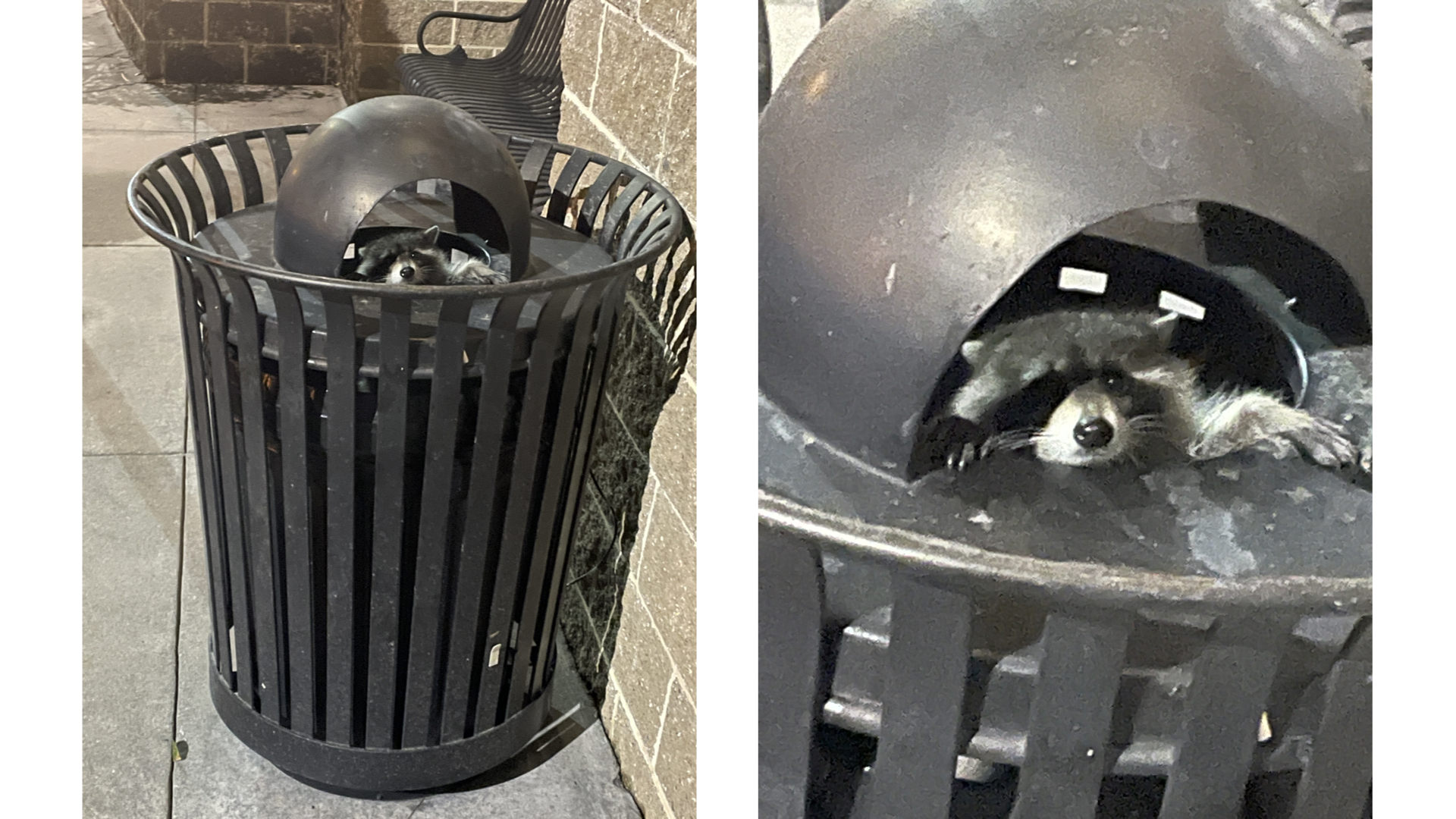 Wednesday, Anna rolled into town. We took it easy around the house that evening, but headed to North Italia the following night.
Ivey got off work at 6:30, so she was able to join us.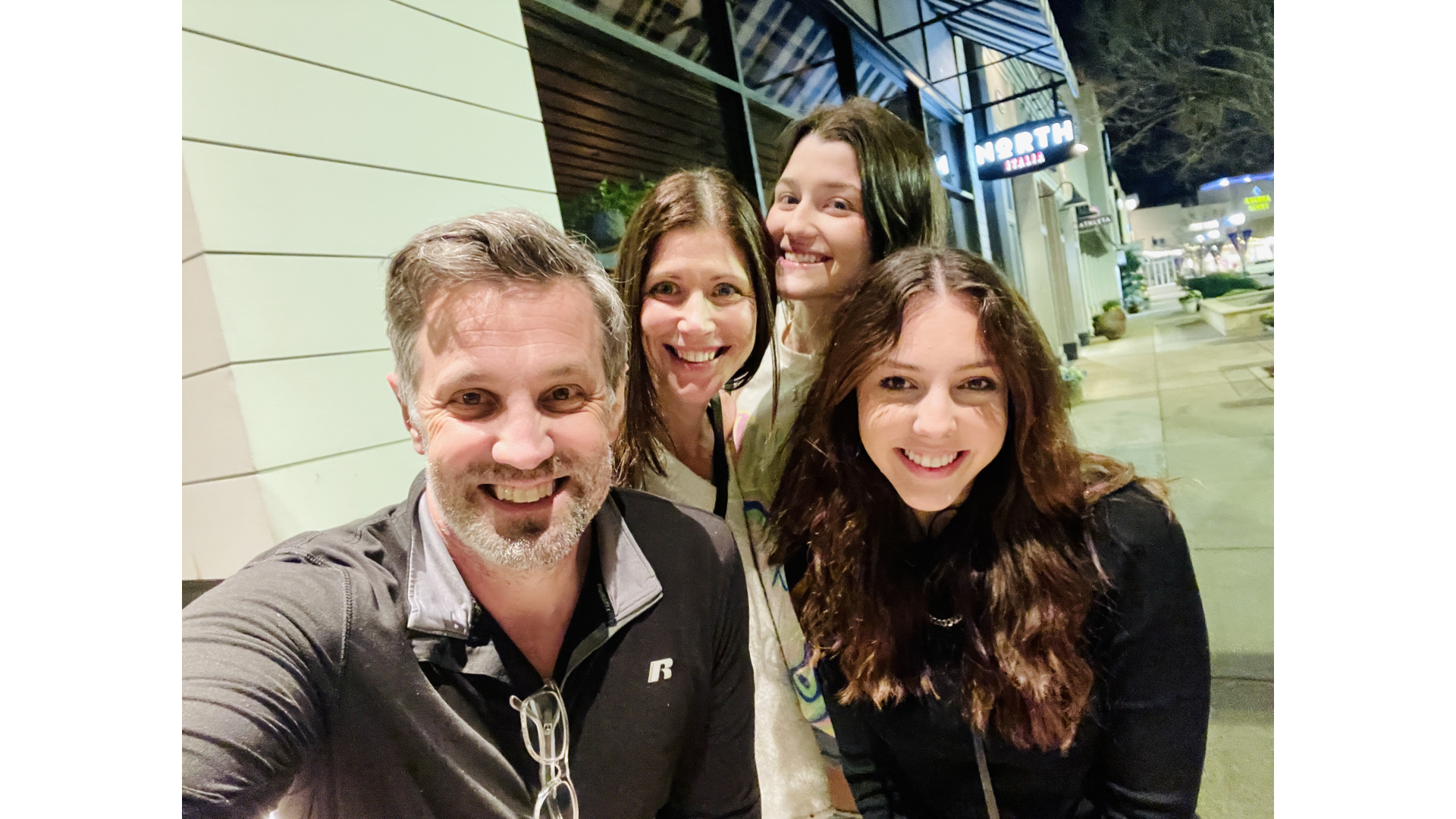 Sometimes, the best times are truly the unplanned moments that just "happen."
🚌🚌🚌🚌🚌🚌🚌
Field = Disentangled, Leader Guide
Thursday morning, Bob & I pushed through the final two chapters of Disentangled and completed the draft of the leader guide. This week, I'll reformat the book while he finishes the forward (and leader instructions).
Crosswinds has a new documentary releasing late this Spring, and we'll do some training during that weekend.
Over the next few weeks you'll see me more involved with the Crosswinds' projects— especially everything in the Warrior Hope ecosystem. For the past almost-5 years I've served on staff with Crosswinds in some capacity…
Recently I've committed to investing more time there.
Before 2018 Bob spoke with me a few times about become adjunct faculty for the ministry— even as I was developing some of my books and the Advance events and other discipleship-driven resources. I was running a home-based business during that season, so the timing was never quite right.
About that time, my marriage jumped the tracks, and Bob was there. The ex suggested I find something to do outside the house (we were both working from home, so were on top of each other all the time).
"Go work at Starbucks or something," she suggested. "Just give me some space."
Somewhere amidst our conversations— I talked to Bob as much about personal challenges as professional opportunities and projects during that time— I told him, "I actually COULD come work with you… if you can pay me whatever I would make at Starbucks."
He agreed.
In fact, I'm fairly certain he paid me out of his own pocket for a few months.
The first task was to write a few grants— to fund the way forward. Thankfully, we began landing grants within just a few months.
Thus, we were able to begin working— with more financial margin and focus— on the "next step" of a project Bob stumbled upon years ago, the movement that turned out to be Warrior Hope (leading up to this time, he had produced two documentaries on PTSD and Moral Injury… writing a book and creating a study was the next step).
A few months ago we were talking: "In order to grow it to the next level, you'll have to spend more time on it," he said. Then— "Without more time and focus, we may have hit our ceiling. But, with more time, it's limitless."
I had been transitioning a few other projects… and, I was about to film the Amplify course, which would mark a big milestone there (and free mental margin and space).
So, at this point…
… this chapter (and hopefully the next and next and next)…
… look for more time + focus on Crosswinds.
(You'll see updates on my website and some other changes, as well, over the next few weeks.)
🚌🚌🚌🚌🚌🚌🚌
Faith =
Heaven in Business
This weekend I read Andy Mason's book Heaven in Business. I met Andy online, and have talked / texted with him a few times.
The premise of his book is this: Christ in you is an advantage everywhere you go-- not just the church building. So, if you're involved in business, the Presence should empower an ongoing "level-up" in that sphere.
In one of the chapters, he mentions this...
⭐️ Daniel (and his friends) were 10x wiser than the acclaimed magicians and astrologers of Babylon-- because God was with them (see Daniel 1:20).
⭐️ John the Baptist was the greatest-- to that date-- born of a woman (see Matthew 11:11), meaning he must have excelled Daniel.
⭐️ You-- and anyone in the Kingdom of God-- is greater than John, according to Jesus (see also Matthew 11:11), meaning there's a new dimension that's now open because of the new covenant and radical grace + supernatural empowerment.
In fact, Jesus actually said YOU will do greater works than He did (John 14:12).
So...
What if...?
What if it's true and we've just been thinking too small, particularly in terms of living out our faith in every sphere of life?
If it is...
... then we're all playing too small.
🚌🚌🚌🚌🚌🚌🚌
Friends = Hike, with Salter, etc.
Friday, Salter asked about having a friend over the following day. I reached out to the parents…
Turns out, it was the perfect day for Karson to join us. His sister had a day full of volleyball (which is Mom was attending) and his Dad was working.
I took the boys hiking… this is a shot from down our hill, through the trail, and over the Cahaba.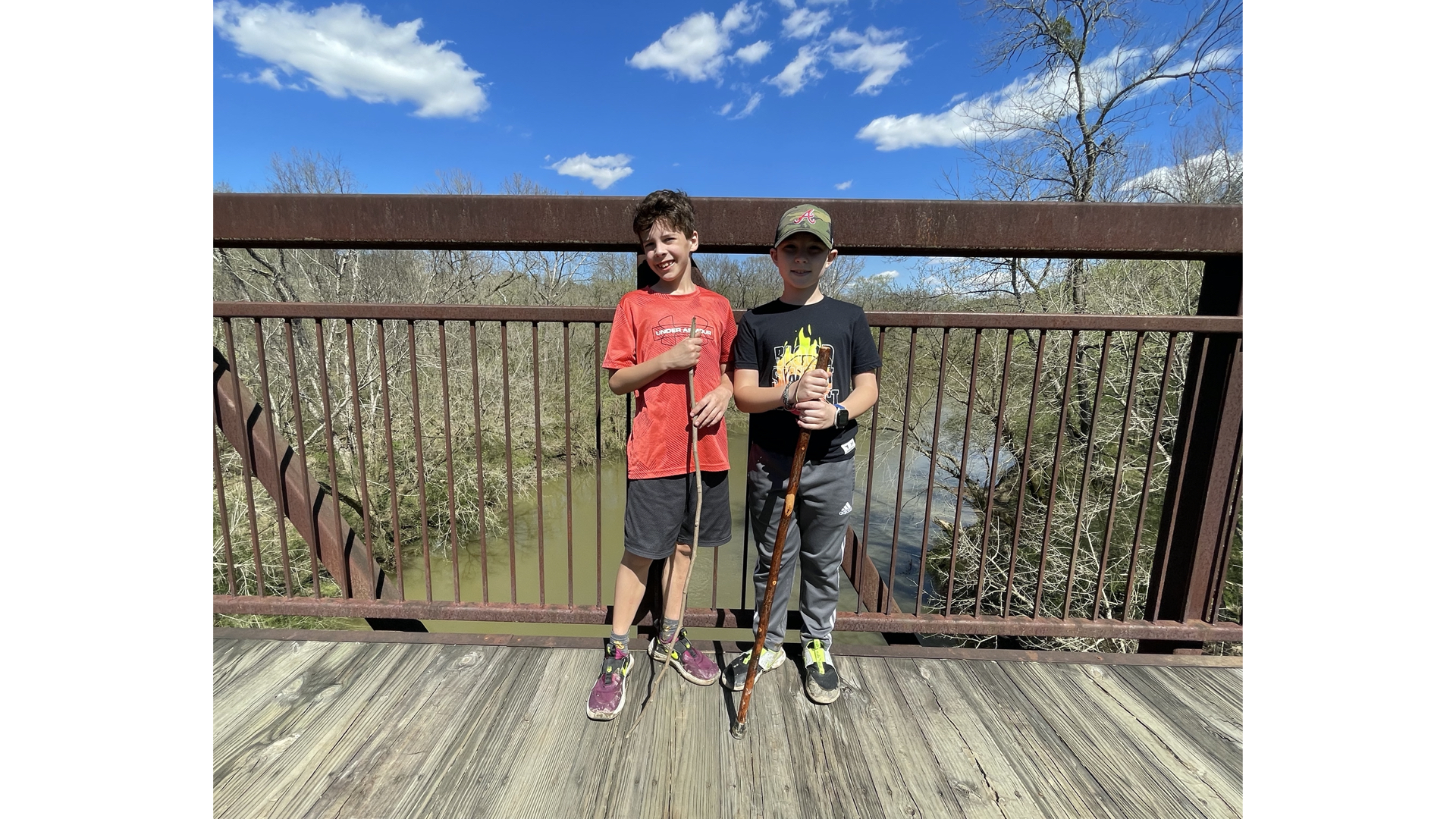 🚌🚌🚌🚌🚌🚌🚌
Fun = Dave & Buster's, b/c…
Friday, while Beth and I recorded the Amplify podcast, a tree fell due to high winds. I actually saw it outside the window.
To put it in perspective, that's a 70-foot pine.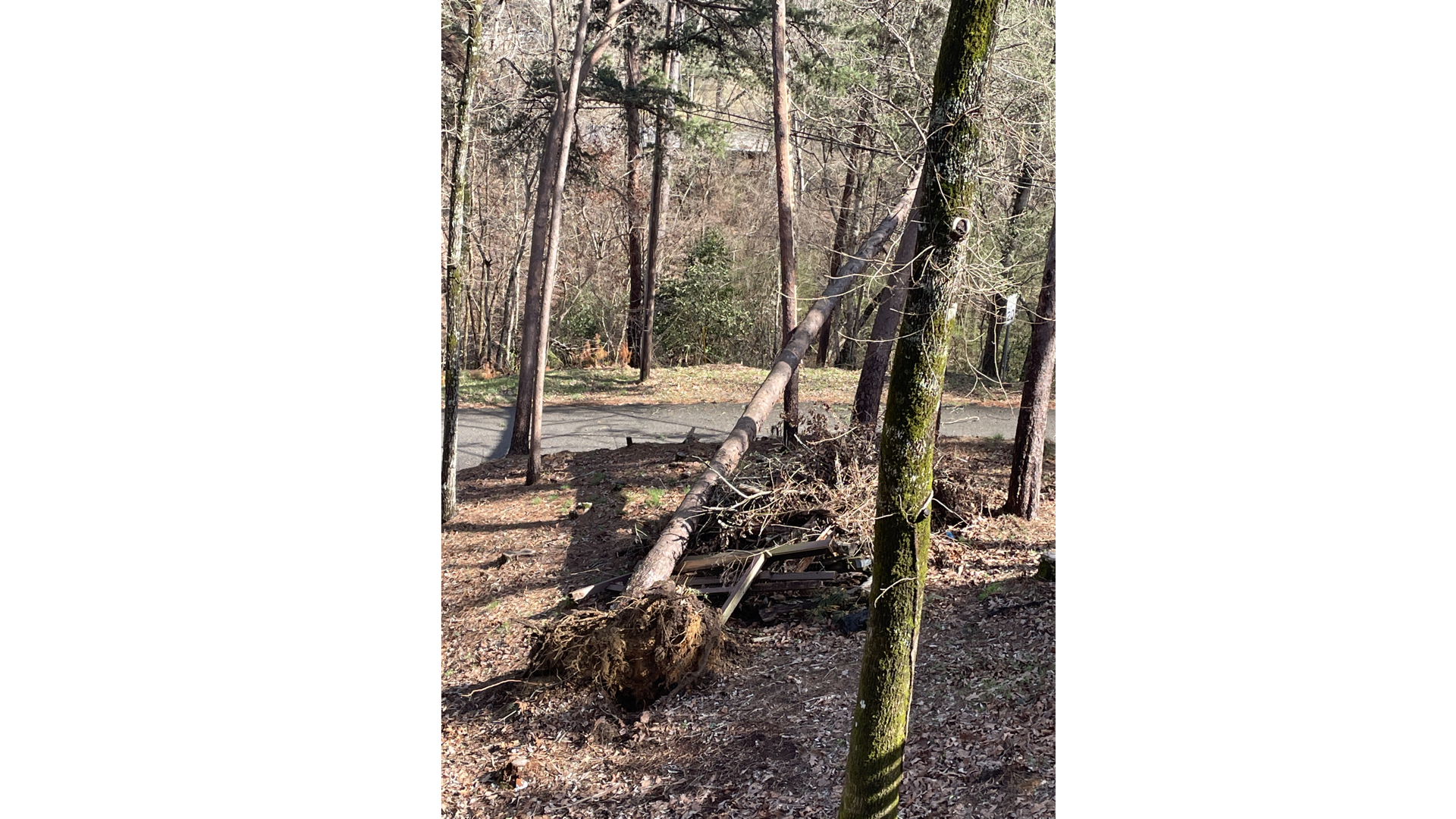 Here's another view. That's an Alabama Power truck in the distance.
And, yes, the tree is being held up by a power line. I'm surprised it actually fell— that far— on the line…
Notice, it's almost horizontal, such that it hit the line with almost the same velocity it would have hit the ground.
Moreover, the line CAUGHT it.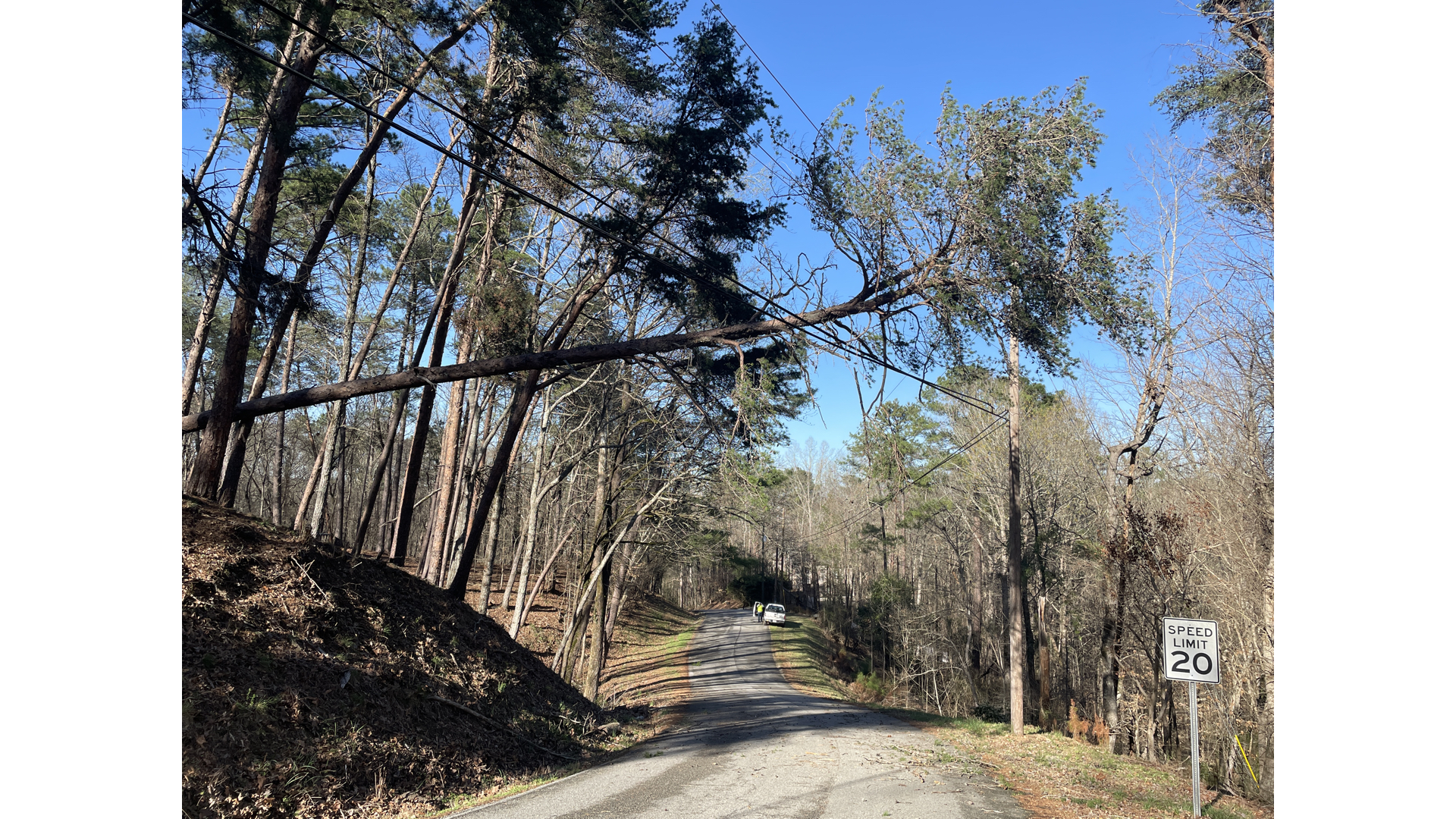 With the power out on a Friday night, Beth and I took Salter and Mini to Dave & Busters, once again re-using some of the same cars we've had for a few years now.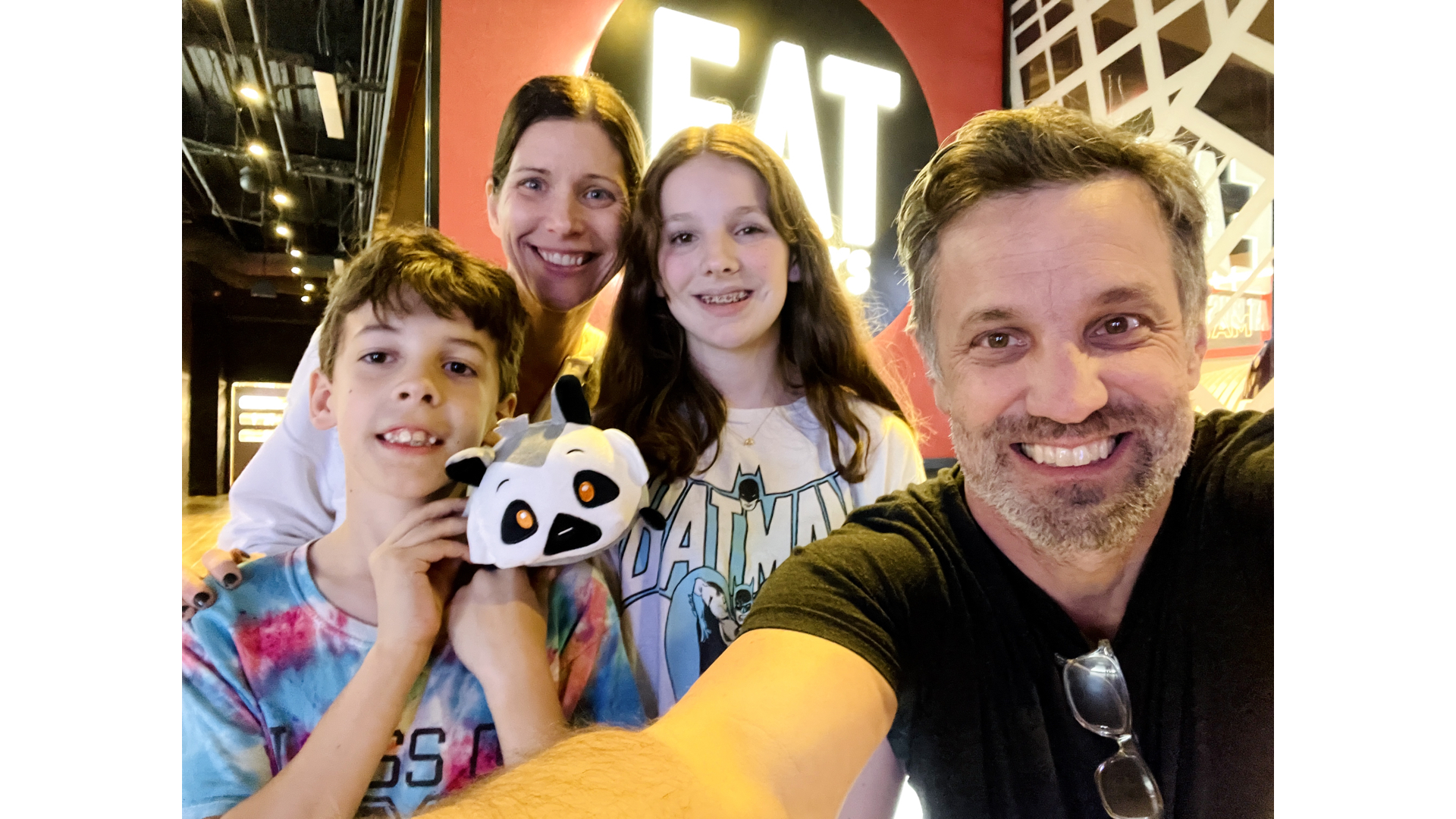 🚌🚌🚌🚌🚌🚌🚌
That's the highlight reel for the week.
💥 💥 💥 💥 💥 💥 💥 💥 💥
Note: I've updated the link below.
Test drive the Advance planner for just $8, using the link below. All the details are at www.Jenkins.tv/8
Never miss a new post + podcast!
Join our mailing list to receive the latest news and updates
We hate SPAM. We will never sell your information, for any reason.