Top 7 = The film shoot, the fam, friends
Feb 27, 2023
Last week, a project I've been pushing for the past 3 months culminated (at least this phase of it).
Amplify— a resource that empowers you to take your message and multiply, monetize, and market it— has now shifted from the rough draft / book stage to the video course stage…
I talk about that, as well as some great moments with friends and family below.
🚌🚌🚌🚌🚌🚌🚌
Fitness = Exercised, both days, the day of the shoot
I had a heavy speaking schedule (on camera, with a small in-studio "live audience) on Friday and Saturday. I knew it was going to take a full day— and require TOTAL focus and energy.
But, I decided the best way to tackle it was to "keep" my schedule as normal as possible. So…
⭐️ Friday, I woke up around 5:30, did a HIIT (High Intensity Interval Training) workout, took the kids to school, and then returned, ready to go. I found that, this day, the workout— like all other days— provided me with necessary "alone" time and a wake-up well before everyone else began stirring.
⭐️ Saturday, I woke around 6:30, took an hour run through the neighborhood (definitely not as long as most Saturdays), which gave me the alone time needed AND provided me with the mental margin to simply "walk through" the day's content before stepping in front of the camera.
That leads me to the next entry for my Top 7…
🚌🚌🚌🚌🚌🚌🚌
Finance = Amplify
Friday and Saturday we shot the video for the Amplify course(s) and website. It was a lot—
📢 Part 1 = The Mind-shifts (things you need to know about how the publishing industry has changed, how you can repurpose and adjust your content without recreating it, and more)… 7 modules
📢 Part 2 = The Media (every form you can use to share your message— from websites to books to blogs and podcasts… courses, coaching, membership programs, emails + texting… 9 total modules… approximately 30 videos total…
📢 Part 3 = The Methods (7 habits to implement into your workflow to get more done with less stress, so you can multiply & monetize your message effectively)… 7 (more) modules…
That's a lot of shooting…
… and a lot of talking.
Between the two days I think I hit 7 hours to speaking each day— spread across 9 hours (we had breaks interspersed).
👇
Will Amplify help you?
If you have a message to share— whether on a book, a podcast, a blog… a course or coaching…
…. then, yes, Amplify will clarify how to monetize and multiply that message in such a way that people hear it— so you'll learn how to market it as well.
👆
Learn more about Amplify— and/or take your next steps— at www.AmplifyOnline.info
🚌🚌🚌🚌🚌🚌🚌
Family
= North Italia with Michael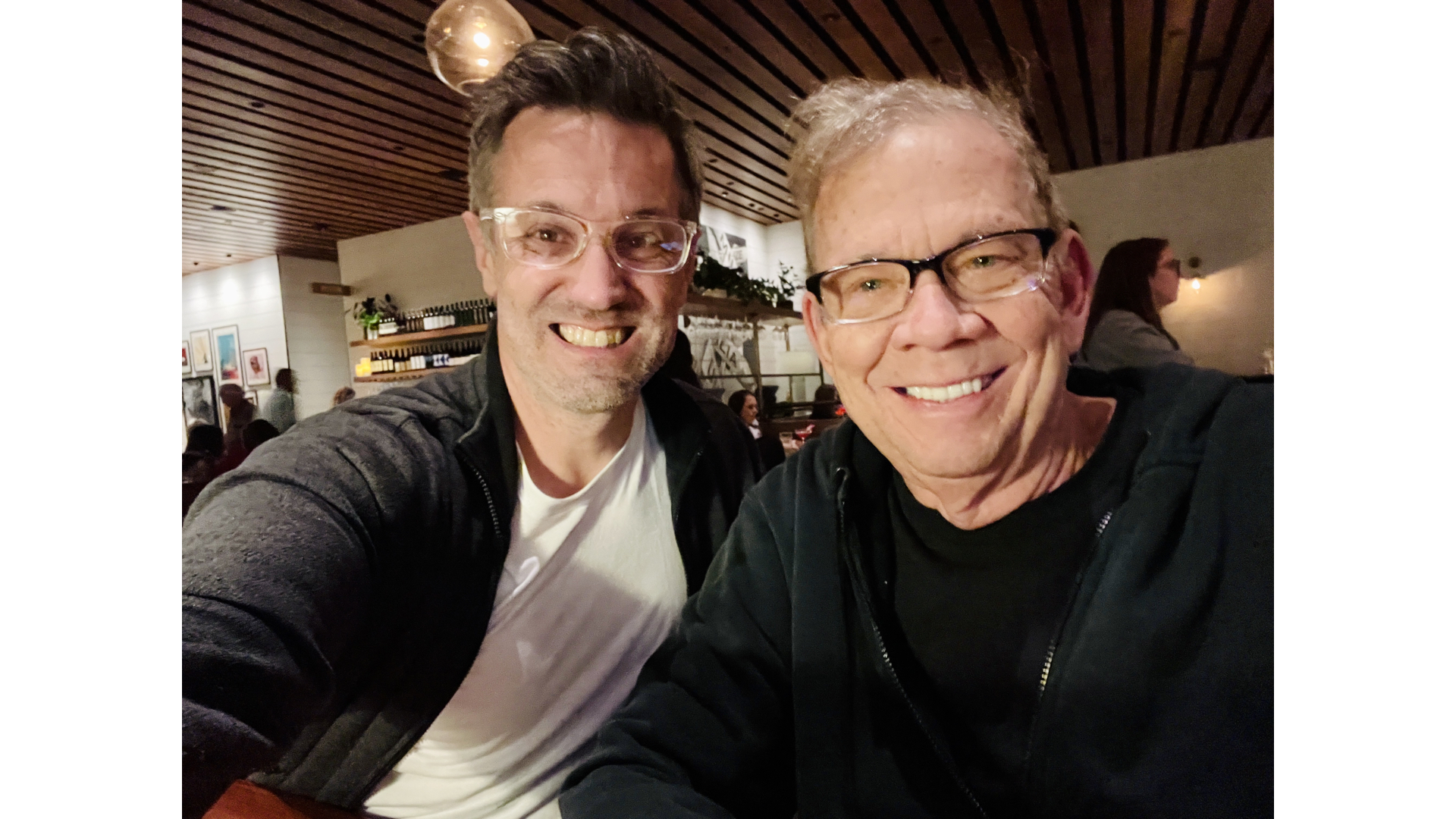 Beth's parents rolled-up from Freeport this past week, as well. The past few times they've visited, her Dad (Michael, my father-in-law) and I have visited North Italia.
He loves the Shrimp Scampi; I like the… just about everything there.
Your parents are one of the few relationships in life you DO NOT get to choose. You receive the hand you're dealt.
I tell ya, this— we've been blessed on both sides of our fam with parents (now grandparents) who:
💙 love each other deeply (both sets with 50+ years of marriage)
💙 live with radical grace and generosity
💙 prioritize people over everything else
🚌🚌🚌🚌🚌🚌🚌
Field = 2-day shoot
After the final day of the Amplify shoot, I had to return some borrowed chairs. My friend Chris flew down from Ohio join us for the taping, and helped with about 17 different aspects of the project this weekend.
That's him on the far back left, amidst some other friends we joined for post-work dinner.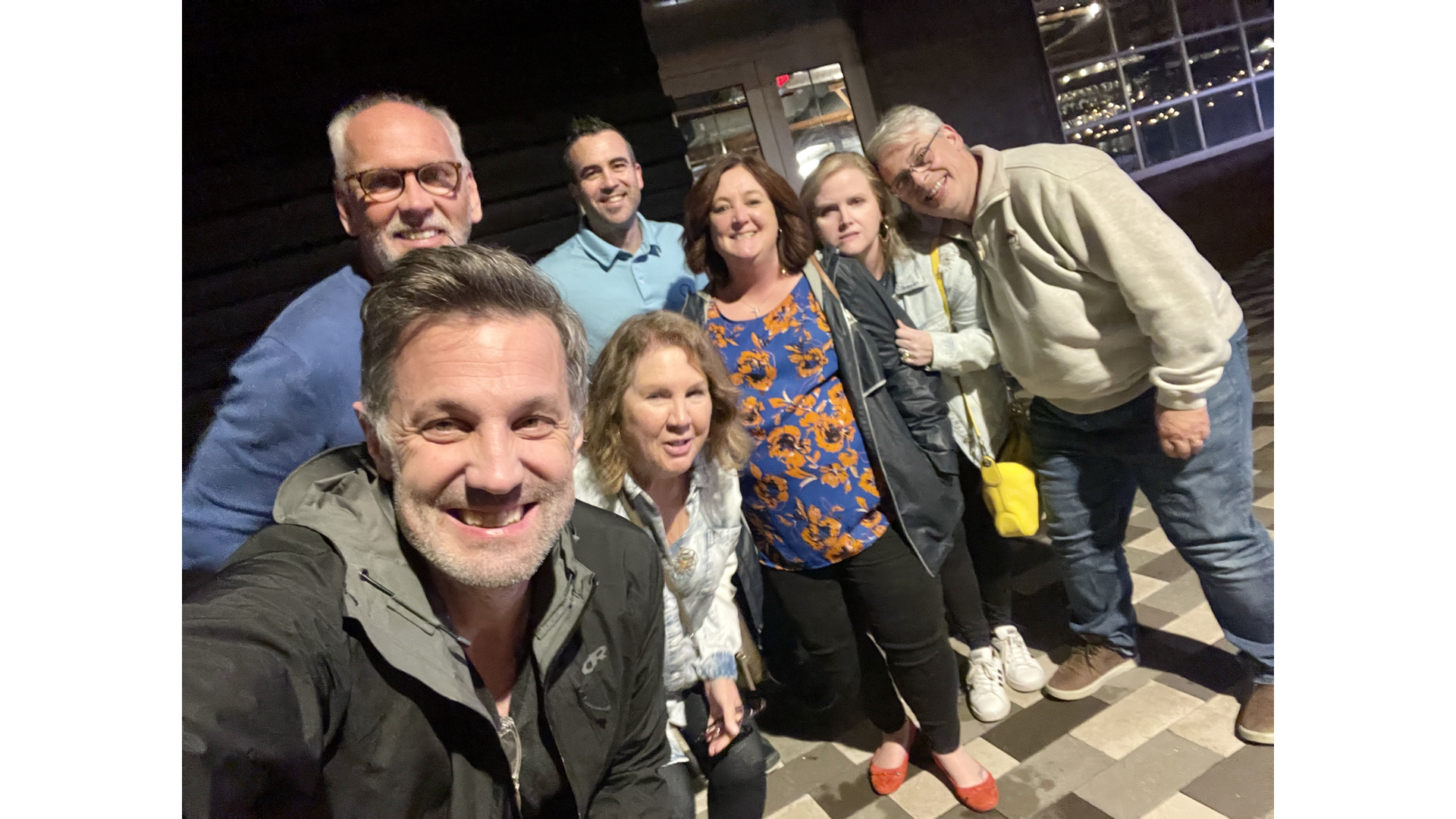 🚌🚌🚌🚌🚌🚌🚌
Faith = Disentangled, 3 lessons into the leader guide
Bob and I have been pushing through Disentangled— the leader guide— for the past few weeks. We have, as of the posting to this, 3 more lessons to pen leader notes for— and then we'll edit.
Looking ahead, we have the release of the family-focused documentary (When Trauma Comes Home), slated for April / May. That same weekend, we'll do some training on the Disentangled resources.
🚌🚌🚌🚌🚌🚌🚌
Friends = The firepit…
Here's a snap of Salter. Thursday afternoon, I grabbed Chris from the airport, we set up for the Friday shoot, and then enjoyed some downtime.
Salter decided to join, which meant lots of Dr. Pepper, a bunch of added noise, and a few games of "Top Dog" (an outdoor game he invented that I'm still trying to understand— even though I've competed against him in it multiple times— I think the rules are a moving target).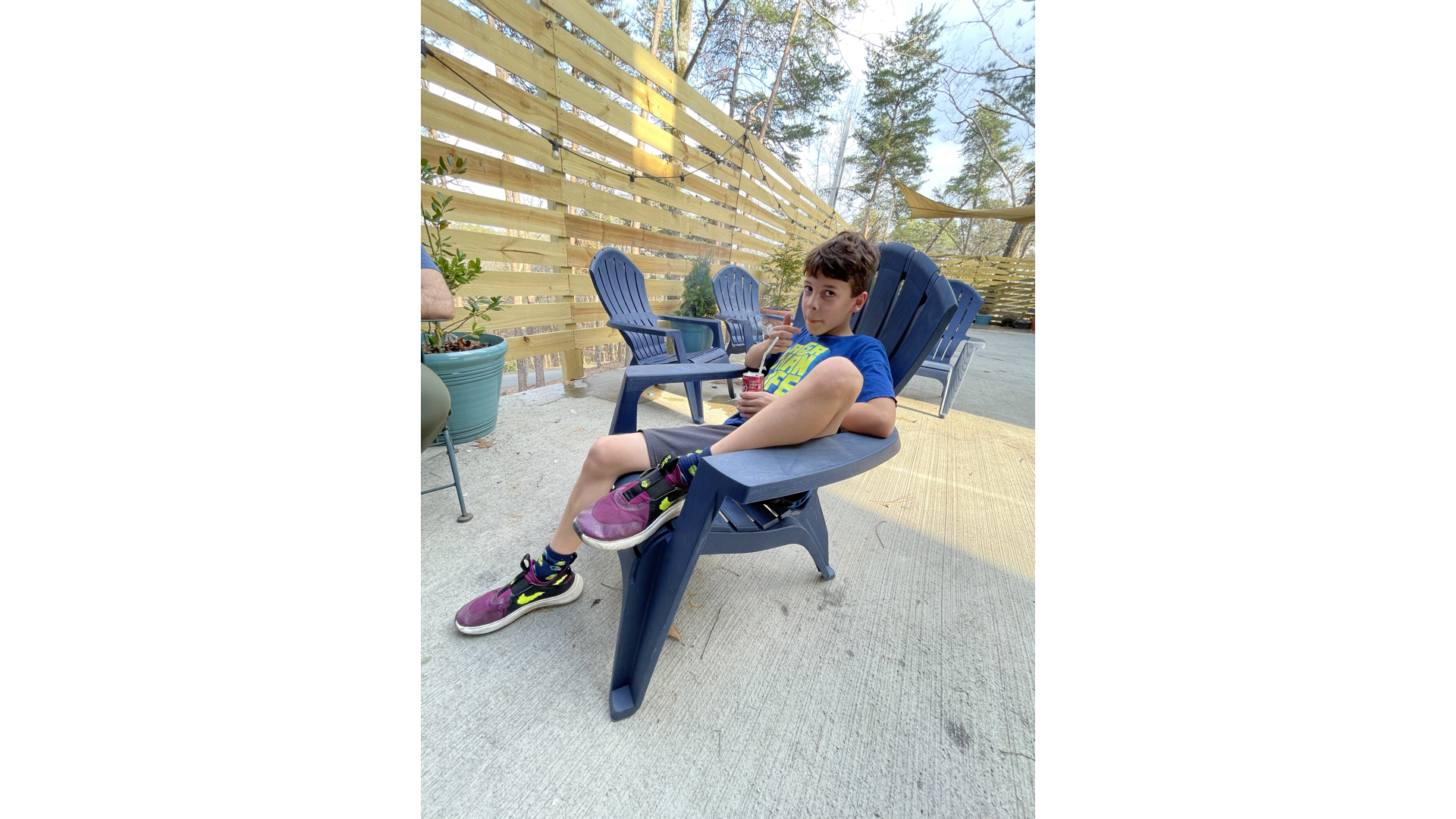 🚌🚌🚌🚌🚌🚌🚌
Fun = Birthday dinner for Janice
Backing up a few days…
We took Janice (Beth's mom) out for her birthday this past Tuesday. We met George (Beth's brother) and Ann (sister-in-law) at Chuck's Fish.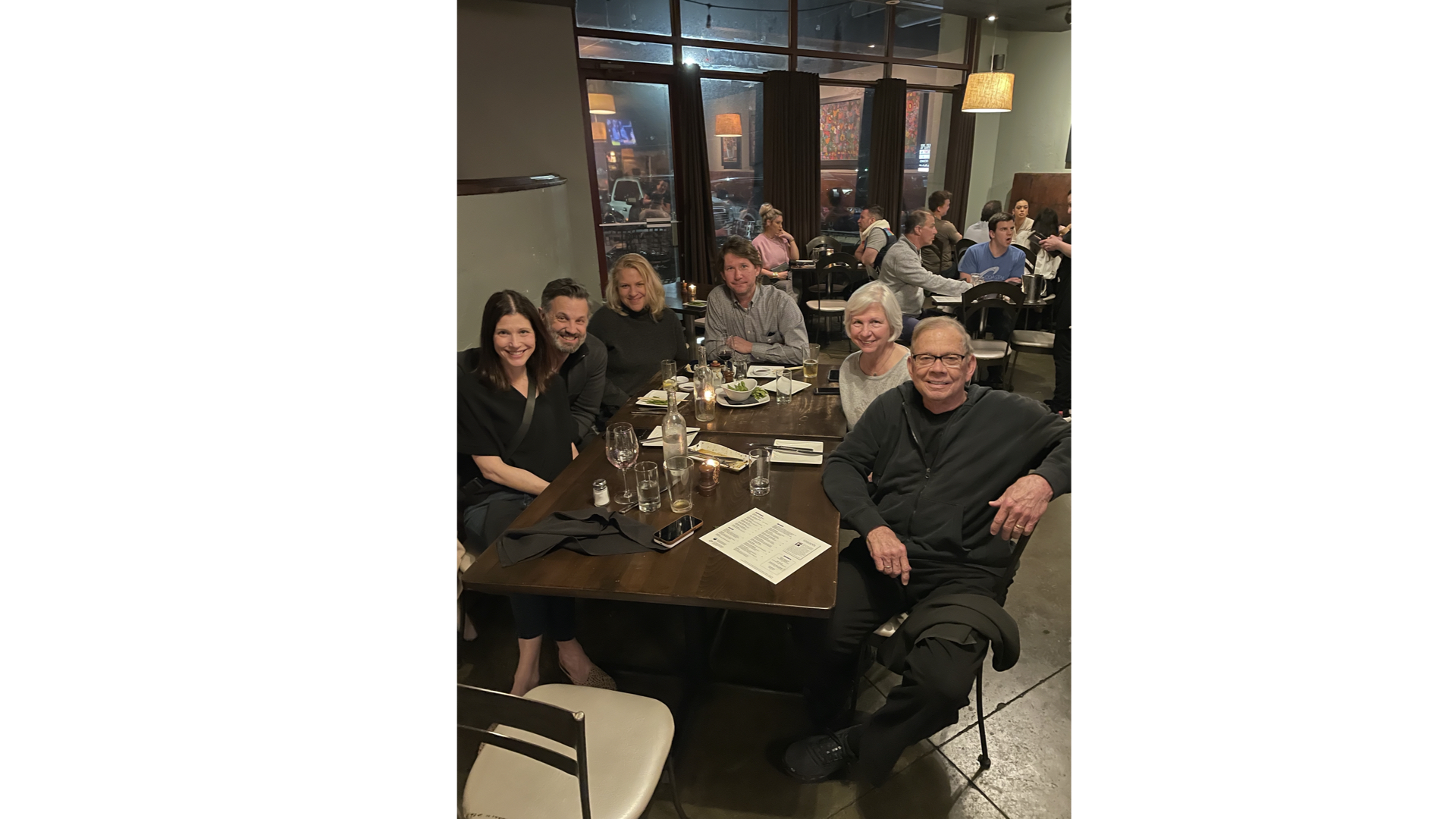 Ah…
I can't forget last Sunday afternoon. The night before, Mini and I decided we would make a quick run to Buccee's— for no reason. Just to hang out.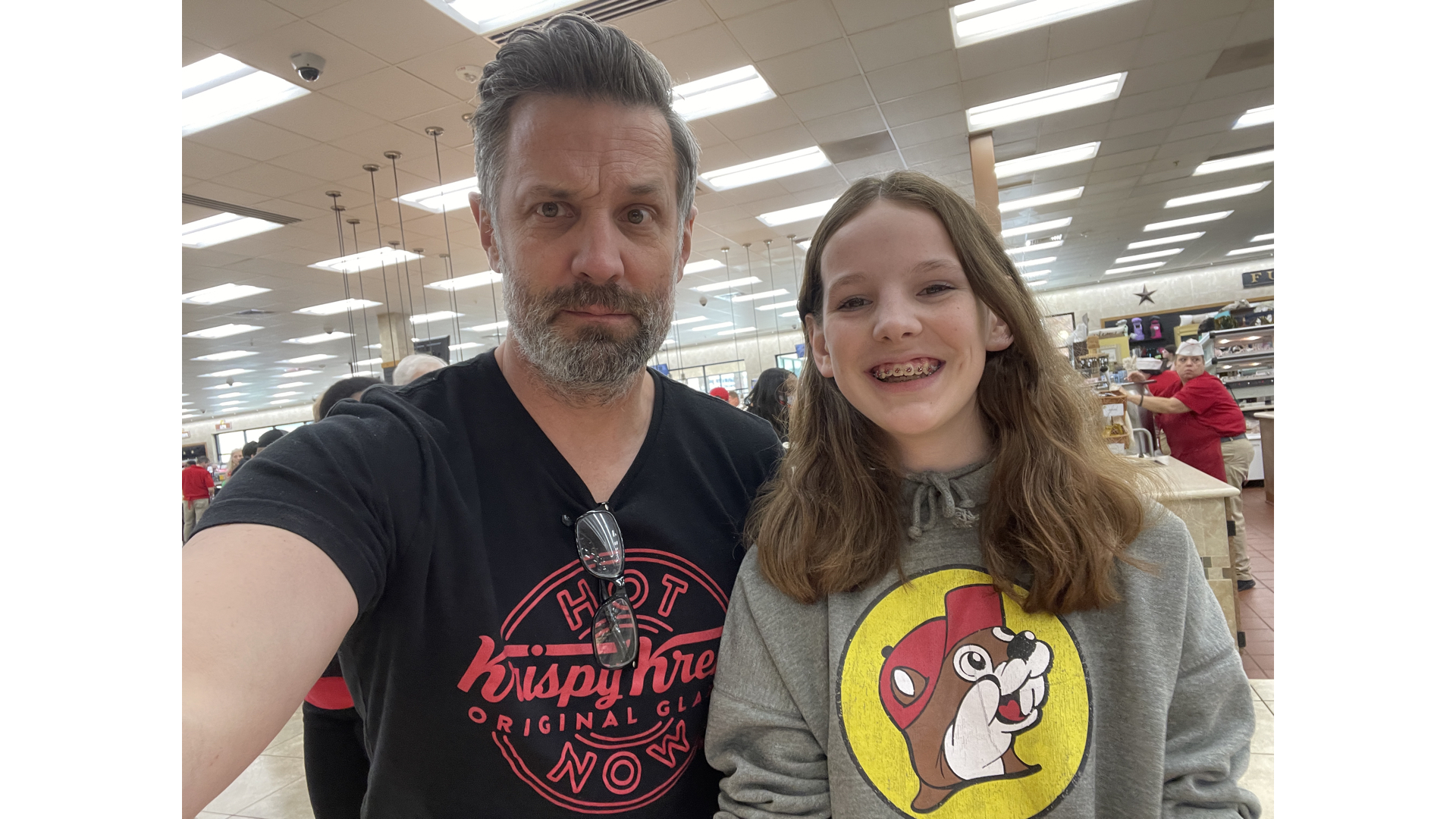 (Yes, she wore Buccee's sweatshirt— just happened to have it on— to Buccee's. Unplanned.)
Then we meandered to the nearby "Shops of Grand River." We didn't buy anything. We just shared a lazy Sunday afternoon together, roaming around, unhurried.
Of course we stopped to snap a pic at J.Crew!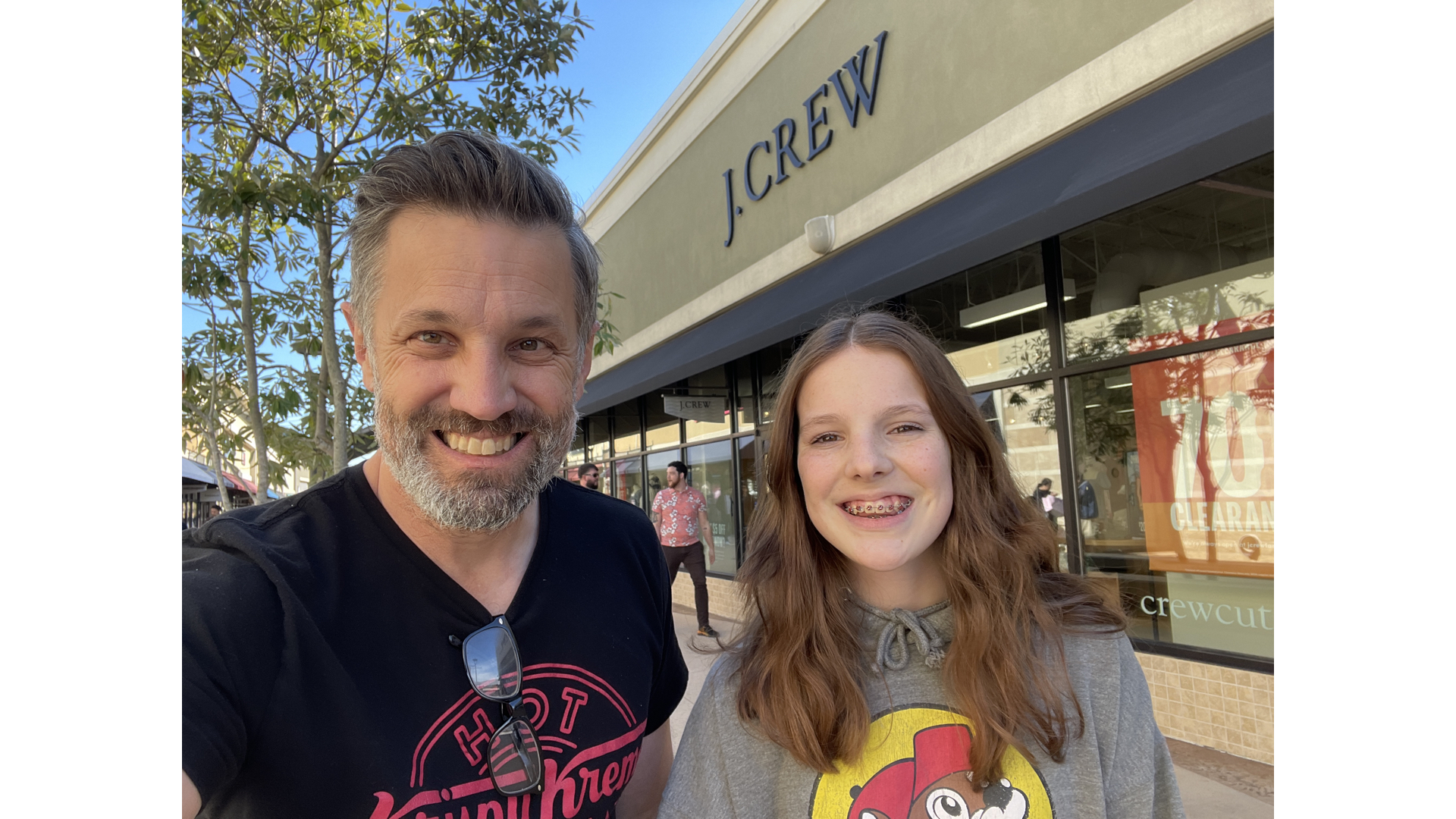 Sometimes— most of the time— the unplanned and unhurried moments are the absolute best. And, they're the most needed.
🚌🚌🚌🚌🚌🚌🚌
That's the highlight reel for the week.
If you're just now dropping in, each week I look back at the week behind + preview the week ahead— so I don't miss anything— and look and highlight at least one thing for which I'm grateful in each of the 7 key areas of life…
💙 Fitness
💰Finance
🏠 Family
🛠 Field (work, career)
🙏 Faith
👊 Friends
🎉 Fun
💥 💥 💥 💥 💥 💥 💥 💥 💥
Note: I've updated the link below.
Test drive the Advance planner for just $8, using the link below. All the details are at www.Jenkins.tv/8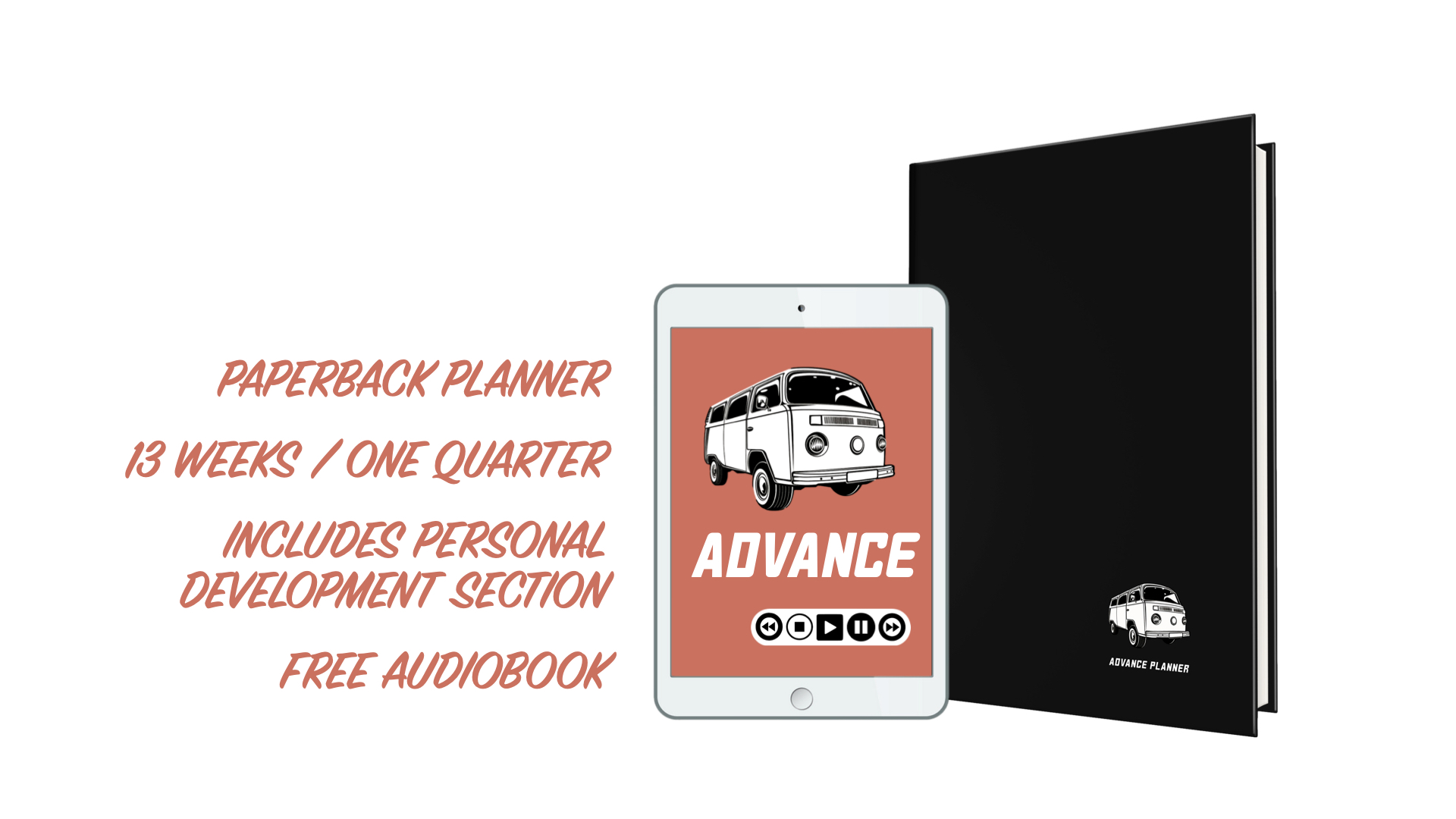 Never miss a new post + podcast!
Join our mailing list to receive the latest news and updates
We hate SPAM. We will never sell your information, for any reason.