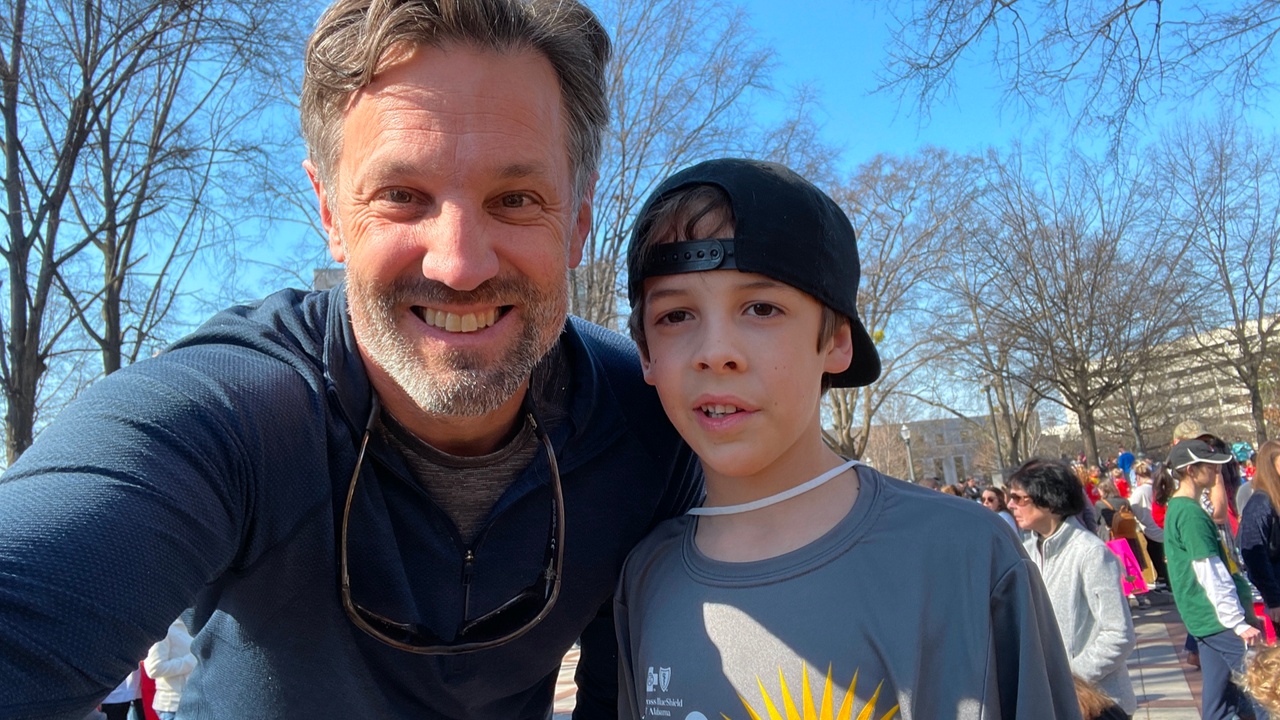 Top 7 = Salter completes third "marathon" + new 21-day challenge for you
Feb 14, 2022
Every Sunday afternoon I sit down and review the previous seven days + take a previous of the upcoming week. The few minutes I invest doing this help me stay focused— as well as not forget some of the upcoming opportunities.
Part of my routine each day is to go into my planner (which you can download free and test-drive for yourself at www.Jenkins.tv/FreePlannerPDF) and jot 3 things I'm thankful for about that day— before I go to bed. At the end of the week I review them, and then pull together my "highlight reel" for the previous seven days.
I've learned that there are so many things— both big and small— we simply forget if we don't take a moment and actively look back at them.
So, the "daily review" I do each night is part of my way of doing just that.
Then, my weekly review / weekly preview pulls it all together…
Most weeks, I post my Top 7, pulling together at least one highlight from each of the 7 key areas of life, into my blog.
My seven areas…
👉 Fitness
👉 Finance
👉 Family
👉 Field (career, whatever you do full time)
👉 Faith
👉 Friends
👉 Fun
Here's the highlight reel from last week…
🚌🚌🚌🚌🚌
Fitness = Salter completes his third "marathon"
Blue Cross / Blue Shield does a fabulous job of hosting a kids "marathon" as part of the Mercedes Marathon extravaganza.
The kids run 25.2 miles— or per— during their P.E. times at school, leading up to the event. Then, they complete the final mile together downtown. This is Salter's third year to run.
And, he always reminds me, "This is where we used to run…"
When Salter was born, I was 40-ish pounds overweight. I started exercising and eating right, then shed the extra heft…
My daily routine included waking up at 6am, doing a #BeachBody exercise routine, and then showering before everyone else stirred.
Salter, about 6 months old when this began, always woke up with me. I typically handed him a bottle, which he drank while watching. Then, I took him to the bathroom with me while I showered. Then, to the kitchen to feed him breakfast while I made the coffee…
At least once on the weekends we would go for a long run, me pounding the pavement while he leisurely rode in the jog stroller, munching on Raspberry (fig-type) Newtons and drinking juice from his Minion water bottle.
Even now, as we drive through downtown, he reminds me, "We used to run there…"
Here is his, running gear, waiting for the 3rd graders to be called up.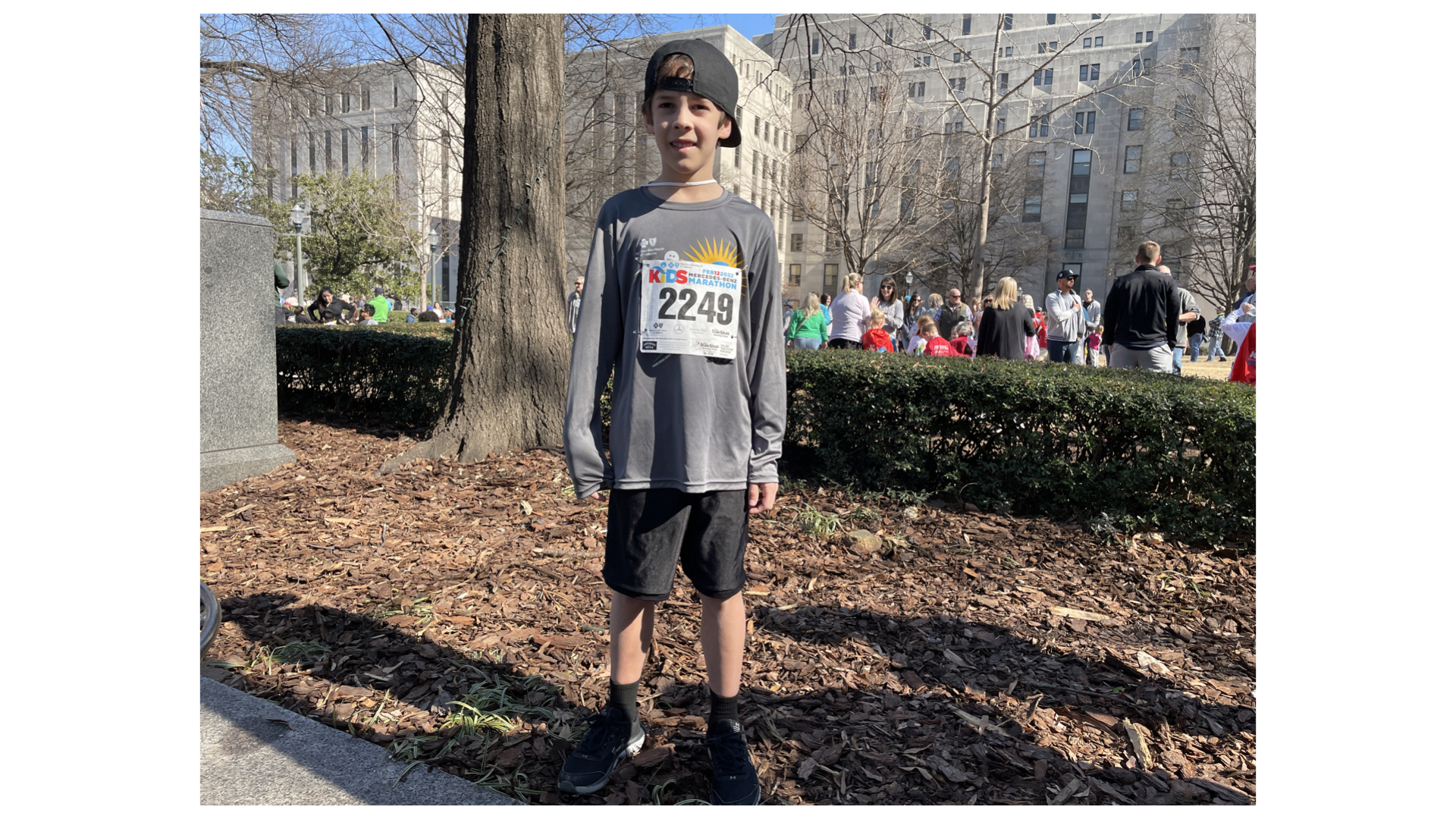 And, of course, boys are required— by virtue of their DNA— to climb every statue and wall they see.
As I thought about the marathon these kids run-- 26.2 miles spread over 3 months-- it hit me: that's far more than most adults will even WALK this year for exercise. Yet, the kids do it in bite-sized increments, segments of time in which they barely feel the strain of the run at all.
Don't miss the parallel.
All progress matters.
Any forward movement takes you closer to your goal.
And, even if you don't see, sense, or feel MAJOR changes in the moment, you-- after the patience endurance of time-- look back and notice how far you've come.
This works in every area of life...
In your physical health, in relationships, in faith, in business, in finance...
Think progress. And that is enough.
🚌🚌🚌🚌🚌🚌🚌
Finance = Getting the online "Hilltop Shop" ready
Beth invested 20+ hours last week going into the back-end of our website, and she began setting up an online store. Soon, you'll be able to grab our books, t-shirts, and more from the online store.
🚌🚌🚌🚌🚌🚌🚌
Family = Date night…
Wednesday night meant date night.
The past season we've shifted it several times— in all directions— since Winter is the season for basketball and wrestling (and we've got three of the boys scattered across those two sports, each of them playing in a different league!).
This week, we got back to the normal ease of the oasis in the middle of the week.
🚌🚌🚌🚌🚌🚌🚌
Field = 21 day challenge, with videos, is up and live
Friday I made a few more adjustments to our website (we've got a LOT of changes we're implementing bit-by-bit there / here). Here's one of the most recent—
The 21 day challenge is a 3 week push that empowers you to:
Define where you are (remembering that where you are isn't who you are, but it is where you must begin)
Decide where you want to go
Do the work of getting there…
The challenge walks you through—
7 key areas of life (the same 7 listed in this post)
7 blockers that are likely to offer "push back" to your progress
7 accelerators to help you move further, faster
It requires 5-10 minutes a day, and you'll benefit from the momentum that "stacks" over the 3 week period.
Best of all…
The challenge is FREE.
And, now we've added the video links where you can READ (as in the past) or you can WATCH a 2-3 minute overview for each day.
My suggestion…
If you've taken the challenge before and need a refresher, jump back in and enjoy the new video version
If you haven't, take it for a spin
Here's the link: www.Jenkins.tv/21
🚌🚌🚌🚌🚌🚌🚌
Faith = Back to small groups
Thursday, 6:30, the men's small group / Bible study I attend rebooted for the Winter / Spring. This go around, we're studying Romans.
I'll keep you posted.
🚌🚌🚌🚌🚌🚌🚌
Friends = Shot (several) podcasts for Warrior Hope
Over the past two weeks I recorded a few episodes of the Warrior Hope podcast.
This week, it hit me in a new way:
There are people who made massive progress during their time in Centers of Hope who are now leading groups
I have a tremendous amount of respect for these leaders, and see them as genuine friends
The recordings provide a great reason to schedule time to talk
Yes, friendships can happen in the moment, spontaneously, but most of us are so busy that we need to actually schedule the time to talk and enjoy one another
Here's a pic of the "set" we're using…
🚌🚌🚌🚌🚌🚌🚌
Fun = A day of "nothing" but "whatever we wanted to do"
The past few weeks have been busy. So, this weekend, Beth had an idea…
"What do you want to do tomorrow?" I asked.
"Nothing," she said. Then, she clarified, "I mean, nothing except what we decide to do…"
It was perfect. No obligations. No chores. No expectations.
And, many times, those are the best…
🚌🚌🚌🚌🚌🚌🚌
That's the highlight reel for the the weekend ending February 12, 2022.
Grab the free planner at www.Jenkins.tv/FreePlannerPDF
Never miss a new post + podcast!
Join our mailing list to receive the latest news and updates
We hate SPAM. We will never sell your information, for any reason.