Blog: Top 7 = #1B7 soft-launches = love for you to hop on the bus
Jun 14, 2021
Of course, #1B7 makes the top 7 this week… but there's more…
(Watch the promo video at www.Jenkins.tv/app — where you can also take next steps, learn more, or even hop on the team.)
🚌 Fitness = Yesterday marked the final day of the 60-day #Insanity cycle, number 2 for the year. We'll be out a bit this week, so I won't have access to our #GarageFit gym at the #Hilltop…
… I did a double workout of #t25 today…
Looks like I'll be doing some long runs at the beach, and maybe a few other "random" things this week. I'm actually considering doing the "Hard 75" challenge over the summer. If I opt for it, I'll post about it here in the next week or so and outline the details…
🚌 Finance = The #1B7 project went live…
We're still in beta— before we go global on July 7— but we saw some great progress this week.
(Again, watch the promo video at www.Jenkins.tv/app )
Shout out to the fella on the left, below…
That's Travis. I met him over 7 years ago on a Young Living Essential Oils award trip. At the time, I was a distributor; he was the COO.
Travis is a rare breed— amazing worker, high-level IQ, could push his way around a board room (if needed). Also marked by radical humility, intense integrity… and just an ease of grace…
This pic was snapped 6 years ago when I got to interview him and some other YL execs onstage at an event in Nashville.
I've texted back-and-forth with him SEVERAL times over the past few weeks, pointing out bugs in the system, asking questions, even just checking-in…
Amazing guy to have as the CEO of the Oola Global brand…
I list #1B7 under finance this week, b/c we transitioned from several other income streams over the past few weeks to venture into this one. If you're looking for a side hustle (or even full-time opp) PM me. This might be a possibility for you, too.
🚌 Family = Last weekend, Beth + I had a house full of kids + guests… this week, we were able to share some time alone. Such is the ebb and flow of this stage of life… and, we make the most EACH of those opportunities when we have them.
Shot here = at one of our fav places, the new North Italia at The Summit.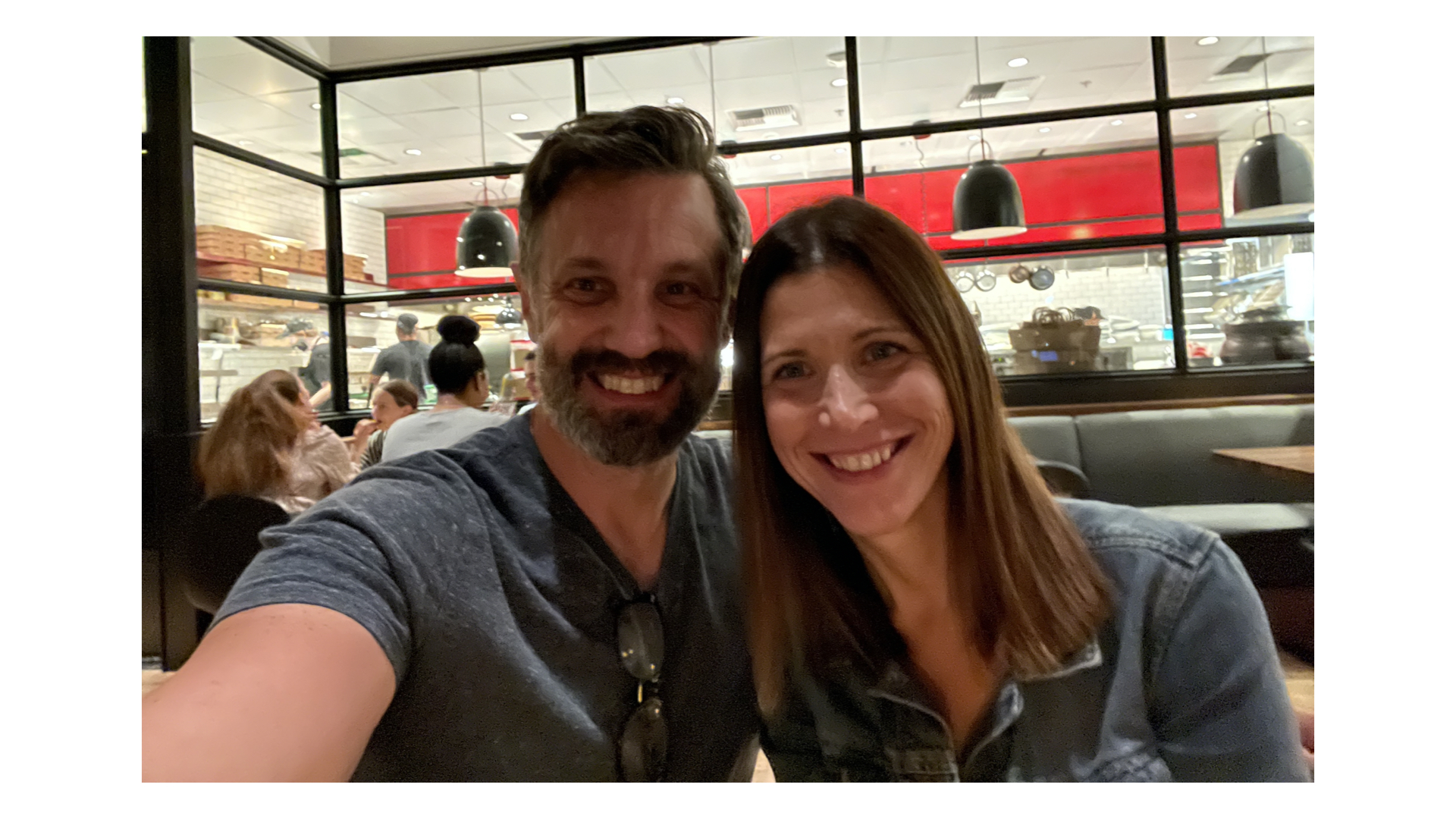 🚌 Field = More about #1B7…
I began shooting some training vids and posting them to www.Oola.biz this week.
If you've followed this page in as an #OolaAmbassador, go there to learn more…
If you've followed this page and wondered if there is a training system in place for you, the answer is yes— we've got one. And we're building more.
🚌 Faith = That's a pic of the Advance book. I shot it a few weeks ago as I was reading— and re-reading it— for about the 30th time (no joke).
Over the past 6 months, I've read the "main four" books I'll continue to sell on my website— Redemption, Soul Wholeness (fairly new), LifeLift, and Advance…
Here's the flow…
👉 Redemption= awaken to radical grace. Understand who you are, what God has done for you, and find yourself captivated by acceptance and grace. This is the starting point.
(This week, I'll post a link where you can get the eBook free on my site.)
👉 Soul Wholeness (www.SoulWholeness.com) deals with the difference between the soul and the spirit…
… and dives into the world of emotional health.
Grace erases the guilt of the past, but it doesn't always erase the hurts and pains— nor does it always course-correct our emotions, our unhealthy tendencies towards hustle, or some of the other landmines we step on….
👉 LifeLift (LifeLift.online) empowers you to find your unique design, to tap into HOW you were created, so that you KNOW YOUR PURPOSE…
👉 Advance makes faith practical for real life….
It talks about everything from goal-setting, to time-management, to setting priorities, to understanding your "why," to the nitty-gritty grind of "normal life."
It's the info we taught for years at the men's Advance events— expanded into a book. All of the Advance tools are at www.EatSleepAdvance.com…
As well, I plan to awaken the "advance-cast" — a daily dose of hope and encouragement via text— in the next two weeks. I've been cleaning and updating my text-bot list. I'll post more details when it's ready to go, so you can optin…
How does this all fit with faith…?
Well, I'm beginning to see projects I thought were parked forever actually come full circle and re-awaken in better ways than I ever dreamed possible.
🚌 Friends = Was reminded of a simple (but powerful) lesson this week...
This week we spent more time with friends (always great)…
✅ T.J. texted me early Wednesday morning—
"I'm in town. Came in to surprise Jess last night for our anniversary. She's gone to work, now. You want to go grab breakfast."
When friends who are moving out of town send a text like that, you drop the morning and roll with it…
(Forgot to snap a pic!)
✅ Out to eat Thursday— and even had out-of-town company.
That's our pal Montango second from left…
… he works the bar and some of the front tables…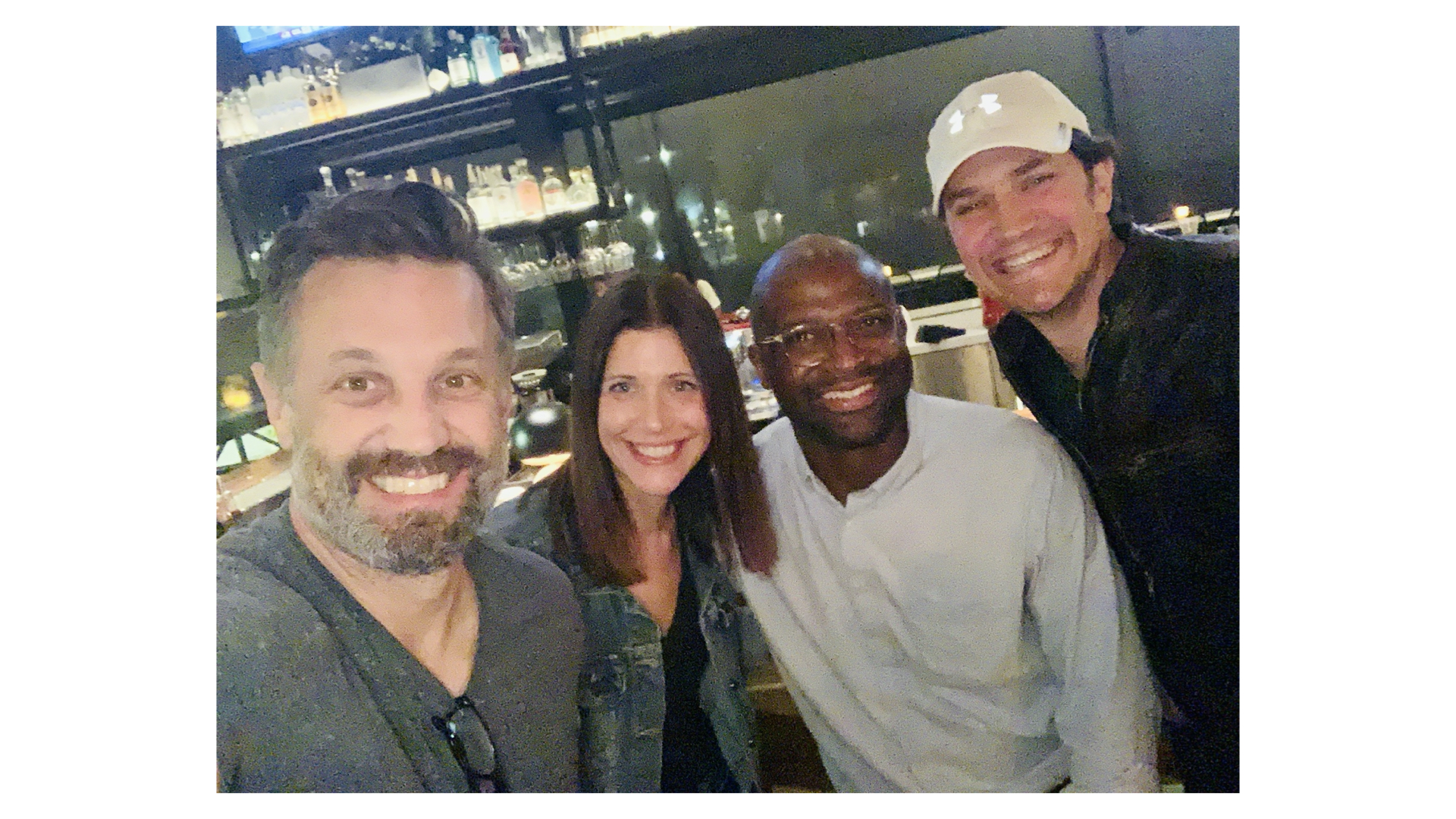 ✅ Saturday afternoon with Paul & Suzi… talked life and work and marriage and finance and everything else…
(Have been out with them a few times and always FAIL to take pictures 😂)
✅ Saturday evening to Good People (see pic at top of this post)
✅ Saturday later in the evening = Barbara and Sarah swung by the #hilltop, "crashing-in" for a few hours…
Here's the lesson…
👉 Some of this stuff happened by schedule
👉 Some of it happened spontaneously.
Both are important. Schedule the friends and the fun, as well as embrace it when the opportunity presents itself.
🚌 Fun = that's a pic of me walking out of the #TinyHouse. Beth snapped it while sitting on one of the blue chairs around the fire pit…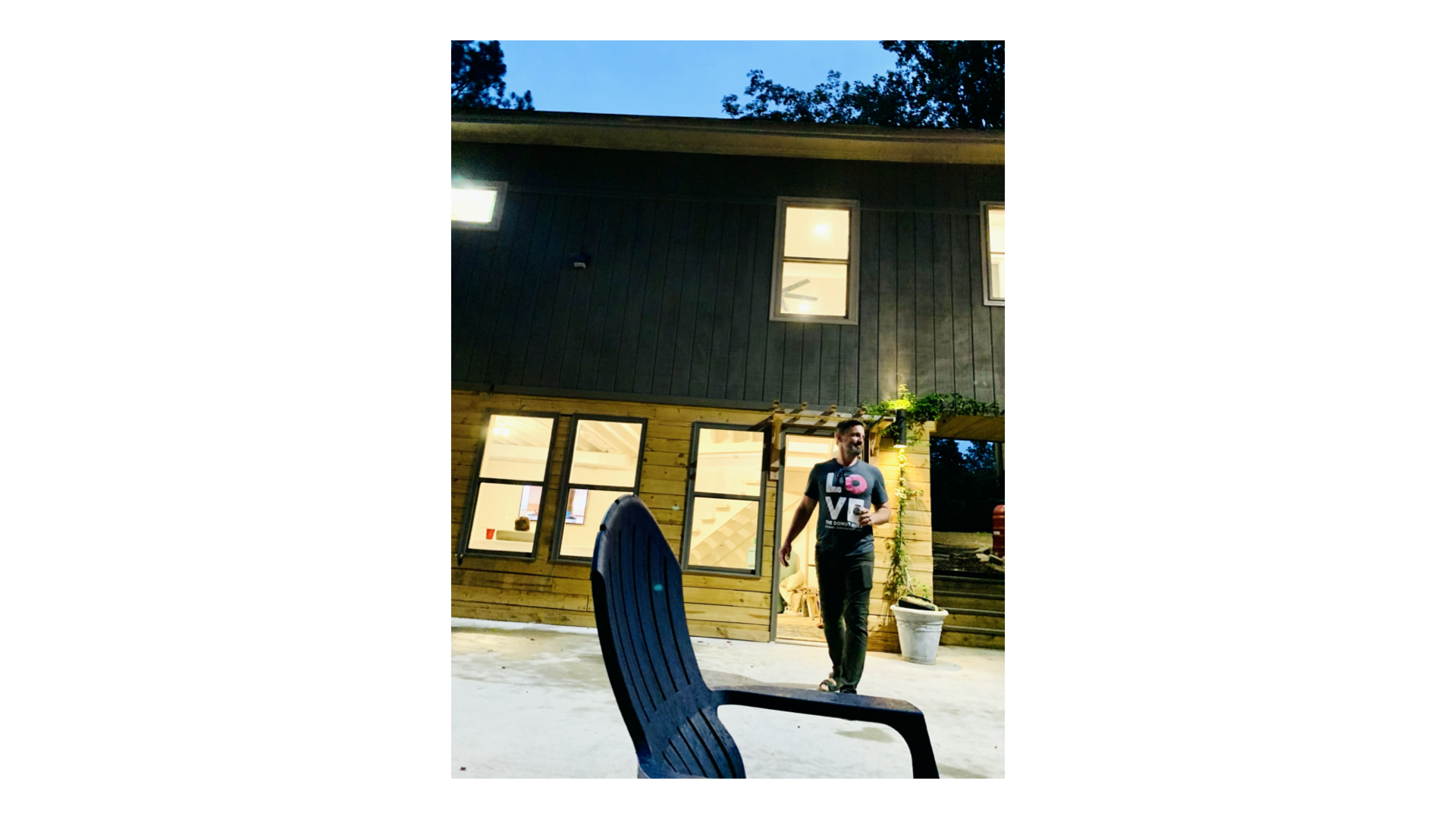 … out of frame = 20-plus people…
Anytime you're in town, let us know. The door is always open…
(And, the monthly #HilltopHangout is the 22nd of June. If you're close to the 280/459 interchange in BHM, PM/DM me for an address.)
---
Ready to move forward in the seven key areas of life? Check the 3.5 minute video at www.Jenkins.tv and see if there's a next step for you.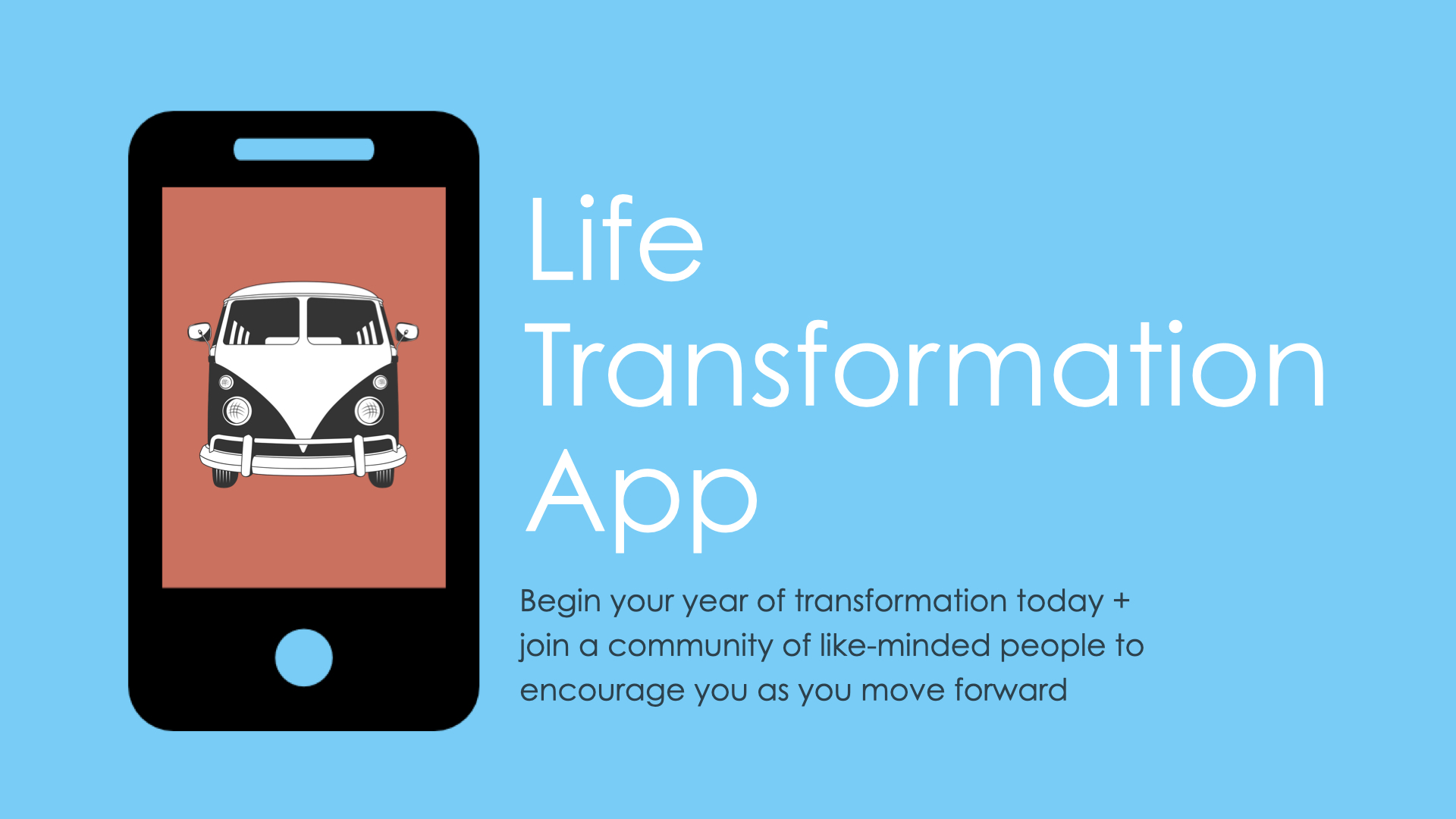 Never miss a new post + podcast!
Join our mailing list to receive the latest news and updates
We hate SPAM. We will never sell your information, for any reason.