Blog: Top 7 = Friends at the #TinyHouse 1 year after we began building it
Jun 07, 2021
Here's the Top 7 for the week of Memorial Day… as we celebrate ONE YEAR of the #TinyHouse (and that's Mini, wearing the wedding t-shirt).
This week = lots of fun…
But, since I track it all in SEVEN different areas, let me outline them all…
+++++

🚌 Fitness = Continued with #Insanity— and now, I enter the final week. As I do that, I'm thinking about what's coming next…
🤔🤔🤔
+++++

🚌 Finance = Had the opportunity to do some side work this week…
… I generally take it when it comes my way, because—
👉 even in "great" seasons of financial blessing, things can take a down turn… so, I take the job and save the $ for later.
👉 in slow seasons I can actually use the $$$…
👉 I take the boys, when I can, and put them to work.
This Saturday, we took a ride to Bob's (the founder of Crosswinds, guy who gave me the opportunity to join him on the Warrior Hope project), and cleared some trees…
🌳 We pushed them back about 10-15 feet where they had overtaken part of the yard
🌳 For the width of the backyard… about 80-100 feet
🌳 And we drug them to the street for the brush pick-up
Here's the pic of the work. Trust me, the picture is NOT worth 1,000 words on this one— the pile FELT much bigger than it looks 😂

+++++
🚌 Family = This year I received a BUNCH of time hop photos about the #TinyHouse project, as Memorial Day (last Monday) marks ONE YEAR of when I began working on it…
I'll post the video of the finished project later this week…
+++++

🚌 Field = The Soul Wholeness audiobook is up!
Amazon sent me a bunch of free promos codes for Audible. If you want one, message me— and I'll send it your way while they last…
+++++

🚌 Faith = Let me just say that, well… this is a season of great expectancy about some new projects… as well as a season of, well…
"Hmmm…. I hope this thing works!"
Such is life, right?
I mean, it's not really FAITH unless there are some unknowns, some variables outside of your control.
+++++

🚌 Friends = Friends and fun blurred this week, with a 1-2 punch on Friday night / Saturday afternoon…
I'll describe it under "fun."
+++++

🚌 Fun = Here's the lowdown…
First, we met Paul and Suzi for dinner on Friday. They've joined us for the #1B7 project…
… so we talked about that a bit, but we talked more about the RAW reality of broken people (the four of us) who've experienced RADICAL grace (from God and from others) and how that really empowers you to lean forward, live whole…
That 3 hours or so at Seasons 52 was one of the highlights of the week…
Second, Saturday afternoon our friends JD + a collection of his kids AND Barbara + her boys came over to the #hilltop…
BTW, Barbara studied the science of happiness and was featured on this past week's podcast: https://www.jenkins.tv/blog/166
Here's a high-level strategy session happening…

We counted—
🤷‍♂️ Four adults…
🤷‍♂️ Sixteen or seventeen or so kids…
🤷‍♂️ Lots of food…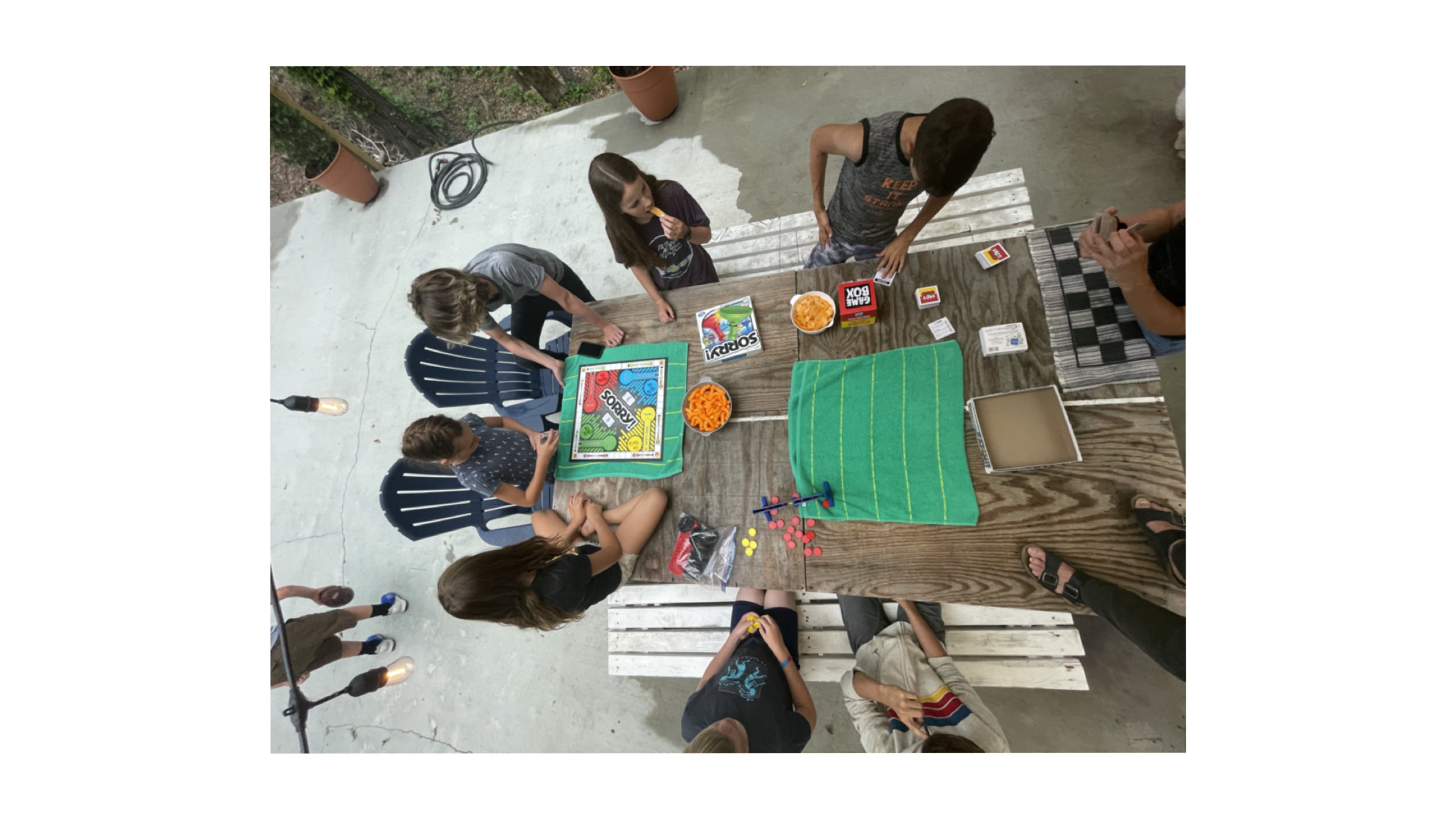 JD + the kids stayed for the night (they live outside ATL)— meaning we had kids EVERYWHERE for the night.
The #hilltop has 9 bedrooms— one of which is used as an office…
… meaning we had kids in the "garage" (the workout area— which has a futon + carpet + had a lot of blow up mattresses…
… kids on the floor in the #TinyHouse…
And, of course, we had the fire pit LIT…

(I love this pic of #Mini-- BTW, that's the wedding shirt that Mini is wearing. We made a bunch of them and gave them away last November when Beth + I got married at the house… the shirt features a pic of our home + the statement "All Things, All Times, All for Good… and is a nod to Romans 8:28.)
🔥🔥🔥🔥🔥
Friday + Saturday was a great way to bring in the weekend.
(And, as I write this on Sunday afternoon, which is when I usually do my weekly review… there are about 13 kids in the house!)
🚌

That's the highlight reel for the week. More great stuff happened, of course— large and small.
As, as always, there were odd challenges, second guesses, and the usual misunderstandings….
But, I continue to see that the best way to live forward is to regularly look back, see the progress, and be thankful…
Next week, I'll give you an update on the #1B7 soft launch (product becomes available… you can learn more + see the amazing 3.5 minute video at www.Jenkins.tv/app).

Never miss a new post + podcast!
Join our mailing list to receive the latest news and updates
We hate SPAM. We will never sell your information, for any reason.