Top 7 = the Threefoot hotel + the ex who wanted to make the blog
May 16, 2022
This week's Top 7 includes a DIY project on the "Salter's car," helping Emma with her art show, and reflections on how to approach your spouse's ex...
🚌🚌🚌🚌🚌🚌🚌
Fitness = Max 30
This week I crushed Insanity's Max 30– a series of 30-minute high-intensity interval workouts.
I've stepped into this routine before, especially when I know time is short during the week AND I want to get a workout in. By way of comparison, go on a long run or a bike ride and I might be gone 2-3 hours. Max 30 compresses the time. And, due to the intensity, it's really about the same "load" as a long, easy run.
A few people have asked, "Why do you do some of those older routines instead of some of the newer things out by BeachBody, etc.?"
Here's why: they work.
And, since I'm mixing up the total routine enough, I don't ever find myself in a rut.
If something OLD works, just use it. And keep using it. No sense in automatically assuming that NEW is always better.
Sometimes, new is just "new."
🚌🚌🚌🚌🚌🚌🚌
Finance = Used hotel points to stay at the Threefoot in Meridian + reflections on your spouse's ex, who is now your ex, too...
Beth and I traveled to Meridian, MS for a Saturday festival. Emma (one of our 21yo girls) had a booth to display— and sell— some of her art. (She did fantastic, by the way.)
We went to help set up, support, whatever she needed.
I booked a Marriott affiliate, so we could travel free. That's how we ended up saving $279 AND staying at a great place.
I tell you this: some of these older buildings that have been remade + modernized are, well… let's just say it like this… you never know what you're going to get. Some of the rooms are super-small, some mega-large…
It's a lottery, really, because construction back 100 years ago was so different, and the new contractors really have to work with whatever they have.
Well, Beth and I rode the elevator up to the 12th floor (almost the top, but not quite), thinking it would be a small room— but nice.
Wrong.
One of the best rooms ever.
👉 Living room.
👉Great couch + ottoman combo.
👉 Separate bedroom.
👉 Two TVs.
👉 Fridge.
All the things…
Here we are on the 11th floor, one floor down from our room, at the Rooftop Grill.
⭐️
Below is a pic of me, Emma, and Ty (Emma's bio dad). I guess, in a way, he's my ex-husband, too 😂🤔🤷‍♂️
If you're married and your spouse has kids that aren't your bios, you have an ex-whatever-you-are-now, too.
(Beth and he didn't work out 15 years ago or so, e which means he and I interact now, too. When she and I got married, all the past "baggage" I had AND the past "baggage" she had came along with the next step...)
I'm sure there's a better word for it… but, think with me…
In the same way they— the ex— are involved in that kid's life, so also are you. And that means the two of you have to work together, too.
Ty and I don't agree on everything.
⭐️ Politics— we're in different worlds.
⭐️ Religion— we see some things the same and some totally different.
But…
… we're on the same page with that girl in the middle, that is, we are both pro-Emma.
And, in truth, probably ALIGN on more things that we don't align. Somehow, in our culture, we've decided to choose just a FEW things as the benchmarks of what makes a person worthy of grace, honor, friendship, respect… all those things.
Besides, if the two of us met at work, at college, or somewhere else, we probably would have hung out-- we get along.
Ty and I have never had a cross-word, never made a negative comment about the other… and, actually walked around the festival for a few minutes to jump out of the workspace and let the gals manage.
"I need to make your blog," he told me, as we walked down the streets of Meridian this week.
"Oh, you will," I told him. "I just gotta figure out how I'm going to spin it and weave it in..."
So, here it is...
He's, in a real-sense, my ex, too-- because I've taken on all the things that Beth brought to the table-- including his connection to the girl in the middle up there-- just as Beth has (gladly, wholeheartedly) taken on all my things.
And, of course, we tried to put Emma's tent back together— like all guys— without reading the directions. And, this was the result.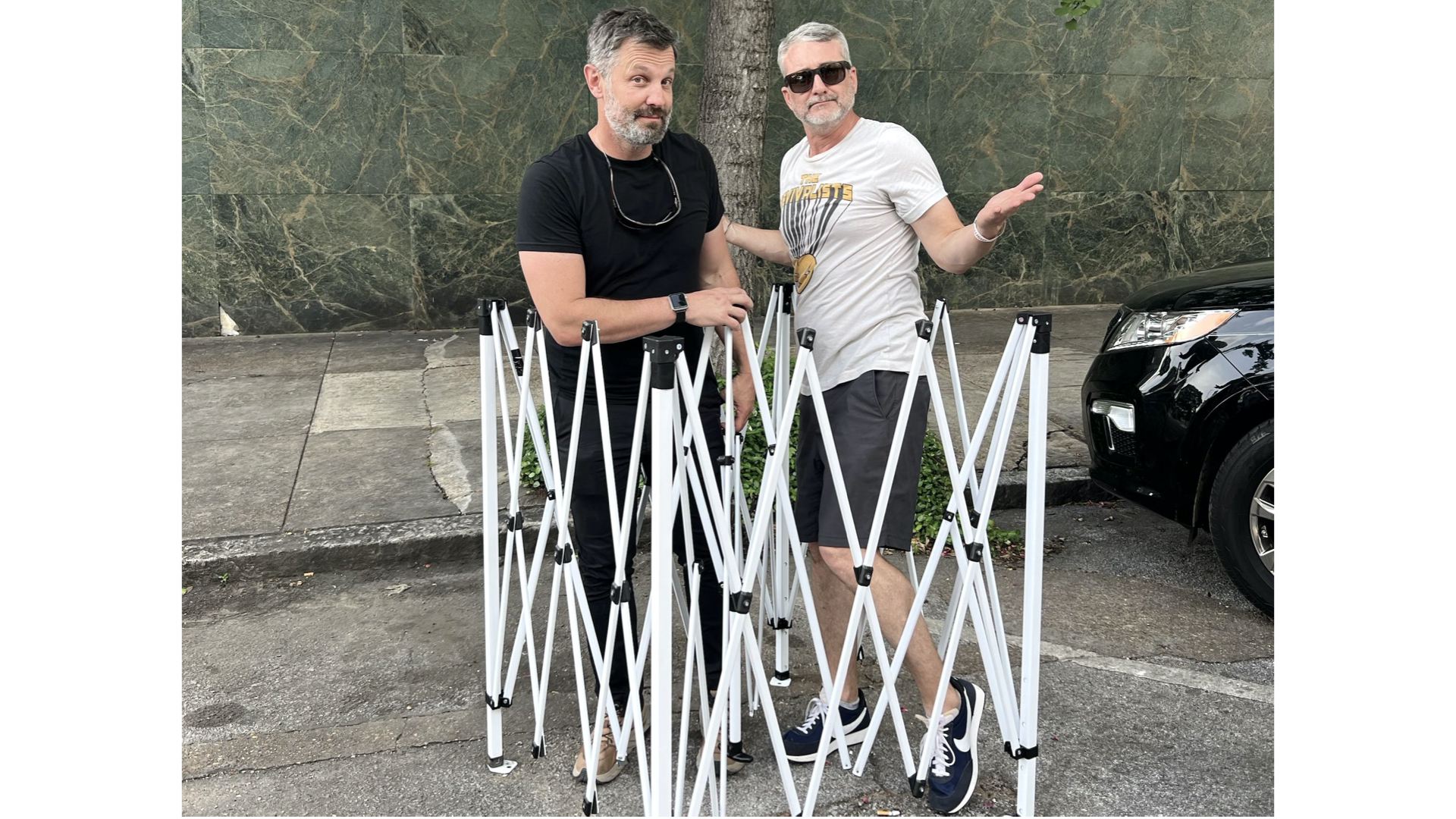 🚌🚌🚌🚌🚌🚌🚌
Family = Mother's Day, football with the boys, etc.
Last Saturday (I know, this is a weekly Top 7, and I generally close the day on Saturday of each week, meaning the Stallions game technically fell in LAST WEEK and not this week), the Levi and Judah and I rolled downtown again, taking in another Stallions game.
The easy-going, non-agenda time with the boys has been a highlight of the past few weeks.
Some days we sit in the stands and talk about nonsense; other times we talk about important things. But, we enjoy all— and it's all part of life.
Here we are on the way in…
And, here's me with the mascot. Somewhere around the 4th quarter, I had to go to the restroom. The boys wanted a snack, so I agreed to pick them up one.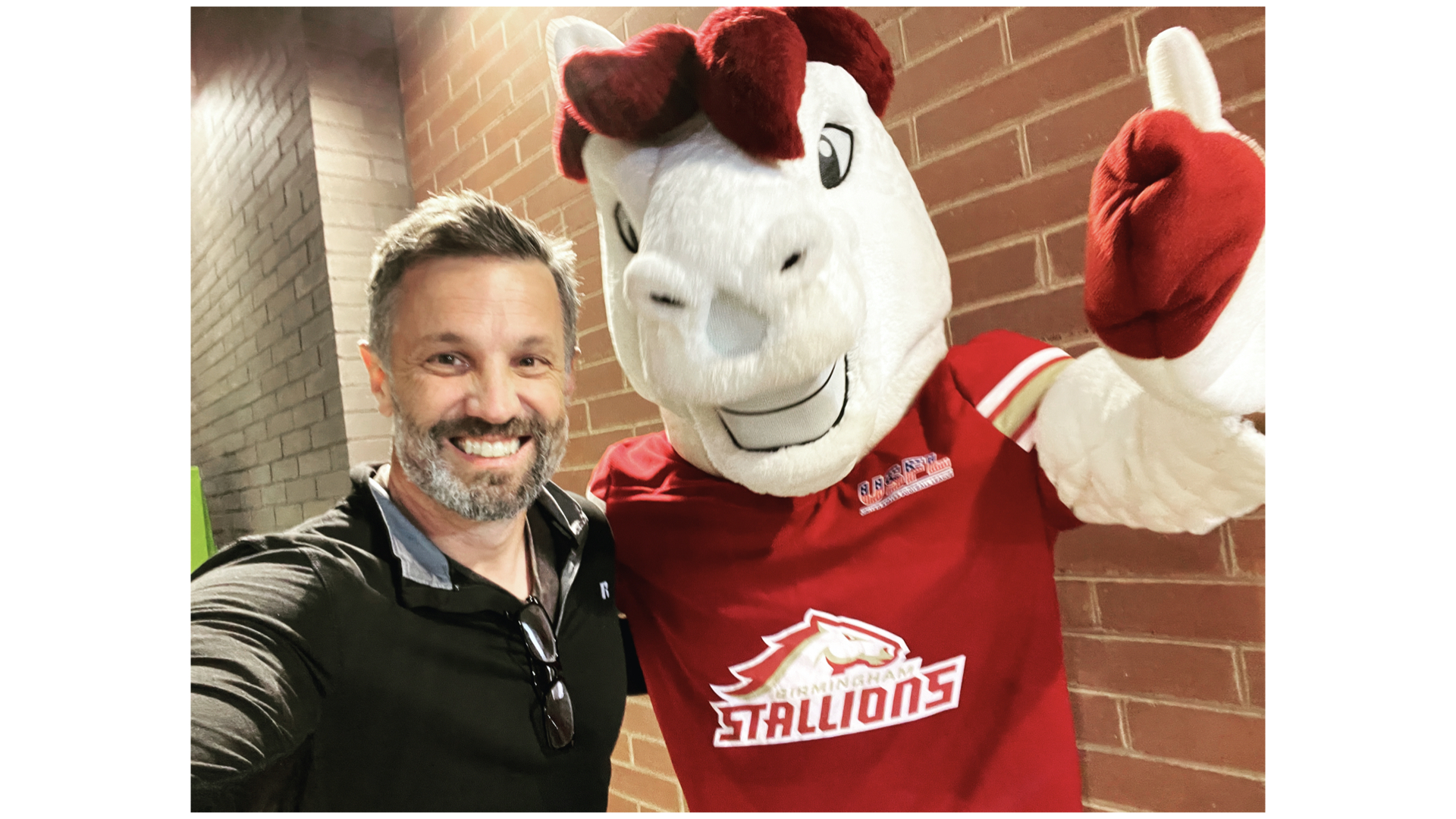 Snack bars were closed (I guess they shut them down in the 4th quarter, I finally figured). But the horse was roaming the stands.
🏈🏈🏈🏈🏈🏈🏈
Sunday, I rolled up to HSV to see my Mom. Was a total surprise.
Slid into the their church service, surprised her, and delivered the orchid Beth chose for her.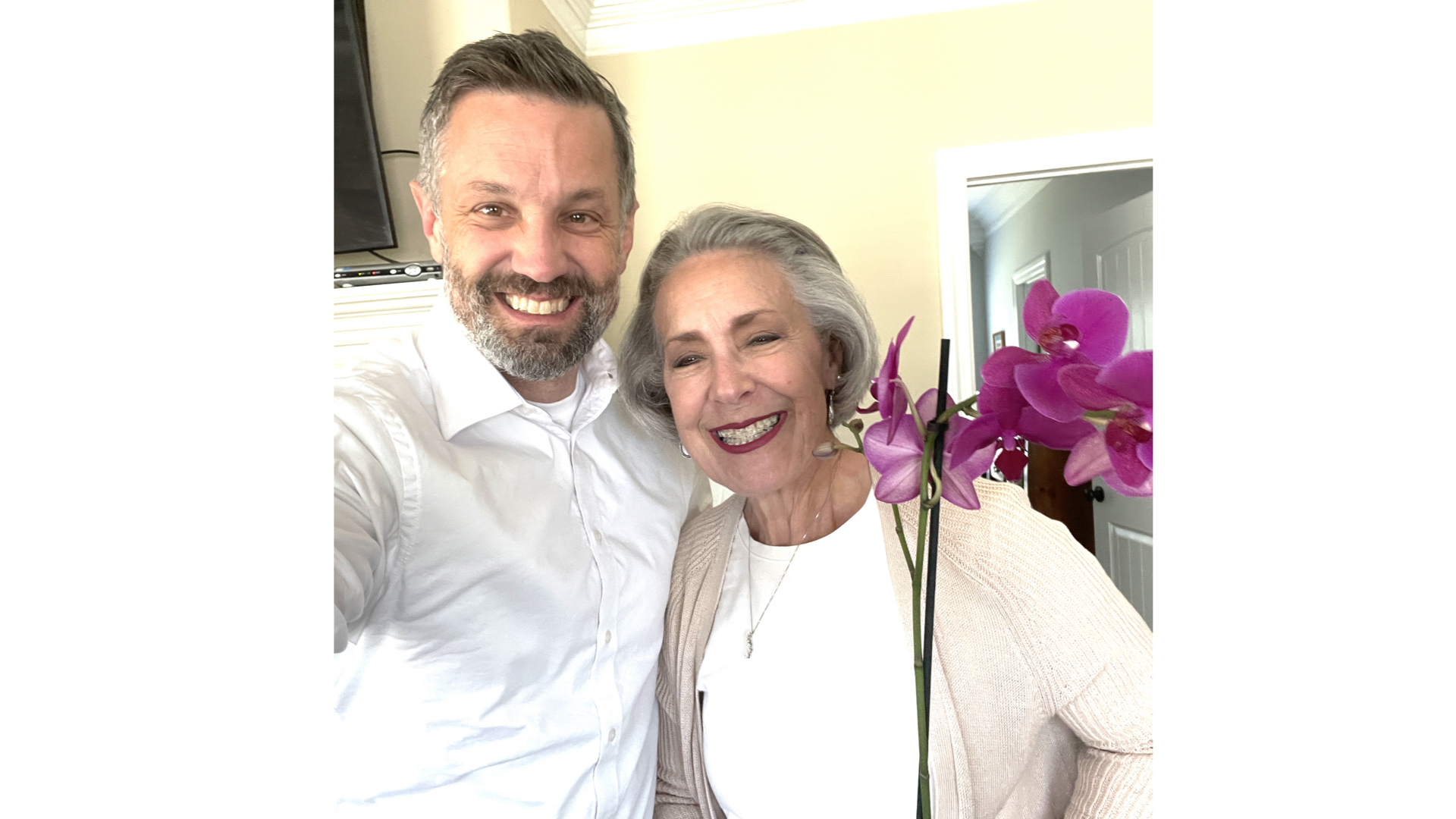 Mis-timed the drive, so arrived at the church about 25 minutes AFTER things had started…
But, fittingly, the "special music" of the morn (you know, grow up in the church = a few hymns, a prayer, and a special just before the sermon 😇) was a song that took me straight back to my roots.
💙
Grateful for this lady, and the grace she bestows… and the foundation the #JCrew2 was gifted in her…
❤️
True story: after snapping this pic we had to take car keys to my dad. Mom has been getting Jenkins guys outta jams— big and small— for 50+ years. 😂😂😂
🚌🚌🚌🚌🚌🚌🚌
Field = LifeLift, done = 3 keys to unlock your purpose
This week I also finished the FINAL push on the LifeLift project. I know, I've said that a few times, but I actually did this time…
When I completed it the first time, a few weeks ago, I had a 20-lesson workbook, a 20-video course, and 4 books…
As I thought about it more and more, I really felt I needed an intro— like something people could read quickly and get an overview OR do a 4-week class with their friends / church group / small group / etc.
So, this week I whittled out some of the core concepts of the 20-lesson course and 23-chapters of the framework and put together the core…
Beth is working on the cover this week, so I'll post next week.
The gist of it is this, though: 3 steps / 3 guidelines to discover your purpose.
That's it.
Simple.
Walk through the process and you'll know— I guarantee it— how and where you make your mark on this world, identifying the "superpower" placed inside of you to make a difference that no one else can quite make.
I'll post it here in the next week or so.
(Now, to clone a webpage, drop in the new details, then audiobook it, pull out the relevant video files, etc.)
🚌🚌🚌🚌🚌🚌🚌
Faith = The talk with Beth
I'm so grateful for her— for so many reasons.
Up near the top = her ability to pray into something, see it, and then talk about it openly (and without condemnation of fear-mongering, or guilting you or anything else).
"You need to go back and read this," she said, holding up a copy of Jack Frost's book From Slavery to Sonship.
She continued, "I was just reading chapter 6, and I think it outlines some of the things you're wrestling with."
She was right.
Due to where we are in OUR story, though, she didn't know that about 9 years ago I picked up that same book when I was walking through the lobby of Bethel Church, Atlanta, somehow sensing that there was a message in there for me, a tender discussion about working from the overflow of a heart that's whole rather than striving to earn your position in the Kingdom, struggling and serving to somehow make yourself matter to God and to yourself and to everyone else.
It was a great reminder— of the truths of Scripture.
It was a great reminder— of the gift she is.
🚌🚌🚌🚌🚌🚌🚌
Friends = 3 catch-ups
This week, my friend Randy scratched off another year. I called him on his birthday, but we weren't able to talk— kept missing each other on the phone.
So, finally, Wednesday, we met up at Back Forty (near downtown) for an unrushed conversation.
Talks with Randy always cause me to think bigger, dream deeper, and actually slow down a bit to focus on the things that matter the most.
💙
I also drove to Peach Park to meet Robert Mullins, a pastor in the middle of nowhere near Prattville (true story) whom I met 20+ years ago, the first time I was traveling the state with my Dad to teach LifeLift.
I bumped into him a month ago, when I drove to the Montgomery area to meet with the Baptists. One of my meetings was at Starbucks, with Pastor Steve Layton, where Robert happened to walk in.
Here's the pic.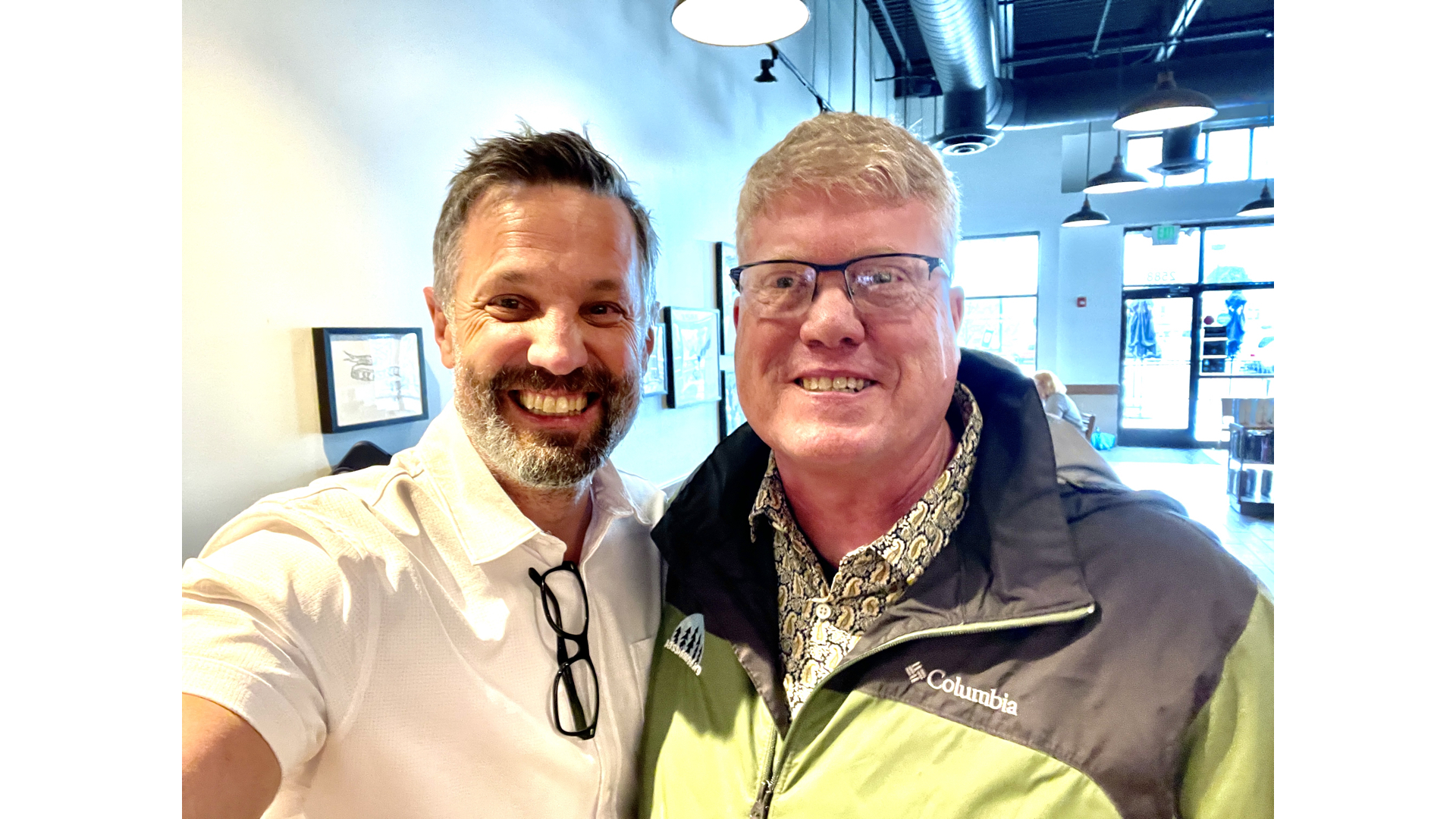 We decided to catch up a few weeks later, grab lunch, and just talk.
The conversations that happen with guys who are a few steps ahead of you in some areas (and, for sure, you're often a few steps ahead of them in other areas— that's part of the great exchange) are invaluable. Especially when there's no ego, no agenda… just shared camaraderie.
Robert leads a discipleship cohort throughout the region. Part of his passion is to disciple and shepherd pastors.
Several years ago— back when everyone used Google chat and Google hangouts— he began meeting with pastors online. The first time he met for a season with a group of 7.
Afterwards, they all grabbed a handful of other leaders and began pouring into each other, making sure the shepherds who were leading God's people weren't doing life alone NOR were they pouring from an empty cup.
Nor were they looking at big stages and fancy conferences only as the metric of what they should do in their parish, in the field where they serve…
💙
Friday I met my friend Kent Mattox, the pastor of Word Alive in the Oxford area. I've learned a great deal from him about radical grace, stepping out in faith, and the fact that God passionately wants to reach His people— and when we step out to love to them, He always backs us up to connect with them in big ways we can't imagine.
A few hours in the Mexican restaurant talking to Kent, and my heart was full.
Full disclosure: I went to deliver some resources to him about the LifeLift project, which I did. But, I learned so much more just by hearing his story— and where the Lord had taken him over the past few years since we'd spent significant time together.
That's always the ways it works.
You go to give; you always gain so much more.
🚌🚌🚌🚌🚌🚌🚌
Fun = Sweet Fourteen
I know. Not the same ring as "Sweet Sixteen," but here we are…
… taking a pic while he SHOULD be at school.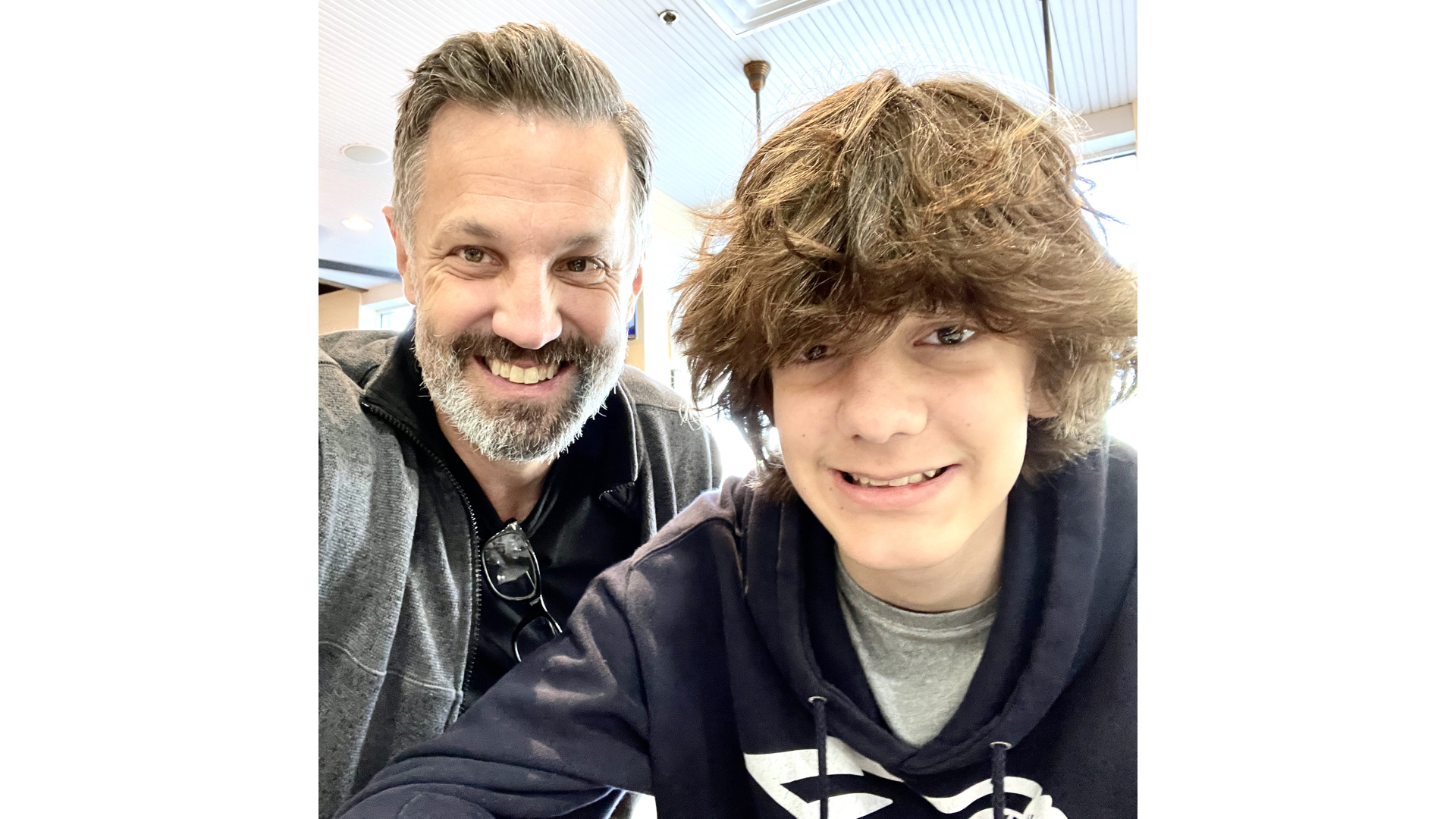 🎂🎂🎂🎂🎂🎂🎂
14 years in with this one, Judah, the man we formerly know as The Sweet— because, since birth, he's always been so kind… and gentle… and easy-going…
(Truth be told, he gets the definite article— THE— because of the absolute nature of the sweetness.)
💙
So we celebrated Thursday night…
He and I rolled up to Mountain High (in vain) to find Crocs (can't believe those are BACK in style).
Epic fail.
So we rolled to Nordstrom Rack, which is where he swore he bought his last pair.
Fail.
Then to Dick's Sporting Goods— were we #NailedIt.
And, of course, we bought some nonsense stuff like Gatorade power, cruised to get a new phone case, and meandered… just like the #OldSchool #SaturdaySneakOuts which were once a staple of his toddlerhood, preschool years, and early elementary days…
⭐️
Then there was Friday morning…
A few years ago we walked into school on his birthday.
"Can I just go to the coffee shop with you for a bit and then come back?" he asked…
So we did.
And then we got a lego. And a book. And just stayed out until we picked the other kids up.
It became a tradition. We kept doing it each year….
First grade skip. Second grade skip…
😂
Thursday night, we planned it…
Then, Friday morning, we dropped the others at school, then took a bank shot to #BIgBadBreakfast , #BarnesAndNoble, #Target… and then wondered back to school.
Didn't take the whole day.
He asked me what we should say to the "check-in" lady when we got to school…=
"I'll tell her the truth," I said. "I'll tell her exactly what we did."
So we shared the story.
And, the lady said, "hmmm… that's great. He looks a little sickly to me. So, let me mark that down as the excuse. Sometimes good kids just need a break and some fun."
Problem solved.
Birthday celebrated.
🎂
🚌🚌🚌🚌🚌🚌🚌
A bonus
Bonus points for finance…
This week— Monday— I did the "maintenance routine" for all the cars. I washed them, changed the oil, and fixed all the ancillary things.
The Kia Sorrento ("Salter's car") needed new headlights— due to a leak in one, foggy covers, etc. It was cheaper to just replace than to buy extra bulbs, purchase a kit to remove the frost / fog / whatever.
So, we ordered the replacement housing assemblies on Amazon, waited a few days, and swapped them ourselves— saving hundreds of 💰💰💰💰💰💰 in the process.
🚙
And that's a wrap
That's the highlight reel for the week. As always, there are so many things that don't make the blog that made the the list— and, it's in looking back each night with the journaling prompts in the Advance planner that I'm able to take inventory, think about some of the best moments I remember, and then bring them back again, for another remembrance on the weekend….
If you're still reading, download your planner free at www.Jenkins.tv/FreePlannerPDF
Never miss a new post + podcast!
Join our mailing list to receive the latest news and updates
We hate SPAM. We will never sell your information, for any reason.