Blog: Top 7 = Someone crashed my 16 yo son's car into my 17yo daughter...
May 03, 2021
Someone crashed my 16yo son's car into my car that my 17yo daughter was driving, while she was parked…
So a girl thought it would be funny to grab the keys, crank the car, avoid all of the warnings from bystanders to NOT do such a thing... and then do little "circles" (didn't even know the proper term is "donut") around the parking lot.
That stuff never ends well...
Yeah. That really happened…
It's all in the past week's Top 7, rolled out in one tidy package…
🚌 Fitness = This week, I cut the snacks completely out…
This includes—
🍩 unhealthy snacks you eat
🥃 unhealthy snacks you drink…
Not to be legalistic about the entire thing (shoot, I ALREADY have a rule that if I visit a new restaurant AND they serve bread pudding, I try it… because it's my fav), but I just FEEL way better when I'm not bogged down by so much junk…
I sleep better.
I think more clearly.
I exercise stronger.
I don't feel funchy (weird word Noah invented that's just the "junk drawer" of odd things).
Test-driving this for a few weeks… and then evaluating.
🚌 Finance = Salter turned 8!
So, he received some birthday money that instantly began burning a hole in his pocket.
Turns out, he needed a new computer (what 8 year old doesn't, nowadays, right?!), because… Roblox.
So, we went to the store…
He had money in his savings account here at my house with enough $$$ to grab one. Some of the cash went back as far as years ago…
(Maybe he can show his older brothers something about delayed gratification!)
Here he is, gift card in hand… the one that pushed him over the top.
(Don't worry about zooming in to capture the numbers on that gift card— he maxed it out!)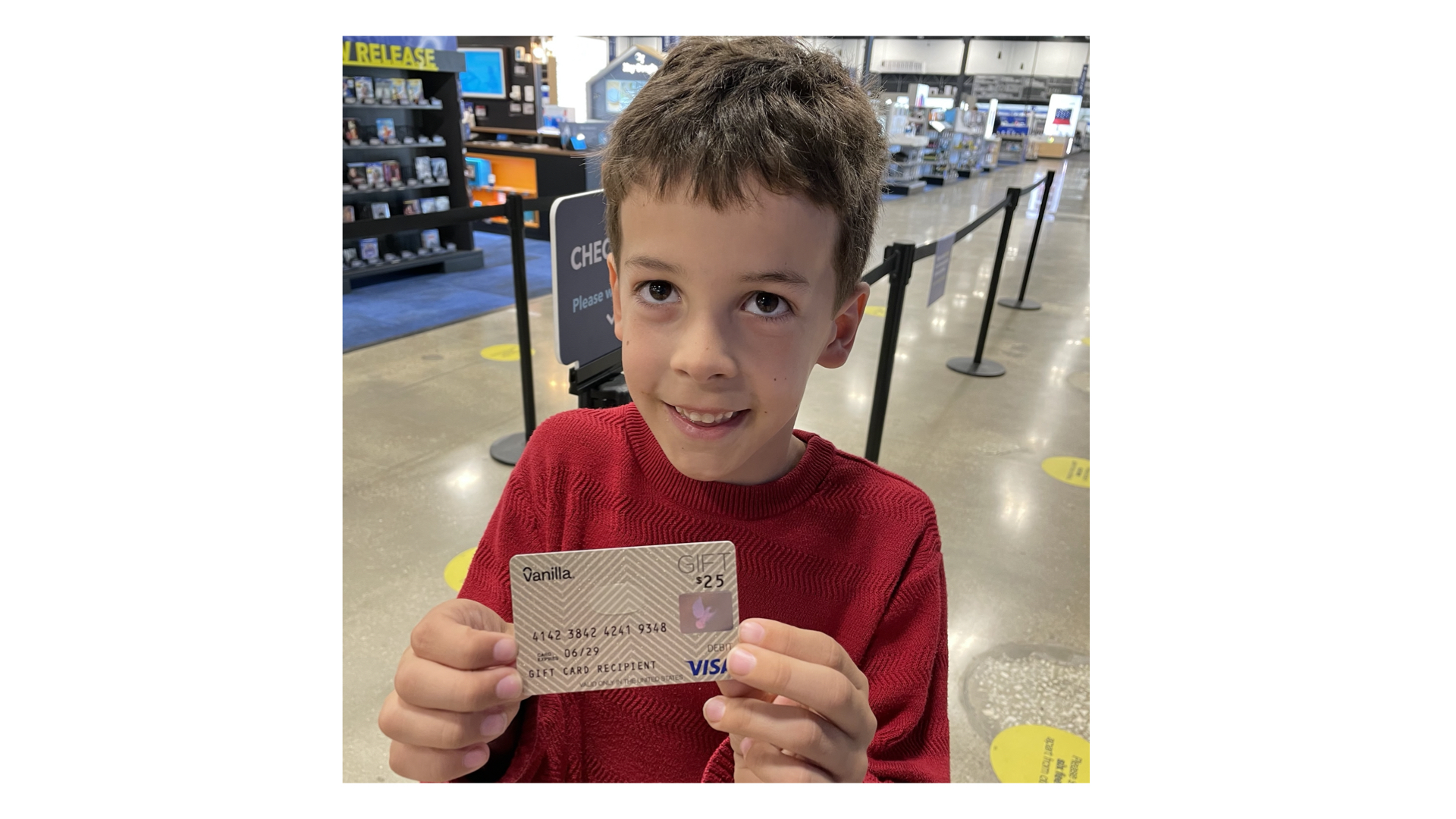 🚌 Family = We had a wreck on Tuesday. More specifically, G4 and B1 had a wreck.
They were hanging out in a parking lot with some friends.
Random gal jumped into B1's car (even though everyone told her NOT to). She cranked it, did a few donuts around the parking lot, and then rammed it into my car in her haste to make a sharp turn that she couldn't make.
Here's Noah's car...
And here's my car-- the one Anna was driving...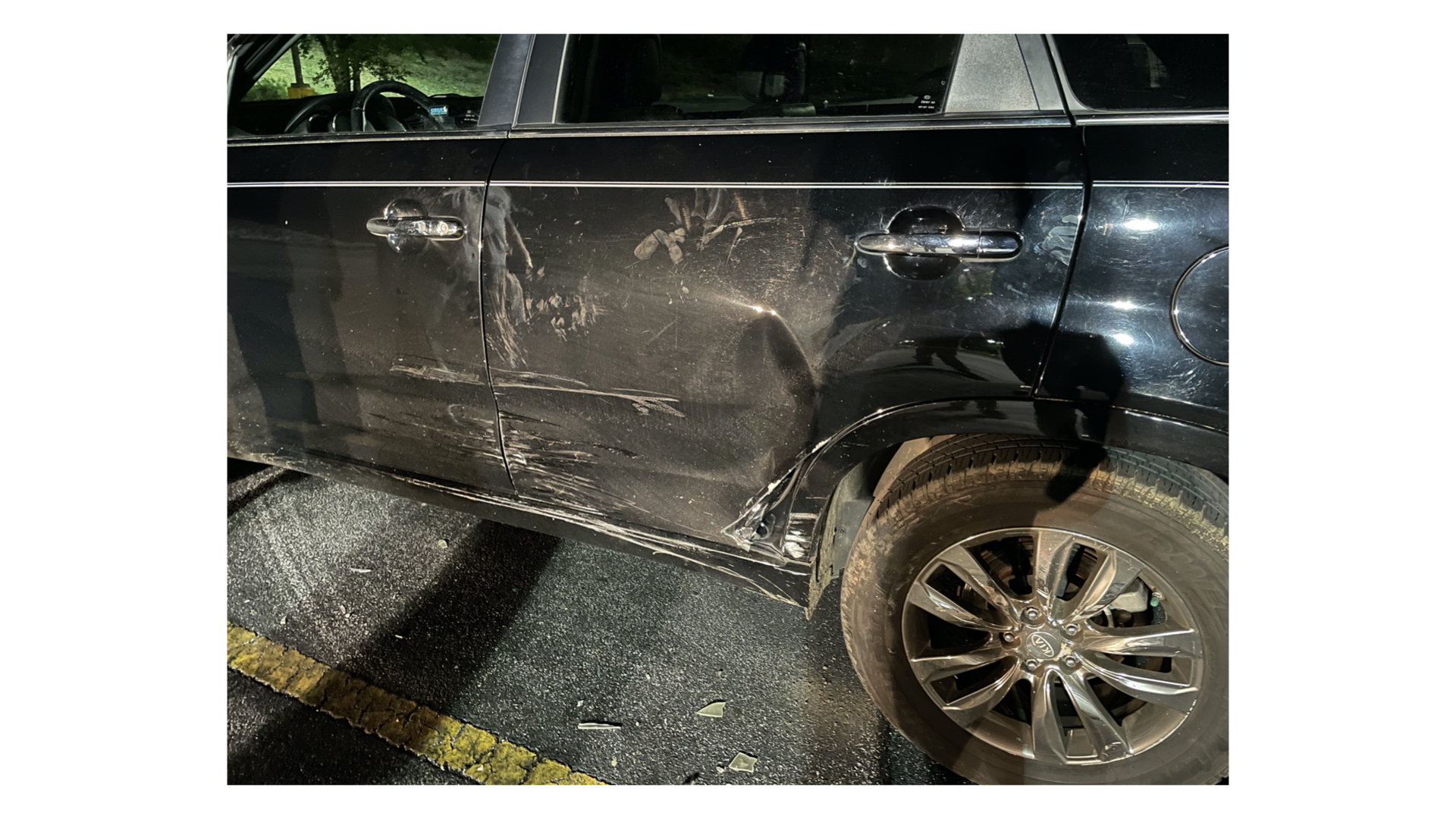 ✅ Police reports filed.
✅ Parents called.
✅ And, now the work of getting the cars repaired commences-- which is delayed, due to excessive tornado damage on other cars in our area...
(Yes, you read all of that right. Someone took my son's car and drove it into MY car. Oh, all of this happened while I was hosting a dozen or so people at my house for a cookout— as we'd just completed another round of Warrior Hope and got the group together. So, I left the party and had my guests— most of whom I know well— just hang and fend for themselves.)
BTW, the back door of my car is FOLDED, b/c "Girlfriend" (my nickname for Vicki) was stepping out of the backseat when she saw the other car headed towards her. So, she quickly jumped back in and slammed the door. The other car caught the door JUST AS IT WAS CLOSING!
I'm like...
🤷‍♂️ 🤦‍♂️
🚌 Field = Finished the edits to the Advance book this week…
Here's a pic of the book. It's been through a few edits and revisions— and now has 50 chapters. It's the distillation of ALL of the material from the Advance events I co-founded and co-led a few years ago…
BTW, all of the courses are set to "free" on the website. Grab ANY of it at www.EatSleepAdvance.com.
🚌 Faith = This week I had several "random" encounters and re-connections that all confirm God is in the details of the steps we take…
I'll share more as those stories unfold in the next week or two…
🚌 Friends = Had two friends cruise into town this week— two different nights.
JD rolled in from ATL on Monday. We chatted, grabbed dinner, and then he cruised back early Wednesday morning.
G4 decided, "That's the coolest guy I've ever met… Cowboy boots, leather jacket, motorcycle…"
Ernie shot down on Decatur on Wednesday. Same drill. Dinner at a rocking steakhouse (Perry's) and then some work on Thursday as I tidy up a few projects at OilyApp in order to make some shifts…
🚌 Fun = Birthday parties are always fun…
Here's an early pic from Friday (we celebrated all weekend).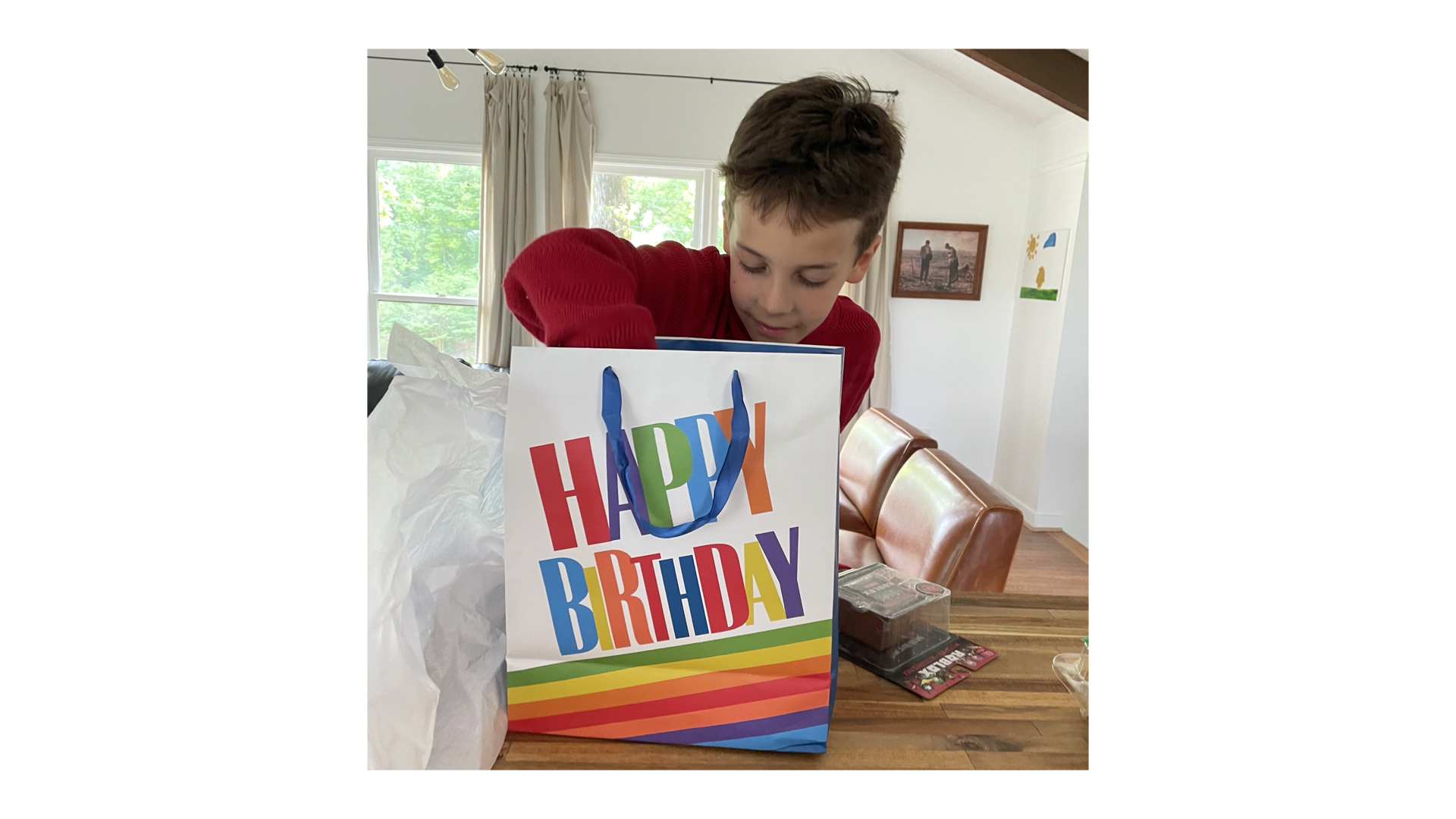 We've got a tradition we recently pulled in…
Every time, we toss the birthday kid in the center of the room (after cake and gifts, etc.). And then we have everyone present—
👉 Tell a story about them
👉 Say something positive, something they love about them
👉 Affirm them in some way
It makes the birthday person the center of attention in ways that I believe outlive the cake and candles… and somehow sink deep in their soul.
++++
That's the highlight reel for the week (and, full disclosure, I'm not so sure you can call the crash a highlight!)
---
If you're looking for balance and growth in each of the seven key areas of your life, hop into our free Facebook group, The #Hilltop Hangout = www.Facebook.com/groups/AndrewEJenkins
And…
Here's how I keep up with all of the stuff…
At the end of each day in the Advance planner, there's a daily review— space to answer a few questions, reflect on a few things, etc…
(You can download a free copy at www.Jenkins.tv/FreePlannerPDF)
Each evening, in about 3-5 minutes, I jot—
⭐️ 3 things I'm thankful for— about that day
⭐️ Something I could have improved
⭐️ Anything I didn't complete that day which needs to be pushed to tomorrow
⭐️ Some notes about where I added value that day…
It's the perfect balance between journaling (which I hate, even though I write) and NOT doing anything…
... and it's free at www.Jenkins.tv/AP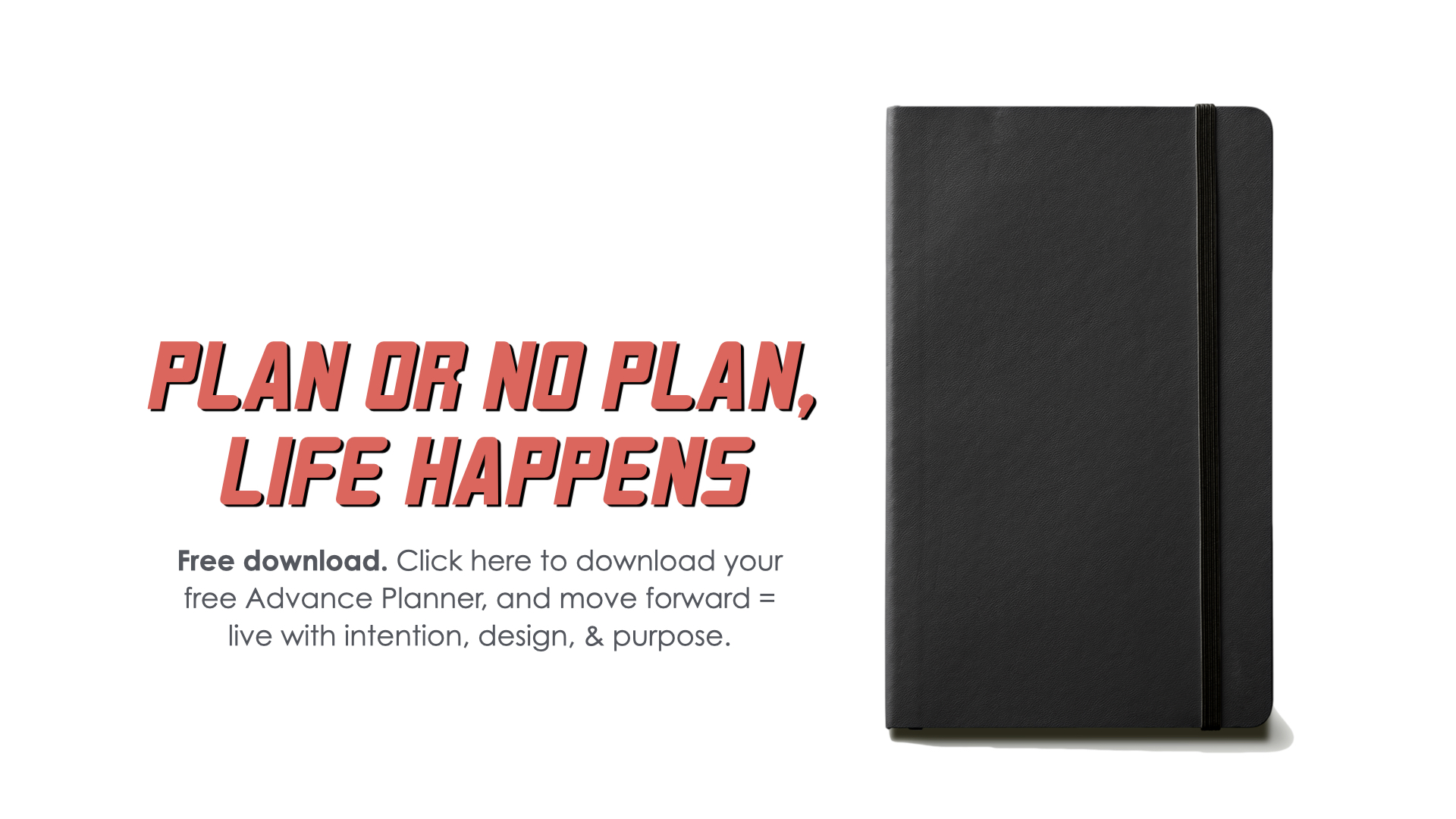 Never miss a new post + podcast!
Join our mailing list to receive the latest news and updates
We hate SPAM. We will never sell your information, for any reason.