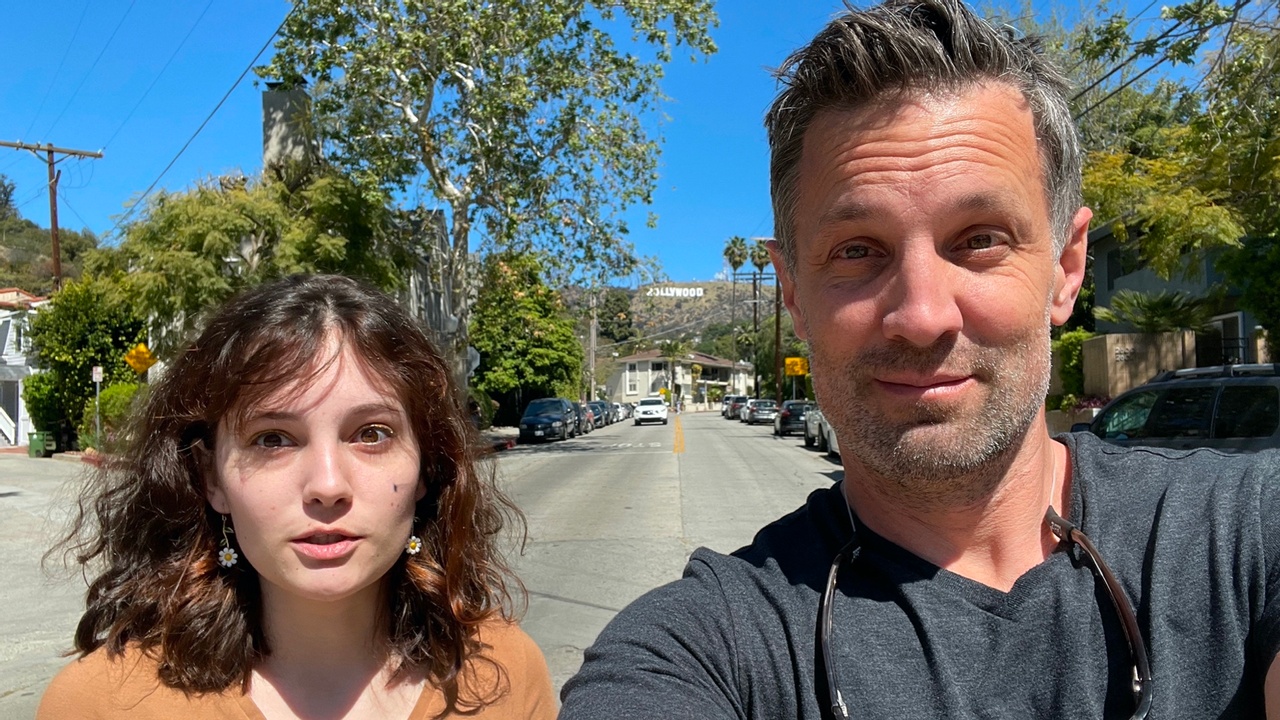 Blog: Top 7 = CA, GarageFit, Hangouts at the Hilltop, and more
Apr 05, 2021
The top 7 for last week…
(And, this doesn't mean there weren't MORE than seven great things, it's just that… well… at some point… you don't have time to list them ALL…)
+++
🚌 Fitness = After a few days of, I cranked it back up in the #GarageFit gym downstairs…
For as long as I've been an adult, I have NEVER had a two-car garage. And, now that I DO have one, wouldn't you know it… I don't use it for the car.
Half of it = extremely organized for tools, bikes, minibikes, etc…
The other half = I rolled out a thin rug, stashed a wrestling mat on one side fo the wall, added a pull-up-dip-bar-combo, a few free weights, and a big screen TV (older, 55", was here in living room of the house when we acquired the home) for my #BeachBody workouts…
After a run at Insanity, I eased up a few weeks, let the body recover, and ready to crush it on the next thing…
Still trying to decide what the next program is. Until then, I'm doubling up on T25.
+++
🚌 Finance = We did some plotting and planning and dreaming this week…
… in reality, the payoffs of the future have more to do with the seeds we sow now than they do when the harvest time finally comes.
It was exciting to see Beth push full throttle into a few new opportunities…
(I'll share more about them later.)
+++
🚌 Family = at the end of last week, beginning of this week, I was in California. Em (20), has decided to take classes next year in LA, so we took the weekend to scout apartment locations.
Stayed a few blocks from the Santa Monica pier. So, though the hotels have MAJOR restrictions on their gyms (one person at a time), I ran the coast a few days…
… and spent some great time with Em.
We drove through the Hollywood Hills, saw a few famous places, ate at some cool restaurants, and learned that Targets in CA tend to be about the size of an extra-large CVS rather than the mega-centers we're used to…
(The pic above is one I captured when we scooched to the middle of the street to grab a photo the Hollywood sign. Em saw oncoming traffic!)
Here's a snap from one of my runs...
+++
🚌 Field = I always get MORE done in the airplane than any other place. Maybe it's the lack of distraction, perhaps it's the fact that you're stuck in a chair for several hours…
… or even the question of what else are you doing to do with the time…?
I've written books, outlined emails funnels, and sketched web pages all on flights…
This time around, I was able to map out the entire Soul Wholeness video course + create the slides. That worked well, because Friday (4/2, Good Friday), I went into the studio and shot 14 vids…
I'll start posting them, soon (they all go with the new book, coming at www.SoulWholeness.com)
+++
🚌 Faith = Easter weekend.
What else can I say?
That Sunday after church, I came into the office (in my house, overlooks this fabulous stretch of woods we have between our house and the neighbor), and recorded a podcast episode about the resurrection— and how everything that happened to Jesus already happened to you, too.
That is, He pulled us into His experience, creating radical transformation for us…
I'll post it Wednesday (or sooner), here on the site— at www.jenkins.tv/blog/breakthrough
+++
🚌 Friends = Was one of the best parts of the week…
Beth and I knew— when we got the Hilltop house, that we wanted it to be a place for family (no matter how far off kids moved, they could always come back AND there would be space for them)…
AND…
We knew we wanted it to be a special place for people, for community…
Wednesday night = friends came over…
Thursday night = MORE friends…
The fire pit on the courtyard is always awesome. Our "people" make it even better.
+++
🚌 Fun = After dropping Em at the airport last Sunday (she was flying back to Denver, I was flying back to BHM), I had some time to kill…
… I had already done a LOT of work on my flights, so I took some time to stroll around Santa Monica. Drank some coffee. Watched two movies (I love going to the theatre— and will do it by myself, even!). Enjoyed some alone time…
---
Here's how I keep up with all of the stuff in my Top 7.
At the end of each day in the Advance planner, there's a daily review— space to answer a few questions, reflect on a few things, etc…
(You can download a free copy at www.Jenkins.tv/AP)
Each evening, in about 3-5 minutes, I jot—
⭐️ 3 things I'm thankful for— about that day
⭐️ Something I could have improved
⭐️ Anything I didn't complete that day which needs to be pushed to tomorrow
⭐️ Some notes about where I added value that day…
It's the perfect balance between journaling (which I hate, even though I write) and NOT doing anything…
... and it's free at www.Jenkins.tv/AP
Never miss a new post + podcast!
Join our mailing list to receive the latest news and updates
We hate SPAM. We will never sell your information, for any reason.