Stop looking "out there" to find what's already deep within
Sep 16, 2022
I remember watching people get baptized when I was younger and thinking, "What in the world are they doing?" And, "Why do we do this?"
Don't get me wrong. The ritual was strangely captivating, yet I wasn't sure what was happening.
One day, someone explained it to me: "It's like a movie," they said, "except that the person being baptized is acting out the movie right there in front of you."
"Oh, like a human video?" I asked. Then— "But what does it mean?"
"It means that you were included in everything Jesus did. It's like you were actually there when it happened the first time, and this is your identification with that."
"What? That makes no sense."
The guy I was talking to paused. He thought about his words a few moments.
Then he clarified, "Well, the word baptism comes from the Greek word baptizo. That's important, because the New Testament was, for the most part, written in Greek by guys like Paul and Luke and a few others… Baptizo means to submerge or to bury."
"So we're burying them in the water," I replied.
"Exactly. Just like they buried Jesus in the tomb, we're burying that person in the water."
"Good thing they don't hold them down there too long!" I said. "That'd be a disaster!"
"That's the point. In the same way Jesus arose from the dead on the first Easter morning, the person comes out of the water as a new person. In fact, Romans 6:3 says that we were all baptized into His death so that we could be raised in His life."
The wheels began turning my head. I know that guy could tell. Somehow, all the pieces were coming together in my mind…
"Like they're buried in water now the same way they were buried in the grave back then?"
More than just smoke and mirrors, more than just a ritual-- it's real
Growing up in the church I saw hundreds of baptisms. Somehow, I simply equated those repeating rituals with receiving a diploma after school, a trophy at the end of the sports season, or a participation ribbon for "signing up" to join the church. Turns out, I was way off…
My friend continued, "When we baptize people, we're celebrating that people we know who have died and been buried will jump from their graves some day in the future when Jesus returns. Paul writes about it in 1 Thessalonians 4:16. That goes for your great grandparents and your friends who died too young and people who followed Jesus centuries ago. We're celebrating that death isn't the final word."
"That's true for me too, I suppose," I concluded.
"Yes. True. If you die before Jesus comes back, it's totally true. But the bigger point I want you to see is that baptism isn't just a reference to Jesus' past death and resurrection, nor is it just a reference to the future resurrection of all saints. Baptism is a living picture of the reality that happens in you now. The old self is dead… and a new self is reborn!"
In that one conversation, I discovered that I typically thought God could fit neatly in my little boxes— that I could contain Him theologically in something I would always be able to understand. Furthermore, it was a small box, too. One I could carry.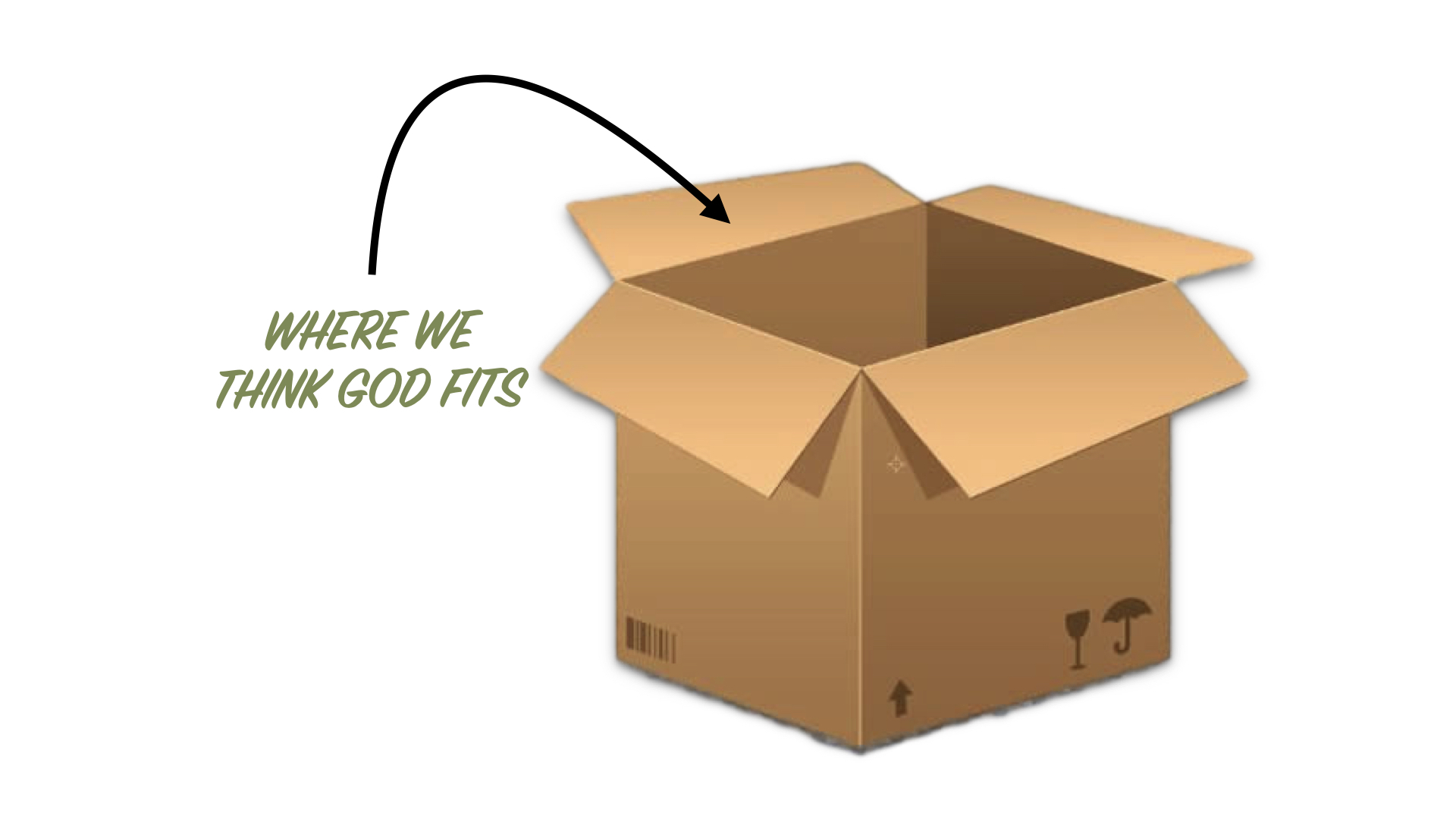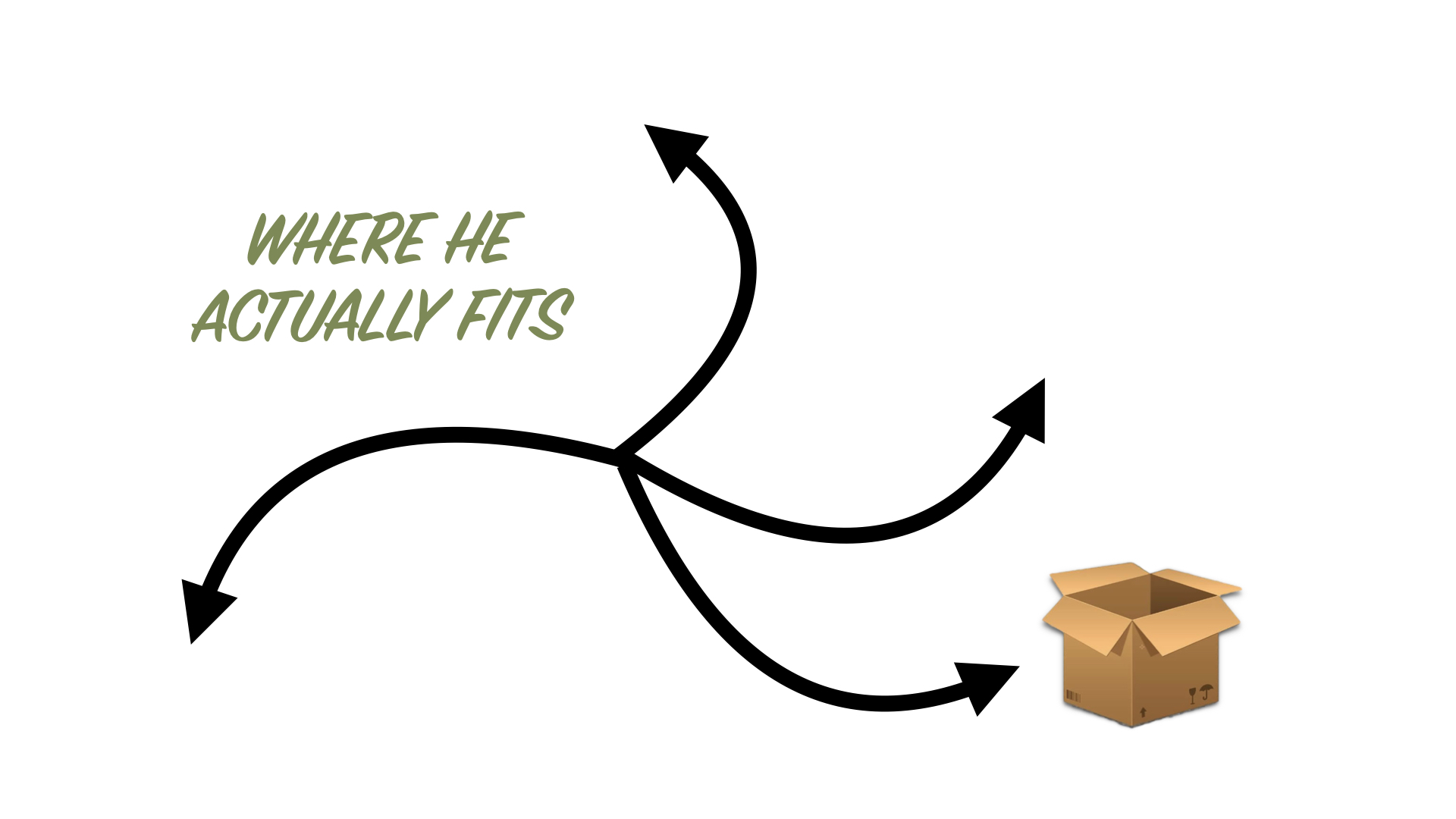 Digging deeper
Since that conversation I've done some digging on my own. And I've found some incredible truths all related to this "new self." The box hasn't gotten any bigger; rather, I've learned that there's really not a box at all!
Here's what I discovered.
First, the Bible says I was crucified with Christ. That is, I was actually there. The definitive death of human history happened to me. When they nailed Jesus to the Cross, I transcended time and space and got crucified, too.
Sounds strange, I know. But read it for yourself. It's in multiple places in Scripture (Galatians 2:20 ESV, emphasis added):
I have been crucified with Christ. It is no longer I who live, but Christ who lives in me. And the life I now live in the flesh I live by faith in the Son of God, who loved me and gave Himself for me.
And (Romans 6:6 ESV, emphasis mine)—
We know that our old self was crucified with Him in order that the body of sin might be brought to nothing, so that we would no longer be enslaved to sin.
Second, I died with Christ. No one survived the gruesome Roman executions. The soldiers made sure of it.
That's why they went to break Jesus' bones. If they shattered His knees He wouldn't be able to pull Himself up to stretch His chest and breathe. He'd die. Whereas they smashed the legs of the two thieves in order to hasten their deaths, Jesus was already dead (John 19:31-33). This was confirmed when one of the soldier's pierced His side, puncturing His heart, and opening a fountain of blood and water (19:34).
You and I died with Jesus (Colossians 3:3 ESV, emphasis added):
For you have died, and your life is hidden with Christ in God.
And (Romans 6:5 ESV, emphasis added)—
For if we have been united with Him in a death like His, we shall certainly be united with Him in a resurrection like His.
Writing about the Romans 6 passage, Watchman Nee suggests—
The original is in the aorist tense, denoting that our old man was once and forever crucified with Him. As the Cross of Christ is a fact accomplished, so our being crucified with Him is additionally an accomplished fact.

Who ever questions the reality of the crucifixion of Christ?

Why, then, should we doubt the reality of the crucifixion of my old man?
Nee also makes another interesting observation:
Nowhere in the Bible are we told to be crucified— this has been done and done perfectly by Christ already. We only need to consider this an accomplished fact.
Sure, the New Testament quotes Jesus as saying, "Take up your Cross" (Matthew 16:24). However, this was said before the Crucifixion, under the Old Covenant. At the Cross, you died.
Side note: let's clarify what actually killed Jesus— because it's the same thing that killed me and you. It wasn't asphyxiation (that is, death by suffocation). Nor was it stamina, loss of blood, or blunt trauma.
No, the Bible says that Jesus commended His Spirit after the payment for sin was made (John 19:28). That is, sin killed Jesus. And, sin killed you and me.
This is why the Scripture clearly reminds us that we died to sin— that we're now dead to it (see Romans 6:2). And, it's how we've been set free from its grip (Romans 6:7). Dead people aren't enslaved by sin or anything else. Since we died, we aren't either.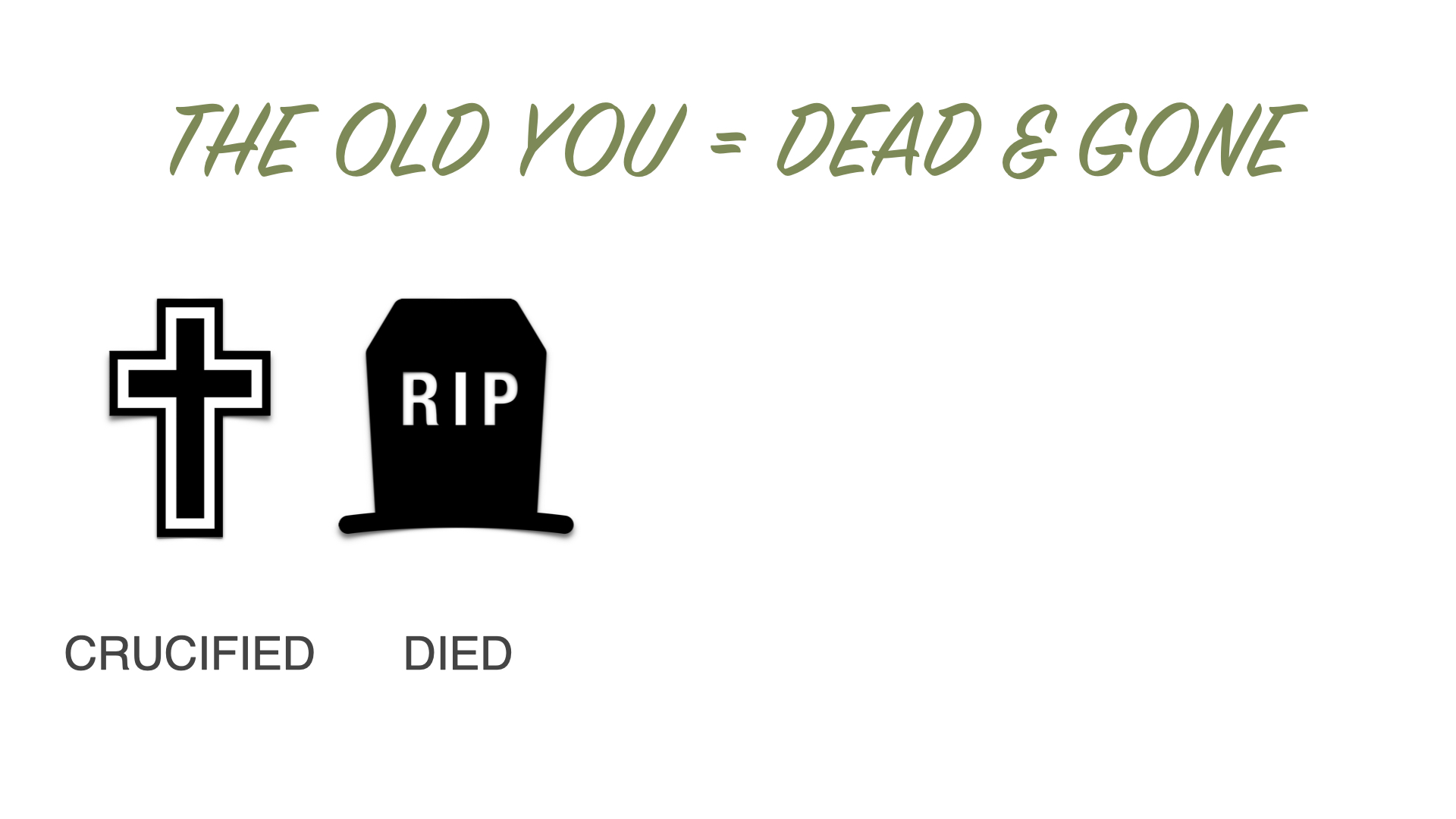 Third, they buried me— and you— with Christ. They didn't leave Jesus— or us— on the Cross. Notice what Paul says (Romans 6:4a ESV, emphasis added).
We were buried therefore with Him by baptism into death.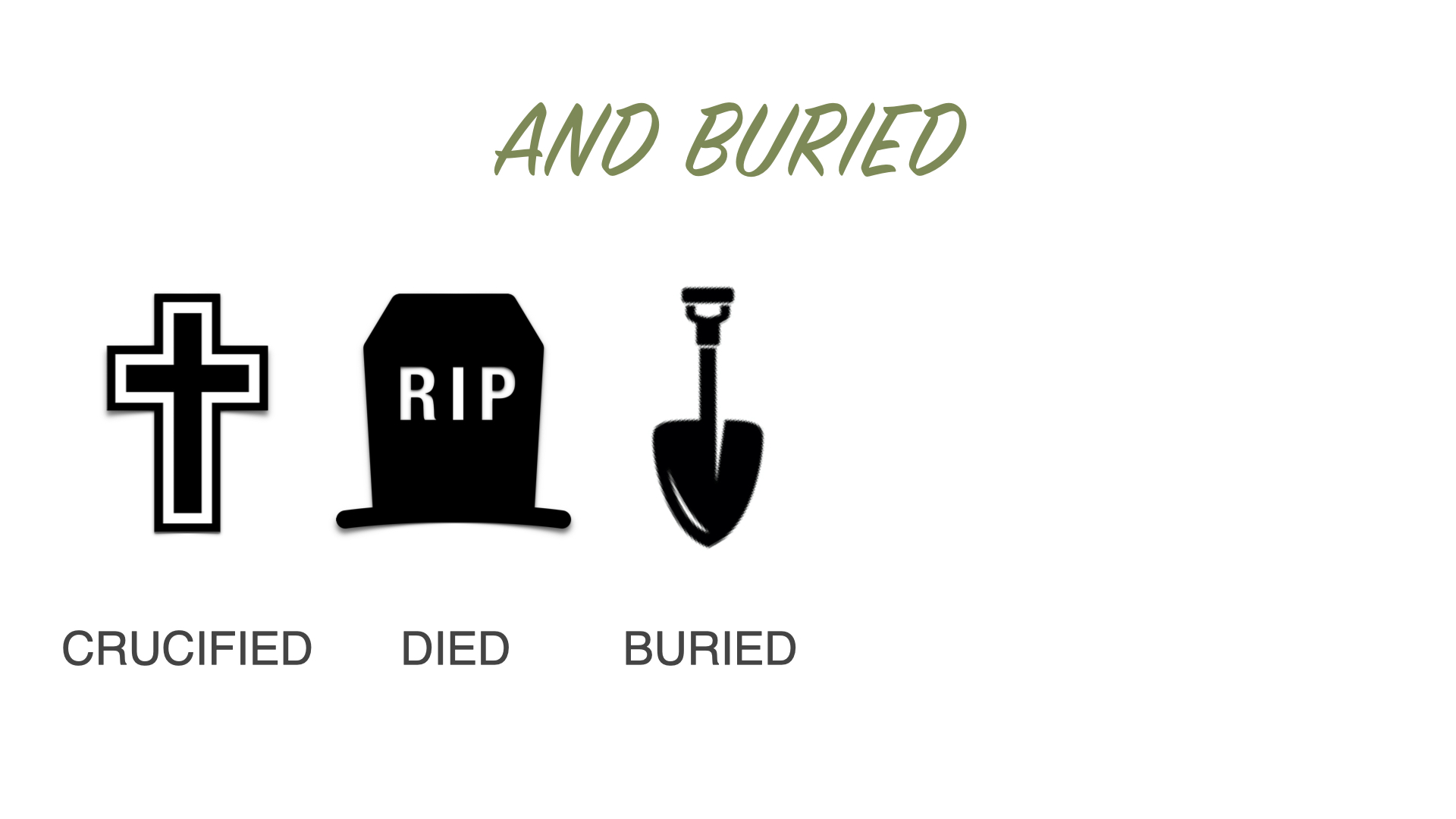 Fourth, we arose with Christ. We didn't remain in the grave anymore than Jesus did. Paul tells us plainly that we were buried, and that we arose. Notice (Romans 6:4b ESV, emphasis added)—
… in order that, just as Christ was raised from the dead by the glory of the Father, we too might walk in newness of life.
And (Ephesians 2:5 ESV, emphasis mine)—
Even when we were dead in our trespasses, made us alive together with Christ— by grace you have been saved.
As well as (Romans 6:8,11 ESV, emphasis added)—
Now if we have died with Christ, we believe that we will also live with Him. So you also must consider yourselves dead to sin and alive to God in Christ Jesus.
Interestingly enough, Paul elaborates on the death of Jesus and says He "was delivered up for our trespasses [read: sins] and raised for our justification" (Romans 4:25 ESV).
Notice—
We died because of sin (the wrongs we committed).
We were raised for justification (our relational oneness with God).
The word justification means that we've received a complete reset of who we are and what we're designed to be. The definition carries the concept of "just as if I'd never sinned."
This is interesting to me, because when we're caught in a sin, we tend to explain why we did it. That is, we tend to justify why we messed up.
God's justification works the other way, though. Through our death on the Cross with Jesus and our subsequent burial and resurrection with Him, the Father explains to us why it's as if that sin never occurred in the first place!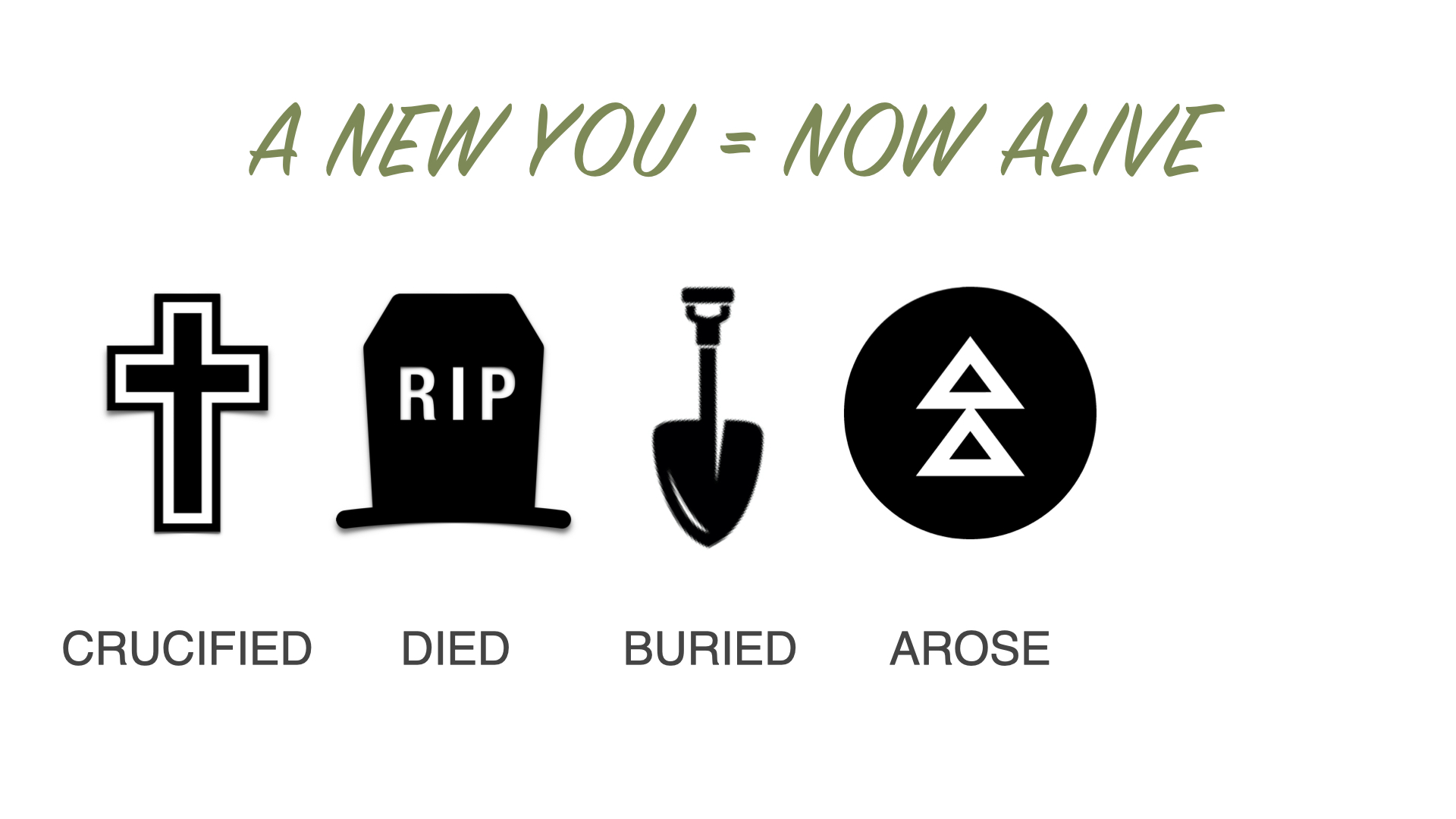 Fifth, we ascended with Christ. Living now as if we never sinned is a great Gospel. However, the message of the Gospel goes farther. We've been included in more.
Right now, we live here on earth and also sit there in the throne room with Jesus at the same time (Ephesians 1:20, 2:6 ESV, emphasis mine).
[The Father] worked in Christ when He raised Him from the dead and seated Him at His right hand in the heavenly places… and raised us up with Him and seated us with Him in the heavenly places in Christ Jesus.
It's this position that empowers us to live from victory instead of living for victory.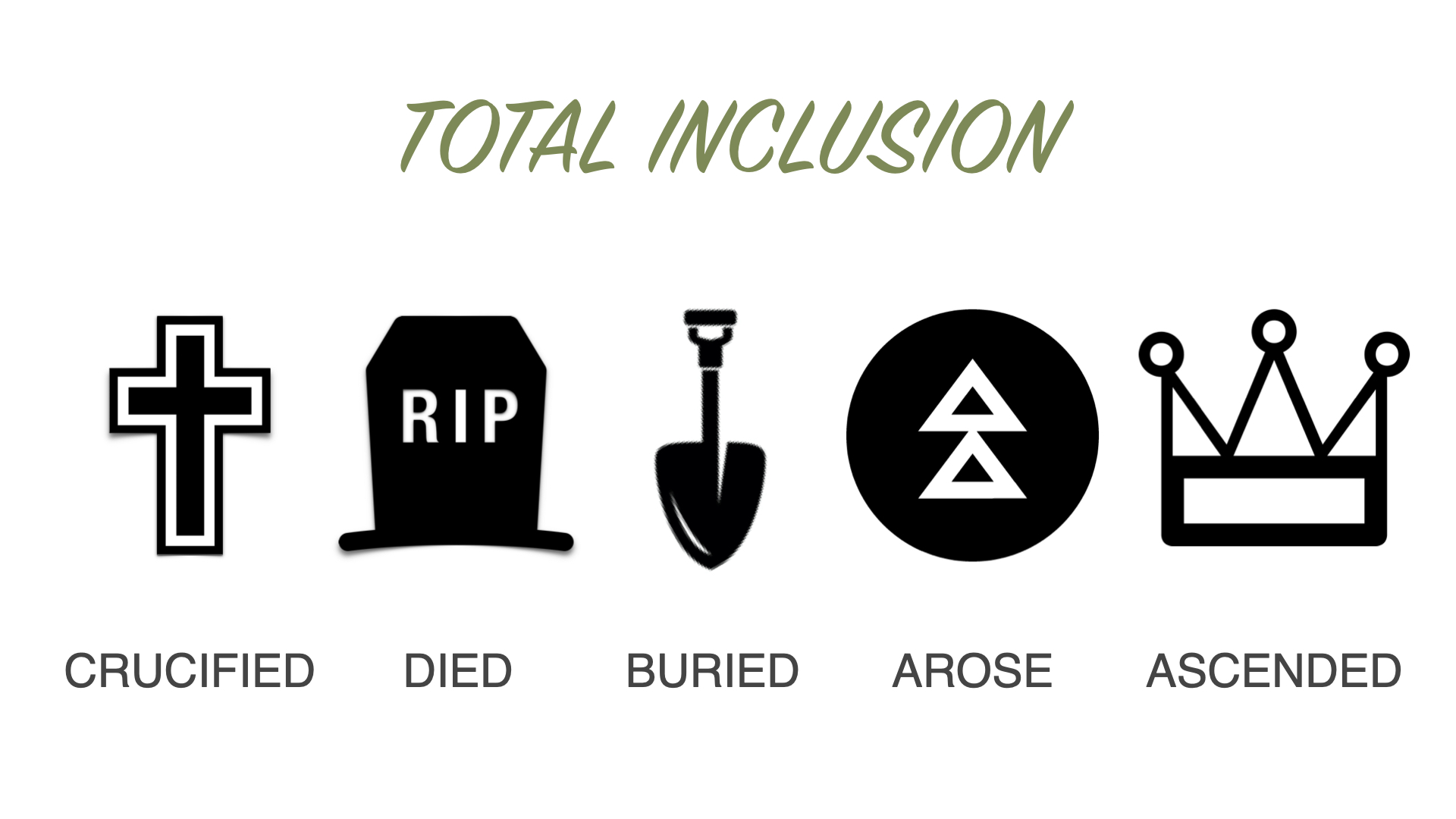 Here's the sequence of events the Bible says happened to you— because, unlike the wrongful conviction discussed at the beginning of this chapter, you were present at each of these events.
The chart below outlines each event with the respective Bible verses.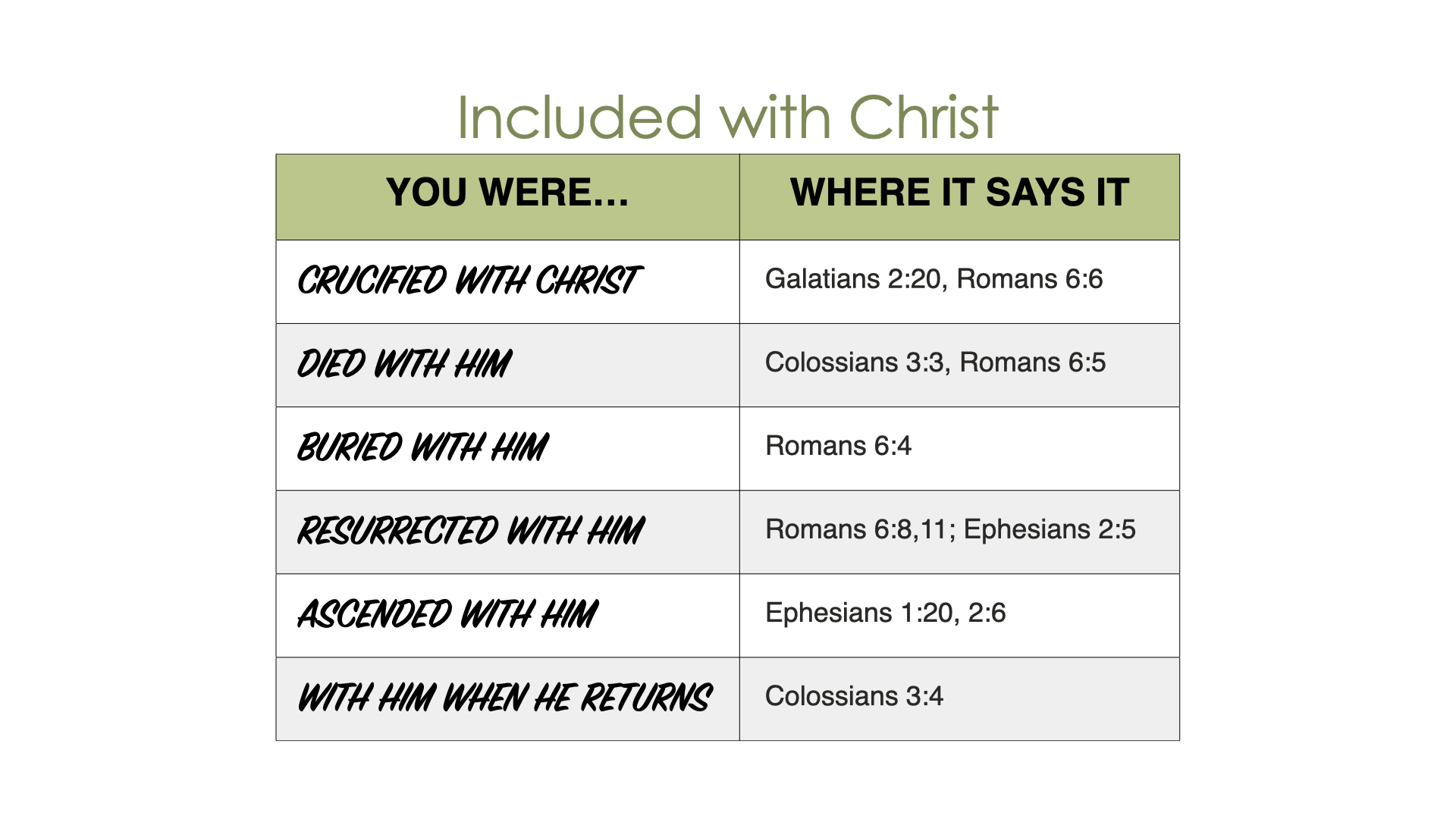 Yes, I added a line on the bottom-- something we didn't even discuss in this post. That, of course, leads us back to the premise of this entry: stop looking "out there" to find what's already deep within.
---
LifeLift helps you find and fulfill your purpose.
For an easy on-ramp, claim your free book at www.Jenkins.tv/purpose — and get introduced to the entire LifeLift framework.
This video clip comes from the LifeLift workshop— available at https://www.jenkins.tv/lifelift
It's in the first part of the framework, Identity, where you learn who you are— www.Jenkins.tv/identity
Never miss a new post + podcast!
Join our mailing list to receive the latest news and updates
We hate SPAM. We will never sell your information, for any reason.