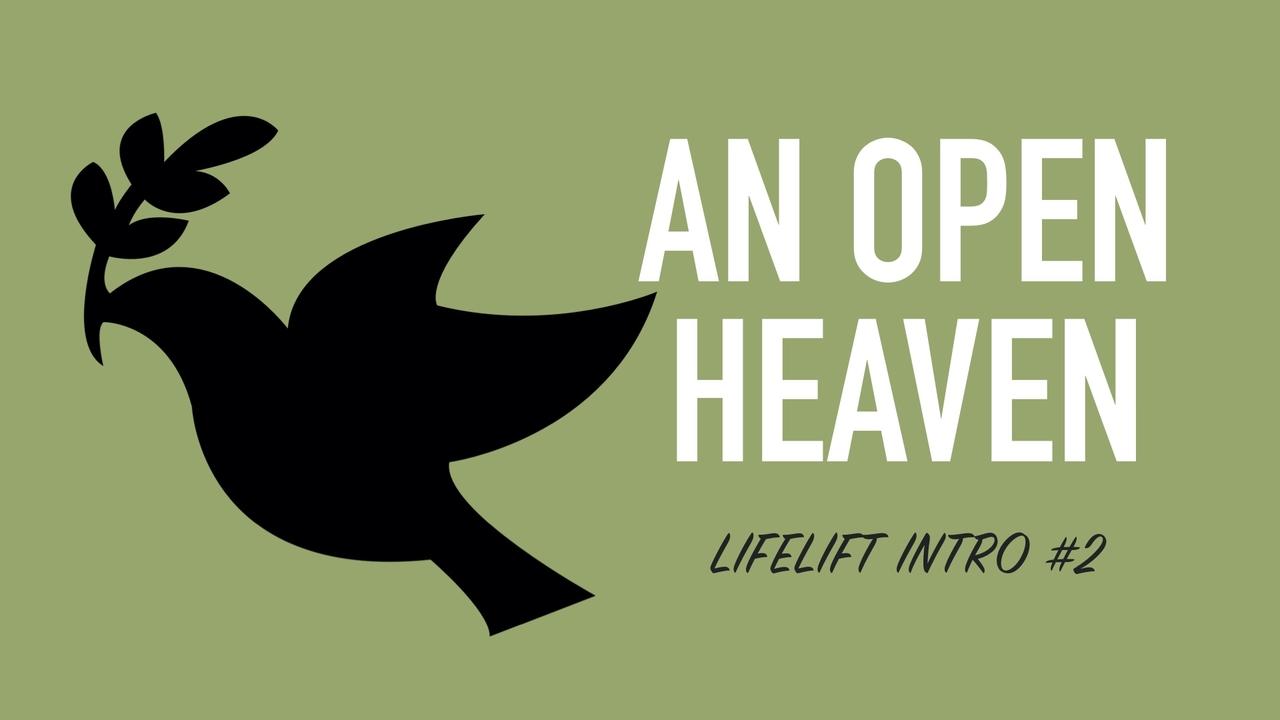 Podcast: An Open Heaven (LifeLift Intro #2)
Jan 21, 2020
My Dad and I have invested a lot of hours talking about this material with each other. We saw the principles work at Hilldale, and Dad watched the truths invoke life and freedom in churches across our region. The more we equip others to implement the things we've learned, the more we see. I don't think we'll ever "bottom out" everything we can learn about incarnational ministry.
At the same time, though, finding your place— your purpose— and being empowered to live it should be relatively easy. Think about it like this…
When I was in college, I worked at a nearby department store known as Parisian (Belk was Sax after it was McRae's after it was Parisian- three name changes ago!). I sold shoes in the Men's and Women's Shoe Department in the old Eastwood Mall near Birmingham (it's since been torn down and is now, of all things, a Walmart).
When I was only 19, I entered the one-week training classes as part of the hiring process. The company paid me to show up from 6pm - 9pm for four nights and "learn the system." That week, they assigned me an employee number (which I used to clock in / out each day at work, as well as log into the register to make sales). I was given a tour around the facility by a department manager, and I was taught the basics of the company— primarily their core values. The corporate trainers knew they couldn't teach me and the other new hires everything any of us would ever know about the job in just one week. Even if they could, there's no way we could remember it all. We didn't need a college-level class about retail, we just needed alignment to the way things worked there. We needed a jump-start.
They were content to teach us a little, give us the freedom to implement what we learned, and continue that process. Plus, we had trusted veterans nearby if we ever found ourselves in a jam.
Learn, implement, rinse & repeat
A lot of churches could learn a lot from Parisian's process…
You see, for the most part, churches go to two extremes. I've seen some where they teach college-level theology classes that you must take in order to get baptized, join the church, or serve in any capacity. That's crazy!
On the other extreme, some churches don't give you any information. You come in... and, hopefully, you figure it out. Sometimes you do, sometimes you don't.
I've attended churches on both extremes— the ones where you must scale an impossibly high bar to serve as a greeter and the ones where you don't receive any information at all. In fact, I attended a church recently where I'm sure even a trained FBI agent would have difficulty discerning how to get involved in ministry.
Though the church claimed to have a five-fold leadership team (you'll learn more about what this is later), they didn't. The fruit of a five-fold is more people empowered to do ministry, not more people simply hearing about it. Further, though the leaders repeatedly spoke about being in a season of "increase," there was no fruit. No new salvations. No adult baptisms. No people discipled and released into ministry.
As you might expect, potential leaders attended for a few weeks, got frustrated and left. People are, by nature, givers. Servers. Image-bearers of their Creator. If you don't provide space for them to express the greatness inside of them, they'll find somewhere those gifts are welcome.
So, while we don't want to teach you a graduate-level course on the Bible (extreme #1), we don't want to leave you on your own, either (extreme #2). Hopefully, we've created a third option— something that encourages, equips, and empowers you to live as the best version of you (at church, at home, everywhere you go!).
You have the Spirit of God living inside of you, which means you have access to His supernatural power. The power that raised Jesus from the grave fills you— and is waiting to shine forth. That means you also have His supernatural wisdom, too.
If a 19-year old can be taught how to work at a multi-million dollar company and then be trusted with the cash drawer after just four nights of training, you can certainly be trusted after just a few classes to run things in Jesus' house! After all, it's your house, too. You are a son or a daughter here! You're free to explore and contribute.
Understand, I'm not knocking how others choose to do things. One great truth about churches is that we're all on the same team.
Sometimes, we forget. We get territorial. We build walls between each other because we prefer some things they don't, and they prefer other things that we don't. Jesus reminds us that we're all together in this thing.
To summarize the first section of this chapter: the culture of Heaven is an environment of encouraging, equipping, and empowering others to live their purpose to its fullest.
The Gospel is joy
There's a second concept I want you to grasp: the Gospel of freedom is good news, and good news is fun!
Leonard Sweet writes,
"Grace is what makes the Gospel 'good news' and not merely good sense, good deal, good deeds, good counsel, good things, good company, good works, good taste, good reason, good form, good policy, good politics..."
Get this: one third of the Kingdom of God is joy. Romans 14:17 says, "For the kingdom of God is... righteousness, peace and joy in the Holy Spirit" (NIV). Get that. One third.
A third of the Kingdom!
If I asked you the attributes of God, you would likely list things like Holy, Love, Just, Righteous... and you would be right. But the Bible tells us that God is equally Joy.
We read verses like the following:
Psalm 16:11, "In Your presence there is fullness of joy, at Your right hand are pleasures forevermore" (NKJV, emphasis added).
Luke 2:10, "Behold, I bring you good tidings of great joy" (NKJV, emphasis added).
Benjamin Dunn reminds us that the word "blessed" in the Greek language is makarios— the same word used for "happy." In 1 Timothy 1:11 we read "... that conforms to the gospel concerning the glory of the blessed [makarios] God..." In other words, Paul writes of "The Happy God."
John Crowder reminds us that "Eden means 'pleasure.' You were made for it. What separates the Christian from every man-made religion on earth is our acceptance that God came to us, to give us what we could not earn: access to bliss forevermore." This is what it means to be free!
One of my friends regularly says, "Seriousness is not one of the fruit of the Spirit!"
I dare you to try and say it without laughing— you can't!
Another pastor-friend named Lamar used to always say, "God is in a good mood." To be honest, it always made some people uncomfortable. Think about it, though.
Why are reasonably more comfortable thinking that He might not be in a joyful disposition?
Now I'm seeing that the weight of Scripture is on Lamar's side— God is happy. He is joy. He has come to set us free!
Here is what a few other well-known Christian leaders have said about God and happiness before:
"Man is more himself, man is more manlike, when joy is the fundamental thing in him, and grief the superficial" (G.K. Chesterton).
"Joy is the serious business of Heaven" (C.S. Lewis).
Jesus even said that the reason He relayed some of His teachings to His disciples was for their happiness: "These things I have told you... that your joy may be full / overflowing" (see John 15:11). If you read the surrounding context of this verse you'll see that Jesus has been teaching them about the things that bring joy:
Joy comes when people know how much they are loved (John 15:9)
Joy comes when people simply rest in that love (15:10)
Jesus even said that we would pray, asking of Heaven and seeing the answers manifest "So that your joy may be full" (John 16:22-23). We leverage the resources of Heaven so that we will be happy.
And, in the parable of the talents, Jesus told those who stewarded the talents instead of squandering them to "Enter into the joy of your Master" (see Matthew 25:21).
Jesus invited the one who stewarded what he'd been given instead of burying it into an experience of joy.
Through this talk, I invite you into a culture of empowerment, joy, and freedom! Read the material with others, and do so with the intent to immediately implement what you're learning, and remember that the Gospel we live embodies the culture of Heaven.
And then there's this, the balancing-act
We simultaneously live in "two worlds," the kingdom of this earth and the Kingdom of God. One is always seen; the other often takes a bit of focus to see.
My prayer is that as we study together you'll notice that the Kingdom of God, though it may appear at first glance to be hidden, is certainly always visible, as well. Again, sometimes you just have to focus a bit to see it.
The Bible declares emphatically that you're a citizen of the Kingdom of God. Paul says this clearly in his letter to the Philippian church: "Our citizenship is in heaven…" (Philippians 3:20 NKJV).
Recounting some of the great exploits of faith, the author of Hebrews said much the same thing (Hebrews 11:13-14 NKJV, emphasis added):
These all died in faith, not having received the promises, but having seen them afar off were assured of them, embraced them and confessed that they were strangers and pilgrims on the earth. For those who say such things declare plainly that they seek a homeland.
In other words, they experienced a tension. They found themselves living in a land that wasn't their home. In a real sense, any Christian alive on this planet today is in the same position. This world isn't our home.
That doesn't mean we're against the world though. Far from it.
The prophet Jeremiah literally found himself in exile, living in a land that didn't worship the One True God. Taken from Israel in captivity, he found himself residing in one of the most pagan nations to historically exist. You might think God would remove him from a world with such different values than his own, yet God had a plan for him while he was there. And, He has the same plan for us in this world.
Jeremiah prophesied God's heart for His people while living among a different people. He instructed them (Jeremiah 29:5-7 NKJV)—
Build houses and dwell in them; plant gardens and eat their fruit. Take wives and beget sons and daughters; and take wives for your sons and give your daughters to husbands, so that they may bear sons and daughters—that you may be increased there, and not diminished. And seek the peace of the city where I have caused you to be carried away captive, and pray to the Lord for it; for in its peace you will have peace.
Look at the list of things God told Jeremiah— they all required long-term planning and strategic forethought. He was told to have kids— and think about the lives his grandchildren would live. He was instructed to root down and to serve the place of his exile.
God didn't intend to pull Jeremiah and his people out of that culture. He intended for them to move into it and bless those people, effectively showing his neighbors a better way of life. They were to embody the culture of empowerment and joy in Intro B.
Notably, these commands to think long-term and to bless others for generations are the context of the famous verse Jeremiah 29:11 ("I know the plans I have for you…"). Remember, though, it was written to believers who were living in a strange land, followers of God who were expected to live their sacred values instead of the values of the world around them. God encourages them to increase in number, and bless the people where He placed them!
While you're waiting
In the New Testament, Jesus prayed something similar for His disciples just before facing the Cross (John 17:15-18 NKJV):
I do not pray that You should take them out of the world, but that You should keep them from the evil one. They are not of the world, just as I am not of the world. Sanctify them by Your truth. Your word is truth. As You sent Me into the world, I also have sent them into the world.
Notice the balance: we're destined to be in the world, yet we're not of the world. We're different. And we're different not to take a position of defiance until we "get out of here" but to live differently in order to bless those who are here. This requires that we see things differently.
Matthew says the first message Jesus preached— after the 40-day wilderness temptation— was to repent (Matthew 4:17 NKJV):
From that time Jesus began to preach and to say, "Repent, for the Kingdom of Heaven is at hand."
Jesus didn't call people to "repent or go to hell," nor did He call them to "repent lest something horrible happen to them." He called them to repent because the Kingdom was currently present.
Repent means "to change your mind" and "to see things differently." Jesus invited people to see something they hadn't seen, so that they might live a reality that they had not yet lived— but was available to them.
They might not see it at first glance. Like Jeremiah's contemporaries, they might be able to look around and see overwhelming evidence that the Kingdom isn't present. They might need to look again. And again after that. In time, they'll see what God has seen all along.
When He sent the disciples to preach, Jesus instructed them (Matthew 10:7-8 NKJV),
And as you go, preach, saying, "The kingdom of heaven is at hand." Heal the sick, cleanse the lepers, raise the dead, cast out demons. Freely you have received, freely give.
The message they proclaimed and the ministry they did overflowed freely from the Kingdom reality that many people might not yet see.
Jesus also said things like:
The Kingdom is already here: "You won't be able to say, 'Here it is!' or 'It's over there!' For the Kingdom of God is already among you" (Luke 17:21 NLT, emphasis added).
The message of the Kingdom is good news: "The time has come," he said. "The kingdom of God has come near. Repent and believe the good news" (Mark 1:15 NIV, emphasis added)!
All access
Let's go back to the beginning of Jesus' earthly ministry. Mark 1:10 tells us that as Jesus emerged from the baptismal waters something strange happened. I missed it for years. He writes, "Immediately coming up out of the water, He saw the heavens opening, and the Spirit like a dove descending upon Him" (NASB, emphasis mine).
Another translation says it this way: "Just as He was coming up out of the water, He saw the heavens split open and the Spirit descending on Him like a dove" (ISV, emphasis added).
And, "As Jesus came out of the water, He saw heaven split open and the Spirit coming down to Him as a dove" (GWT, emphasis added).
Or, "And straightway coming up out of the water, He saw the heavens rent asunder, and the Spirit as a dove descending upon Him" (ASV, emphasis added).
Finally, "As Jesus came up out of the water, He saw the heavens splitting apart and the Holy Spirit descending on Him like a dove" (NLT, emphasis added).
Mark is clear that heaven opened. Yet, this Gospel writer is far more dramatic than simply saying "it opened," like you open a door so that you may pass from one room to another. Rather, it was schizo in his language— it was ripped apart.
You may recognize Mark's word for "opened" as the root word for schizophrenic. When someone is schizophrenic, it means that their mental processes have broken down. Mark uses this same word and says that Heaven was...
Torn
Split
Rent assunder
Schizo
Take a piece of paper and rip it. Now, try to put it back together. You can't. It's torn. Schizo.
To use another analogy from my childhood: it's the difference between through the kitchen door to offer your friends a drink as opposed to bursting through the wall and smashing it like "Kool-aid" used to do!
Mark tells us this is what happened when Jesus was baptized. The heavens were torn open and can't be put back together. That is, the barrier between Heaven and earth has been shredded, which is precisely why the Kingdom is now here. There is nothing to restrain it.
Let me provide you with another mental image.
We see the same word used in Matthew 27:51, when Matthew speaks of the veil of the temple being schizo. Before Jesus died on the Cross, offering the sacrifice for our sins, we had limited access to the Father. More specifically, the high priest— and only the high priest— visited the Holy of Holies once a year on our behalf. When Jesus died, though, He created a way for us to go freely into God's presence.
Notice the two rips, shreds, and tears we see in the New Testament:
At Jesus' baptism, the heavens shred. The barrier between the Kingdom and earth vanishes. Grace rains down.
At Jesus' death, the veil shreds. The barrier between us and God disappears. We can approach Him with humble confidence.
Here's a visual overview.
Most Christians are aware that the veil was torn. We understand the imagery of the high priest only going in once a year on behalf of other people. We know that Jesus went in as our priest, once for all time, now giving us all access to the Father. He was our mediator— we don't need another one. Because of this tear, we have all-access and intense intimacy with the Father.
And the power, too
That said, most Christians are less familiar with the first concept presented in the chart above— "living under an open heaven." An open Heaven is a torn Heaven, a schizo Heaven. It means there is no dividing barrier between God and man. Anything is possible. Because of this tear, we have access to unparalleled supernatural power on earth. Anything that happens in Heaven can happen here. It's why Jesus prayed, "On earth… as in Heaven" (Matthew 6:10).
Jesus is in the process of restoring all things. One teacher writes,
God walked with man with no separation between Heaven and earth; for in the beginning God created the Heavens and the earth at the same moment. There was no divide between the two. Heaven and earth were intertwined into the fabric of one another. This is what it means for the Kingdom to come near.
Heaven graciously invades and occupies earth. We go back to how things were in the Garden. This is why men like Jeremiah can live amidst a pagan culture and transform it. It's why Jesus didn't remove His followers from the world but, rather, thrust them deep into the middle of it.
Jesus told His disciples that signs and wonders would follow them as they confirmed the Word (see Mark 16:15-18). Mark adds that, after the Ascension, the disciples went and preached the Gospel. Notice what happened (Mark 16:20 NIV emphasis added):
"Then the disciples went out and preached everywhere, and the Lord worked with them and confirmed His word by the signs that accompanied it."
Of course, just as saving grace is the Lord working in us, so also we see that "empowering grace" is the same— the Lord does it.
However, Paul told Timothy that a day was coming in which the church would have a form of godliness but deny its power (2 Timothy 3:5). His inference is this: Godliness has power. It had power when Jesus ushered in the Kingdom, it had power when He sent forth His disciples, it has power now. The Holy Spirit doesn't exist in an "un-powered" version.
In another passage Paul said, "The Kingdom of God is not a matter of talk, but of power" (1 Corinthians 4:20, emphasis mine).
He elaborated, "When I came to you, I didn't just give you eloquent words... I came to you with full conviction of what I was telling you... and with a demonstration of the Spirit's power" (1 Corinthians 2:4-5, emphasis added).
Paul experienced what Jesus promised, then, when he preached in Corinth and saw signs. He wrote to Timothy telling him to expect the same.
I love how Pastor Bill Johnson explains this concept:
Every believer has an open Heaven... The size of the open Heaven over us is affected in some measure by our maturity and yieldedness to the Holy Spirit.

Think of the open Heaven as a big oak tree. The bigger and more stable the tree is, the more people can stand under its shade. Mature believers carry Heaven's atmosphere in such a way that others are able to stand under their shade and receive protection.

To use another analogy, others can draft on our breakthroughs and become changed.
Never miss a new post + podcast!
Join our mailing list to receive the latest news and updates
We hate SPAM. We will never sell your information, for any reason.