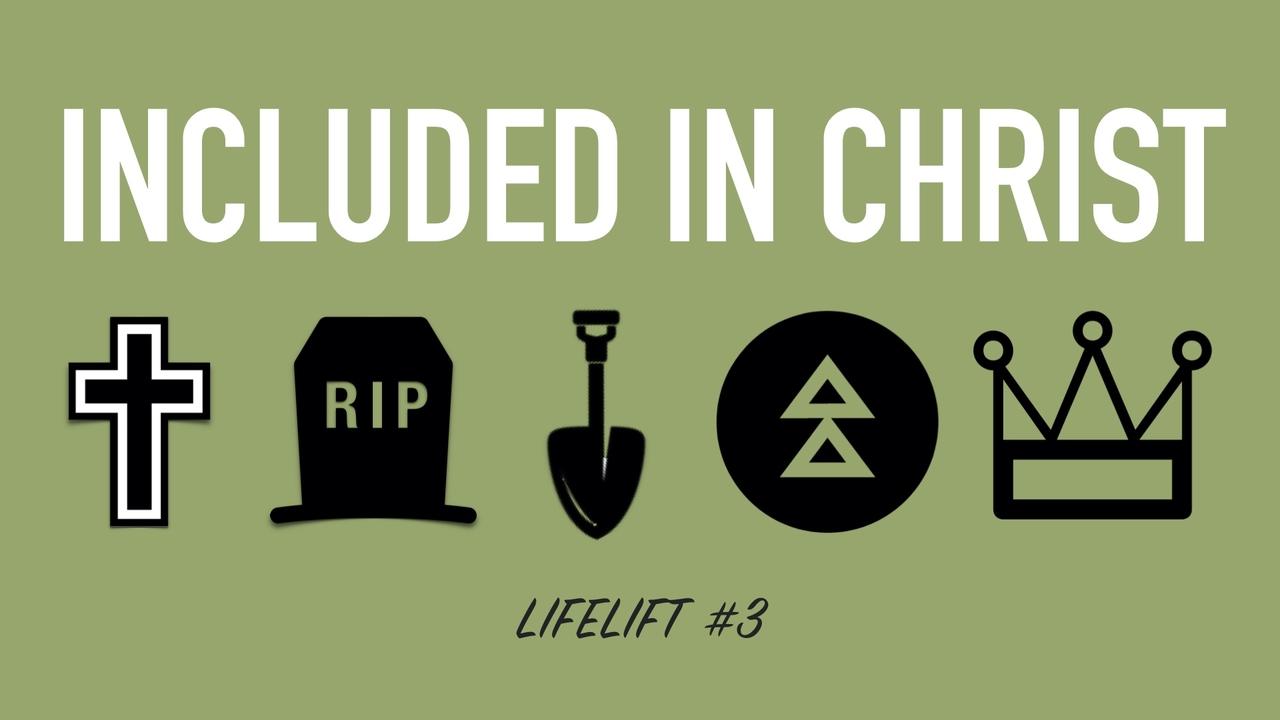 Podcast: Included in Christ (LifeLift #3)
Feb 11, 2020
Last winter I binge-watched the Netflix documentary The Making of a Murderer. The premise of the true story documentary is that Steven Avery was wrongfully convicted of assault and attempted murder in 1985. He served 18 years of a 20-year sentence before being exonerated by DNA evidence. The film-makers argued that law enforcement officials from Manitowoc County, Wisconsin framed him for an unrelated murder case less than two years after he was freed from the first conviction, right as pressure mounted on them for botching the evidence in the first case. In other words, they "got him" (again) before they could be gotten.
The crux of the evidence that freed him the first time was the DNA found at the crime scene. The DNA proved what Avery and a long-list of eyewitnesses told the sheriff's department the first time around.
"Steven couldn't have been guilty of that crime. There's no way."
"Why not? How do you know?"
"Because he wasn't there. He was miles away during the time in question. The DNA we found at the crime scene belongs to someone else."
That's one way evidence works. If you weren't present at the time of the event, there's no way you could have participated. If you were present, well… there's a chance you did!
Now, let's flip it. Instead of talking about a negative, let's discuss something positive. In the same way you can't participate in something negative if you're not there, you can't participate in a positive, either.
I didn't win Super Bowl whatever-number-we're-on-now. I wasn't there.
I didn't graduate from Harvard with honors. I wasn't there.
I didn't…
… you get the idea.
Something you did do- you were there
Follow me on a little rabbit trail here. I promise that I'll bring it all together before the end of this chapter.
Notice what we find in Ephesians 1:3-14 (NIV, emphasis added):
Praise be to the God and Father of our Lord Jesus Christ, who has blessed us in the heavenly realms with every spiritual blessing in Christ. For He chose us in Him before the creation of the world to be holy and blameless in His sight. In love, He predestined us for adoption to sonship through Jesus Christ, in accordance with His pleasure and will- to the praise of His glorious grace, which He has freely given us in the One He loves. In Him we have redemption through His blood, the forgiveness of sins, in accordance with the riches of God's grace that He lavished on us. With all wisdom and understanding, He made known to us the mystery of His will according to His good pleasure, which He purposed in Christ, to be put into effect when the times reach their fulfillment—to bring unity to all things in heaven and on earth under Christ.

In Him we were also chosen, having been predestined according to the plan of Him who works out everything in conformity with the purpose of His will, in order that we, who were the first to put our hope in Christ, might be for the praise of His glory. And you also were included in Christ when you heard the message of truth, the gospel of your salvation. When you believed, you were marked in Him with a seal, the promised Holy Spirit, who is a deposit guaranteeing our inheritance until the redemption of those who are God's possession—to the praise of His glory.
In this passage, Paul "re-labels" us— much in the same way Jesus renamed Peter. He tells us who we really are.
That said, pay attention to your identity, according to the passage. I've listed a few of the attributes I highlighted above.
Blessed (v3)
Chosen (v4, v11)
Holy, blameless (v4)
Predestined (v5, v11)
Redeemed and forgiven (v9)
Promised that your life will work according to a plan that will bring Him glory (v12)
Included in the fullness of Christ (v13)
That's a pretty solid list, but let's focus on the seventh one for a bit. Let's explore what it means to be "included" in the life of Christ. This is key to understanding who we really are. If we grasp this "inclusion," the other attributes seem to fall in place automatically.
Baptism is the picture of being "included"
I remember watching people get baptized when I was younger and thinking, "What in the world are they doing?" And, "Why do we do this?"
Don't get me wrong. The ritual was strangely captivating, yet I wasn't sure what was happening.
One day, someone explained it to me: "It's like a movie," they said, "except that the person being baptized is acting out the movie right there in front of you."
"Oh, like a human video?" I asked. Then- "But what does it mean?"
"It means that you were included in everything Jesus did. It's like you were actually there when it happened the first time, and this is your identification with that."
"What? That makes no sense."
The guy I was talking to paused. He thought about his words a few moments. Then he said, "Well, the word baptism comes from the Greek word baptizo. That's important, because the New Testament was, for the most part, written in Greek by guys like Paul and Luke and a few others… Baptizo means to submerge or to bury."
"So we're burying them in the water," I replied.
"Exactly. Just like they buried Jesus in the tomb, we're burying that person in the water."
"Good thing they don't hold them down there too long!" I said. "That'd be a disaster!"
"That's the point. In the same way Jesus arose from the dead on the first Easter morning, the person comes out of the water as a new person. In fact, Romans 6:3 says that we were all baptized into His death so that we could be raised in His life."
The wheels began turning my head. I know that guy could tell. Somehow, all the pieces were coming together in my mind…
"Like they're buried in water now the same way they were buried in the grave back then?"
Growing up in the church I saw hundreds of baptisms. Somehow, I simply equated those repeating rituals with receiving a diploma after school, a trophy at the end of the sports season, or a participation ribbon for "signing up" to join the church. Turns out, I was way off…
My friend continued, "When we baptize people, we're celebrating that people we know who have died and been buried will jump from their graves some day in the future when Jesus returns. Paul writes about it in 1 Thessalonians 4:16. That goes for your great grandparents and your friends who died too young and people that followed Jesus centuries ago. We're celebrating that death isn't the final word."
"That's true for me too, I suppose," I concluded.
"Yes. True. If you die before Jesus comes back, it's totally true. But the bigger point I want you to see is that baptism isn't just a reference to Jesus' past death and resurrection, nor is it just a reference to the future resurrection of all saints. Baptism is a living picture of the reality that happens in you now. The old self is dead… and a new self is reborn!"
In that one conversation, I discovered that I typically thought God could fit neatly in my little boxes— that I could contain Him theologically in something I would always be able to understand. Furthermore, it was a small box, too. One I could carry.
Digging deeper
Since that conversation I've done some digging on my own. And I've found some incredible truths all related to this "new self." The box hasn't gotten any bigger; rather, I've learned that there's really not a box at all!
Here's what I discovered.
First, the Bible says I was crucified with Christ. That is, I was actually there. The definitive death of human history happened to me. When they nailed Jesus to the Cross, I transcended time and space and got crucified, too.
Sounds strange, I know. But read it for yourself. It's in multiple places in Scripture:
I have been crucified with Christ. It is no longer I who live, but Christ who lives in me. And the life I now live in the flesh I live by faith in the Son of God, who loved me and gave himself for me (Galatians 2:20 ESV).
And—
We know that our old self was crucified with him in order that the body of sin might be brought to nothing, so that we would no longer be enslaved to sin (Romans 6:6 ESV).
Second, I died with Christ. No one survived the gruesome Roman executions. The soldiers made sure of it.
That's why they went to break Jesus' bones. If they shattered His knees He wouldn't be able to pull Himself up to stretch His chest and breathe. He'd die. Whereas they smashed the legs of the two thieves in order to hasten their deaths, Jesus was already dead (John 19:31-33). This was confirmed when one of the soldier's pierced His side, puncturing His heart, and opening a fountain of blood and water (19:34).
You and I died with Jesus:
For you have died, and your life is hidden with Christ in God (Colossians 3:3 ESV).
And—
For if we have been united with him in a death like his, we shall certainly be united with him in a resurrection like his (Romans 6:5 ESV).
Writing about the Romans 6 passage, Watchman Nee suggests—
The original is in the aorist tense, denoting that our old man was once and forever crucified with Him. As the Cross of Christ is a fact accomplished, so our being crucified with Him is additionally an accomplished fact.

Who ever questions the reality of the crucifixion of Christ? Why, then, should we doubt the reality of the crucifixion of my old man?
Nee also makes another interesting observation:
Nowhere in the Bible are we told to be crucified— this has been done and done perfectly by Christ already. We only need to consider this an accomplished fact.
Sure, the New Testament quotes Jesus as saying, "Take up your Cross" (Matthew 16:24). However, this was said before the Crucifixion, under the Old Covenant. At the Cross, you died.
Side note: let's clarify what killed Jesus— because that's the same thing that killed me and you. It wasn't asphyxiation (that is, death by suffocation). Nor was it stamina, loss of blood, or blunt trauma.
No, the Bible says that Jesus commended His Spirit after the payment for sin was made (John 19:28). That is, sin killed Jesus. And, sin killed you and me.
This is why the Scripture clearly reminds us that we died to sin— that we're dead to it (see Romans 6:2). And, it's how we've been set free from its grip (Romans 6:7). Dead people aren't enslaved by sin or anything else. Since we died, we aren't either.
Third, they buried me— and you— with Christ. They didn't leave Jesus- or us- on the Cross. Notice what Paul says.
We were buried therefore with him by baptism into death (Romans 6:4a ESV).
Fourth, we arose with Christ. We didn't remain in the grave anymore than Jesus did. Paul tells us plainly that we were buried, and that we arose. Notice—
… in order that, just as Christ was raised from the dead by the glory of the Father, we too might walk in newness of life (Romans 6:4b ESV).
And—
Even when we were dead in our trespasses, made us alive together with Christ- by grace you have been saved (Ephesians 2:5 ESV).
As well as—
Now if we have died with Christ, we believe that we will also live with him. So you also must consider yourselves dead to sin and alive to God in Christ Jesus (Romans 6:8,11 ESV).
Interestingly enough, Paul elaborates on the death of Jesus and says He "was delivered up for our trespasses [read: sins] and raised for our justification" (Romans 4:25 ESV).
Notice—
We died because of sin.
We were raised because of righteousness.
The word justification means that we've received a complete reset of who we are and what we're designed to be. The definition carries the concept of "just as if I'd never sinned."
This is interesting to me, because when we're caught in a sin, we tend to explain why we did it. That is, we tend to justify why we messed up.
God's justification works the other way, though. Through our death on the Cross with Jesus and our subsequent burial and resurrection with Him, the Father explains to us why it's as if that sin never occurred in the first place!
Fifth, we ascended with Christ. Living now as if we never sinned is a great Gospel. However, the message of the Gospel goes farther. We've been included in more.
Right now, we live here on earth and sit there in the throne room with Jesus at the same time.
[The Father] worked in Christ when He raised Him from the dead and seated Him at His right hand in the heavenly places… and raised us up with Him and seated us with Him in the heavenly places in Christ Jesus (Ephesians 1:20, 2:6 ESV).
It's this position that empowers us to live from victory instead of living for victory.
Here's the sequence of events the Bible says happened to you— because, unlike the wrongful conviction discussed at the beginning of this chapter, you were present at each of these events.
Notice the chart with each of these areas outlined next to their respective Bible verses.
By the way, I added a row to the bottom of that chart— one inclusion we didn't study in this chapter. The Bible also teaches us that we'll be seen with Him when He returns in glory. That is, more will be revealed in the future. Paul writes, "When Christ who is your life appears, then you also will appear with him in glory" (Colossians 3:4 ESV).
The glorious exchange
Paul says that— in light of the bigger reality of Jesus' work on our behalf, everything we've been included in— we should no longer "regard" anyone according to the flesh (2 Corinthians 5:16 ESV):
From now on, therefore, we regard no one according to the flesh. Even though we once regarded Christ according to the flesh, we regard him thus no longer.
That is, we shouldn't value people based on what they look like in their mortal bodies.
How could we— There's obviously so much more that's true that we can't see?!
People wrongly did this to Jesus. And, as we saw in the previous chapter, they made a slew of wrong assessments about Him. One of the biggest blunders was that they assumed He was being punished by God for something He did wrong (see Isaiah 53:4f.).
In the same way the ancients made assessments about Jesus based on the flesh, we wrongly assess ourselves and others. If we were walking with Peter during the days of Jesus, we probably would have noticed the shifty-sand more than the rock, too.
Jesus continues calling us to look at the things that are eternal, to the places in each of us where He's already done that greatest work. He intends to infuse all of our lives, every bit of reality, with that…
You see, our physical bodies are simply our containers, the temples that carry around the Spirit-beings we truly are, the more-real-than-real versions of ourselves that transcended time and participated in everything Jesus did.
The Great Reformer Martin Luther taught that Jesus walked among us and lived as a man from birth all the way to age 33 in order to capture the essence of being a truly alive human, one who lives fully to the glory of God. He lived a lifetime of obedience that neither you or I have.
Then, at the Cross, He doesn't just give us His death, sacrificing His blood for ours. No, He gives us His life, too— the resurrected life.
Further, He doesn't only gift us that resurrected life, He offers us full credit for all of His obedience, thereby taking all of our sin on Himself in the process.
This, Luther concluded, is what Paul meant when he penned, "He made Him who knew no sin to be sin for us, that we might become the righteousness of God in Him" (2 Corinthians 5:21 NKJV).
Yes, we've been included in His life, too!
The lives we live now
In the previous chapter I observed that many Christians identity with Peter— with the version of Peter we see in the four Gospels. However, the Peter with whom we need to identify is the man we see standing firm in the Book of Acts and throughout the prose of his two epistles.
Notice what he writes:
We have been reborn of perfect seed.
We now partake in the divine nature.
First, Peter says that we have been reborn of a perfect seed. 1 Peter 1:23 describes us as "Being born again, not of corruptible seed, but of incorruptible, by the word of God, which liveth and abideth for ever" (KJV).
How so?
Well, the old you was crucified, died, and was buried. You were included in Christ such that it's a totally new you that's come to life now.
Second, Peter adds that we now partake of the divine nature. 2 Peter 1:4 says (NLT),
And because of his glory and excellence, he has given us great and precious promises. These are the promises that enable you to share his divine nature and escape the world's corruption caused by human desires.
As a Christian, you live in the new humanity of Jesus— not the old humanity of Adam. Look at Paul's conclusion in 1 Corinthians 15:48-49 (AMP):
Now those who are made of the dust are like him who was first made of the dust (earthly-minded); and as is [the Man] from heaven, so also [are those] who are of heaven (heavenly-minded). And just as we have borne the image [of the man] of dust, so shall we and so let us also bear the image [of the Man] of heaven.
Like Paul, Peter reminds us that we used to be in the line of Adam (a sinner). Now, we stand in the line of Jesus (the ultimate saint).
Never miss a new post + podcast!
Join our mailing list to receive the latest news and updates
We hate SPAM. We will never sell your information, for any reason.